Minnesota Vikings
Minnesota Vikings
Vikings RB Cook: 'Once I get back, it's going to be on'
Published
Nov. 2, 2018 7:38 p.m. ET
EAGAN, Minn. — Since the Minnesota Vikings made him their top draft pick last year, Dalvin Cook has played in only seven of a possible 24 regular-season games.

That means the early lessons have been just as much about handling injuries and making the most of the inaction as they've been about picking up the playbook and adjusting to NFL speed.



"I've just been gaining knowledge from my teammates, all the older guys," Cook said. "The guys in my room have just been pushing me through it. I've been learning through this whole process, and I'm just trying to become a better player and better person.

"That's what I've been getting from the whole experience, and it's nothing negative. Yeah, I've been injured and banged up, but I'm just learning through the whole experience. Once I get back, it's going to be on."

That's the kind of attitude that pushed him through the grueling rehab after a torn ACL in his left knee, suffered in the fourth game of his rookie season against Detroit. He stayed ahead of schedule and was ready in time for the opener this year, contributing 95 total yards in his first performance under new offensive coordinator John DeFilippo, who eagerly sought to maximize the versatile and elusive Cook's impact as a ball carrier and a pass-catcher as soon as he was hired last winter.

This fall has, by some measures, been more frustrating because of the seemingly minor hamstring injury Cook experienced on a hot afternoon in Green Bay on Sept. 16. He was ruled out of the following game, listed as questionable to play at Los Angeles on Sept. 27 and lined up at tailback in a limited role that night. Cook was deemed questionable again to play at Philadelphia on Oct. 7 and against Arizona on Oct. 14, but he ultimately watched both of those games from the sideline, too.

Then the Vikings decided enough was enough and kept him off the practice field for two full weeks. After sitting out against New Orleans, his fifth absence in the last six games, Cook returned to practice as a limited participant on Wednesday. He said he never had a setback. The injury simply didn't fully subside.

"With these things, if you kind of keep stepping on them and keep doing what you're doing, they're just going to keep lingering along," Cook said. "You've got to kind of shut the body down. That's why I'm so confident in our medical staff, because they've got the right plan set up for me. We've been going by what my body has for me daily. My body's been reacting to it good, so it was very important."

Cook was listed as questionable for the game against Detroit on Sunday when this week's injury report was announced after practice on Friday. With the bye week coming next, the Vikings could always play it safe and give him even more time to heal. Coach Mike Zimmer downplayed the significance of the bye in the decision.

"If guys can play, they play," Zimmer said. "That's just how we do it around here."

No matter how many times Cook has tested the hamstring, there's no telling whether it's back to normal until that first carry.

"You can practice. You can run around. You can run straight. You can do all that," Cook said. "But it's about going out there and the person chasing you and you turning your body and you twisting your body and having the twitch to do it. That's when hamstrings occur."

Other players listed as questionable for Sunday were wide receiver Stefon Diggs (rib), left tackle Riley Reiff (foot), cornerback Xavier Rhodes (foot) and strong safety Andrew Sendejo (groin). Linebacker Anthony Barr (hamstring), left guard Tom Compton (knee) and backup running back Roc Thomas (hamstring) were ruled out.

 


---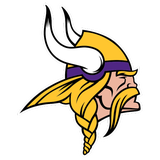 Get more from Minnesota Vikings
Follow your favorites to get information about games, news and more
---