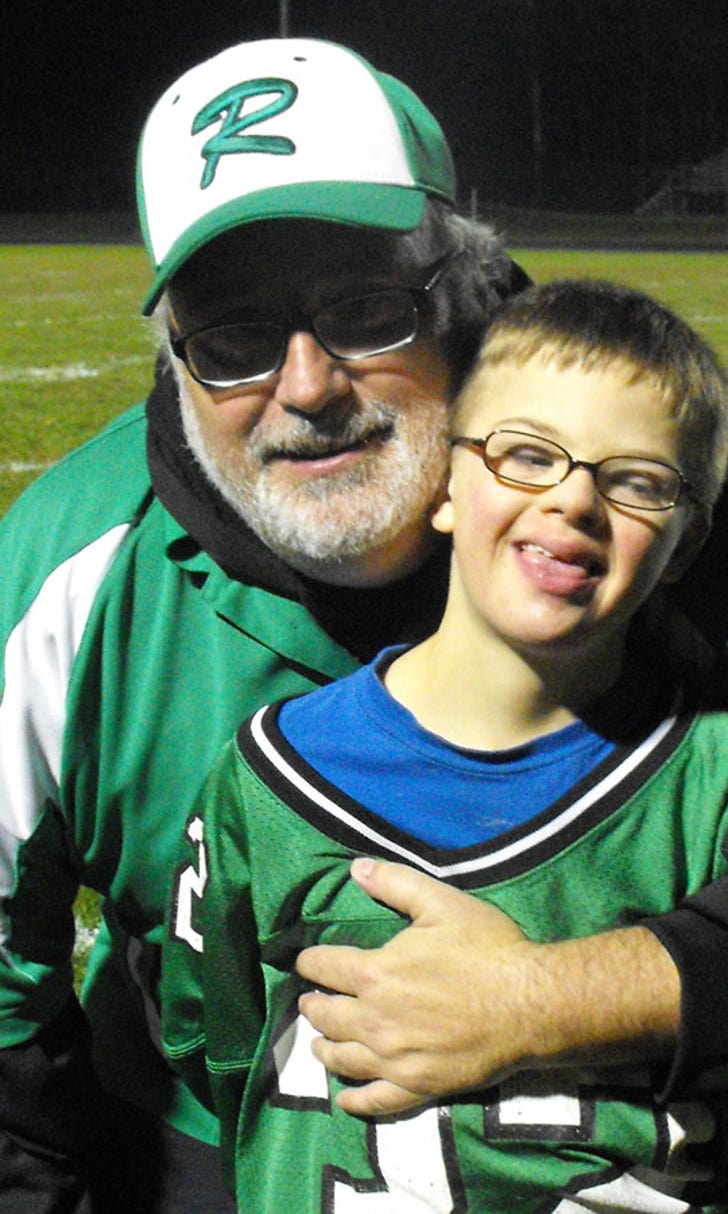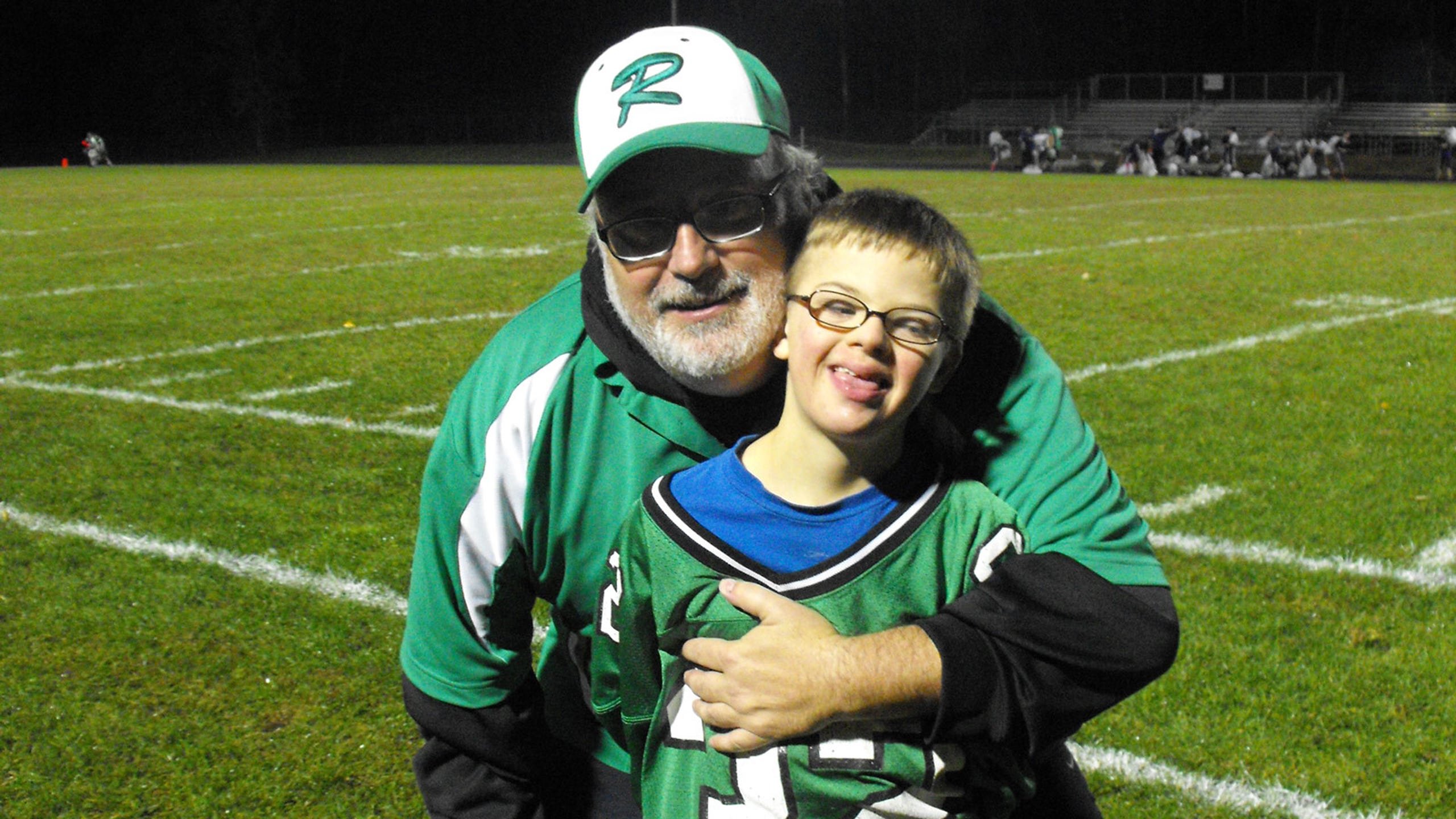 Touchdown meant to be special moment for boy, enriches lives of many more
BY foxsports • October 24, 2014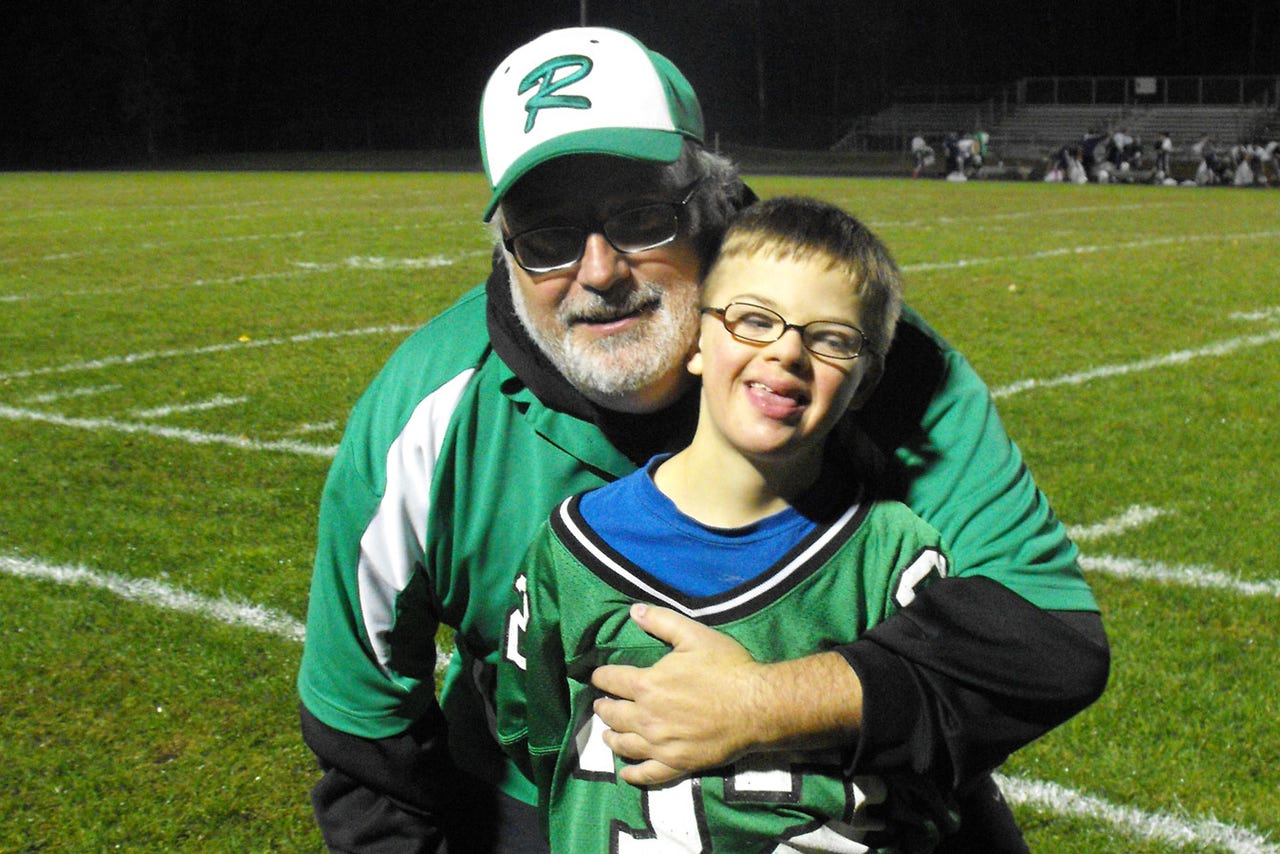 The Whites are a sort of first family of sports in northern Wisconsin. On the field or in an arena, there isn't much they can't do.
A tribe of towering, talented athletes, they've been dominating the Rhinelander, Wis., sports scene for years. A couple of them played college football; one is playing college hoops; another, Bryce, a senior in high school, was a standout soccer player who decided this year to also try football (both sports take place in the fall season). He led the Great Northern Conference in receiving yards as a wide receiver. Heck, even the foreign exchange student living with the family had to be a super-jock -- he was the conference's top scorer in soccer this season.
But one of them, the youngest and smallest of Cindy and Keith White's 11 children, wasn't a star. Born with an extra chromosome (though, his mother points out, the same genetic gifts, as he's an uncanny basketball shooter who once won a free-throw contest against kids two grades above him) and thus faced with the significant, copious challenges of Down syndrome, 8-year-old Gabe was a sports fanatic who was never expected to experience the same success and thrill of athletic achievement as his seven older brothers and three older sisters.
And yet, "he's the one getting all the attention," Cindy White said.
Perhaps you've seen him, the towheaded, glasses-wearing boy clutching a football. He's the one on ESPN and the NFL Network, running back a kickoff return for a touchdown in a high school game, being hoisted up by his teammates in the end zone, having his name chanted by a stadium of elated fans.
The video of Gabe White running for a touchdown, taken by his mom on a camera phone, has been making its rounds on the Internet and television news for about a week now, bringing smiles and tears to viewers. But the moment wasn't intended to go viral or generate some national sentiment.
"It was just a fun moment," Cindy told FoxSportsWisconsin.com. "It was fun to see my little boy go out there and be able to run a touchdown. It was really no bigger than that; it was just fun and exciting and joyful."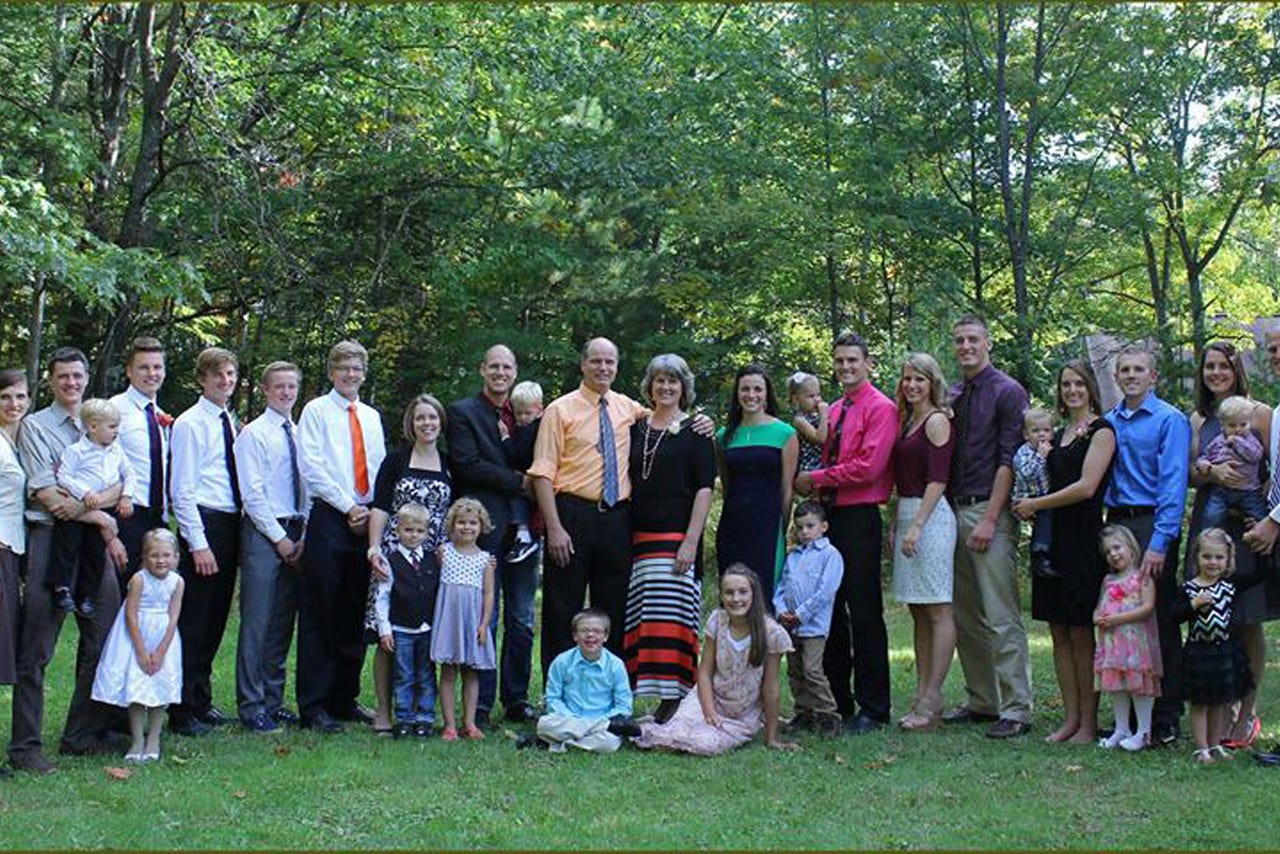 Gabe (center, in light blue) with the White family.

A week before the Rhinelander freshmen team's last game of the year, a home contest against Mosinee, head coach Mark Apfel approached Gabe's parents with an idea. Gabe had been standing with the team on the sidelines for the previous two games, serving as manager and an honorary captain, excitedly going out for the coin toss, mingling with referees and playing catch with players next to the field. But for the season finale, Apfel wanted to do something truly special for the kid that was so passionately devoted to the team, on which his brother Owen played. Apfel wanted Gabe to return a kickoff and score a touchdown.
Apfel got the go-ahead from the Whites, but didn't tell his own players or coaches. The day of the game, last Thursday, Oct. 16, he talked to the opposing coach and explained what he hoped to do: immediately after the game officially ended, he wanted the Mosinee team to kick off to Rhinelander and let Gabe run the ball back for a touchdown. The opposing coach was immediately all-in, but he, too, didn't tell his team beforehand.
"To be honest with you, I tried to do it as covertly as possible," Apfel said. "But this whole thing doesn't work if it's not for the right kids being on the other side and the right coaching staff."
After the whistle blew to end the game, a 12-8 Mosinee win Apfel described as "brutal" for its defensive intensity, both coaches hustled their players back out onto the field for one last play -- meaningless in the box score but the most important by far for the players, coaches and fans. Cindy White, Owen and Apfel insist they weren't at all nervous about what was going to happen. 
With its coach yelling at the players not to tackle anyone on the return, Mosinee kicked off. Owen knocked the ball down in front of Gabe, who, after some brief, initial confusion, picked it up off the ground. With his older brother's guidance, Gabe started to run it back up the field, at first headed out of bounds. After Owen straightened him out, he charged down the right sideline -- where Apfel said "there wasn't a dry eye" -- and Owen fell back so as to not obstruct the fans' view. The now fully aware Mosinee players committed to the experience and dove fruitlessly at Gabe's feet, one by one falling short as he rushed into the end zone for the score, immediately mobbed by teammates.
"I was just really happy for him; he loves being with the guys," Owen said of Gabe, who has been tagging along and hanging out with his older brother's jock friends for years. "So when he got to do it I was just thinking, 'How can we make this more special for him?' I didn't even initiate it, but the team picked him up and started chanting his name.
"When we were holding him up, he was just laughing. He knew he had scored a touchdown and it was fun because he knows the importance of a touchdown in football, so he knew he had done something pretty cool."
Apfel, who has created similar memorable moments for other special-needs children he's coached in basketball and baseball, and the rest of the Rhinelander team signed a football and gave it to Gabe. Next week, Apfel said, Gabe will be given a captain's certificate at the awards ceremony because he's a member of the team -- one who always brightened the mood, lightened spirits and heightened people's awareness, reminding everyone to respect each of their teammates and care for all of their friends.
"At the end of the game, obviously it was our last game of the season and there were a lot of emotions to it," Apfel said. "So as you're sitting there talking to the team afterward and trying to summarize the game, you've got Gabe yelling, 'I scored a touchdown!'
"At a moment that was really tough, he breaks that thickness of emotion and everyone just starts smiling and laughing. It's all worth it because he just makes you smile and laugh. He makes tough situations so much simpler."
Cindy White said what touched her most at the time was the support and enthusiasm of the Mosinee team and its fans, as well as the inevitable positivity from the community in the week following the game.
"Right at the end (of the video), you can hear one of their fans yell out, 'C'mon Mosinee, learn how to tackle!" she said. "To have them join in and have a good time with it, it was one of those rare sporting moments where both teams and their fans come together for one common thing, and that really made it a special moment.
"And I tell people, it was a minute -- in perspective, it was a 58-second video from the beginning. And I thought, look at what you can do to enrich, not just one person's life, but in the stands a few hundred people's lives and now because of where the video has gone a few hundred thousand people's lives -- in one minute. That's what it took to do something positive for someone else."
Follow James Carlton on Twitter
---
---