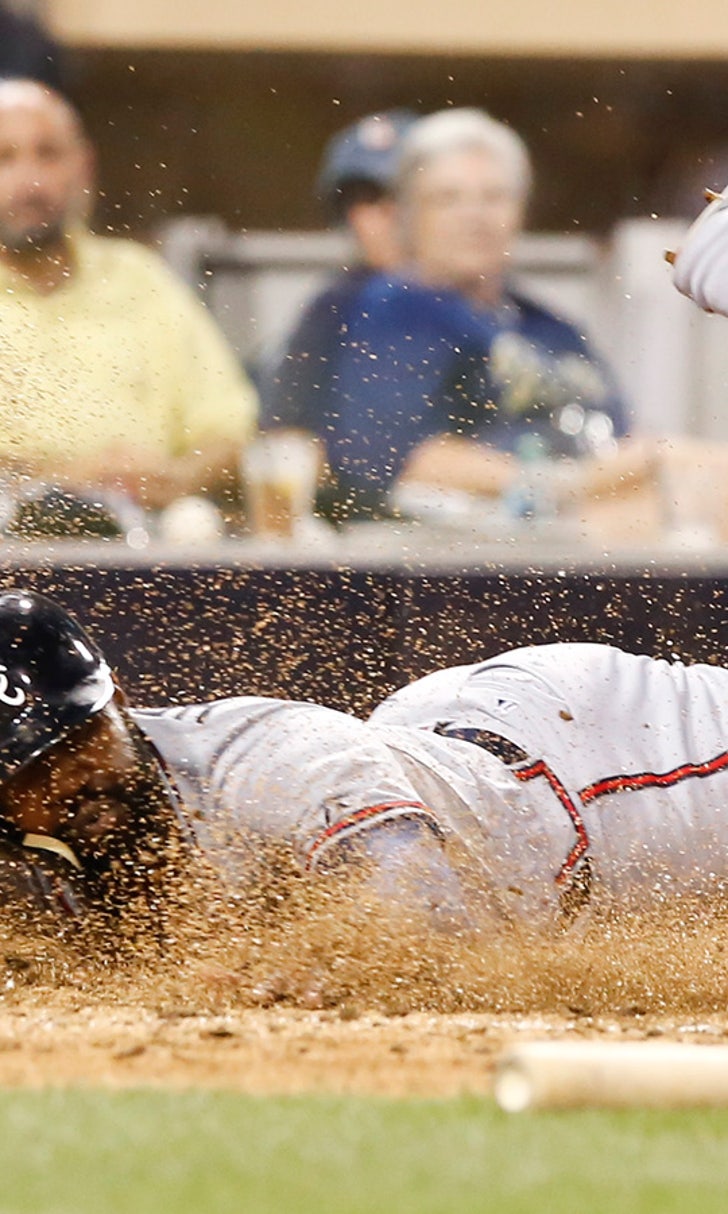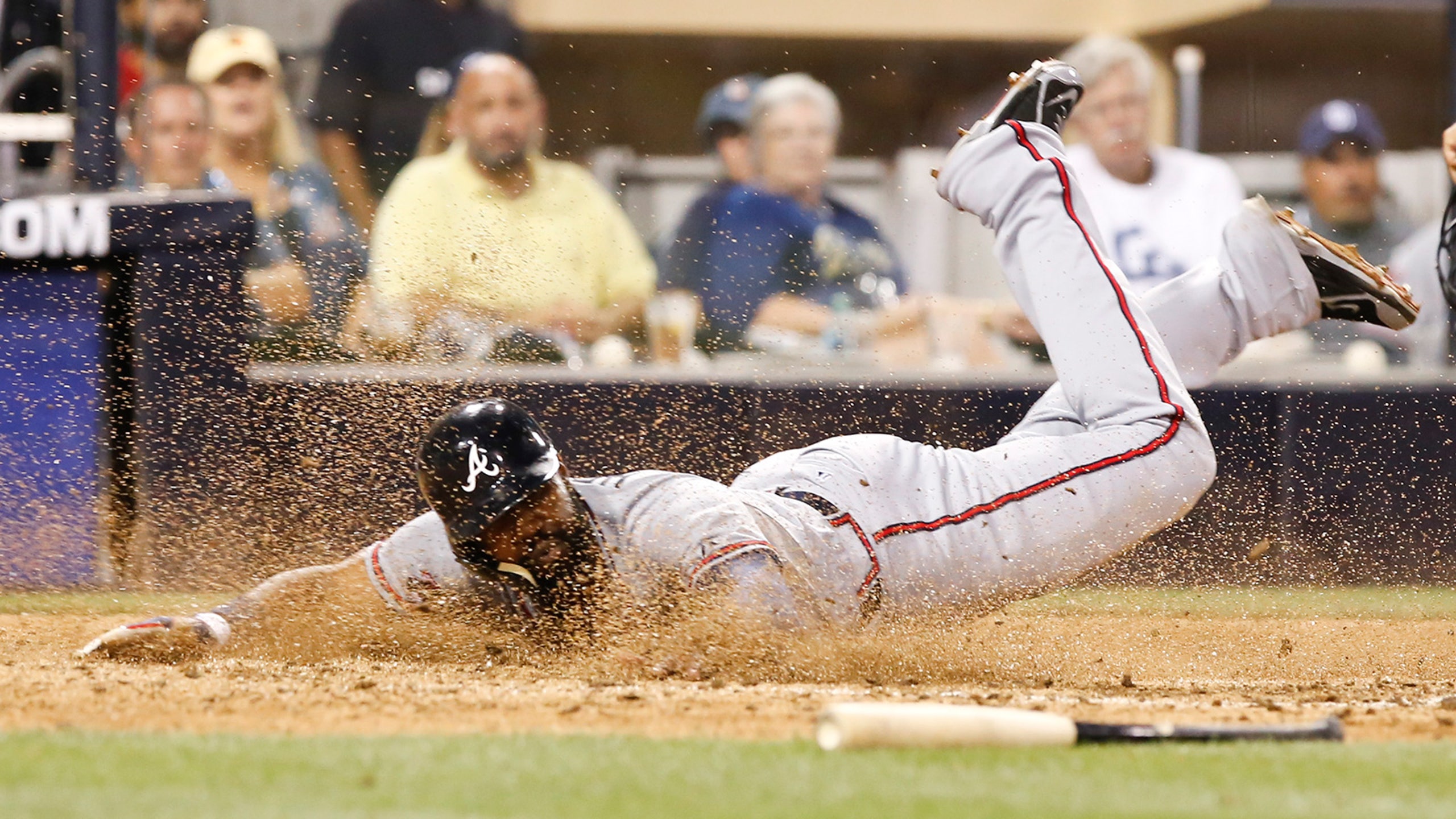 Three Cuts: Braves lose fifth straight in Heyward's return
BY Zach Dillard • August 3, 2014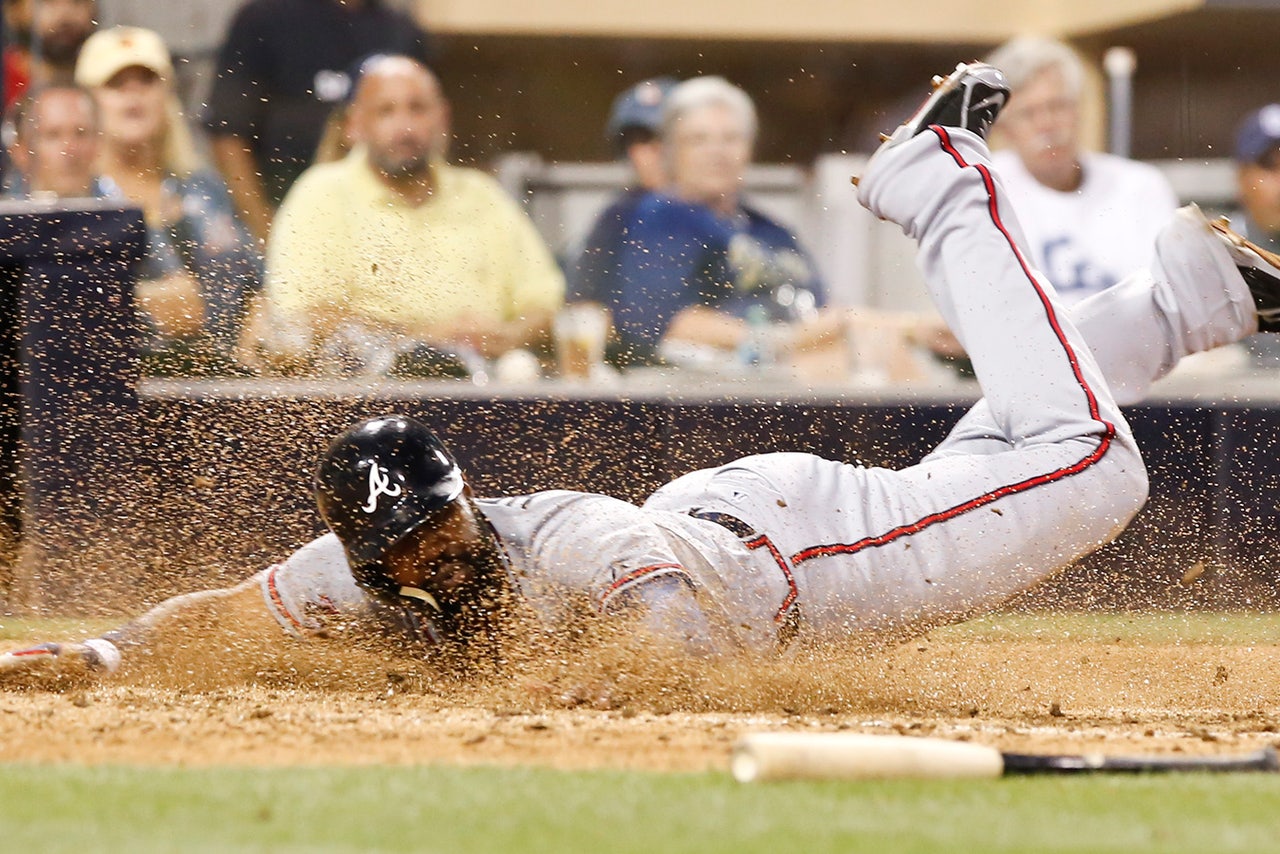 With a walk-off win in the 12th inning, the San Diego Padres handed the Atlanta Braves their fifth straight loss on what proved to be an emotional day in franchise history, beginning first and foremost with the passing of longtime Braves broadcaster Pete Van Wieren.
On the field, though, the Braves' 3-2 loss puts them farther back in the NL East and wildcard standings as their road trip reached a new low despite the return of star right fielder Jason Heyward. Here are three observations from the game:
Since the wild pitch-infused debacle against the Marlins on July 24, Braves All-Star closer Craig Kimbrel had been his usual lights-out self. In two subsequent appearances, both coming against the Padres, Kimbrel struck out every single batter he had faced. They couldn't touch him in either save opportunity.
But Saturday night was not a save opportunity and once again Kimbrel could not find his best stuff when it came to extending the game with a 2-2 tie. After some excellent defensive work by Andrelton Simmons, Evan Gattis and new addition Emilio Bonifacio got him out of trouble in the 11th frame, trouble came calling.
First, Kimbrel walked Yangervis Solarte on a full count. After a strikeout (his only out of the night), he uncorked a wild pitch before walking second baseman Jed Gyorko on another 3-2 count. He did the same with Chris Nelson, loading the bases -- without a single Padres hitter putting the ball in play -- for right fielder Will Venable with only one out. Venable parked the game-winning hit over Heyward's head before getting showered with Gatorade.
It was just the second time in 276 career appearances that Kimbrel walked three batters in a single inning, the first since his rookie year in 2010.
"That's on me," Kimbrel said. "I cannot walk anybody in that situation."
The Braves continue to try and groom Kimbrel for multi-inning situations after keeping him in the bullpen as the Los Angeles Dodgers walked away with a Game 4 win in last year's NLDS, but the results have not been promising. Manager Fredi Gonzalez has mentioned on several occasions that the act of sitting in the dugout in between innings can be difficult for closers, typically one-inning guys, and it takes an entirely different frame of mind to find success after re-entering the game. Kimbrel didn't have his best stuff from the get-go on Saturday, but his effectiveness clearly regressed after coming back out in the 12th inning.
Where this leaves Atlanta's experimentation with multi-inning use remains to be seen.
"He's obviously got the makeup to do it," Gonzalez said. "But to be able to do it is a little bit difficult, more difficult than just sitting in a studio someplace and thinking, 'He could throw (20 pitches).' It's not that simple. Not everybody can do it."
With the loss, the Braves are now 2 1/2 games behind the Washington Nationals in the division, and dropping the Padres series only adds to their current predicament. Looking at the standings, this is just about as easy as it's going to get for Gonzalez's club in August -- they face three division leaders and only one sub-.500 team this month -- and they've botched it with two more lackluster offensive performances.
And that's what it comes down to. Kimbrel could not keep the door open in the 12th inning, but the offense should have kicked it shut long before that.
There had been a quiet "yeah, but" counterpoint with the Braves' current losing streak before Saturday's loss, in that Heyward, arguably the team's best player was sidelined for six games with a back injury. He makes this team tick. Despite his inconsistent production at the plate, the value numbers (team-leading 4.2 wins above replacement) and the Braves' record help illustrate that he's an extremely vital piece to this team.
Since 2012, the Braves are 35-49 in games that Heyward does not start. (Side note: in that '12 season, the team went 2-9 when he didn't start ... and he made an appearance in those two games they did win.)
So plugging Heyward back into the lineup against an unimpressive San Diego team was, on paper, supposed to put the Braves back in the win column. He performed well at the plate, too, going 2 for 5 with a double and a walk, reaching base three times in the late innings to put pressure on the home team. Atlanta simply couldn't come up with the hit it so desperately needed.
The team stranded 14 runners and finished the night 3 for 16 with runners in scoring position.
"We had a lot of opportunities, a lot of opportunities with the right people hitting. All we needed was one lousy run, and it's hard to get a lousy run sometimes, but we had plenty of opportunities to do it," Gonzalez said. "We just keep putting people on. We're going through a little funk right now, but we're a better team than we're showing in those situations. We'll get through it."
Entering one of the most valuable players in baseball over the past three seasons was bound to help -- and it did -- but the Braves could not capitalize on available opportunities and the offense continues to grind to a halt.
It's one thing when Zack Greinke and Clayton Kershaw are shutting down your lineup at Dodgers Stadium. Scoring a combined three runs with Eric Stults (4.94 ERA, 4.99 FIP) and Ian Kennedy (3.66 ERA, 3.10 FIP) starting against your team in the middle of a division race? Well, that's not ideal.
It should come as no surprise then that the Braves are once again in MLB's bottom five in scoring.
Without ringing a doomsday bell, something (fairly obvious) should be pointed out: the Braves are in a bad spot, and if the offense does not come around then they will not only miss out on the division title but likely miss the playoffs altogether. They are 1 1/2 games back in the wildcard race. According to MLB's postseason probability tracker, the Braves held a 43 percent chance to make the playoffs before Saturday's loss. That was down from 61 percent on July 28 -- and, yes, these things will fluctuate quite a bit with three- and four-game winning and losing streaks over the next month or so, but the odds are against the Braves playing postseason baseball right now.
It's not difficult to see why.
In a road start with terrible run support and his team riding a four-game losing streak, Ervin Santana put together his worst outing in his past three outings: he allowed two runs through 6 2/3 innings of work on Saturday night. That's about as bad as its gotten for Santana over the past week-plus.
Of course, facing the Marlins once and Padres twice helps, but he's used the weak slate to get back into early-season form. Still, Santana held a 2.79 ERA and 2.24 FIP over his previous seven starts entering this series, striking out 46 batters and walking 11. And for the better part of the game, it looked like one run was going to be enough for him. He cruised through the Padres lineup in the early innings, building off his previous two starts.
He ran into a little bit of trouble thanks to a seeing-eye single and some control issues in the seventh inning (his second run came via Jordan Walden wild pitch that scored a runner he was responsible for), but it was another successful outing for the veteran.
While he did walk four batters, he struck out six and rarely looked like he wasn't in control of the game.
---
---