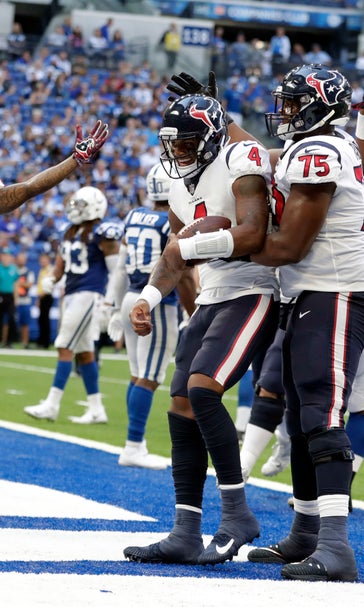 Texans win but still have more work to do
October 2, 2018
HOUSTON (AP) — After finally getting their first win this weekend, the Houston Texans know that they still have plenty of work to do if they hope to get on a roll and turn their season around.

The Texans (1-3) squandered an 18-point lead on Sunday before beating the Colts 37-34 in overtime to end a nine-game losing streak going back to last season.

Coming up next is a showdown with in-state rival Dallas, a team that enters the game at 2-2 after a victory over Detroit this weekend.

"There's a lot of things that we need to correct, but when you come out of that game with a win, there's a lot of things that you can look at that you can build on," coach Bill O'Brien said.

The Texans got great performances from defensive ends J.J. Watt and Jadeveon Clowney on Sunday. Watt had two sacks, a tackle for a loss and forced two fumbles. Clowney recovered a fumble in the end zone for a touchdown, had two sacks, four quarterback hits and four tackles for losses.

O'Brien said Sunday was Clowney's best game this season.

"He had a very disruptive game ... it was fun to see him back out there playing that way," O'Brien said. "He did a great job."

Despite the strong play of Watt and Clowney, O'Brien is looking for improvement on defense this week, especially in the secondary after Andrew Luck threw for 464 yards and four touchdowns on Sunday.

The Texans are also searching for ways to better protect Deshaun Watson after the quarterback was sacked seven times by the Colts. The second-year player has been sacked 17 times this season, which is the second most in the NFL.

Though O'Brien knows that his team must cut down the number of times Watson is getting hit, he was quick to point out that the problem isn't just with the line.

"The sacks are definitely not all the offensive line," he said. "I would say, to be honest with you, the offensive line is probably only responsible for two of those sacks. I think the other five came from missing some assignments here and there at other positions."

Houston's offense took a hit on Sunday when receiver Will Fuller left the game early in the second half with a hamstring injury. Fuller, who has 263 yards receiving and three touchdowns, missed the season opener with an injury to the same hamstring.

O'Brien didn't have an update on his condition on Monday, saying he'd know more later in the week. With Fuller out, the Texans got a strong game from rookie Keke Coutee, who made his debut on Sunday after missing the first three games with an injury. Coutee finished with 11 receptions for 109 yards.

"He's a very, very instinctive guy," O'Brien said. "He's got really good quickness, but he's also got really good speed and he's got strong hands. So, he really did a nice job for us in some key moments that we really needed a play because maybe they were doubling (DeAndre) Hop (Hopkins) or Will wasn't in there."

If Fuller can't go on Sunday, the Texans could lean on Coutee even more this week. O'Brien expects him to take another step forward this week after getting his first game under his belt.

"When he sees some of the things that he missed, he's going to really even be better the next time out ... that's what's key about the rookies is when you have a good game like that, you've got to really try to build on it," O'Brien said.

 


---
---