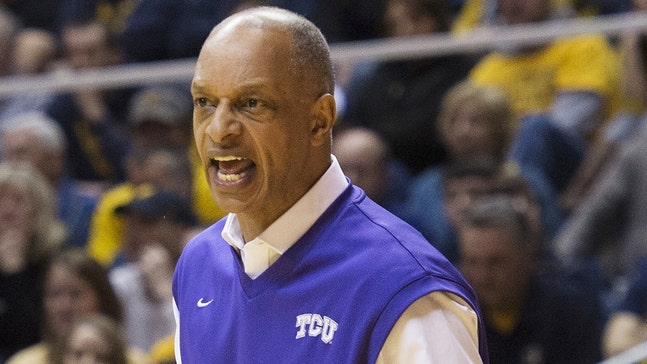 TCU coach Trent Johnson fired after 8 Big 12 wins in 4 years
Updated
Mar. 4, 2020 3:54 p.m. ET

FORT WORTH, Texas (AP) -- Trent Johnson was fired Monday as TCU's basketball coach after the Horned Frogs won only eight Big 12 Conference games in his four seasons.
TCU finished 12-21 overall this season, its first in a completely renovated campus arena.
Johnson was 50-79 with the Frogs, a period covering their first four seasons in the Big 12. They were 8-64 in regular-season conference games, with the losses coming by an average margin of more than 15 points. Winless in the Big 12 two years ago, they finished 2-16 in league play this season.
"Trent inherited a very difficult situation, and we truly appreciated his efforts over the last four years," athletic director Chris Del Conte said. "We simply did not have the success we envisioned but believe the pieces are now in place for us to move forward."
After opening the Big 12 Tournament last week with a 67-62 win over Texas Tech, the Frogs lost 86-66 to West Virginia on Thursday. The Red Raiders and Mountaineers are among seven Big 12 teams that made it to this season's NCAA Tournament.
The coach's firing was announced after he met with the team Monday morning. Johnson had two seasons left on his contract.
Before TCU, Johnson had taken LSU, Stanford and Nevada to the NCAA Tournament. The 59-year-old Johnson has a 276-264 record the last 17 seasons as a head coach, five at Nevada before four years each at Stanford, LSU and TCU.
"This is a new territory for me. I've never been a part of a program where going into year four you took steps backward," Johnson said after TCU's season-ending loss to West Virginia. "We've got a good, young nucleus. ... But these guys have gained a lot of experience."
Johnson's best record with the Frogs was 18-15 last season, when they played all of their home games in a high school gymnasium while the $72 million renovation on their campus arena was being done.
"Trent Johnson is a man of unbelievable integrity. It's hard to find a better person than Trent, and I have the highest level of respect for him," Del Conte said. "However, we believe change is needed in the leadership of our men's basketball program. With our new facility and playing in the Big 12, the strongest basketball conference in the country, we're positioned well to have a men's basketball program that makes TCU and Fort Worth proud."
TCU's last NCAA Tournament appearance was in 1998, while in the Western Athletic Conference with Billy Tubbs as coach.
The lone senior this season was 6-foot-8 forward Devonta Abron, a former Arkansas transfer who started only six games the past two seasons since missing 2013-14 because of a torn Achilles tendon.
Junior guard Kenrich Williams missed all this season after microfracture knee surgery. Their top scorers, all sophomores, were Chauncey Collins (12.3 points per game), Malique Trent (11.6 ppg) and Vladimir Brodziansky (9.7). Trent led the Big 12 with 2.1 steals per game.
"I just wish we would have fought harder in the middle and beginning of the season as we did at the end," Collins said after the final game. "I wish we all would have had a better understanding, all been on the same page."
---
---