Short Hops: Braves bullpen review/preview
November 2, 2015

FOXSportsSouth.com's team of Braves writers are taking a look back at 2015, position by position, and breaking down what we know heading into what figures to be another busy offseason. We conclude with the bullpen.
-1.0 -- Collective WAR by the Braves relievers last season, which was the 29th in the majors (the Red Sox were worse at minus-1.4). Atlanta was the only National League team ranked lower than 22nd.
2 -- Arodys Vizcaino (1.60) and Edwin Jackson (2.92) were the only relievers who ended '15 on the active roster with an ERA below 3.48.
2.25/10.13 -- The first number represents Jim Johnson's ERAs while he was with the Braves; the second is what he posted after his deadline deal to the Dodgers.
The past season only the Rockies at 4.70 had a worse bullpen ERA than the Braves' 4.65, a figure that was the worst for any group of Atlanta relievers since 1977 and, dating back to 1914, the franchise finished just 13 years with a bigger number.
To sum all that up: the Braves' relief efforts in 2015 were the worst since Georgia product Jimmy Carter's first year as President.
Still, going back to 2011, Atlanta has the third-best cumulative bullpen ERA in the game at 3.24, a testament to just how dominant that Craig Kimbrel-led unit was for four years. No one is expecting this current collection of arms to get back to that point, but with new general manager John Coppolella pinpointing upgrades here as the biggest area of need, the seeds for a turnaround should be planted.
Consistency would certainly help. Before the season, the Braves traded Kimbrel (Padres), Jordan Walden (Cardinals), David Carpenter and Chasen Shreve (both to the Yankees), Anthony Varvaro (Red Sox) and David Hale (Rockies), in-season they sent Luis Avilan and Jim Johnson to the Dodgers and Jason Grilli was lost in July to a ruptured Achilles.
The end result was Fredi Gonzalez using 34 different players in relief -- that included 17 rookies and one unforgettable appearance from Jonny Gomes -- which was a jump of 19 more players than the year before.
Finding proven arms will no doubt be on Coppolella's short list, but just getting healthy will be a major help, as Grilli is expected back for the the start of spring training and Shae Simmons (2.91 ERA with 23 strikeouts and 11 walks in 26 games in '14) returns from Tommy John surgery.
And on the topic of Grilli ...
Before his season-ending injury, Grilli looked much more like the 2013 All-Star than the pitcher who lost the closer role with the Pirates in '14 and was eventually traded to the Angels.
He converted 24 of his 26 saves opportunities in 36 appearances with a .217 batting average against. Those were a vast improvement from '14's 4.00 ERA and .252 BAA in 62 games, and Grilli's 12.05 strikeouts per nine innings where more of a return to '13's figure of 13.3.
That kind of a season -- even at 38 -- would make it seem a given that Grilli would have every chance to reclaim the closer role if he's indeed back to full health by Opening Day.
The problem with that though, is Arodys Vizcaino.
Originally acquired by the Braves in 2009 from the Yankees as a 19-year-old, and then reacquired last November by sending Tommy LaStella to the Cubs, Vizcaino made a strong case for the job after Grilli went down.
He was nine of 10 in save chances, held opponents to .218 batting and had a 1.60 ERA in 33 2/3 innings over 36 games. Over Vizcaino's last nine appearances, which included five saves, he didn't allow a run in 8 2/3 with 12 strikeouts to two walks.
Granted, it was a small sample size, but let's not forget that Grilli was brought on to be a setup man and was only thrust into the closer role on the day before the season opener when Kimbrel was dealt to the Padres. If Gonzalez believes enough out of what he's seen from Vizcaino, it could allow Grilli to move back to that spot in the pecking order.
Of course, the wild card here may be Mike Foltynewicz. The popular belief is that the Braves are intent on keeping him a starter, but if Mike Minor and Manny Banuelos are healthy -- and join Shelby Miller, Julio Teheran and, likely, Matt Wisler -- will there be enough room for Foltynewicz or Williams Perez in the rotation?
If not, Foltynewicz's arsenal, in particular, and 19.3 strikeout percentage would look right at home in the bullpen, and, eventually, closing outs games.
While Coppolella is clear in his intentions to revitalize the bullpen, the reality is that getting healthy may be the first real step. As previously stated, Grilli and Simmons will again be available and having Vizcaino and Andrew McKirahan, both of whom were suspended for 80 games for PED use, for an entire season will also help immensely.
If we're assuming Atlanta carries seven relievers on the active roster, that would account for four spots, and if Foltynewicz is in the conversation, that leaves two open spots.
There's the potential that Edwin Jackson (2.92 ERA in 24 games after being traded from the Cubs) and left-hander Matt Marksberry, who had a .170 average against lefties, could return. But if the Braves do look outside, especially for a lefty, Franklin Morales could make a lot of sense after limiting left-handers to a .192 average for the champion Royals.
The Braves could wind up digging into their own system with Chris Withrow or Zack Bird -- who they acquired from the Dodgers -- or Jason Hursh, Daniel Winkler (a Rule 5 pick) or any of the laundry list of youngsters who were up and down between Atlanta and the minors last season or those who were in the rotation in '15.
The point is that, while Coppolella and Co. could look outside the organization, there is plenty of in-house options that could make this spring every interesting.
Follow Cory McCartney on Twitter @coryjmccartney
---
---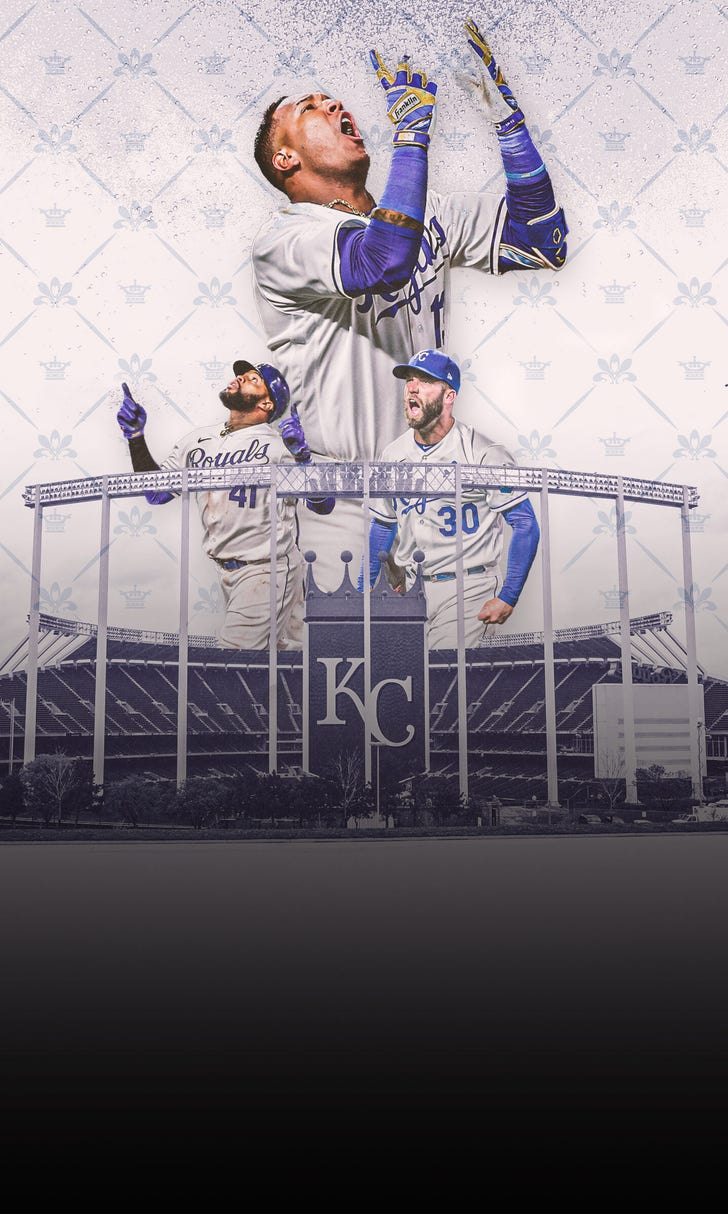 Salvador Perez and the Kansas City Royals are the team that never says never