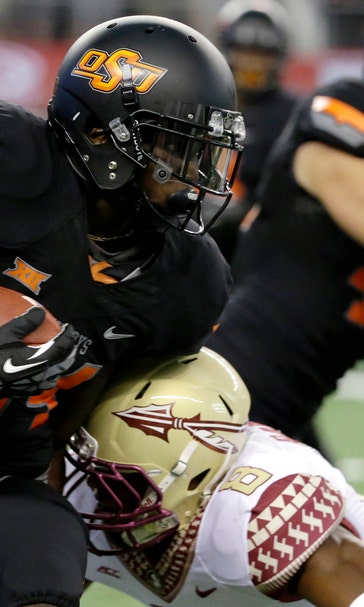 Sadness abounds after Hill's domestic violence arrest
December 15, 2014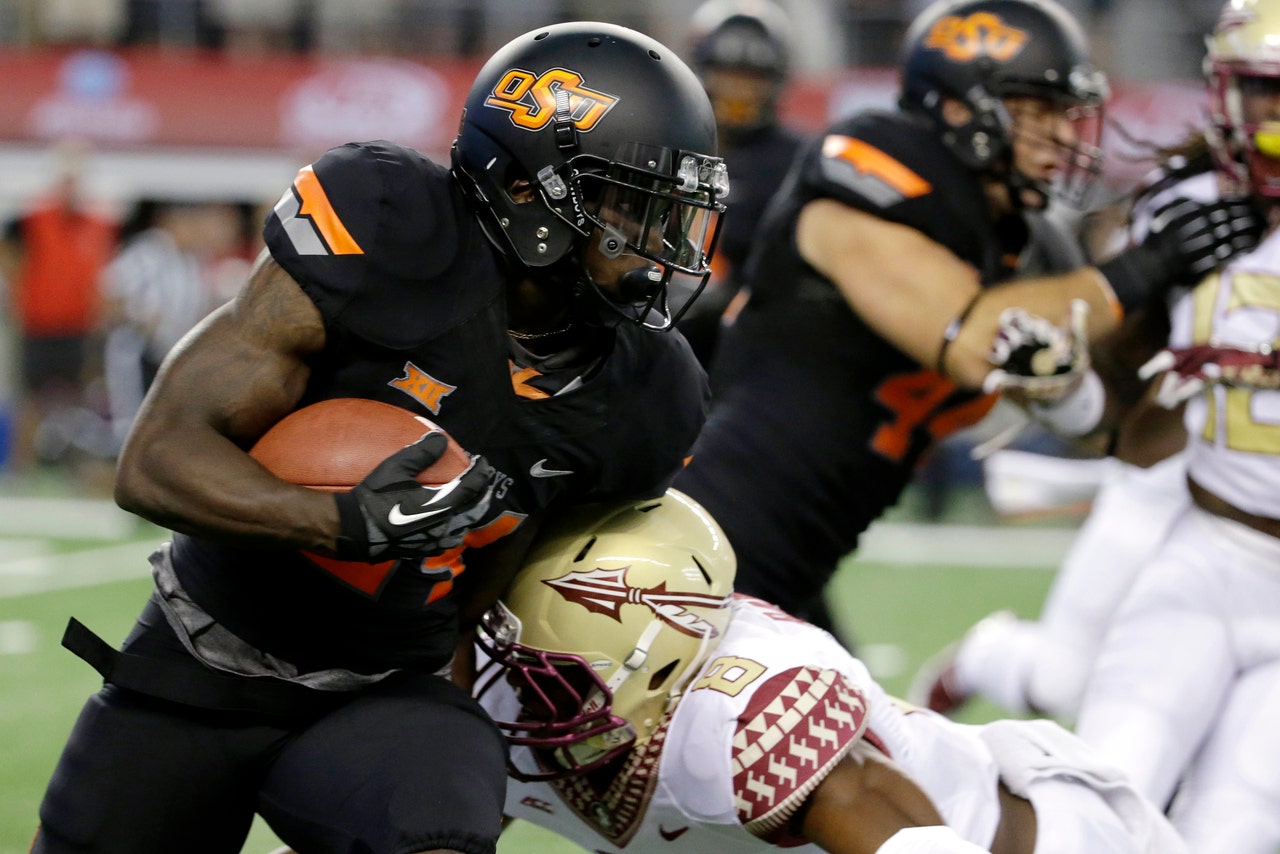 The domestic violence allegations aimed at Tyreek Hill meant lots of immediate changes. 
He spent the night in jail and has been ordered by authorities not to contact the victim, his girlfriend who is also eight weeks pregnant with his child. Hill is no longer a member of Oklahoma State's football and track teams.
Our perception of the shy, understated Hill changed, too, but his alleged victim's testimony to police suggests our understanding was wrong in the first place. 
Hill was one of the Big 12's brightest stars, poised for a possible breakout on the national stage next season as the best weapon on an improving Cowboys team. 
Now, he's off the team and everybody in the blast radius of last week's explosive allegations is losing. It's hard to muster up anything but a deep sadness. 
Nobody lost more than the young woman who found herself in a Stillwater emergency room on Thursday night, showing doctors and police a busted lip, an eye that was becoming blacker by the minute and a scuffed-up neck after Hill allegedly punched her and grabbed her around the neck to bang her head against a wall. 
A post on Hill's Facebook page from 2012 strongly suggests she is also not the first woman who has endured untoward behavior from Hill, though it may have never crossed over into abuse. 
What lies ahead for Hill and the victim is a complex relationship that has produced a yet-unborn child, making the additional allegation that Hill punched her in the stomach even more detestable.  
Hill has left a woman he's been with since June to heal emotional and physical wounds from abuse while reconciling a difficult future she surely imagined would look very different. 
Mike Gundy swiftly announced Hill's dismissal from the team while he was still in police custody, sending him into pigskin limbo. To his credit, Gundy didn't need to wait to see videotape of the incident to make his decision. A cringe-filled reading of the police report and a few phone calls provided enough information to make a predictable and appropriate decision.
A source close to Hill told FOX Sports Southwest on Monday that Hill was in a "severely fragile state of mind." 
"He's having a hard time looking past his situation," the source said. "Guys are trying to encourage him, but he's really dwelling on it. The dispute, being arrested, being off the team, disappointing friends & family, uncertainty about the future, etc."
Hill grew up in a home with his grandparents and has a relationship with his father and mother, who gave birth to him when they were still teenagers. 
How much it was emphasized is irrelevant: The reality is the message about how to treat women hasn't sunk in for Hill. The only good that could possibly come out of this is Hill finally learning that lesson at the cost of half his college career at Oklahoma State. 
Why couldn't he have learned that before someone really got hurt? 
Not all athletes have Hill's support system. As we've learned in the past few days, even the ones that do don't always internalize the message. Oklahoma State might benefit from instituting either a domestic violence education and prevention program for athletes each semester and require attendance across the athletic department. It couldn't hurt, and it might help prevent future victims. Other universities would be wise to do the same. 
The source indicated Hill hasn't begun assessing his future options, but he essentially has three: Go to the NFL Draft, transfer to a FCS school and play immediately in 2015 or transfer to an FBS school and sit out 2015 before playing one final season enter the 2016 draft. 
The draft seems like the most likely option, but it also seems unlikely that his speed would outweigh modest production in a single season at Oklahoma State and a domestic abuse allegation that might as well serve as a scarlet letter in the post-Ray Rice NFL. If an NFL team took a chance on him in the draft, it would certainly be rounds later than it would be without a domestic abuse allegation on his record. 
Back in Stillwater, the Cowboys are left without their best offensive weapon. As trivial as that feels to mention, it's reality and Hill hurt and disappointed 80-plus teammates. A week after Hill played the hero in Bedlam, a fan base (particularly the youngest members) are offered another reminder of how little we know about players and coaches off the field. 
In September, I tracked down several of Hill's family members, teammates and coaches for a story. They all painted the picture of a quiet, determined guy who'd been a bit spoiled as a child but kept his nose out of trouble. 
That's changed now, but between Hill's somewhat cryptic social media post and his victim's statement to police, there was more going on before it came to a head in public on the police blotter. 
A woman has been profoundly wounded, left concerned about her unborn child and a limitless career's been derailed. So much has been lost, and it's hard to feel anything but sad about it all.
---
---