Al Horford
Al Horford
Reserves Patterson, Holiday log key minutes for shorthanded Hawks
Published
Nov. 19, 2015 12:47 a.m. ET

ATLANTA — Perhaps the most important basket of Lamar Patterson's young NBA career was an accident.
Late in the fourth quarter of Wednesday's 103-97 win over the Kings, Patterson received the ball on the wing with options. His center, Al Horford, was posting up opposing 6-foot point guard Darren Collison and demanding the ball, the type of mismatch coaches spend hours scheming for. His own point guard, Dennis Schroder, was requesting a return pass at the top of the arc. Instead, Patterson saw Paul Millsap, the Hawks' go-to scorer throughout the evening, flashing up through the lane.
Millsap, however, was expecting to set a high screen if and when the ball returned to Schroder. Patterson's pass sailed. Rookie mistake.
The ball ended up in teammate Thabo Sefolosha's hands and Patterson, as if he planned the fortunate development all along, immediately cut behind his defender toward the basket. As Sefolosha curled to the elbow and left his feet, he found the rookie wing at the last second. Patterson shielded the ball, drew contact and scored plus the foul — a page ripped directly out of the DeMarre Carroll handbook for moving without the basketball.
"I'll be honest, I was passing the ball to Paul, and it didn't get there," Patterson said with a laugh. "It went to Thabo. It was looking like a turnover for me. Thabo saved me. He came up, he was about to shoot it and I just cut — see the open cut and he hit me and I was able to finish it."
Patterson was not the key figure behind the Hawks' first win in a week. That was Millsap, who built upon his All-NBA pace with a stat-stuffing double-double. Patterson's opportunistic backdoor cut was not the most important shot of the game for Atlanta. Millsap's game-clinching runner with 30 seconds remaining claimed top billing. Schroder, Horford and Kyle Korver were billed as best supporting actors.
Still, along with surprise starter Justin Holiday, coach Mike Budenholzer needed a quality outing from Patterson and the bench.
The Hawks entered Wednesday's game stuck in a rut mired by late-game execution, due at least in part to a succession of ankle injuries that ultimately kept both starters Jeff Teague and Kent Bazemore out for the second straight game.
In the new-age medical approach to rest and the prevention of injuries, particularly with five different Hawks nursing ankle issues of various severity, such performances are necessary. The Hawks have only played five of their first 14 games this season with its full starting lineup and regular supporting cast. Korver and Sefolosha have rested on back-to-backs, Tiago Splitter has been allowed a night off or played limited minutes and, recently, Teague and Bazemore have been sidelined.
These developments move Budenholzer's line of sight down the bench.
Patterson played a career-high 25 minutes against the Kings. Holiday continues to see double-digit minutes. Teague's absence pushes third-string point guard Shelvin Mack into the rotation.
"We're on the roster for a reason," Patterson said. "We knew the opportunity was going to come. Seeing Baze go down, Jeff go down — that's what we're here for, to step up when needed."
This process should look familiar to Holiday.
Atlanta hired Keke Lyles and Michael Roncarati, two members of Golden State's training staff last season, to revamp the franchise's medical department this offseason. There's an added emphasis on rest and treatment, monitoring players' progress throughout, and while the Warriors enjoyed a season-long bill of health there were notable opportunities for their reserves. It's no surprise that as Korver and Sefolosha continue to rehabilitate offseason surgeries early-season back-to-backs are rare. The purpose is to keep players healthy and performing at peak levels come playoff time, but the byproduct is that it tests — and builds — depth.
Holiday broke into the starting lineup four times last season for the Warriors. In fact, 12 different players logged starts for the defending champs.
For his first career start, an overlooked March clash in Denver, Holiday poured in 23 points, including five 3-pointers, while attempting to pick up the scoring slack for Steph Curry and Klay Thompson. The shorthanded Warriors were upended by the Nuggets — Holiday, it should be mentioned, was a minus-10 for the night — but he logged 35 solid minutes when the coaching staff needed a quality replacement. He'd start three more games by the end of the month.
On Wednesday night, Holiday found out he was taking the floor for the opening tip around the same time the media did: "I went to chapel with 60 (minutes) on the clock, so it was probably with 45 on the clock. Maybe less."
Budenholzer's strategy, intentional or not, worked, at least for the first two minutes. Holiday knocked down a 3-pointer off a Horford assist on the Hawks' first possession of the game, then followed it up 74 seconds later with another outside shot. Just like that: Justin Holiday 6, Sacramento Kings 3. His personal fireworks ended there, though.
Holiday went through his struggles despite the fast start, missing five subsequent attempts and finishing the night minus-7 in 17 minutes. It's been slow going for Holiday early on as he forms the team's concepts into habit, but judging by his increased playing time he's slowly earning the trust of the coaching staff. 
Patterson filled in the wing vacancy down the stretch. The former second-round pick remains a surprise contributor for Budenholzer's team, especially as he logs time ahead of Tim Hardaway Jr., a former starter with the New York Knicks who the organization traded a first-round pick for in June, and his performance against the Kings could lead to more time. The Pitt product finished plus-6 with five rebounds and nine points, none bigger than his back cut with three minutes remaining.
"Lamar is just somebody that just has such a high basketball IQ. He makes the right pass. When a guy needs the ball, he gets it to him," Budenholzer said. "He plays with a lot of confidence. When he's open, he shoots it. When he needs to pass it, he passes it. I thought he got after it defensively. I just thought he had a good overall game on both ends of the court."
Patterson's play helped secure a crucial victory for Atlanta, which had dropped four of its previous five games. The play had been substandard, leading to a team film session prior to Wednesday's game. Yes, two of the losses (Brooklyn, Utah) were by a combined three points while missing starters and in another (Minnesota) the Hawks held a lead late in the fourth quarter before Andrew Wiggins delivered a signature moment. Losses look the same in the standings, however.
The Hawks needed their bench — and, of course, Paul Millsap — to pick up the slack.
"Something I've always said and always talk about, 'If I'm picking the teams, I'm always going to pick the team with guys on my team that play hard and they give everything,'" Holiday said. "Usually the guys that are the most talented won't work the work, won't give you everything they have. So when you play with guys like that, it makes it easy.
"Doesn't mean it's going to pretty all the time, but we're going to get after it. We're gonna come at you."
---
---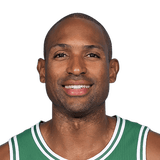 Get more from Al Horford
Follow your favorites to get information about games, news and more
---