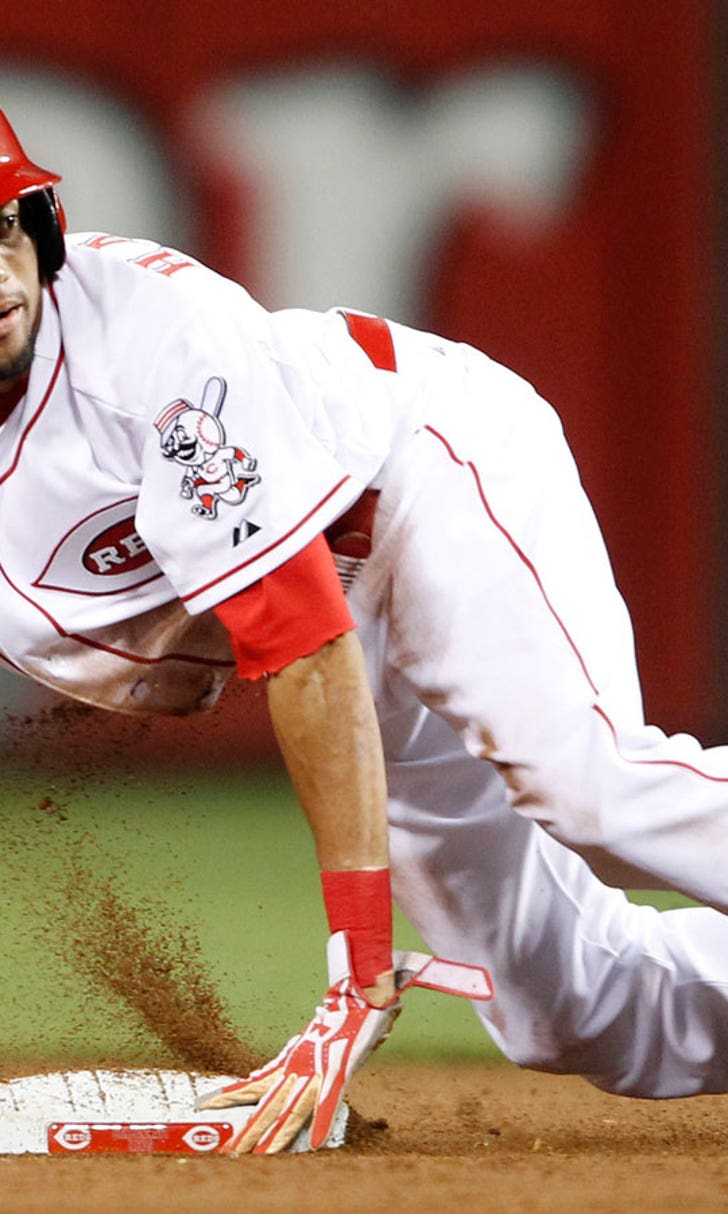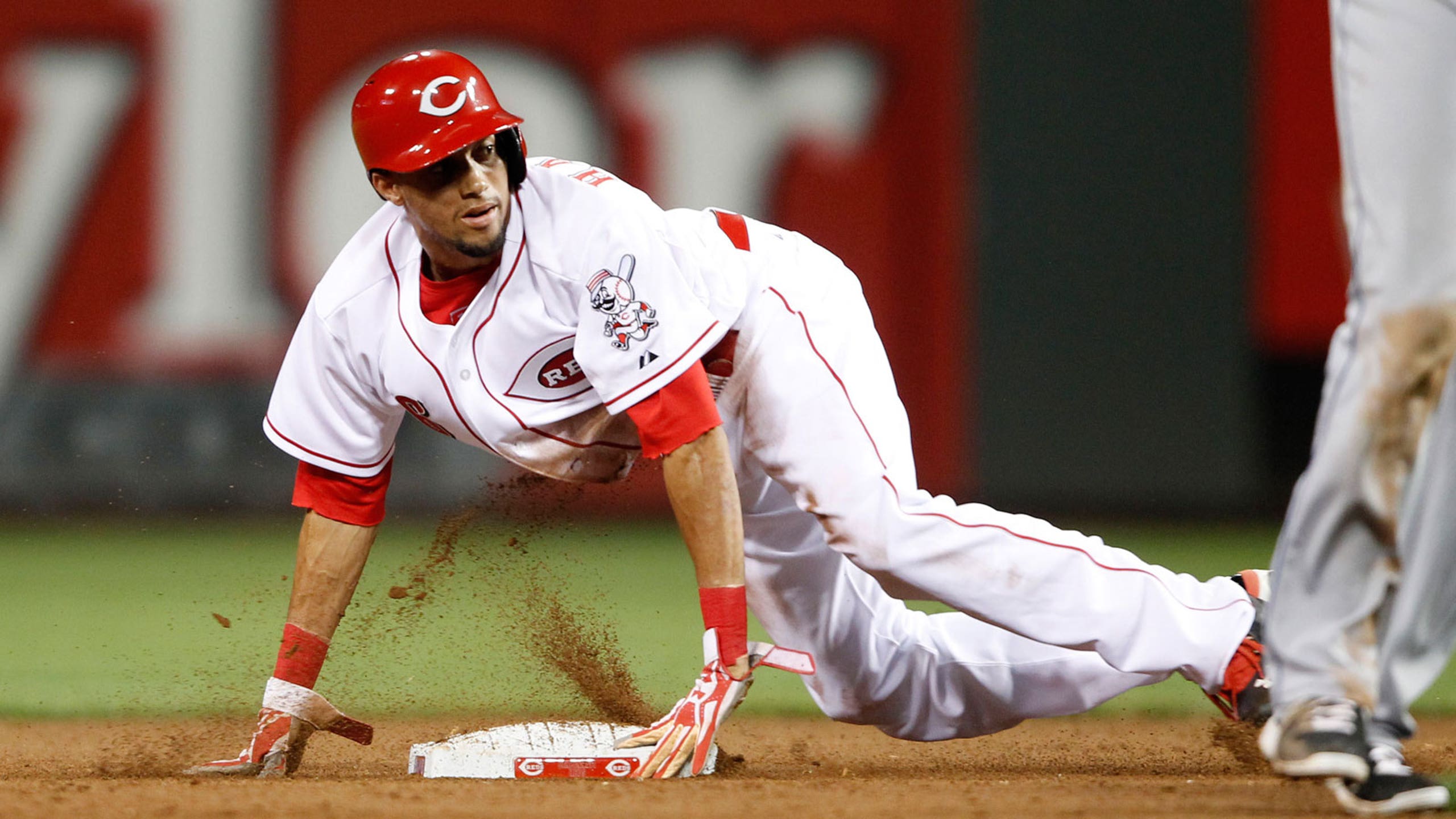 Reds base-stealing phenom Hamilton quickly proving talent
BY foxsports • February 20, 2014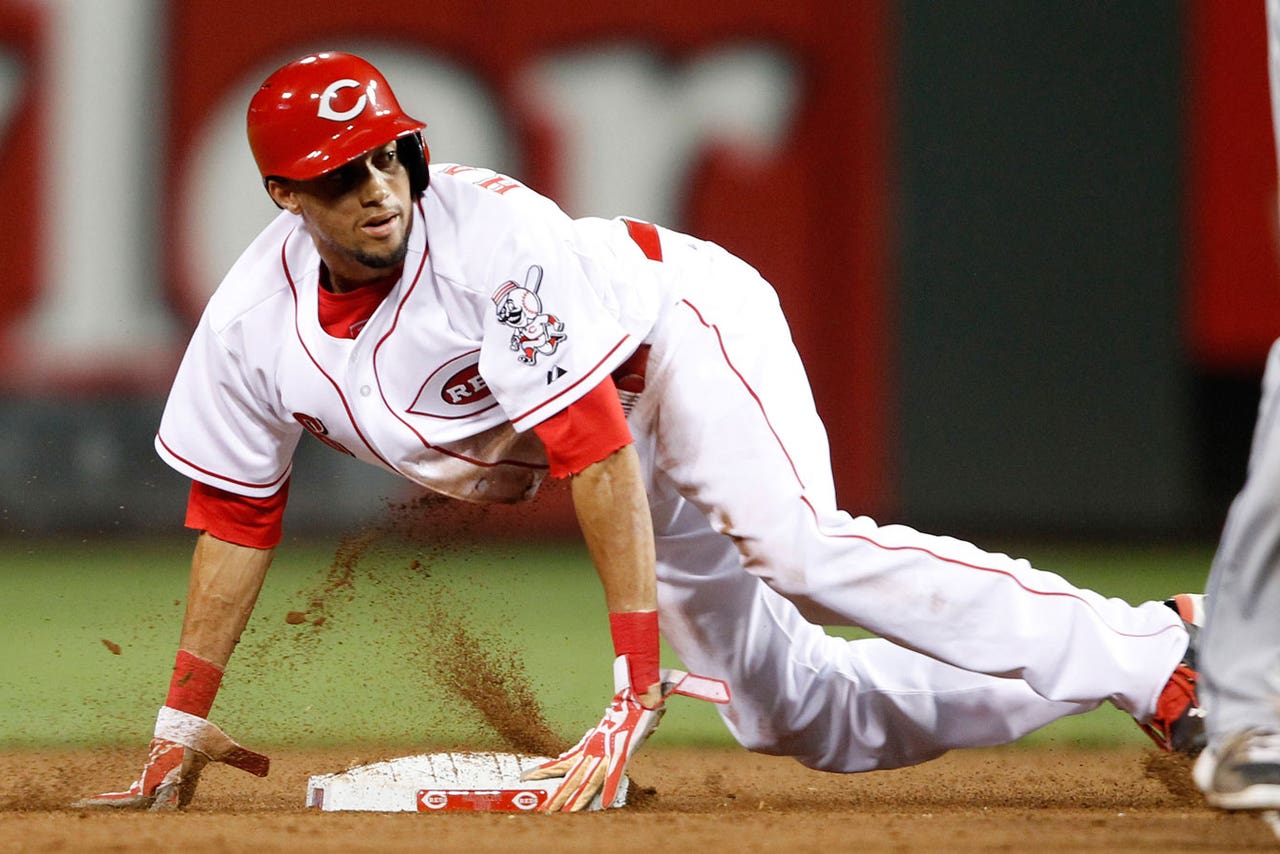 GOODYEAR, Ariz. -- Billy Hamilton admits he talks fast, he dresses fast, he walks fast, he eats fast, he reads fast and he sleeps fast.
And man, oh man, can he run fast.
Satchel Paige once said of fellow Negro League star Cool Papa Bell, "He can turn out a light switch and jump in bed before the room gets dark." Hamilton can turn out the light switch, jump in bed and be asleep before the room gets dark.
Hamilton was asked if first basemen ever ask him about his speed when he gets on first and Hamilton smiled and said, "No, because I don't stick around long enough for any conversation."
Hamilton stole 155 bases in 2012, an all-time minor-league record. When he arrived in Cincinnati last September, he stole 13 bases, the most in the majors for the month of September. And that was in only 13 games, many of them mere pinch-running assignments. He only had 22 plate appearances.
That was a warmup for him, a rehearsal just a taste of life under the big top. Now it is his time. Hamilton will be the leadoff hitter and the center fielder for the Cincinnati Reds, replacing Shin-Soo Choo, who departed for Texas via free agency.
"I'm so excited because it is like a dream come true," said the 23-year-old second-round draft pick in 2009. "Coming up last September and doing what I did gave me a lot of confidence, showed me what it's like to be up here every day and motivated me to get to this level and stay here."
Hamilton hit only .256 at Triple-A Louisville last year with 75 stolen bases in 90 attempts. With the Reds, in only 13 games. he hit .368 (7 for 19) and was caught-stealing only once in his 14 attempts.
To hone his skills, Hamilton came to Arizona from his Mississippi home in January and worked with Double-A Pensacola manager Delino DeShields because, during his career, DeShields was a bunter, a base-stealer, a leadoff hitter and a center fielder.
"We want Billy to keeps his eyes and his ears open," said Reds manager Bryan Price. "We have some great people, some great instructors. But that is who he already is. He was out here in January working on bunting theories, his approach and understanding to batting leadoff and his center-field play.
"Billy just needs to continue to evolve because the work ethic is there and his work repetitions are there," Price said. "He is going to get better simply by being in this camp and being around all the good people we have. He just needs to let the evolution of his physical and emotional maturity take him to the next level."
Asked about working on his bunting so he can get on base more and totally disrupt the defense with his base-stealing acumen, Hamilton said, "I'm working on bunting, but I worked on my all-around game and that includes defense. My main job is to get on base and that's what will help the team the most.
"Delino DeShields taught me all the stuff he knows about bunting, about being a legitimate leadoff hitter. He was a great player and it is hard to go against anything he says being the great guy he is."
During his 13-year career with five major-league teams, DeShields hit .268 with a .352 on-base average and stole 463 bases.
"I am looking so forward to using the stuff he told me because it has stuck in my head," said Hamilton. "It was mostly face-to-face, guy-to-guy talk, the mental approach."
And the bunting? "Of course that is going to be a big part of my game," Hamilton said. "I have to use that to take some pressure off myself so there will be a lot more bunting than I've done in the past."
Hamilton's talent creates a special electricity in the ballpark. It is like when Reds closer Aroldis Chapman comes out of the bullpen and the crowd reacts to the prospect of seeing a 102 MPH fastball and hitters flailing futilely at his pitches. With Hamilton, it occurs when he gets on base and fans sense he is going to steal second and probably third, too.
"I notice it," he said. "I don't let it distract me. But it does motivate me, pumps me up a little bit. It makes it fun. It's unreal and very nice."
There are those who believe this is too much, too soon for Hamilton after only 19 major-league at bats. He signed as a shortstop and has only played center field a couple of years and was transformed into a switch-hitter during his minor-league career.
Price, though, doesn't believe too much is being thrown at him while he continues to develop his center-field and switch-hitting skills.
"I'm not worried about that," said Price. "We are not going to ask anybody to carry too much of a load. If we are going to be the team we think we can be, we have to disperse the responsibility throughout our lineup. We can't just worry that Hamilton can handle the leadoff spot, but we have to hope to get production from the other seven guys in the lineup."
---
---