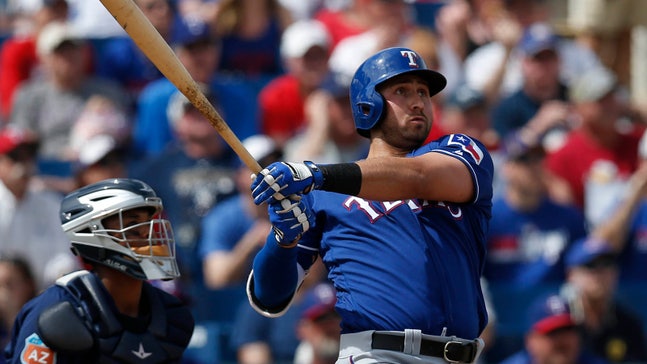 Rangers beat by Angels 7-3
Updated
Mar. 4, 2020 3:14 p.m. ET

TEMPE, Ariz. (AP) -- Johnny Giavotella hit a rare three-run homer to power the Los Angeles Angels past the Texas Rangers 7-3 on Sunday.
Geovany Soto, a one-time Texas catcher in camp with his fourth team in three seasons, also homered for the Angels.
Joey Gallo hit his second home run of the spring for the Rangers, and James Jones added a two-run shot in the ninth.
Giavotella is known much more for his defense than his power -- last year he set a career high with four home runs -- and that came to the fore on a late double play.
"He's been working really hard with (new shortstop) Andrelton (Simmons)," Angels manager Mike Scioscia said. "It's starting to show."
Giavotella's line drive over the left-field fence started what became a five-run seventh for the Angels against Rangers right-hander Anthony Renaudo.
Los Angeles took a 1-0 lead in the first on an unearned run. Gallo tied it with a towering shot just inside and well above the right-field foul pole off Angels starter Matt Shoemaker.
Shoemaker allowed one run and two hits over four innings, striking out four. He also walked four, all within his first seven batters.
"The third and fourth (innings), that's where I need to be," Shoemaker said. "The first and second were rough, with the balls and stuff. I was trying to tweak some things versus competing in the first and second. It's my fault for taking it out into the game. That belongs on the side."
Soto made it 2-1 in the fourth with his solo homer to left against Rangers starter Derek Holland.
STARTING TIME
Rangers: Holland allowed two runs -- one earned -- and three hits over four innings. The left-hander retired nine of 10 hitters from the end of the first into the fourth.
"I'm still trying to get outs and just execute my pitches," Holland said. "The first inning I was rushing and didn't let my defense make plays. After that I found my groove and executed better as the game went on."
Angels: Shoemaker was one of two rotation members pitching on Sunday. RHP Garrett Richards started and threw 52 pitches over four innings in a "B" game in Scottsdale against the Arizona Diamondbacks. "He mixed all his pitches and did a great job," Scioscia said. "We wanted him to work on a couple of things."
UP NEXT
Rangers: RHP A.J. Griffin, trying to make it back to the majors after two seasons lost to Tommy John surgery, will make his third start of the spring against 2014 AL Cy Young Award winner Corey Kluber and the Cleveland Indians. Griffin has not pitched in the majors since September 2013.
Angels: LHP Nate Smith will make his third appearance and second start for Los Angeles on Monday against Cincinnati. Smith is the Angels' third-ranked prospect, according to MLB.com.
---
---