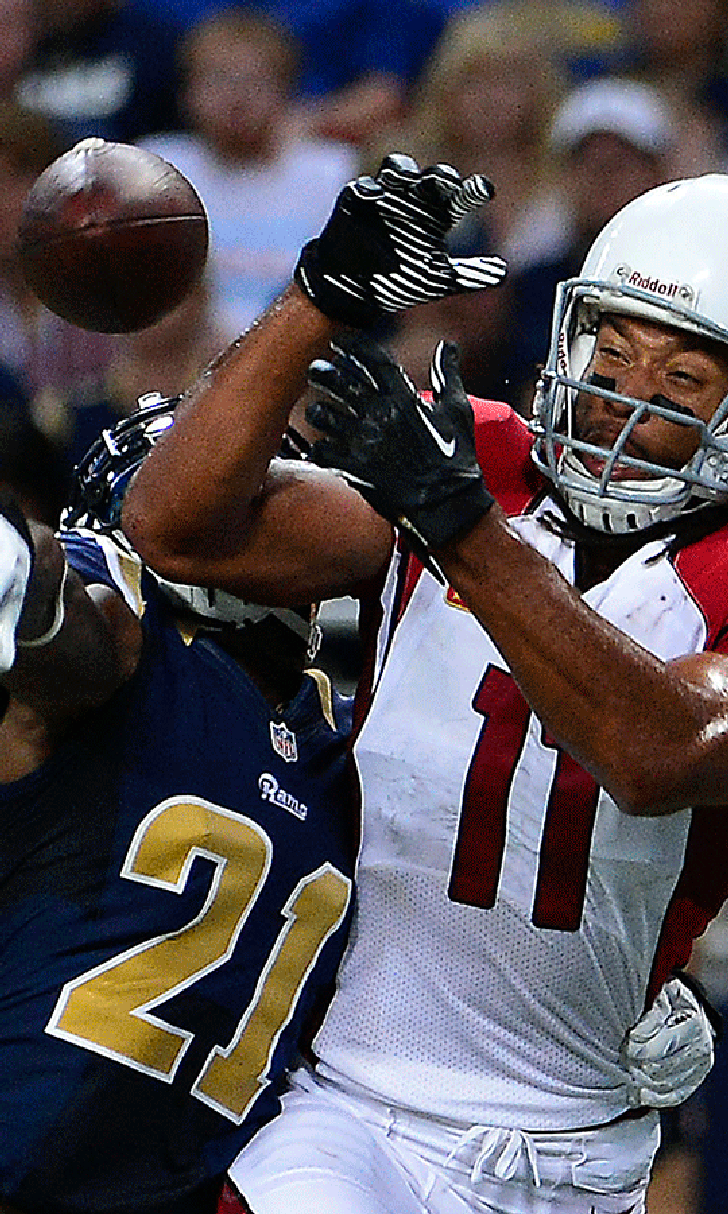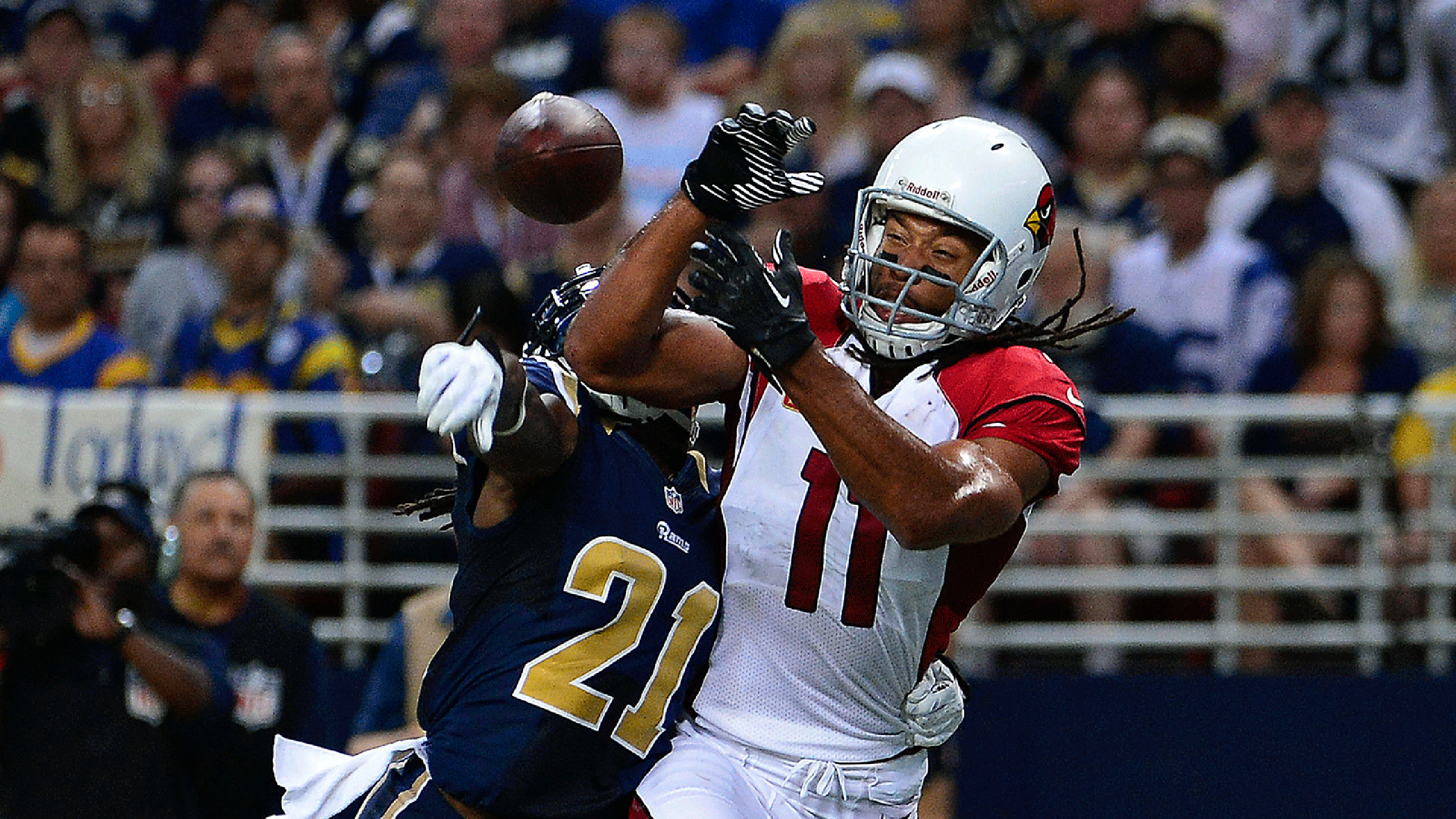 Rams, recent history stand between Cardinals and playoffs
BY foxsports • December 10, 2014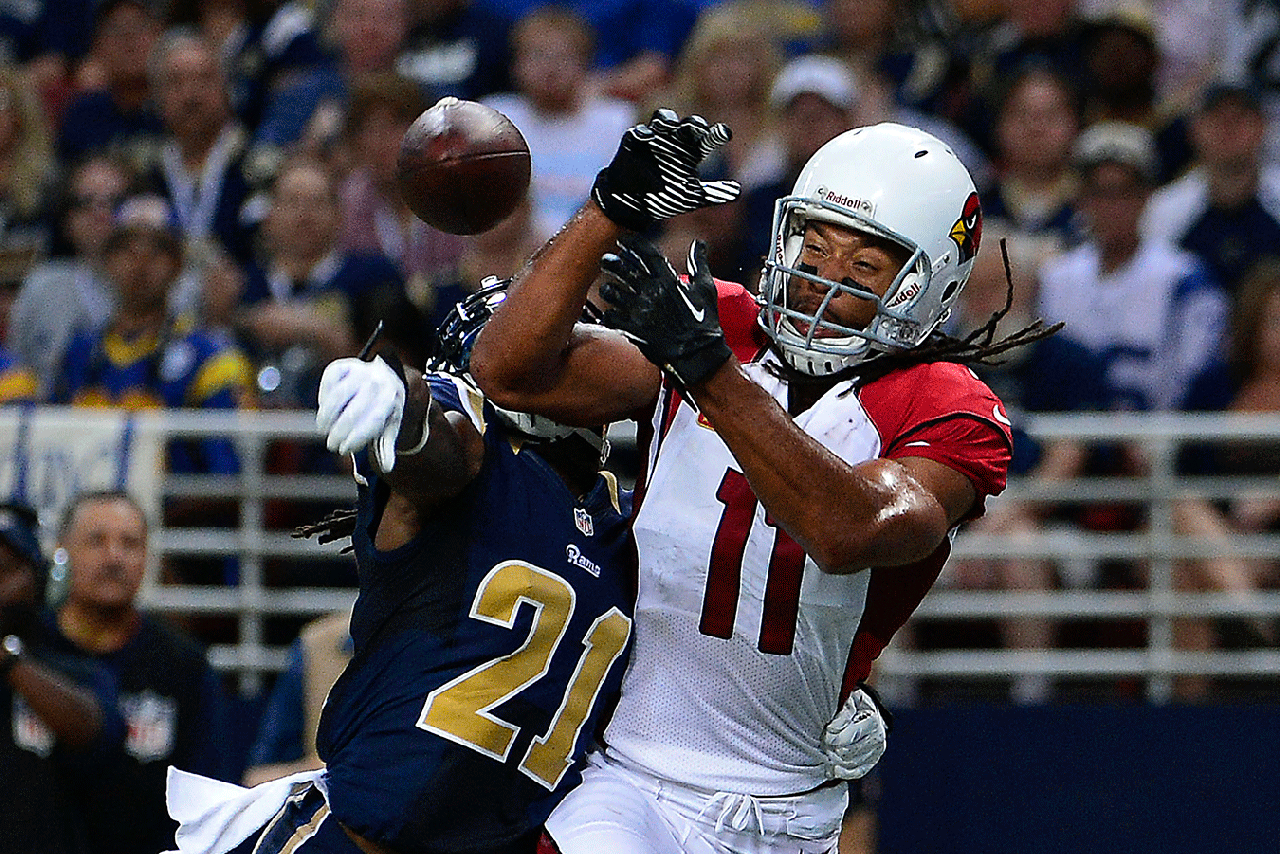 TEMPE, Ariz. -- Lyle Sendlein doesn't remember much from the Cardinals' 17-3 loss in St. Louis two seasons ago on Thursday night football. 
"I probably deleted it from my memory," the Cardinals center said. "I'm sure there were a lot of sacks."
Nine, to be exact. Quarterback Kevin Kolb got beat up so badly that his helmet was knocked off twice and he took a straight shot to jaw, leading him to describe the Arizona offense as "sickening." 
The Cardinals suffered a different kind of queasiness last season in St. Louis in the season-opener. Arizona blew an 11-point, fourth-quarter lead and Rams kicker Greg Zuerlein booted a game-winning, 48-yard field goal with 40 seconds remaining in a 27-24 win.
"Last year was a tough one," receiver Larry Fitzgerald said. "It's a tough place to play, I know that much. It's loud, those guys play with a lot of passion and energy, and they play to the whistle."
The Cardinals have faced long obstacles all season, but a short week of practice, followed by a Wednesday flight and a Thursday night game in St. Louis against a defense that has pitched back-to-back shutouts and is roughing up passers certainly sits near the top of the list.
Aside from the Cardinals' recent history of misery in St. Louis, they have never won a Thursday night game (0-4) dating to 1995 and have been beaten handily in their past three games. In 2013, Seattle beat them 34-22 at University of Phoenix Stadium. In 2008, Philadelphia beat them 48-20.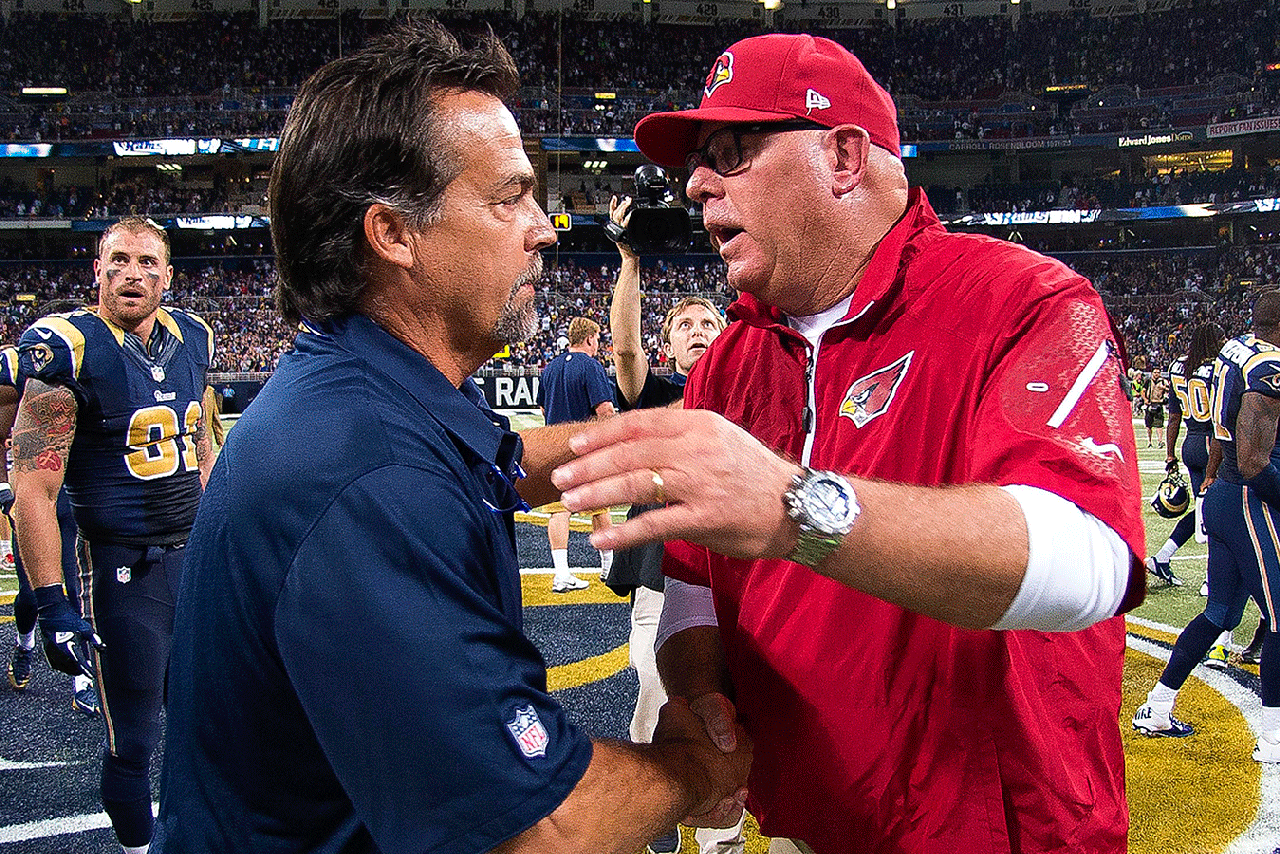 CARDINALS (10-3) at RAMS (6-7)
When: 6:25 p.m., Thursday
Where: Edward Jones Dome, St. Louis
TV: NFL Network (Jim Nantz, Phil Simms, Tracy Wolfson) 
2013 Offensive rankings: The Rams are 27th overall at 317.2 yards per game (26th passing, 208.1 yards; 18th rushing, 109.1 yards, 17th scoring, 21.9 points). The Cardinals are 23rd overall at 325.3 yards per game (14th passing, 245.5 yards; 30th rushing, 79.8 yards, 22nd scoring, 21.2 points).
2013 Defensive rankings: The Rams are 11th overall at 344.9 yards per game (15th passing, 240.2 yards, 10th rushing, 104.8 yards, 14th scoring, 21.9). The Cardinals are 17th overall at 355.4 yards per game (27th passing, 263.3 yards; 6th rushing, 92.1 yards, 3rd scoring, 18.3 points).
INJURY REPORT
Cardinals: S Tyrann Mathieu (thumb) and RG Paul Fanaika (ankle) are out. CB Antonio Cromartie (ankle) and DT Ed Stinson (toe) are questionable. WR Larry Fitzgerald (knee), LB Lorenzo Alexander (knee), LB Larry Foote (foot), LB Matt Shaughnessy (shoulder), QB Crew Stanton (ankle/knee) and LT Jared Veldheer (ankle) are probable.
Rams: DE Chris Long (ankle) is questionable. WR Kenny Britt (non-injury), DT Alex Carrington (thigh), LB Will Herring (foot), LB James Laurinaitis (ankle), G Rodger Saffold (shoulder), C Scott Wells (elbow) and TE Cory Harkey (knee) are probable.
WHAT'S AT STAKE?
Probably any realistic shot of holding onto the NFC's No. 1 seed. Green Bay is scorching hot and the Packers face the Bills and lowly Bucs the next two weeks before finishing up against the Lions at Lambeau Field. Seattle is just a game back of the Cardinals in the NFC West and has the same record against NFC foes (7-2) for tiebreaker purposes. The Seahawks come to Arizona on Dec. 21.
OUTLOOK
This is arguably the toughest game remaining on the cardinals' schedule. It's on the road. It come son a short week and it comes against a defense that has pitched back-to-back shutouts, gets after the quarterback and is playing as well as any unit in the NFL.
PREDICTION
St. Louis 24, Arizona 10
RELATED
2 Cardinals support athletes taking a stand on social change
Rams defense hitting on all cylinders

Part of the challenge is clearly physical, with just four days in between games.
"I don't know how many this is for me now, but it's been a bunch," Cardinals coach Bruce Arians said of his Thursday night resume. "One year, I think we were able to jog on Tuesday. You're asking a lot out of their bodies to do a lot of physical activity to get ready for this game.
"You do everything basically as a walk-through."
The Cardinals can't clinch the NFC West with a win this week. The Sunday night against Seattle the following week still looms much larger in that scope. But if Arizona can somehow win a game in which very few outsiders give them a chance, they can all but lock up a playoff spot.
There are a number of scenarios under which that could happen. Here is the simplest. If Arizona wins while any one of the Eagles, Cowboys or Lions lose, the Cardinals clinch a playoff berth. The Eagles and Cowboys play each other so, barring a tie, one of those teams should lose. Arizona (10-3) clinches because it holds a two-game lead on all three of those 9-4 clubs by virtue of head-to-head tiebreakers, since it has beaten all three this season.
"Good teams have got to find a way to win games no matter what the circumstances are," defensive end Calais Campbell said. "This is a big opportunity for us so we've got to find a way to get the win."
The interior of the Cardinals O-line: The interior of the line doesn't face as much pressure in pass protection as the tackles, but guards Jonathan Cooper and Ted Larsen and center Lyle Sendlein will be facing a couple of very tough tackles in Michael Brockers and Aaron Donald. Cooper has to help the Cardinals running game get going, and the three can't get manhandled at the point of attack or this is going to be a very long day.
Running back Kerwynn Williams: He became the first Cardinals' running back to top 100 yards rushing last week, but that was against a poor run defense. The Rams have allowed 88 combined rushing yards the last two weeks.
Road Drew Stanton: In his seven starts this season, the Cardinals QB is 3-0 at home but 1-3 on the road with just one touchdown and three interceptions. He's completed just 63 of 120 (52.5 percent) and his passer ratings in those four road games were 66.3, 56.2, 54.8 and 72.
-- Rams assistant head coach Dave McGinnis was the Cardinals coach from 2000-03, after serving as defensive coordinator from 1996-2000.
-- This week's matchup features QBs -- Arizona's Drew Stanton and St. Louis' Shaun Hill -- who were teammates with the Lions from 2010-11. Stanton served as the backup to Hill for the majority of the 2010 season, and then both QBs served as backups to Matthew Stafford in 2011.
-- The Cardinals have rallied from behind in eight of their 10 wins. Six of those rallies have come in the second half. 
-- This is the 72nd meeting between the franchises, and the Cardinals hold the slimmest of edges with a 35-34-2 record against the Rams. 
Follow Craig Morgan on Twitter
---
---