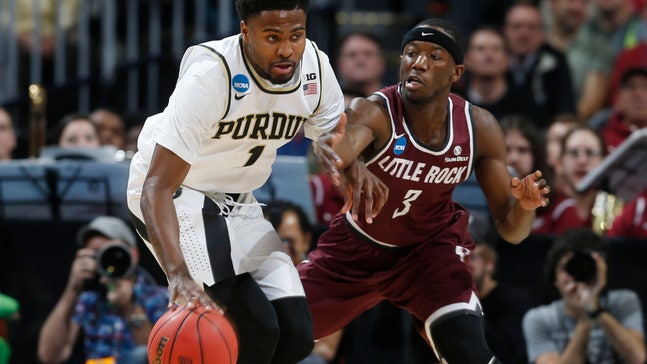 Purdue ousted from tourney in 85-83 double OT loss to Little Rock
Published
Mar. 17, 2016 7:45 p.m. EDT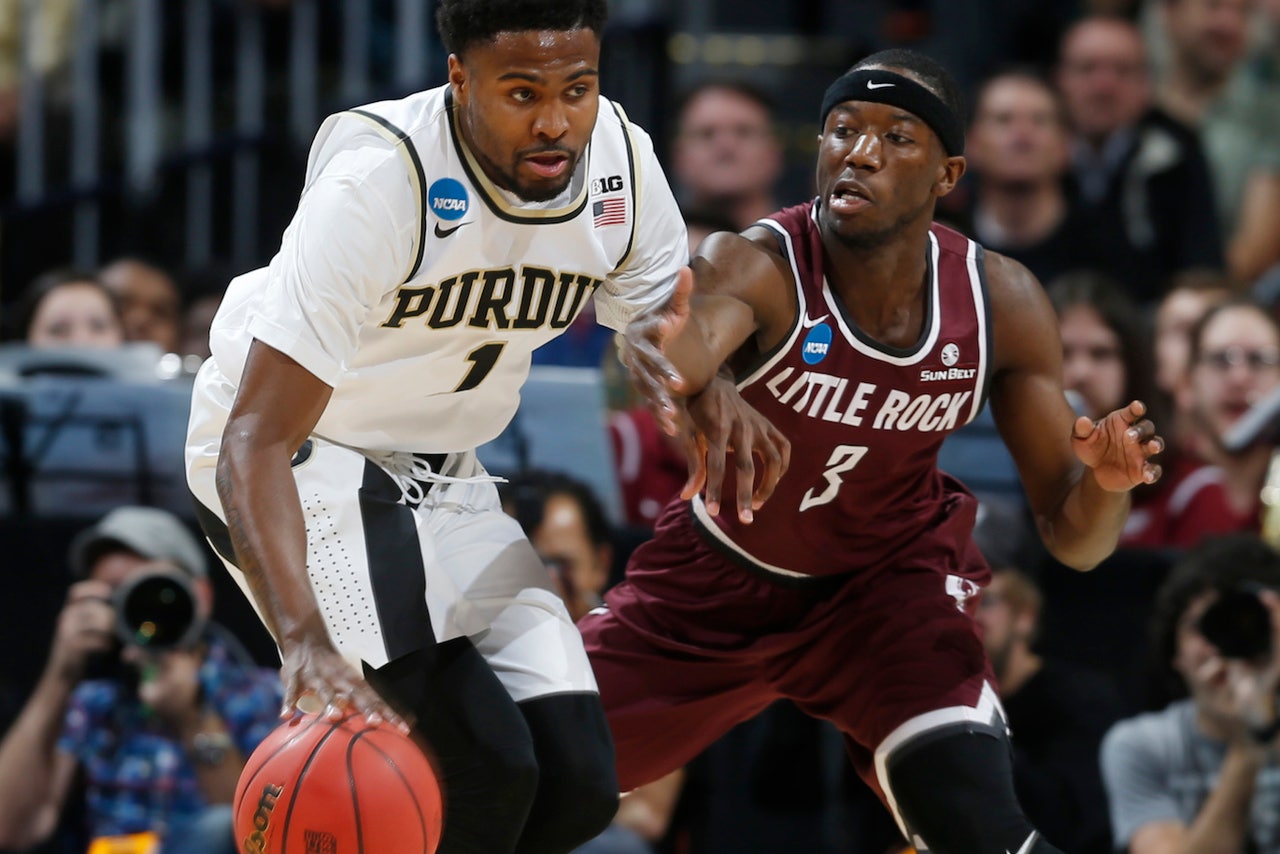 DENVER -- Even after Little Rock's Josh Hagins made the shot from nowhere to tie the game, Purdue had a chance.
There were 5.1 seconds left in regulation when Vince Edwards took the inbounds pass and just stood there for a few seconds.
Purdue ended up with a desperation heave instead of a decent shot -- one of many bleak spots in an 85-83, double-overtime loss to Little Rock on Thursday in the NCAA Tournament.
"I wasn't aware," Edwards said. "That's a mistake on my part mentally. Just not knowing time, knowing score."
No big surprise the Boilermakers were dazed and confused by then. They had blown a 13-point lead over the last 3:33, and watched Hagins make a shot from the edge of the midcourt logo to tie it.
It was hardly Purdue's only self-inflicted mistake.
The Boilermakers (26-9), despite having two 7-footers, gave up 15 offensive rebounds that led to 16 second-chance points for the Trojans (30-4).
They got decent looks at 3-pointers all night long, but only went 9 for 28 from beyond the arc.
They turned the ball over 18 times, including three during Little Rock's 12-0 run that turned this into a game.
"We turned the ball over here and there," Edwards said. "They go down, capitalize on it. That's just the game, man. Like coach said, that's been our Achilles (heel) all year. It hurts."
A.J. Hammons, the 7-footer who came back for his senior season, finished with 16 points, 15 rebounds and six blocks, clogging up the middle and forcing Little Rock to adjust and squirm for good looks at the basket.
But this season ends just like last year did -- with a first-round loss in the tournament. The Boilermakers haven't won a March Madness game since 2012.
"We got complacent with our lead," Boilermakers coach Matt Painter said. "We didn't put our foot down and take control of the lead and keep it going, stay strong."
It allowed Little Rock to slowly carve a comeback and a path to its first tournament victory since 1986. Next up, a Saturday meeting with Iowa State.
Purdue goes home a footnote after a game that felt like a few others did this season -- blown leads down the stretch.
"I don't know if the word 'haunted' is correct," Painter said about the late-game collapses. "It's not a strength of our team and a strength of a couple individuals that are good players. We just got to continue to work and get better and make improvements in those areas."
TIP-INS
Little Rock: The Trojans' only other tournament victory came in 1986 against Notre Dame. ... Keeping Little Rock in the game early was Roger Woods, who finished with 13 points.
Purdue: Caleb Swanigan had six points and 10 rebounds for Purdue, which only won the rebounding battle 52-45 despite having two 7-footers.
---
---