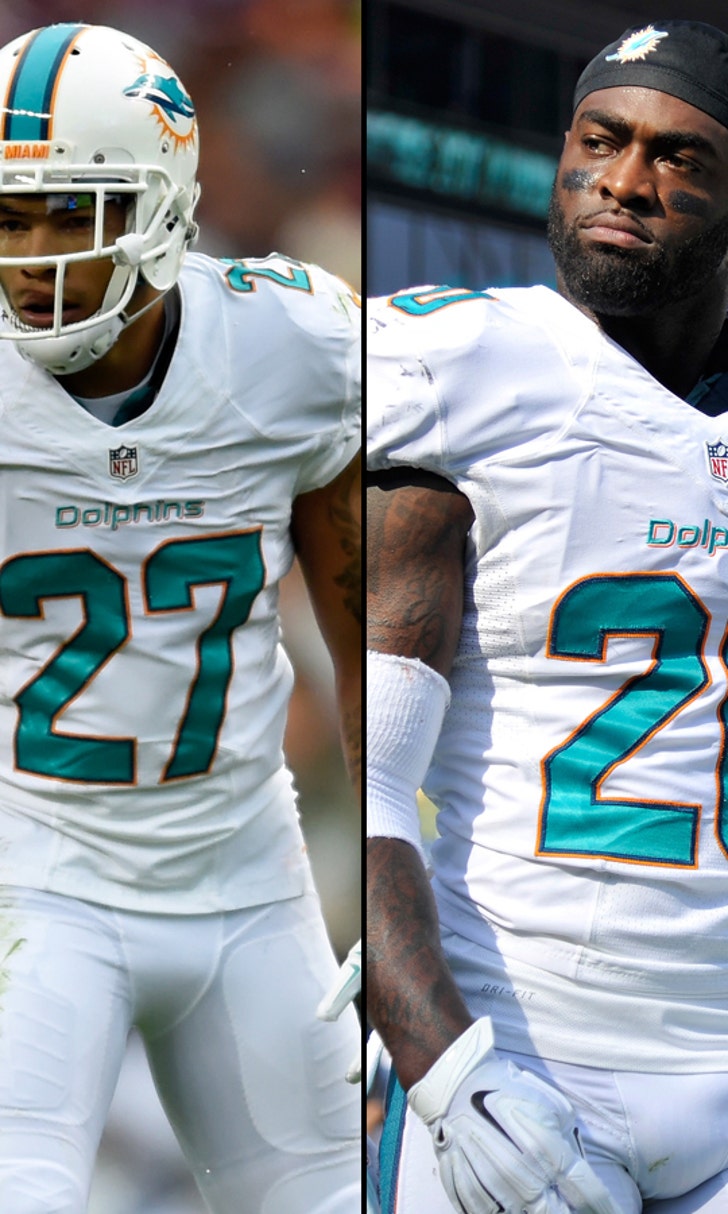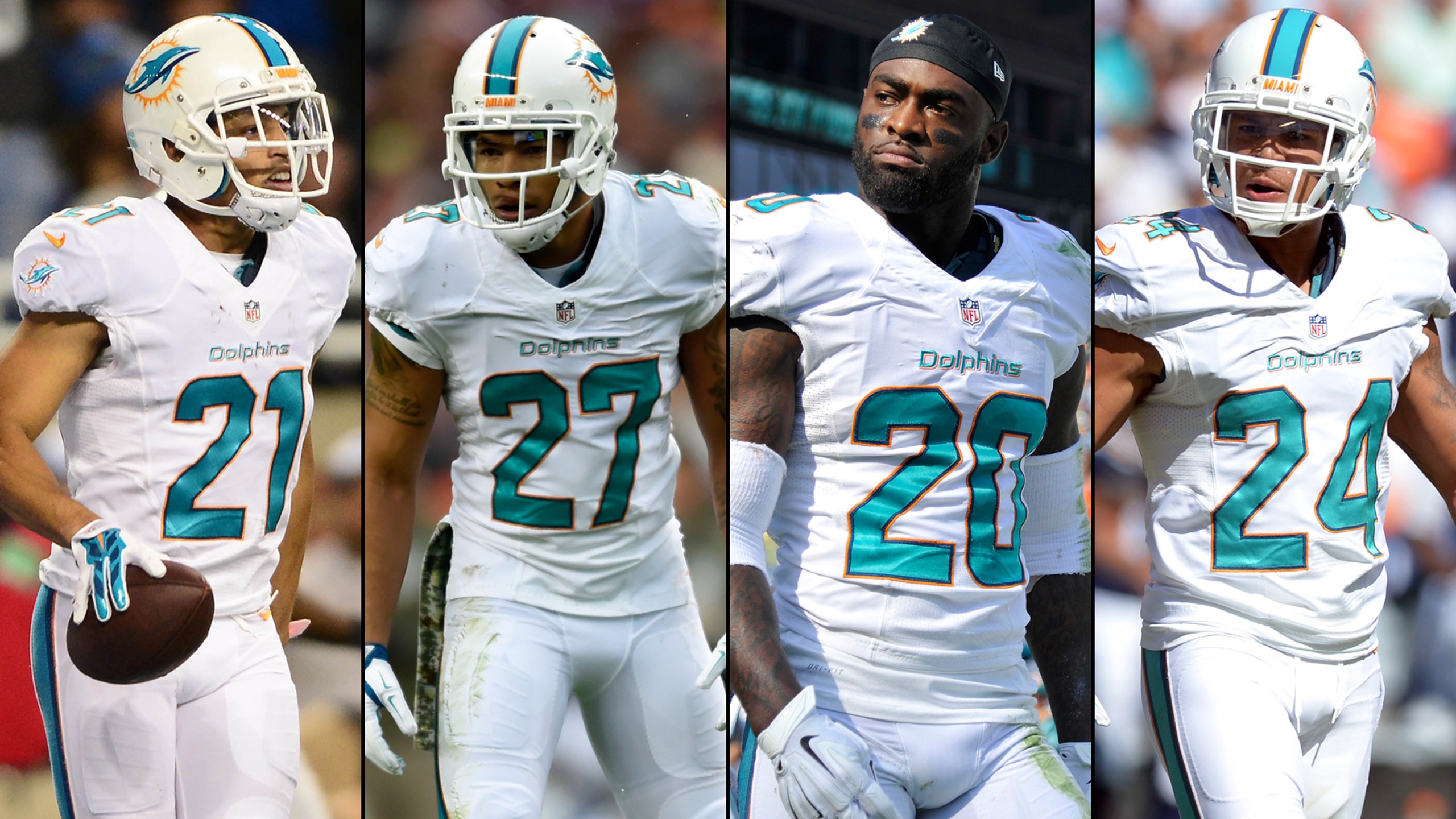 Position review: Dolphins need more depth in secondary
BY foxsports • February 8, 2015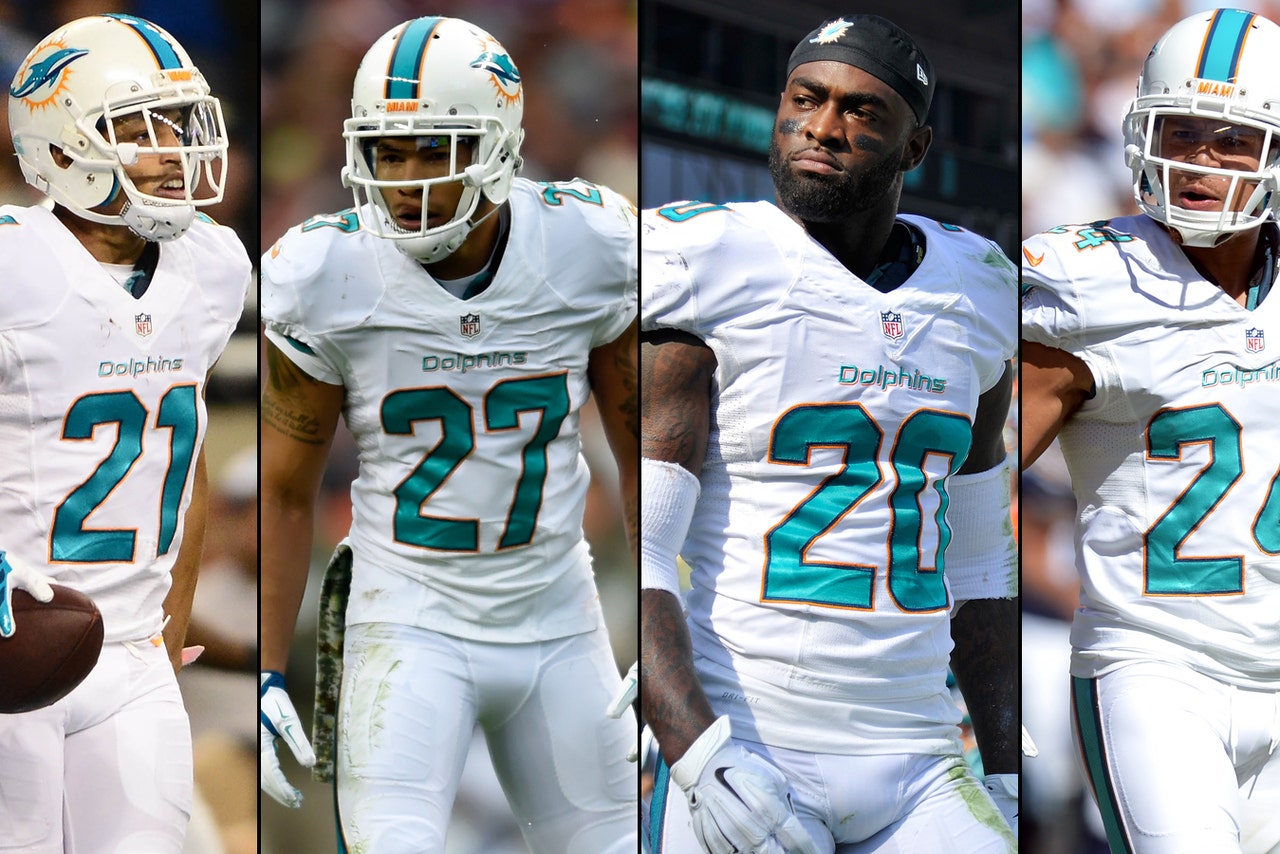 At times last season, the Miami Dolphins secondary was one of the best in the NFL.
Led by Pro Bowl cornerback Brent Grimes, the Dolphins ranked third in the NFL €ˆin fewest passing yards allowed per game and first in both fewest yards allowed per attempt (6.1) and per completion (10.2) through the first eight weeks of the season.
It took only the first seven games of last season for the Dolphins to score more defensive touchdowns than in any season since 2006 as Louis Delmas, Cortland Finnegan and Grimes all found the end zone.
"I think (defensive backs coach) Lou (Anarumo) and Jeff (Burris) and those guys have done a really good job with the secondary,"Head Coach Joe Philbin said after Miami's Week 8 victory over Jacksonville. "We've got a good mix of some veterans and some younger guys who are stepping up and seem to be improving on a weekly basis. I think we do a good job of mixing up scheme coverage wise, be it zone or man and so forth."
Unfortunately, the big-play ability of Miami's secondary would not last as a slew of injuries tested the team's defensive depth during the second half of the season. Finnegan missed four games with an ankle injury and Delmas finished the year on IR after suffering a season-ending knee injury in Week 14.
In the end, Miami finished with the sixth-ranked pass defense in the league, allowing 222 passing yards per game. However, they also ranked 21st in passing touchdowns allowed (27) and 15th in interceptions (14) as the big plays dwindled down the home stretch.
If Miami hopes to avoid a second-half collapse like last season, the depth of the secondary must be addressed this offseason as injuries will always be a common occurrence in NFL. The Dolphins have their centerpiece in Grimes, but need to do a better job surrounding him with quality players if they hope to succeed.
Here's a closer look at how Miami's defensive backs looked in 2014:
STARTERS
Brent Grimes, CB -- The second-highest paid player on Miami's defense, Grimes once again proved he was worth every penny in his second season with the Dolphins. One of the NFL's top cornerbacks, Grimes earned his second consecutive trip to the Pro Bowl after a season in which he recorded 57 tackles and a team-high five interceptions, one of which he returned for a touchdown. Tasked with shutting down some of the league's best wide receivers on a weekly basis, Grimes has quickly become an invaluable asset to Miami's defense.
Cortland Finnegan, CB -- A veteran addition to Miami's secondary last summer, Finnegan ran both hot and cold during his first season with the Dolphins. In 12 starts, he recorded 44 tackled and no interceptions, but did return a fumble 50 yards for a touchdown in Miami's Week 4 victory over the Oakland Raiders. At 31-years old, Finnegan still has value as a part-time starter and mentor to the team's young secondary. His lofty contract, however, may keep him from returning to Miami next season. Due $5.475 million in the final year of his contract, the Dolphins may ask Finnegan to take a pay cut or potentially release him in order to clear some much-needed cap space.
Louis Delmas, FS -- A solid offseason pickup, Delmas served as both a vocal leader and a safety net in the secondary during his first season in Miami. Unfortunately, Delmas' season was cut short after tearing his ACL in a Week 14 loss to the Baltimore Ravens. In 13 games, he recorded 61 tackles, one interception and one touchdown. An unrestricted free agent, Delmas is not expected to be ready for the start of next season as he recovers from his injury, but the Dolphins will likely monitor his progress.
Reshad Jones, SS -- Following a four-game suspension for violating the NFL's performance-enhancing drug policy, Jones had one of his best seasons as a Dolphin to date. He registered 80 tackles, three interceptions and one sack while emerging as one of Miami's top defensive players. Heading into next season, Jones should be looked at as the most important player in the secondary after Grimes.
BACKUPS
Jamar Taylor, CB -- Taylor looked much improved in his second season in Miami. He suited up for 12 games, including three starts, and recorded 31 tackles. A second-round pick, 54th overall, in 2013, Taylor will enter next season as candidate to start alongside Grimes.
Jimmy Wilson, DB -- Wilson did a little bit of everything during his fourth season in Miami. He started 13 games -- seven at safety and six as the team's nickel cornerback -- recording 48 tackles and one interception. An unrestricted free agent, it's likely that Miami will attempt to re-sign Wilson this offseason.
R.J. Stanford, CB -- With the secondary ailing, Stanford earned one spot start last season in Miami's Week 13 victory over the New York Jets. In five games, he recorded 12 tackles and one interception.
Don Jones, SS -- Miami claimed the former New England Patriots defensive back off waivers on Nov. 28 in the wake of injuries to both Taylor and Finnegan. Jones, who was initially cut by the Dolphins during training camp in August, recorded 11 tackles in 13 games split between New England and Miami last season.
Will Davis, DB -- A third-round pick in 2013, Davis' sophomore year in Miami was cut short by a season-ending knee injury. Limited to 10 games, he recorded 17 tackles and three pass defenses. Entering his third year, Davis will have a chance to establish himself as an NFL-caliber cornerback.
Walt Aikens, DB -- A fourth-round pick in the 2014 draft, Aikens rotated between safety and cornerback during his rookie season with in the Dolphins. In 15 games, he recorded 15 tackles and one interception. Heading into his sophomore season, Aikens has a chance to expand his role in the defense while continuing to contribute on special teams.
Jordan Kovacs, S -- Undrafted out of the University of Michigan, Kovacs bounced between Miami's special teams unit and the practice squad during his second season with the Dolphins. He recorded seven tackles in eight games.
Michael Thomas, S -- He was placed on season-ending injured reserve following Miami's Week 9 victory over the San Diego Chargers. Thomas, an undrafted player out of Stanford University, recorded 18 tackles in eight games prior to his injury as an important member of Miami's special teams. He is an unrestricted free agent.
POSSIBLE FREE-AGENT TARGETS
Miami signed both Finnegan and Delmas last offseason to short-term, low-risk deals, and for the most part, it paid off. With both players unlikely to return next season, however, look for the Dolphins to be in the hunt for at least one veteran to add to their secondary during free agency. Cornerback Rashean Mathis and safety Nate Allen could both be good fits in Miami for the right price.
BEST DRAFT OPTIONS
Recently, ESPN draft expert Todd McShay had the Dolphins selecting Michigan State cornerback Trae Waynes with the 14th overall pick in his latest mock draft. Personally, I just don't see Miami addressing their secondary in the first round as needs at both linebacker and offensive line feel more pressing. Oregon's Ifo Ekpre-Olomu would be a steal with the No. 47 overall pick as injury concerns potentially push the talented cornerback out of the first round. In the later rounds, Florida State cornerback Ronald Darby and Syracuse safety Durrel Eskridge are both names to watch. 
FINAL THOUGHT
With the future of both Finnegan and Delmas in doubt, expect Miami to overhaul their secondary once again this offseason. Whether it's through free agency, the draft or in-house promotions, Miami is likely to have new starters at both cornerback and free safety in 2015. In addition to new faces in the starting lineup, young players like Taylor, Aikens and Davis will all need to take a step forward in their development and be ready when their number is called. Grimes may be the backbone of Miami's secondary, but it will take several players working together for the unit to gain an identity.
You can follow Jameson Olive on Twitter @JamesonCoop or email him at JamesonOlive@gmail.com.
---
---