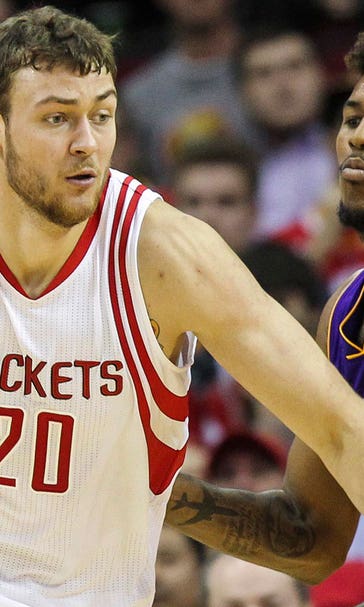 Pistons nix trade-deadline deal with Rockets, Sixers
BY foxsports • February 22, 2016
CLEVELAND (AP) -- Detroit rescinded a three-player, three-team trade with the Houston Rockets and Philadelphia 76ers on Monday because not all the players involved were cleared medically.
Houston had traded guard Marcus Thornton and Lithuanian center Donatas Motiejunas to Detroit last week for center Joel Anthony and a protected, first-round draft pick this year.
The Rockets also made the move to acquire the draft rights of Nigerian forward Chukwudiebere Maduabum from Philadelphia.
Detroit coach Stan Van Gundy, who also serves as team president, said before the Pistons played the Cavaliers on Monday that he regretted the deal had to be abandoned.
"It's disappointing because we saw the possibilities with Donatas, but I'd do it over again," he said. "We did our due diligence and thought it was too much of a risk."
The Pistons did not specify any medical information due to privacy issues.
Van Gundy said Anthony will rejoin the Pistons for Wednesday's home game against Philadelphia.
"I've never been through a situation like this," Van Gundy said. "It's a little bit awkward, but I'm glad it happened with a guy who is such a true professional in Joel."
Thornton averaged 10 points in his first 47 games with Houston. Motiejunas started 62 games for the Rockets last season, but appeared in just 14 games this season after having back surgery. Anthony has been a seldom-used reserve for the Pistons.
The Pistons kept Thornton and Motiejunas out of Sunday's game against New Orleans because the trade had not been finalized.
Motiejunas went through extensive tests in New York that were not completed before the game started. He had season-ending back surgery last April, didn't play again until early December and has been sidelined again since Jan. 1 with recurring pain.
---
---