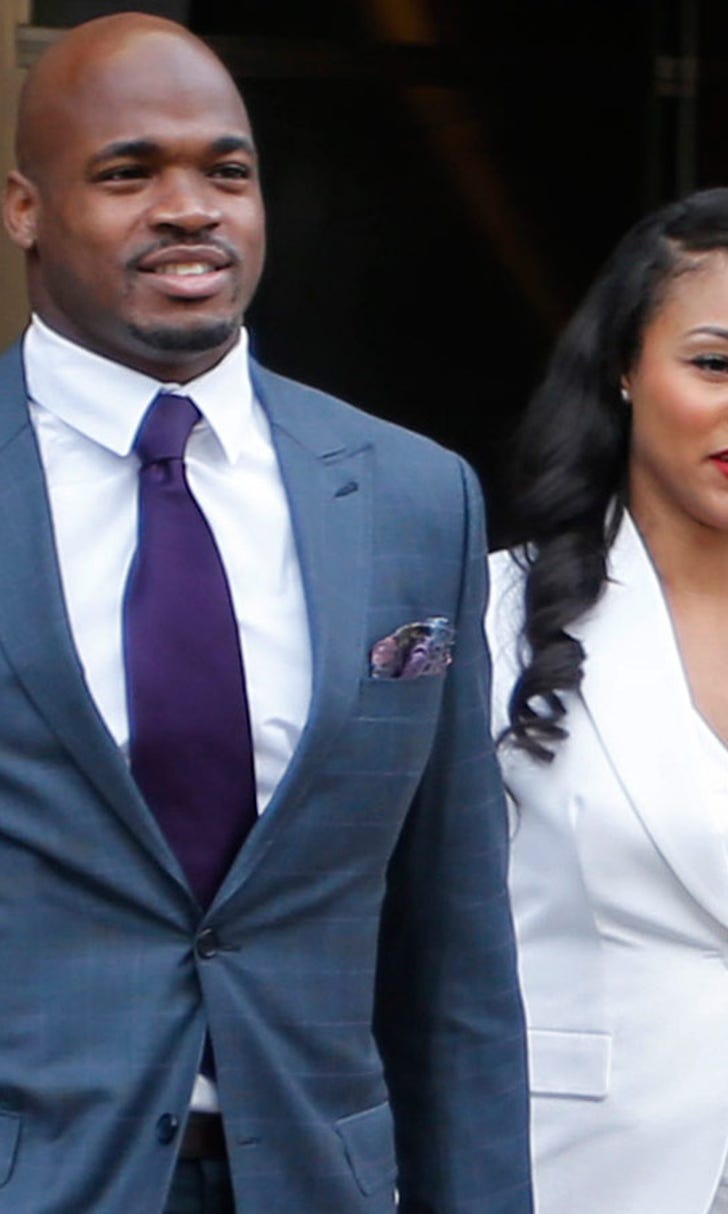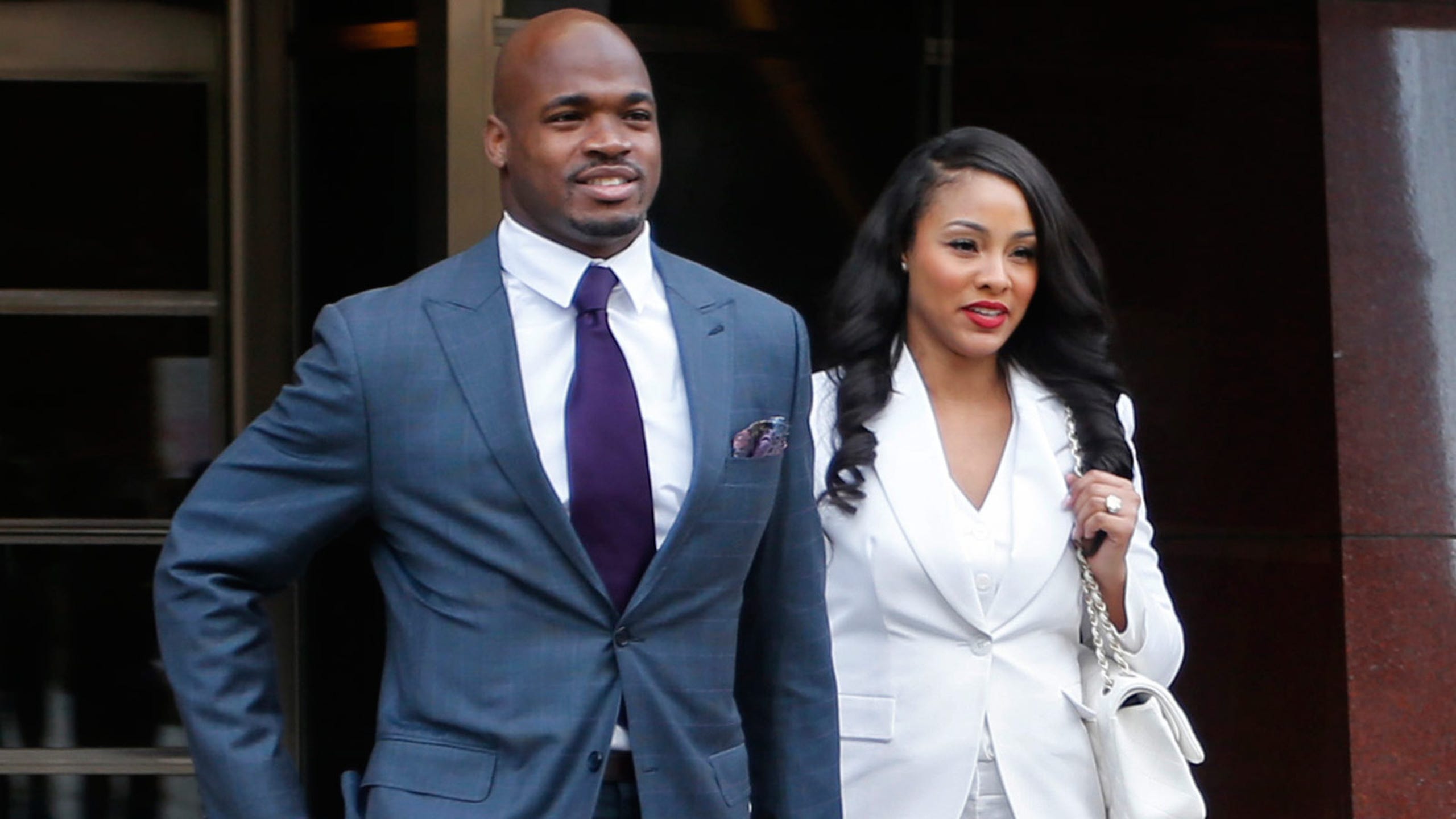 Peterson says 'of course' he wants to be with Vikings in 2015
BY foxsports • February 6, 2015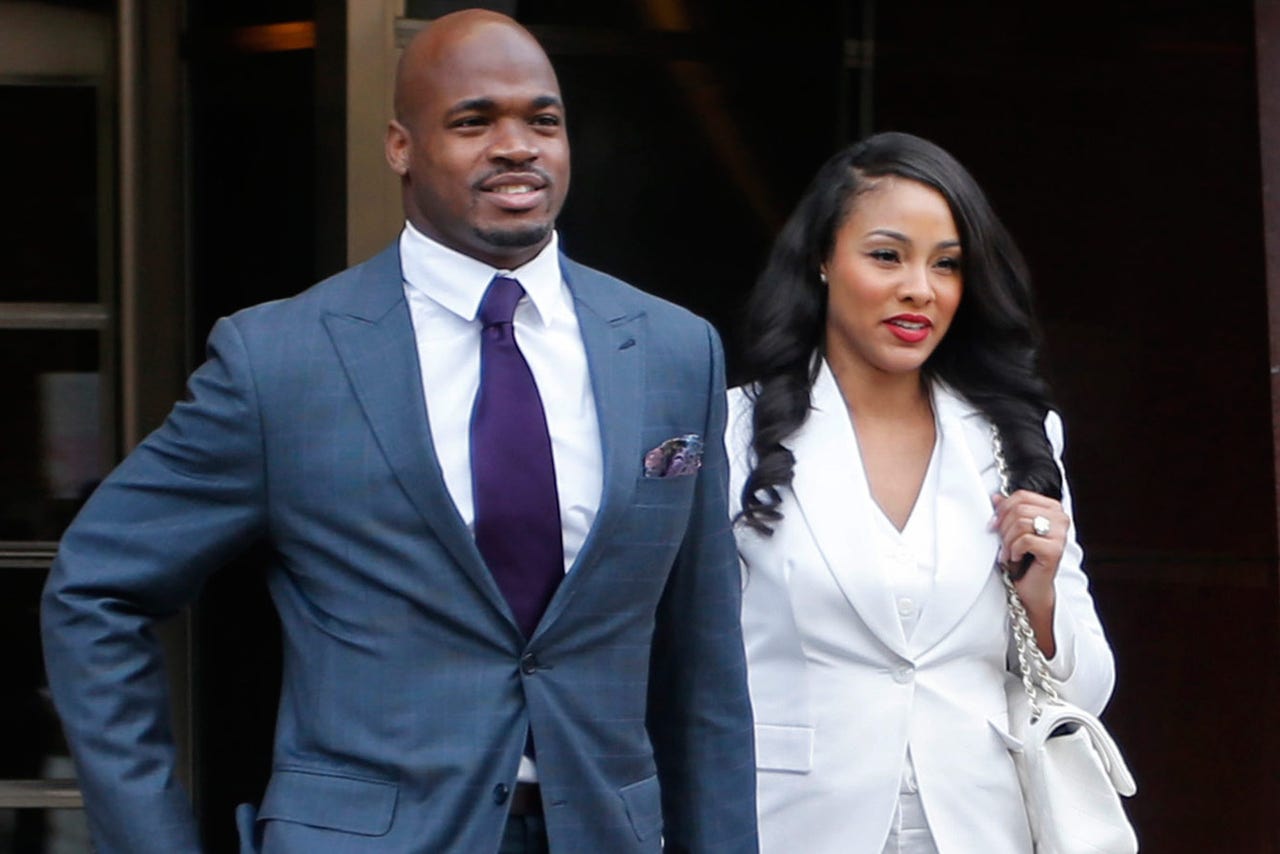 MINNEAPOLIS -- Saying he felt good being back in Minnesota and wants to remain with the Vikings, running back Adrian Peterson left a Minneapolis courtroom on Friday afternoon following a hearing as the NFL Players Association attempts to get Peterson reinstated early from suspension.
Peterson, present for the hearing with his wife, Ashley, and wearing a purple tie, sat silently while NFLPA lead counselor Jeffrey Kessler pleaded Peterson's case against the NFL. Peterson has been suspended by the league and missed all but one game last season after he was indicted on charges of injuring his 4-year-old son while disciplining the boy with a wooden switch.
Peterson is eligible for reinstatement on April 15 should he follow the league's mandated requirements, which include counseling and therapy with doctors. Peterson's case went to an arbitrator, Harold Henderson, who upheld NFL commissioner Roger Goodell's decision leading to the lawsuit and hearing in front of Minneapolis-based U.S. District Court Judge David Doty on Friday.
"I felt like I got a fair hearing for once," Peterson said after leaving the courtroom.
Peterson was paid during his time last season on the commissioner's exempt list, but was later suspended by Goodell without pay for the final six games after Peterson pleaded no contest to misdemeanor reckless assault. He was ordered to pay a $4,000 fine and related court costs, and serve 80 hours of community service in addition to serving a two-year probationary period.
Peterson is hoping to have a decision in the case before the new league year begins on March 10. Peterson's status with the NFL and the team is uncertain heading into the offseason. If Peterson was reinstated before the new league year begins, there would be more options for him and the team if they chose to part ways.
Peterson still has three years remaining on his contract which makes him the league's highest-paid running back. Peterson will be 30 years old before next season begins and is scheduled to make $12.75 million in base salary. He would count $15.4 million against Minnesota's salary cap.
"I feel like I got a fair hearing today," Peterson said outside the courthouse. "Both parties had good arguments, so we'll see."
Asked if he wants to stay with the Vikings, Peterson replied, "Of course."
Vikings executive vice president of legal affairs and chief administrative officer Kevin Warren was one of about 40 people in attendance in the gallery. The team has said it remains open to Peterson returning in 2015 but hasn't stated outright he would be back.
"I don't know if there's a team in the NFL that wouldn't want Adrian Peterson on the football team," general manager Rick Spielman said in January, adding: "Knowing Adrian since -- I've been here his whole career -- what type of person Adrian is. But I also know that we have to follow by everything that's put in place for us. Is there a resolution? Not right now. All's I know is where we stand today. Does that change? I'm sure it's going to change. But until those things change, until things get resolved right now, we have Adrian Peterson, who is under contract next year, who is currently suspended by the NFL and that's pretty much all I can go into right now."
Peterson was greeted by a group of fans outside the courtroom who repeatedly said "We love you" and chanted "MVP" for the NFL's MVP winner in 2012. One fan asked Peterson to return and "take us to the promise land" as Peterson signed a few autographs.
While Peterson is trying for reinstatement, the NFLPA is trying to deal a blow to Goodell's power, which the NFLPA says was extended beyond the collective bargaining agreement when he suspended Peterson for the remainder of the season on Nov. 18.
Kessler argued Peterson's suspension fell under a retroactive application of the league's new personal conduct policy. Peterson was indicted in September from the incident which dated back to May when he allegedly injured his son, who was visiting Peterson in his Houston home. The injuries were discovered when the boy's mother, who lives in Minnesota, noticed and took the boy to a local doctor.
The league announced a new personal conduct policy in September and the league's owners voted approval in December.
Kessler likened Goodell to an option quarterback, making decisions as he goes along.
Kessler maintained the league went "completely against the essence of the collective-bargaining agreement," adding, "what they can't do is just make up the rules unilaterally."
Kessler also argued the impartiality of arbitrator Harold Henderson, who was appointed by Goodell. Henderson previously worked for Goodell. The NFLPA also maintains Henderson's ruling imposes additional discipline on Peterson by requiring the player to seek mental-health therapy. Requiring a player to undergo such procedures is not included in the collective bargaining agreement.
The NFLPA contends the decisions by Goodell and Henderson violated the terms of the collective bargaining agreement and exceeded the authority of each. Kessler also presented his argument about NFL executive vice president Troy Vincent, who reportedly had expressed to Peterson he would only be suspended for two games, which was the norm under the previous personal conduct policy.
The NFL was represented by Daniel Nash, with senior NFL attorney Adolpho Birch in attendance. The league contends that Henderson was impartial and the NFLPA can't complain about the arbitration ruling after agreeing to the process. Nash also confirmed the difficulty of the court to overturn an arbitrator's decision.
Nash stated there is "no evidence of bias or actual partiality" with Henderson.
Nash also contended the NFLPA's references to Judge Barbara Jones' ruling in the Ray Rice case, in which Jones ruled against the league's suspension of Rice for more than two games, was a separate matter from Peterson because Rice was judged to have suffered from double jeopardy.
After both sides presented their cases with the hearing lasting just over an hour, Doty said he would take the arguments under advisement. Doty is expected to rule before the March 10 start of the new league year. Doty has served over several NFL cases, including a proceeding relating to the league's 2011 lockout by owners.
Doty concluded the hearing Friday by stating: "I've always enjoyed these cases. There was a time I heard these too often. I stepped aside and thought I was done."
Follow Brian Hall on Twitter
---
---