Cleveland Browns
Cleveland Browns
Pat Shurmur: Browns aren't at a disadvantage
Updated
Sep. 13, 2022 12:43 p.m. ET


AKRON — New Browns coach is definitely getting to know Browns fans.

"This is quite an event," Shurmur said prior to the Akron Browns Backers banquet at the Tangiers restaurant Monday night.

I've looked forward to this event," Shurmur said. "This is the biggest Browns Backers club. It's really a pleasure."

Shurmur spoke at a similar event a week ago in Canton. There were estimated more than 900 in attendance in Akron.

"Obviously, it's fun to see such a passionate fan base ever where we go," he said. "I've made an effort to learn about the history of the Cleveland Browns. It's been good because we have an organization in a community that is rich in tradition."

With the news that the NFL owners request for a stay was granted until at least June 3, Shurmur said his day to day work as head coach is anything but normal.

"I keep track of what's happening (with the lockout) and think that's important," he said. "I wouldn't say it is business as usual, but we're plenty busy making sure everything is ready with a new staff.

"We're making sure our system is in place and crossing our 't's' and dotting our 'I's, so when the players come back we'll be ready to go."

Most experts say the longer the lockout is extended, the more teams like the Browns with a new coach and a new system is harmed with little or no OTAs and minicamps. However, Shurmur disagrees.

"I don't (see a disadvantage)," he said. "What I see is 32 teams playing on a level playing field. Every year is new. Even established teams must re-create themselves each season."

Shurmur has said before he thinks the ability for his staff to teach the players will be a big help when the players return.

"I am very confident in our teaching and that we will be able to bring them up to speed."

Shurmur is excited about the news he has heard that the players—particularly on offense-- are getting together and working on the offense with Colt McCoy. The players met in Austin, Texas and last week at Baldwin-Wallace College in Berea.

"I think it's terrific that our guys are taking on some leadership roles and make sure the guys get together," Shurmur said. "Some of our key guys and that's a good thing.

"We know what we read because we haven't been able to communicate," he said. "But from what I've seen, (McCoy's) done a good job in preparing the guys."

Even a couple of the Browns' newest draft choices in Greg Little and Jordan Cameron have been at the workouts.

"That tells me Colt and some of the other guys have been able to reach out to some of our new guys."

Shurmur thinks there are positives coming out of the workouts, besides just building camaraderie.

"When you talk about a quarterback working with receivers, it's about timing and execution," he said. "It's getting used to one another. They can do some things on their own."

Shurmur thinks the little time when the lockout was lifted allowed some of the offensive players, particularly McCoy a chance to understand the offense.

"I think they have a feel for some of the concepts that we're trying to run and can decipher what we're trying to do."

Shurmur said it was tempting to have the players so close to the team's headquarters when they worked out at Baldwin-Wallace. However, he said he and his staff are keeping very busy.

"It was something we didn't what to jeopardize or get ourselves in trouble," he said. "But, there's plenty to do when you're a new staff and you're trying to get your systems up and running."

Notebook

Shurmur Ready for Free Agency: If and when the NFL lockout ends, it is anticipated that free agency will begin in some shape or form. Shurmur said the Browns will be ready as they've targeted some potential free agents.

"We know the players we want to go after, but it wouldn't make sense for me to talk about it—and we really can't anyway until we get the go ahead," Shurmur said. "You'll see we have some players we want to go after."

Shurmur said with the draft prior to free agency, teams can address areas of need with veterans.

"One of the advantages after the draft is you can address some of the areas you need," he said. "Unlike most years, when you do free agency before the draft, there are some areas we want to address."

Shurmur said he has looked at about as much tape as he can on the players that were with the Browns when he arrived.

"Based on what we see on tape, we try to get to know the players as best as we can," he said. "When we get to see them in person, we'll see if we know them as well as we think."

In the Crowd: Peyton Hillis was to be honored as the Cleveland Chapter of the Pro Football Writer's Association (PFWA) Most Valuable Player and Joe Thomas was the recipient of the 'Good Guy' Award. Neither player was in attendance, but several former Browns were: Dick Ambrose, Ernie Kellermann, Jim Houston, Tom Goosby, Dan Fike, Frank Stams and Rich Mostardi. Former Packers' great Dave Robinson was in attendance, as well. Former coach Sam Rutigliano introduced Shurmur. Rutigliano was using a cane and said he recently had hip surgery. Stams played for Shurmur's uncle Fritz Shurmur in his career.

"(Fritz) had lots of stories," Pat Shurmur said.

Butler Out: Eric Wright posted on his Twitter account that Jerry Butler from Player Relations was no longer with the Browns.

"We all understand that things change and business isn't always fair, but the Browns fired one of the best guys in that building in Jerry Butler."
---
---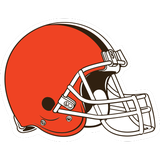 Get more from Cleveland Browns
Follow your favorites to get information about games, news and more