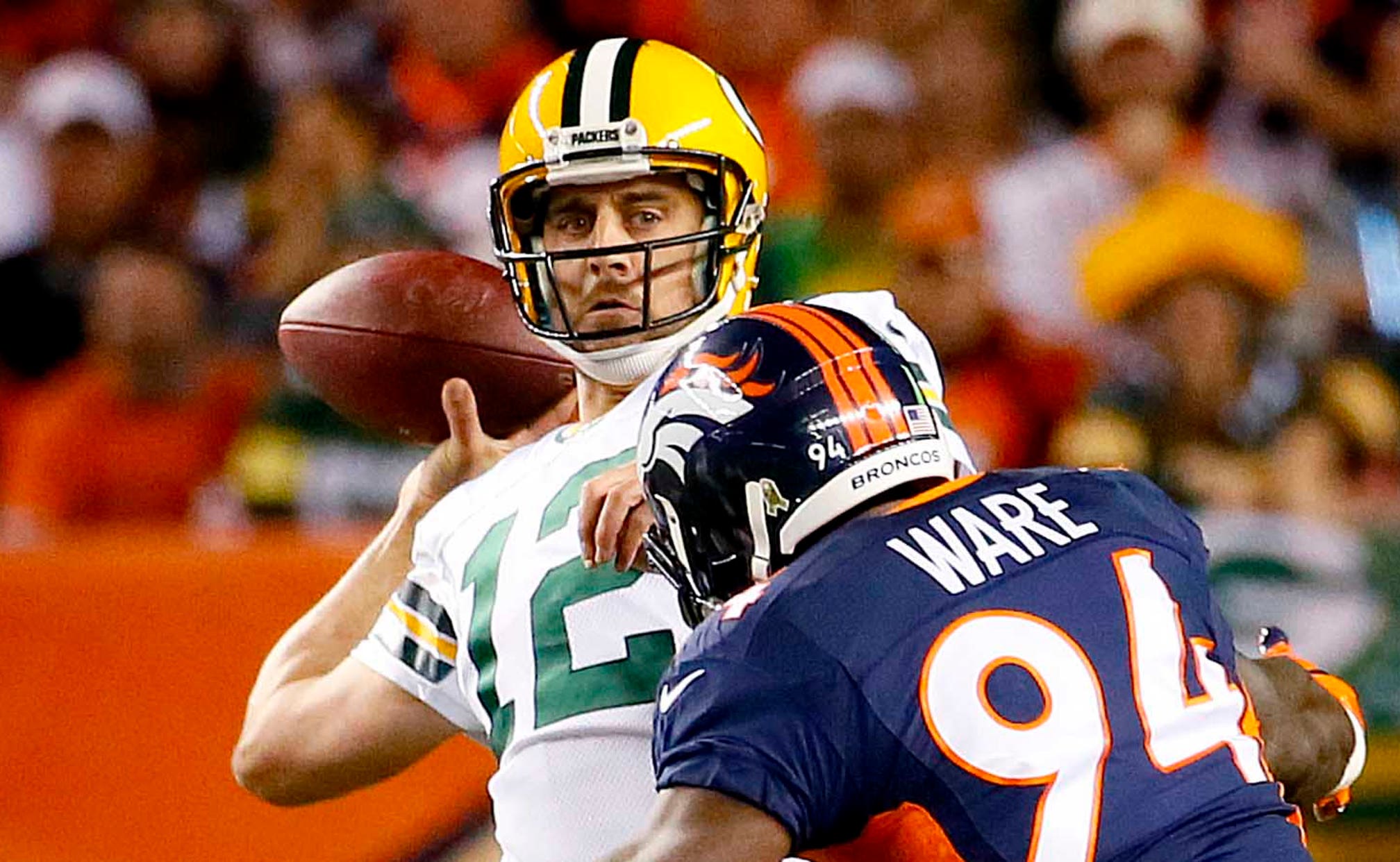 Packers' Rodgers appears good to go for Sunday's rivalry clash
BY foxsports • November 20, 2015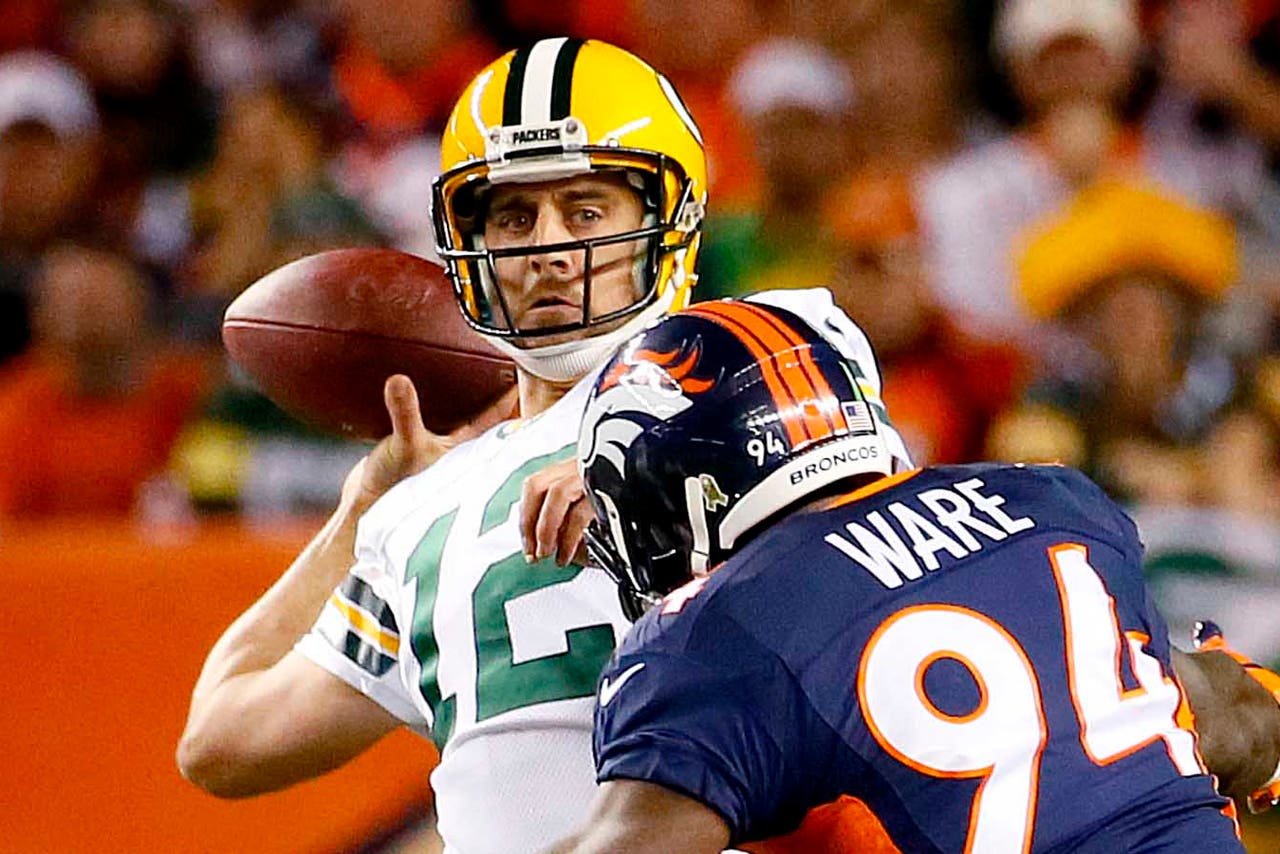 GREEN BAY, Wis. -- James Campen didn't have to be told the unsettling numbers for how often Green Bay Packers quarterback Aaron Rodgers has been knocked around in recent weeks.
"You know, one hit is too many," said Campen, the team's longtime offensive line coach.
As the slumping Packers go into Sunday's game at NFC North leader Minnesota, the guys entrusted to protect Rodgers know what must be done.
"Don't give 'em as many opportunities to hit the quarterback," left tackle David Bakhtiari said Friday.
Green Bay's three-game losing skid has been peppered with far too many hits of Rodgers, the NFL's reigning MVP. Rodgers has been sacked 11 times during that stretch, matching his total from the Packers' first six games.
"We've been in a little bit of a rough patch here the last couple weeks," Campen said.
And to the dismay of coach Mike McCarthy after the stunning home loss to the Detroit Lions last Sunday, Rodgers has been banged up. Rodgers is on the injury report this week for the first time this season. But he's been able to practice with an unspecified injury to his throwing shoulder and is probable for Sunday's showdown with the Vikings.
Green Bay (6-3) also appears to be in good shape with its offensive line, which has four starters on the injury report. Bakhtiari, right tackle Bryan Bulaga and left guard Josh Sitton all have knee injuries but are probable. Right guard T.J. Lang is questionable with a shoulder injury.
To be sure, Green Bay's glaring struggles of late on offense can't be blamed entirely on the pounding Rodgers has taken in the pocket.
"Are we frustrated because Aaron's getting hit?" said Bakhtiari, speaking for the offensive line. "When he gets hit because of us, yeah, we get frustrated."
But the Packers have been hard-pressed to run the football effectively. They had a season-low 47 rushing yards with only 18 attempts against the Lions.
Eddie Lacy missed the last game because of a groin injury. But the Pro Bowl back is probable for Sunday and expected to work in a platoon with recently elevated starter James Starks.
"It looks like he's bouncing back," McCarthy said of Lacy. "So far, so good."
Having success running the football is a focus for the Packers this weekend as they look to free up their receivers, who have been blanketed by tighter pass coverage.
Rodgers has completed only 56.5 percent of his passes the last three games. His completion percentage for the season is just 63.3 percent, which falls below his career-worst mark of 63.6 percent his first season as a starter in 2008.
The task doesn't get any easier Sunday against an active Vikings defense, which ranks eighth in the NFL against the pass, allowing an average of only 228 yards.
Second-year Vikings coach Mike Zimmer has caused problems for Rodgers and the Packers offense in the past with his defensive schemes with both Minnesota and previously as the defensive coordinator for the Cincinnati Bengals.
"Mike Zimmer has been at the trend level, he's been starting a trend across the league since Cincinnati with his seven- and eight-(man) pressures, bringing different combinations," Rodgers said.
Campen knows what his offensive linemen must accomplish to keep Rodgers out of further harm's way Sunday.
"Our job is to try to make sure we do everything we can to eliminate any hits from him," Campen said.
NOTES: Also probable for the Packers are linebacker Clay Matthews (ankle/knee) and receiver James Jones (quadriceps). Defensive back Micah Hyde (hip) and rookie receiver Ty Montgomery (ankle) are questionable. McCarthy said Montgomery, who has been out the last three games, didn't finish practice Thursday. . Coming off the defeat to Detroit, the Packers have never lost two straight games against division opponents during McCarthy's tenure since 2006.
---
---