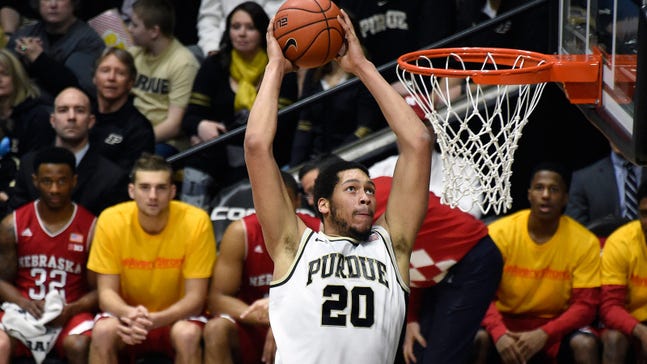 Once Hammons flipped the switch, Boilermakers took off
Published
Mar. 15, 2016 3:41 p.m. ET

INDIANAPOLIS -- For two seasons, A.J. Hammons was content at Purdue.
Believing he was a short-time college player who could make a quick jump to the NBA, Hammons got stuck in his own world and so did the Boilermakers.
Check out our gallery of NCAA hoops cheerleaders.
But when coach Matt Painter cleaned house after the 2013-14 season, Hammons stayed, rededicated himself to basketball and became the cornerstone of Purdue's incredibly quick turnaround.
"His preparation is better. His habits in terms of coming every day to practice are better," Painter said. "At first, he had to find that switch. You see that with big guys. They turn their switch on and off, and you can't have that. You have to have your switch on at all times. He has really matured in that area."
Nobody doubted the 7-foot, 250-pound center had the size or skills to become a major piece in Purdue's puzzle. The questions were always about passion, focus and pulling his life together.
Twice, Hammons was suspended for violating team rules, and this season's two-game suspension led to another punishment: He didn't reclaim the starting job until January.
Sometimes, the transgressions were minor. He forgot his shoes once at Wisconsin. On a trip to Northwestern, he was late for the team bus. He'd occasionally arrive late for practice, looking disheveled.
Painter thought the little things showed up on the court, too, in the form of inconsistent play. So after a last-place Big Ten finish two years ago, Painter brought in 7-foot-2 center Isaac Haas from rural Alabama to challenge Hammons, who grew up in Gary.
"When you absolutely know if you don't perform they're going to play somebody else, I think that's the best motivation," Painter said.
Eventually, Hammons got the message and Painter's patience paid off.
Despite starting 19 games, the fewest of his career, this season, Hammons averaged 14.9 points and 8.0 rebounds and had 34 assists, all career highs. He was second in the league in blocks (78) and third in field-goal percentage (59.5) and was named the Big Ten Conference's defensive player of the year.
"We used to see him wearing his bubble jacket before games with his hood up, and you knew he wasn't locked in," said Haas, who developed a bond with Hammons. "Now, you see him wearing a shirt and even though he wears a jacket, the hood is down. That means he is ready to go and ready to play every game."
With Hammons on board, he became the centerpiece of Painter's project.
Painter knew the fastest way to go from worst to first would be with an improved defensive team, and when Hammons also improved in those areas, the results were spectacular.
Purdue rebounded to make last year's NCAA Tournament and started this season 11-0 before playing its way into the Big Ten Tournament championship game last weekend. Only three players who logged minutes Sunday were around for both the good and the bad -- starting guard Rapheal Davis, backup guard Kendall Stephens and Hammons, who finished the tourney with 48 points, 28 rebounds and four blocks. He was the only Purdue player to make the all-tournament team.
The Boilermakers (26-8) open tourney play Thursday in Denver, where they'll face Sun Belt champion Arkansas-Little Rock. And the guy who might be the most excited is the one who always seemed to be the most reserved.
"I think we have some momentum coming out of the Big Ten Tournament," Hammons said after Sunday's 66-62 loss to Michigan State. "This team can go a long way in the NCAA Tournament. We have a great front line and a great bench. We just have to be sure that we get ready to play each game and play together."
Hammons still has a lot to play for: He and his teammates want to avoid a repeat of last year's stinging opening-round loss to Cincinnati. And Hammons, who once acknowledged publicly that he didn't watch many NBA games, is still trying to impress scouts.
Yes, the long, arduous path kept Hammons around West Lafayette two more years than he initially expected. But Hammons also knows that's made him a better player and Purdue a better team.
"I now know what shots to take and what to do at certain points in a game. I also learned how important it has been for me to rebound more," Hammons said. "I also have matured as a person as each year has gone on. You always should mature in college, and that has helped me a lot, too."
---
---