New York Knicks
New York Knicks
NY attorney general asks court to stop daily fantasy sports
Published
Nov. 17, 2015 2:18 p.m. ET

ALBANY, N.Y. (AP) New York's attorney general filed court papers Tuesday seeking an injunction to stop daily fantasy sports operators DraftKings and FanDuel from conducting what he calls illegal gambling in the state.
Attorney General Eric Schneiderman, who first raised the issue in letters to the companies last week, said the companies operate unlicensed games of chance that constitute gambling under New York law.
The companies maintain that they offer games of skill, not chance, and they've made that argument to an increasing number of states that are weighing whether to regulate the industry.
''The two dominant DFS operators, FanDuel and DraftKings, offer rapid-fire contests in which players can bet on the performance of a `lineup' of real athletes on a given day, weekend, or week,'' Schneiderman's lawyers wrote. ''The contests are streamlined for instant gratification, letting bettors risk up to $10,600 per wager and enter contests for a chance to win jackpots upwards of $1 million. The DFS operators themselves profit from every bet, taking a `rake' or a `vig' from all wagering on their sites.''
The attorney general argued that, like any sports wager, these depend on a future event outside the control of any bettor, meaning the actual performance of individual athletes in real games. ''As New York law has long recognized, gambling often mixes elements of chance and skill. The key question is whether the outcome depends in any `material degree' on an element of chance, `notwithstanding that skill of the contestants may also be a factor.'''
The sites requested temporary restraining orders Monday to stop Schneiderman's effort. A state judge refused and ordered them back to court on Nov. 25.
Boston-based DraftKings, which claims 375,000 New Yorkers among some 2.5 million players, said Tuesday that it remains committed to ensuring they can keep playing. ''We believe the attorney general's view of this issue is based on an incomplete understanding of the facts about how our business operates and a fundamental misinterpretation and misapplication of the law,'' a spokesman said.
FanDuel said Monday it has been operating transparently for six years in New York, where it has hundreds of thousands of users, but it had been unable to process their deposits since the close of business Friday, that its bank and financial processors had been deterred by Schneiderman's actions. The company did not immediately respond to queries Tuesday.
---
---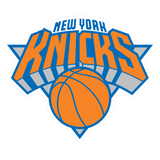 Get more from New York Knicks
Follow your favorites to get information about games, news and more
---