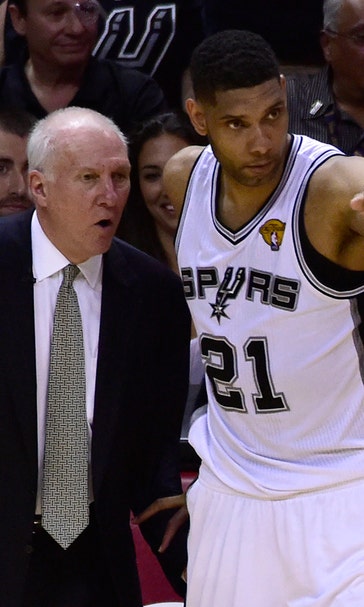 No reason for Duncan, Popovich to leave Spurs yet
June 14, 2014

The question caught Tony Parker by surprise.
"He said what?"
No franchise keeps its business closer to the vest than the San Antonio Spurs, so when Parker was told Gregg Popovich wants to continue coaching past this season, the skeptic was awoken. Is there a concern Pop retires should the Spurs finish off the inevitable and collect another championship?
"I don't know. I have no idea," Parker continued. "That's a question you have to ask him. I know he's got one more year on his contract, and he loves being with us, loves playing basketball. Either way, whatever he decides, I'll support him. But if I have to choose, obviously, I would love him to keep going. I love playing with him."
The riding off into the West storyline has gained major traction once again with the Spurs on the verge of another title. San Antonio leads the NBA Finals 3-1 over Miami, and the first closeout chance is Sunday night's Game 5 at AT&T Center.
The speculation is obviously not just about Popovich. Tim Duncan, 38, could conceivably walk away after a fifth ring, leaving on top as previous franchise centerpiece David Robinson did 11 years ago. Manu Ginobili turns 37 next month. Parker's contract runs out after the 2014-15 season, along with Duncan, Ginobili and Popovich.
Duncan, however, has a player option for next season. ESPN's Marc Stein reported that Duncan has until June 24 to inform the Spurs of his plans. That's roughly one week before most opt-in or opt-out dates, giving the Spurs extra time to begin planning for next season.
If Duncan has any desire of calling it quits and leaving another $10.3 million on the table, he sure wasn't going to reveal his hand on the eve of Game 5.
"I don't have any plans on doing anything," Duncan said. "I'm going to figure it out when it comes. I'm not saying I'm retiring. I'm not saying I'm not retiring. I'm not saying anything. I'm going to figure it out as it goes. I've always said if I feel like I'm effective, if I feel like I can contribute, I'll continue to play. Right now I feel that way, so we'll see what happens."
That sounds as if the NBA's all-time leader in playoff double-doubles and minutes is leaning towards at least realizing the full terms of his current contract. Yes?
"I don't have a timeframe," Duncan added. "I don't think about it. Whatever people are saying or who has insight on whatever, they're getting it from somewhere else because I haven't told anybody anything nor have I thought about it in any respect."
The lack of a concrete answer from anyone in Silver & Black keeps the convenient conversation going about the Spurs' future. And it's not just something that picked up during 2013's trip to the finals. As long as the Spurs show up on a national stage, reporters will ask if it's the last time.
"You should talk to your colleagues. You've been saying that for the last seven, eight years," Parker said. "I don't know what to say. Every year just the journalists keep saying the same stuff that we've done and it's the last run.
There's really no reason to quit now.
"We've been on our last run for the last five or six years from how everyone wants to put it," Duncan said. "We show up every year, and we try to put together the best teams and the best runs possible because what people say doesn't matter to us.
"As I said, as long as we feel we're being effective, we're going to stay out here and we're going to play. We feel like we can be effective, and we have been."
Follow Art Garcia on Twitter @ArtGarcia92
---
---