Atlanta Braves
Atlanta Braves
New Braves signees Wentz, Muller face quick intro to pro ball
Published
Jun. 15, 2016 7:30 p.m. ET

ATLANTA — The turnaround for MLB draft picks can be jarringly abrupt: A high-school or college player hearing his name called one week, flying to short-season rookie ball the next. Such is the situation Joey Wentz and Kyle Muller, the Atlanta Braves' Nos. 40 and 44 draft selections, respectively, find themselves in after signing their first professional contracts on Wednesday afternoon at Turner Field.
"It's been hectic," Wentz said. "It's been (a week) I'll never forget, though."
The 6-foot-5 Wentz and 6-foot-7 Muller, two left-handers dwarfing the majority of the franchise's major-league roster in attendance, both inked over-slot signing bonuses as part of the Braves' financial gymnastics in the 2016 draft: Wentz ($3.05 million) and Muller ($2.5 million) instantly become two of the better prospects in an overflowing farm system. As scouting director Brian Bridges and assistant director of baseball operations Kiley McDaniel, among others, orbited their two newest signees during batting practice, the teenagers carried out the traditional meet-and-greet format with the likes of Hall of Famer Tom Glavine.
On Thursday, the pomp fades. They both fly to Orlando to participate in the Gulf Coast League, the lowest level of the minor-league system.
It is its own reset button for two prep arms who were, just a few short days ago, at the pinnacle of their respective high-school baseball worlds. As Muller mentioned, his school captured the 6-A Texas state title over the weekend. Now, he's a pro.
Familiarity with one another should help.
With national showcases and tournaments ingrained into youth baseball, top players have typically met by the time draft night rolls around — and, in the Braves' case, when they select three of the top 20 players on their board, there was a good chance for overlap. Wentz and Muller, along with No. 3 overall pick Ian Anderson, who is unable to sign until his graduation on June 23, spent a week together in Cary, N.C., at USA Baseball's Tournament of Stars. And though not particularly close — one week on the baseball circuit does not necessarily preclude a buddy-cop comedy — a familiar face can alleviate the stark transition.
Atlanta has now signed 18 of its draft picks, including five of the top 10, and third-round pick Drew Harrington has reportedly agreed to terms on an above-slot signing bonus as well. All amateur draft picks must sign by MLB's July 15 deadline.
At every turn of this process, Bridges has (good-naturedly) expressed his draft-night stress level while waiting for Wentz and Muller to fall into their laps. There is palpable pride circulating through Atlanta's front office in the aftermath.
Wentz, a Virginia commit out of Kansas, finished with a "perfect" senior season, refusing to allow a single earned run in more than 50 innings pitched. A longtime friend of fellow top pitching prospect Riley Pint — the two played on the same second-grade basketball team — Wentz was the No. 16-rated draft prospect by MLB Pipeline.
Muller, the Gatorade National Player of the Year and No. 24 on MLB Pipeline's board, was arguably the most dominant two-way player in high-school baseball during his senior season at Jesuit College Prep in Dallas, Texas.
The video-game numbers — joining the top of the national leaderboard in home runs while, at one point, striking out 24 consecutive batters across two starts — obscure, if only slightly, a prospect that scouts consider more of an unfinished product, primarily in needing to develop his secondary pitches. Muller doesn't disagree that there's work to do.
The eye test, on the other hand, is another matter entirely.
As Bridges walked around the Braves dugout saying, "That's what (top prospects) look like," Muller and Wentz could stake their claim for the most imposing athletes in attendance on Wednesday night — and that's including two 25-man rosters of big-league players.
---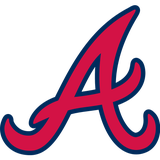 Get more from Atlanta Braves
Follow your favorites to get information about games, news and more
---