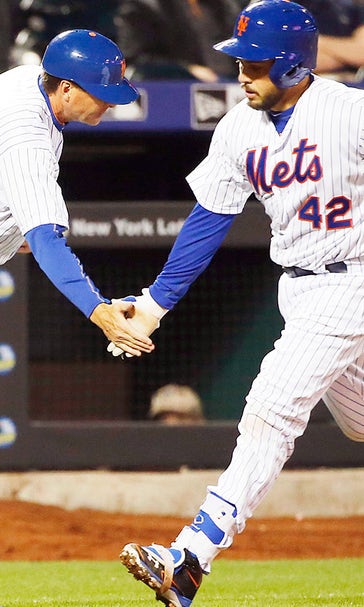 MLB Quick Hits: d'Ar-NOOOO! Mets' catcher fractures hand
April 20, 2015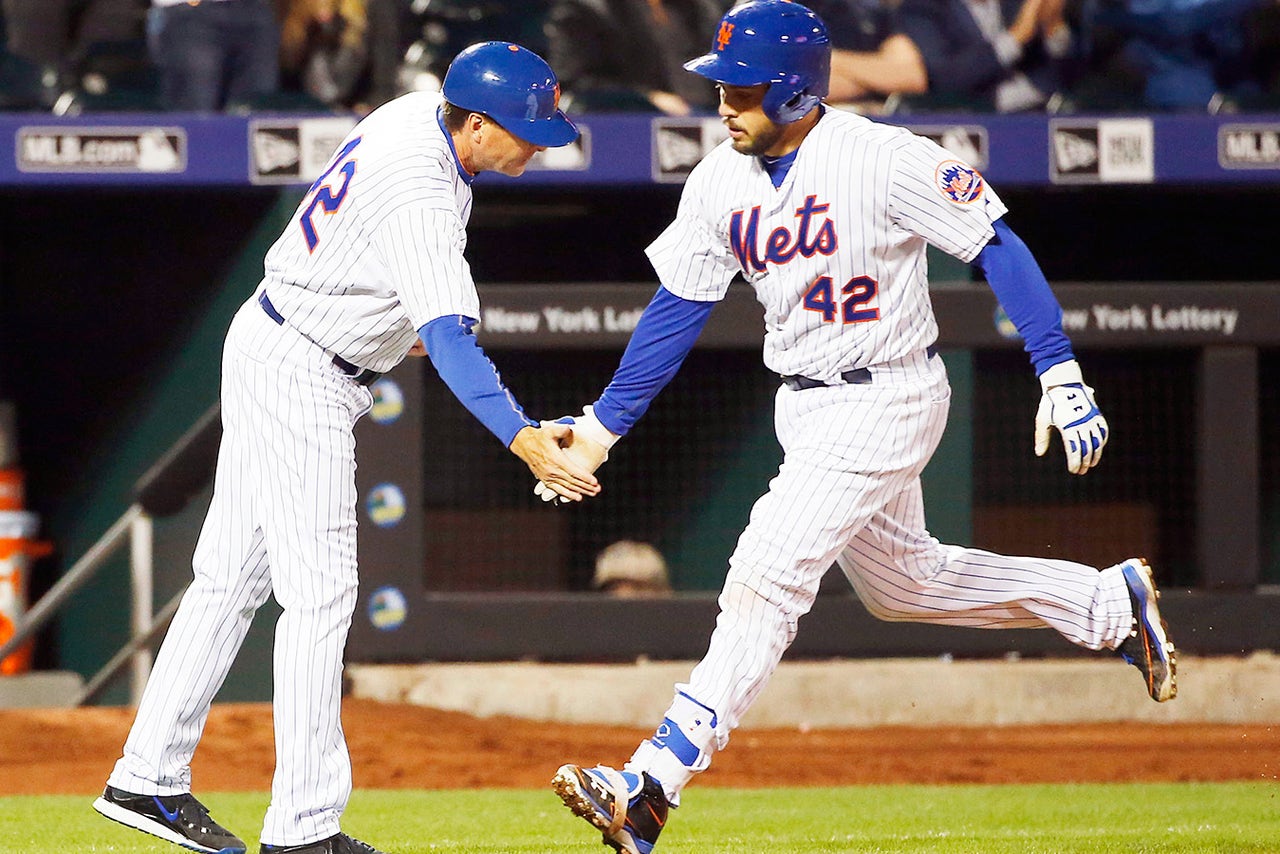 Mets C Travis d'Arnaud, who is among fantasy's best at his position with a .317 BA, a couple of homers and 10 RBI this season, suffered a fractured right hand upon getting hit by a pitch Sunday. We won't know the likely length of d'Arnaud's absence until today, but a DL stint is certain.
d'Arnaud's real-life replacement will be prospect Kevin Plawecki, who batted .309 with 11 home runs between Double A and Triple A last season. If you're in a 12-team mixed league with two catchers, consider Plawecki as a replacement for d'Arnaud. He doesn't strike out a lot, so we can guess (or hope?) that his batting average will be OK. Your replacement alternatives are probably guys like Kurt Suzuki and Francisco Cervelli, and while they might be a bit safer, their ceilings are probably a bit lower as well.
In other news ...
In case you missed it, Royals closer Greg Holland went on the DL over the weekend with a strained pectoral muscle. Wade Davis got Sunday's save, and projects to get more during Holland's absence.
Ken Rosenthal reports that the White Sox will call up lefty phenom Carlos Rodon today, and use him out of the bullpen. Having Rodon (owned in 8.6 percent of FOXSports.com leagues) pitch in relief for awhile is a good way to keep his workload down, but with John Danks and Hector Noesi as the team's fourth and fifth starters, the rookie's rotation debut might not be too far off. Rodon's talent is good enough that you should consider stashing him on a bench in 12-team mixed leagues, as he could be one of baseball's 40 or 50 best starters a month from now. However, moves like that always depend on what your current roster looks like. Send me a tweet (@jhalpin37) if you have specific "Rodon or _______?" questions.
Here's a Blue Jays' middle-infield update: 2B Devon Travis is day-to-day with a bruised left rib. SS Jose Reyes (rib) might be able to return to action on Tuesday, but might bat righthanded for a brief period as hitting lefty is apparently more painful due to his injury. Sound strange to you? Same here. Bench Reyes this week if you can.
Happy Patriots' Day, Massachusetts! Orioles-Red Sox gets underway at 11:05 a.m. ET, so set your fantasy lineups early.
The Indians have juggled their rotation, with Trevor Bauer starting tonight and Carlos Carrasco getting pushed to Tuesday. Danny Salazar appears to have a secure rotation spot after Saturday's strong outing. Salazar is owned in 35 percent of FOXSports.com leagues, and should be picked up in all formats.
Denard Span was back in the Nationals' leadoff spot on Sunday. See you down the road, Michael Taylor.
I hate to overreact after two weeks, but is Shin-Soo Choo (.516 OPS) ever going to get better? 
Nelson Cruz hit his seventh and eighth home runs on Sunday, has a 1.258 OPS, and can leap the Space Needle in a single bound. Some people are asking about Cruz as a sell-high, but for what? The guy hit 40 homers last season, so this isn't a fluke. If you can get (and need) an ace starter for Cruz, go for it. Otherwise, hold and enjoy.
The Tigers don't yet have a timetable on Justin Verlander (triceps).
Weekend streaming results: We got a solid outing from J.A. Happ on Friday, a serviceable job from C.J. Wilson on Saturday, and a flop from James Paxton on Sunday. There aren't many options today on the very low end of the fantasy ownership scale, so we'll go with Cincinnati's Anthony DeSclafani (39.1 percent owned) against the Brewers, who rank last in the majors in runs and are without Carlos Gomez.
See you back here tomorrow morning.
---
---