Miami Marlins
Miami Marlins
Miami Marlins at Philadelphia Phillies series primer
Published
Apr. 21, 2015 9:42 a.m. ET

The Miami Marlins opened their current 10-game trip by winning a series in Atlanta, but they enter the final leg in Philadelphia in dire need of righting the ship. Including a four-game sweep to the New York Mets this past weekend, they have dropped seven of nine.
Miami (3-10), considered a National League wild card contender, finds itself with the second-worst record in the majors and seven games back in the NL East. The Marlins are half a game off matching their dubious start to the 2013 season, which ended with 100 losses.
While the offense still hasn't woken up as much as anticipated, it has been the pitching that has cost Miami of late. Between the starters and relievers, the Marlins have a 5.10 ERA -- worst in the big leagues. There hasn't been a quality start since Wednesday, when righty Dan Haren, who opens the series in Philadelphia, allowed two runs on three hits in seven innings.
Right-hander Jarred Cosart watched a pair of leads get away from his ballclub in his first road start. After four solid innings, he surrendered five runs between the fifth and sixth. He starts on Wednesday. Righty David Phelps, in Henderson Alvarez's place, makes his second start in the Thursday matinee. In a no decision against the Mets, he gave up one run in 4 2/3 innings before his pitch count got up. The Phillies have yet to announce their starters for Wednesday and Thursday.
Philadelphia (4-9), expected to struggle at the bottom of the standings this season, isn't faring much better. The Phillies have lost seven of eight and have scored two or fewer runs in four of the past five. Last season, the Phillies won 11 of 19 games in the head-to-head matchup.
Here's a look at the upcoming Marlins-Phillies three-game series:
SCHEDULE AND PROBABLE PITCHERS
WHO'S HOT
SS Adeiny Hechavarria (Marlins): Since opening the season 1 for 22, Hechavarria has gone 11 for 26 (.423) with four multi-hit games on this trip. He has three extra basehits and five RBI over the past seven contests in the eighth spot of the order.
OF Odubel Herrera (Phillies): Despite the collective offensive struggles, Herrera is hitting .450 (9 for 20) with four doubles, two triples and two stolen bases over the past five games. The rookie and Rule 5 pick is just 13 contests into his big-league career but already has four multi-hit games.
WHO'S NOT
LF Christian Yelich (Marlins): Yelich is 2 for 22 (.091) on the current trip with an RBI, no walks and nine strikeouts. He struck out seven times over the final two games in New York. Yelich, who is usually even-keeled and known for his sweet swing, was visibly frustrated during his second-to-last at-bat on Sunday.
2B Chase Utley (Phillies): After reaching base all four times and blasting two homers on Tuesday, Utley is hitless in his last 18 at-bats with a strikeout. He has not walked or been hit by a pitch during this stretch. Utley's .116 average is second-lowest among Philadelphia regulars.
STORYLINES
3: Jerome Williams won at least one game with three different teams (Houston Astros, Texas Rangers and Phillies) in 2014.
37: Homers for Ryan Howard in 150 games against the Marlins since 2004, fourth most for him against any opponent.
109: Strikeouts for the Marlins this season, sixth most in the majors (second in NL)
.167: Winning percentage (1-5 record) for Dan Haren in 10 career starts against the Phillies. He has a 4.50 ERA.
QUOTE BOARD
"Anytime -- really -- it's frustrating, man. It's just how it's been going, man. We're battling, it's just really, really, really frustrating. It's baseball, and we just got to keep grinding. You can't quit, you can't go home. You can't do any of that. You just got to keep battling, and eventually it's going to turn around. The last two days we've gotten behind and we've come back. It shows we haven't quit. Nobody in here's quit, it's just got to keep battling." -- Christian Yelich on the club's struggles
"The game is starting to slow itself down for me. That's something I'm happy about. But as long as we're losing games like this, and not playing to the best of our abilities, it's tough to think about my adjustment period." -- Rookie catcher J.T. Realmuto on how he has done in a starting role
"I'm happy and pleased with the way our offense kept battling. We had some great at-bats, gave ourselves a good opportunity. But at the end of the day, you can't win at the big-league level if your starter's going three innings." -- Manager Mike Redmond on the starting pitching
LOOKING AHEAD
The Marlins come home for nine games, beginning with a weekend series against the Washington Nationals.
You can follow Christina De Nicola on Twitter @CDeNicola13 or email her at cdenicola13@gmail.com.
---
---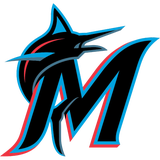 Get more from Miami Marlins
Follow your favorites to get information about games, news and more
---