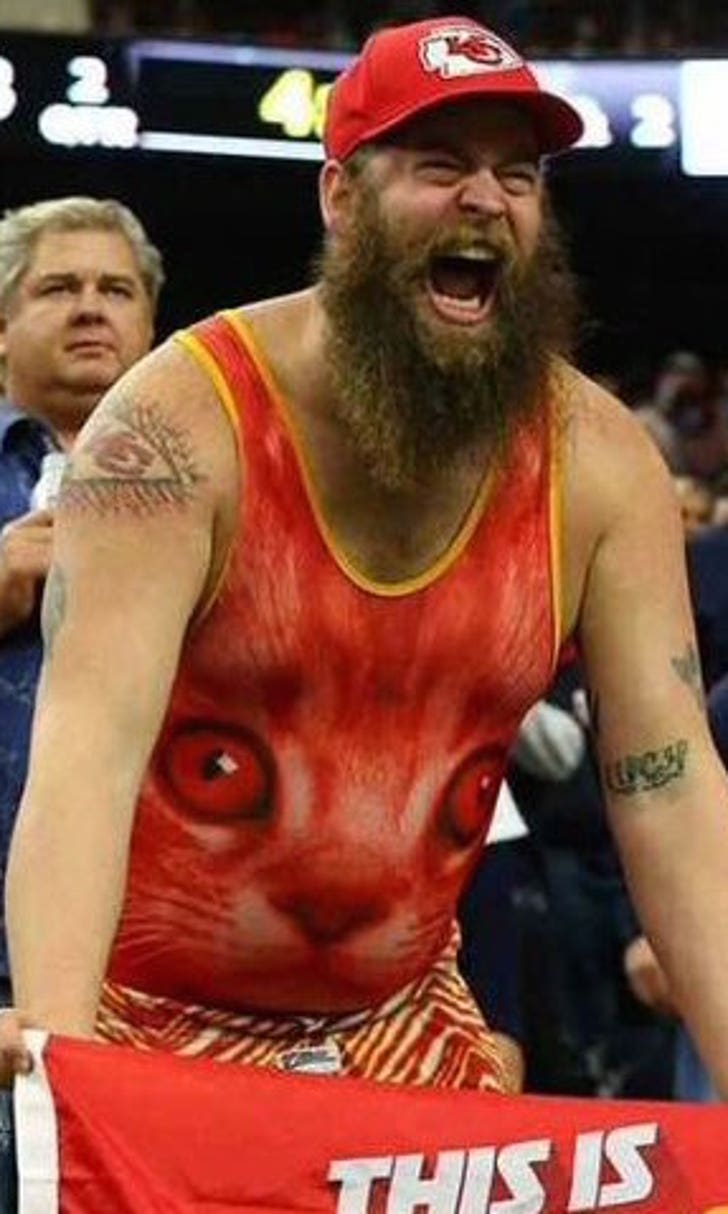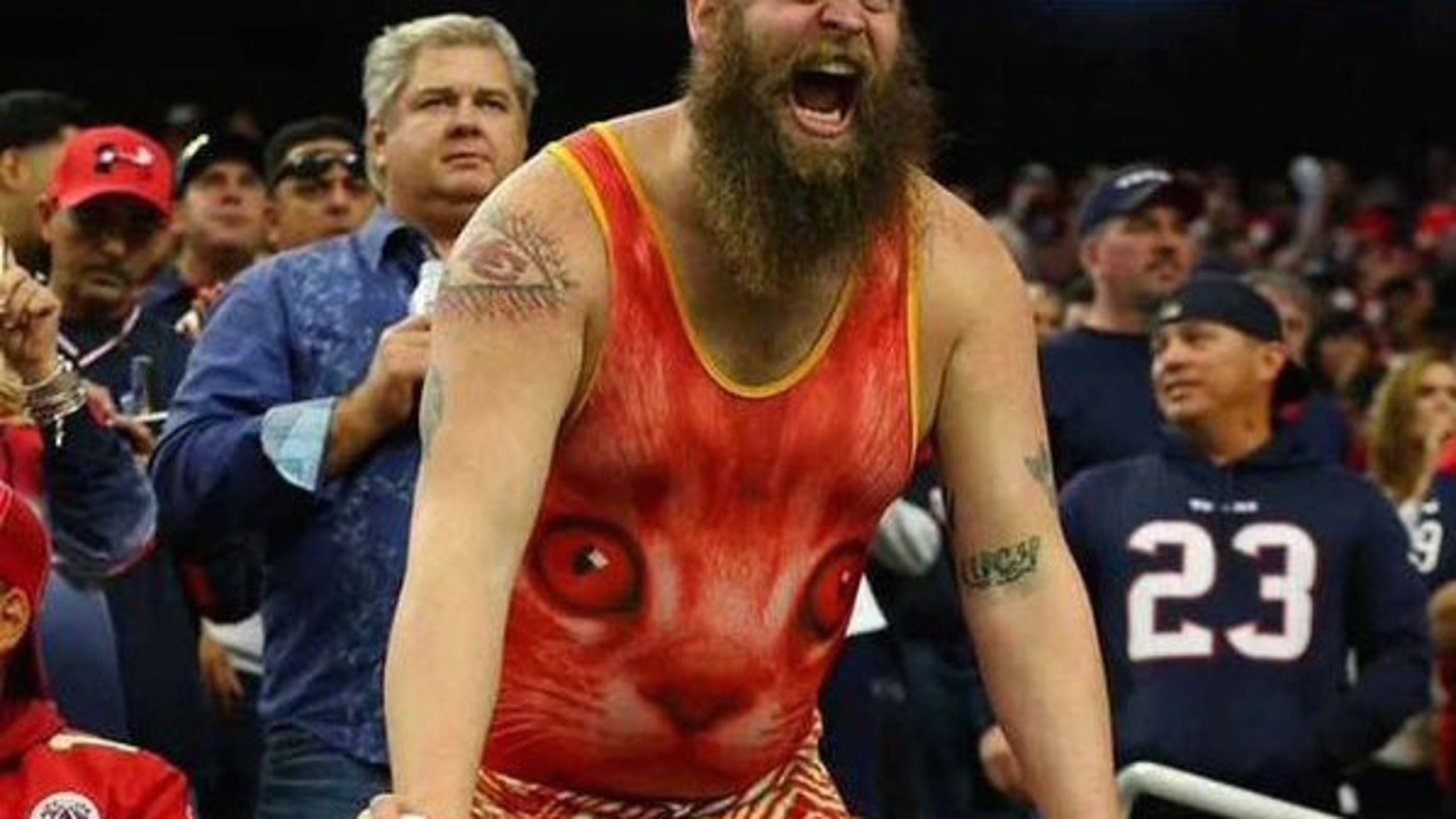 Meet the Kansas City Chiefs' 'Cat Suit Guy,' same as the Royals' Cat Suit Guy
BY Brett Smiley • January 14, 2016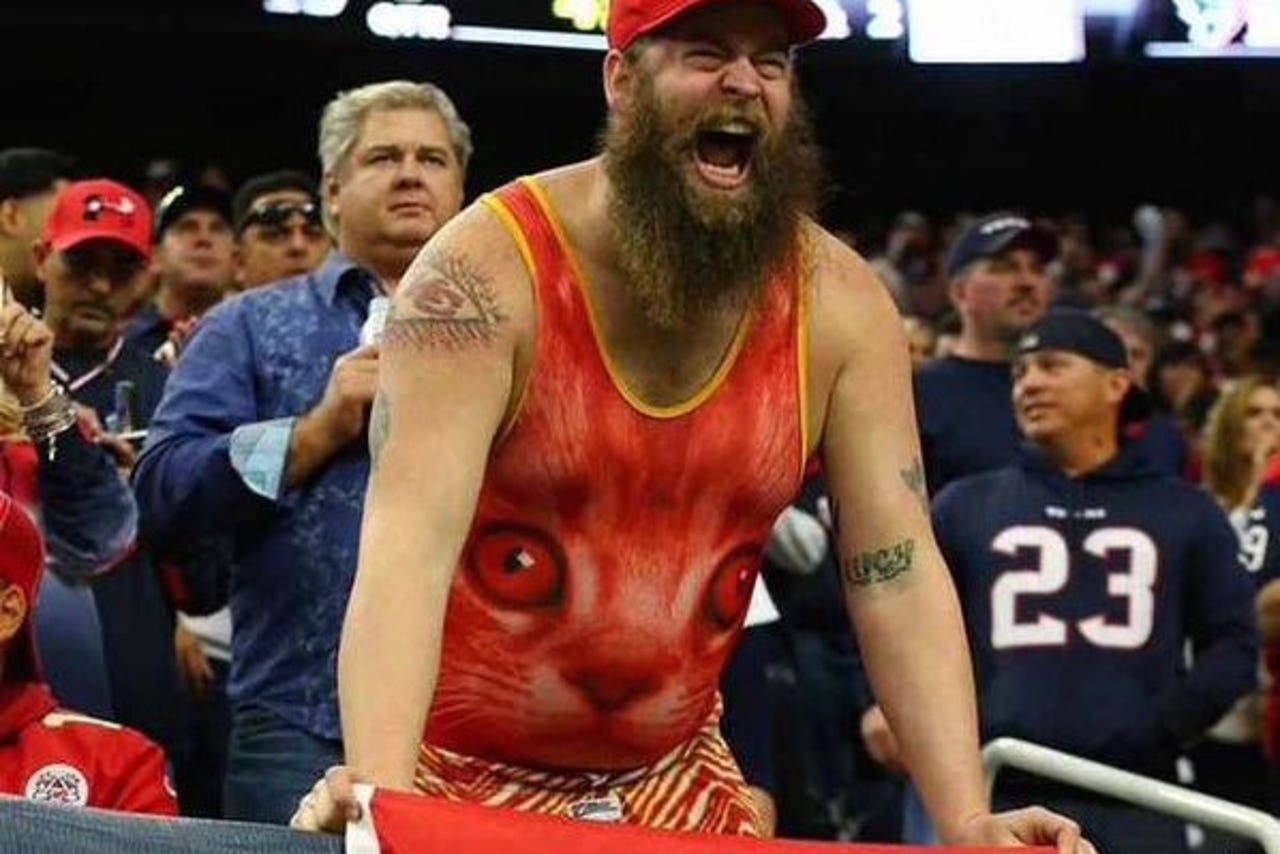 Turns out the Kansas City Royals' "Cat Suit Guy" is a two-sport athlete/celebrity.
His name is John Stoner -- his real name as far as we can tell and not a moniker referencing a popular hobby. He's a die-hard fan of the Chiefs -- and the Royals, of course.
Stoner, a consultant, said he found the onesie that claimed to fit up to a 275-pound man, felt compelled to test it out and so he ordered a onesie for his buddy and fellow Royals fan, Paul Long.
The 2014 MLB season ended in heartbreak for the Royals but Stoner continued to dazzle in the suit during the 2015 season, which ended in champagne.
"We were planning to do it one time, and then it went to the New York Times, the Washington Post and USA Today the first day we did it," Stoner recently told Chiefs Insider. "And then the Royals won 10 in a row, so we said 'There's some luck here' and just kept rolling with it."
And now the Chiefs fanatic is wearing a tight, red, feline onesie to Chiefs games, where he's hoping to sprinkle more championship pixie dust. The streaking Chiefs will head to New England on Saturday afternoon as 5-point underdogs to the Patriots in the AFC Divisional Round.
After Stoner became full-fledged Internet famous from the Royals games, a Chiefs fan named Dan Joy (interviewed here) recognized Stoner at a tailgate and told him that he needed to get a red cat onesie for Chiefs tailgates/games. So, Stoner did.
Stoner also wears a glorious pair of Chiefs-colored Zubaz, because while he's pleasantly eccentric, he's not impervious to January weather in Kansas City.
These days, Stoner is so popular and fields so many photograph requests, it takes him about an hour just to make it from the parking lot into Arrowhead Stadium.
"You come to Arrowhead, you're going to get an experience, see things you've never seen," said Stoner, parading around the parking lot with a fan dressed as "Macho Man" Randy Savage. "We're weird and we take our football seriously."
---
---