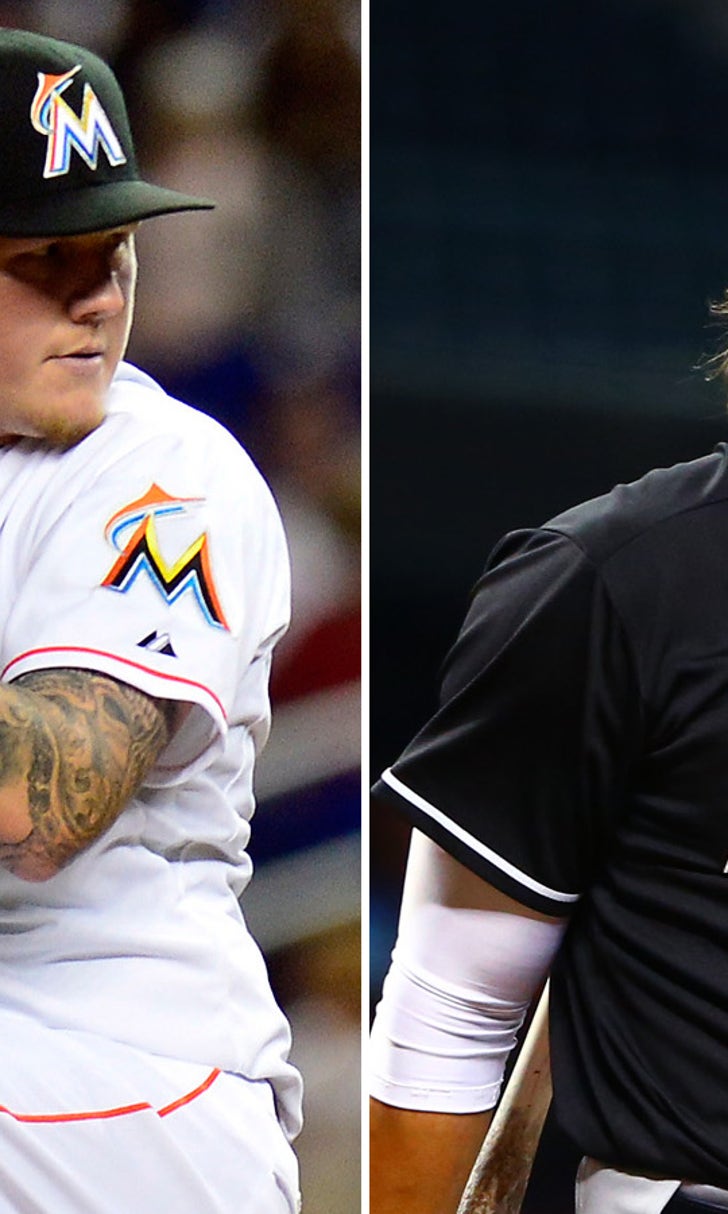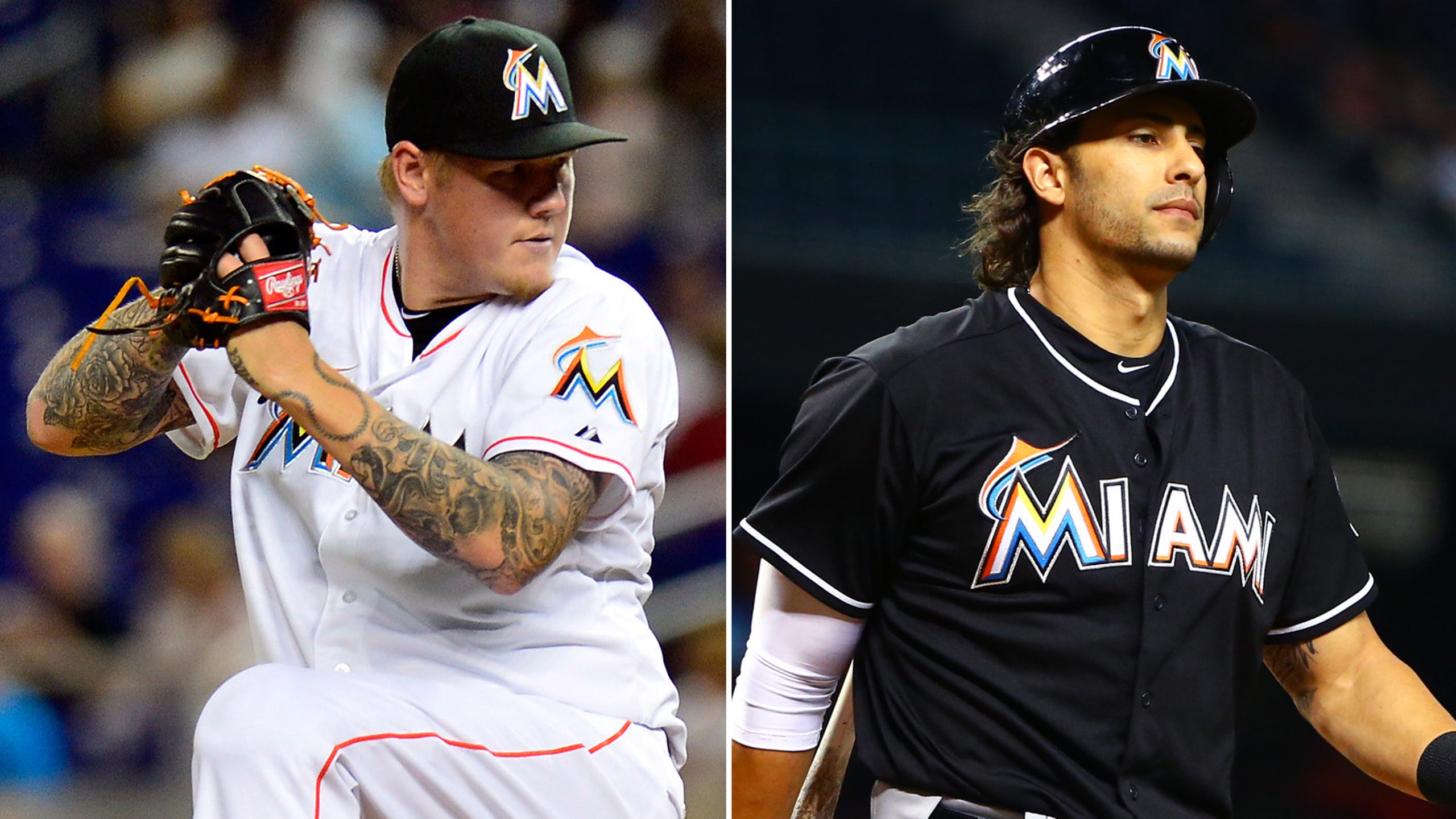 Marlins, Dodgers, Braves complete 13-player trade
BY foxsports • July 30, 2015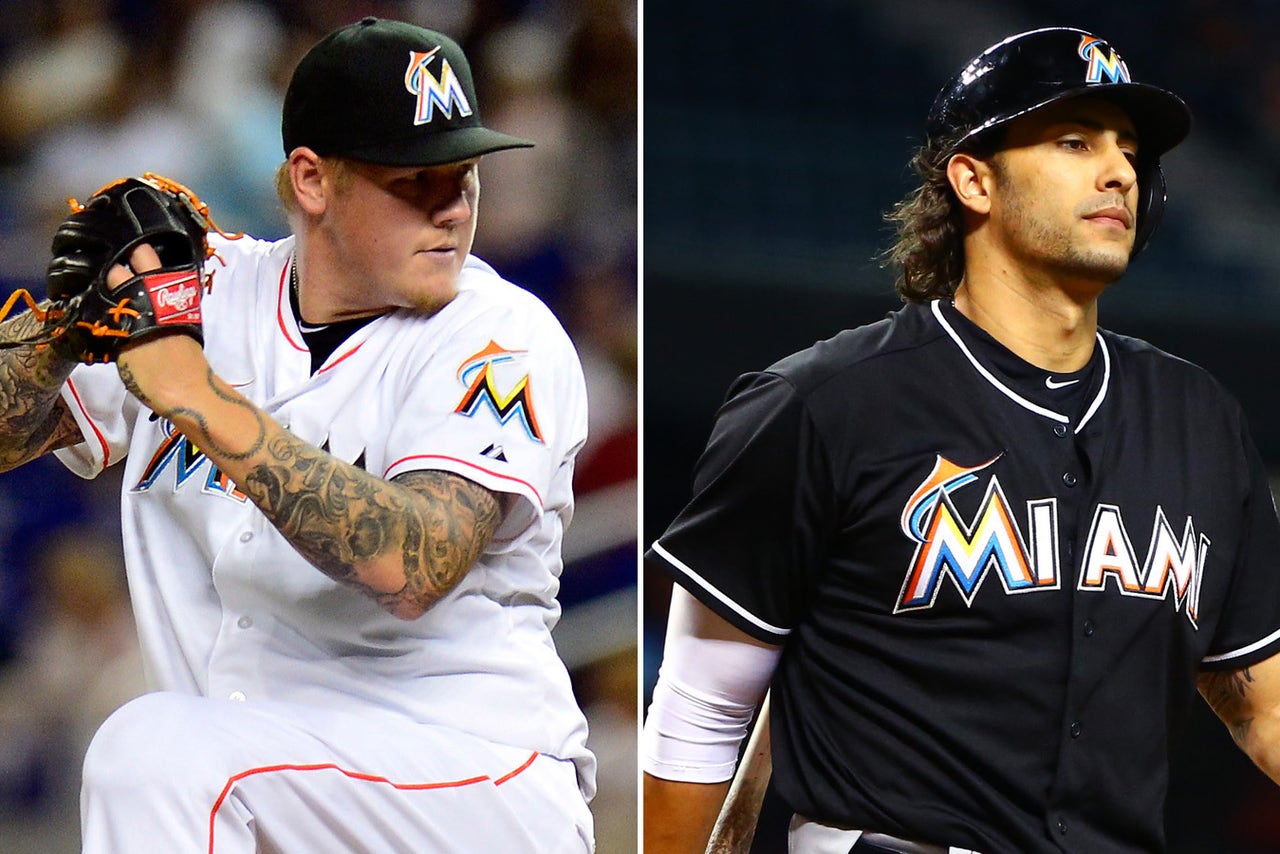 MIAMI -- Tweets across the country assured Major League Baseball fans that a three-team, 13-player deal between the Miami Marlins, Los Angeles Dodgers and Atlanta Braves was complete.
And yet, Marlins Opening Day first baseman Michael Morse, who didn't have a nameplate on his locker over the past two days as a key player in the rumored trade, struck out in a pinch-hit appearance as the final out of Thursday afternoon's 1-0 loss to the Washington Nationals.
The scene perfectly depicted the 2015 Marlins -- a ballclub full of promise entering the season but mired in underachievement and selling parts before August. Things didn't add up despite the apparent upgrades.
After more than 24 hours in limbo, the trade finally became official at 4:41 p.m. ET. The Marlins shipped Morse, right-hander Mat Latos and their 2016 Competitive Balance Pick (No. 34) to the Dodgers for minor-league pitchers Victor Araujo, Kevin Guzman and Jeff Brigham as well as cash considerations.
Los Angeles, meanwhile, sent reliever Paco Rodriguez, Cuban signee Hector Olivera and minor leaguer Zach Bird to the Braves in exchange for left-hander Alex Wood, closer Jim Johnson, reliever Luis Avilan, top prospect Jose Peraza, righty Bronson Arroyo and cash.
"It's roughly 24 hours or so until the end of the trade deadline and when I have to sit here and say that we made a trade and we haven't added, it means that something has not gone right," president of baseball operations Michael Hill said.
"As we currently sit right now we're 18 games under .500 and not performing the way that we felt like this team is capable of performing. We wanted to try to extract value for a pitcher in Mat Latos that was a free-agent-to-be and in the process try to replenish a minor-league system that over the last 12 months we've sent a lot of pieces out the door. We're trying to improve the ballclub, and this was a move attempting to try to add some depth back to our system."
This past winter, the Marlins acquired both Latos and Morse in hopes they could help the team earn a playoff berth and compete with the Nationals in the National League East. Instead, a lack of hitting, a multitude of injuries -- including disabled list stints for All-Stars Giancarlo Stanton and Dee Gordon -- prevented any headway in the standings.
Latos, acquired from the Cincinnati Reds in a trade for righty Anthony DeSclafani and catching prospect Chad Wallach, went 4-7 with a 4.48 ERA in 16 starts. Offseason left knee surgery pushed back his spring training routine. Inflammation put him on the DL on May 23.
Morse, an 11-year veteran and 2014 World Series champion who signed a two-year, $16 million deal as a free agent over the winter, sprained his right fourth finger and struggled into May. Rookie Justin Bour took over starting duties for a fraction of the cost as a controllable piece. A former minor-league Rule 5 pick, he has more homers (10 vs. 4) and RBI (30 vs. 12). Morse was relegated to a bench role and started six games in left field.
"I think it was more the emergence of Justin Bour," Hill said. "We're always working. When we finish here we'll head upstairs and get back on the phones. We're always looking for ways to improve our club and ultimately win games and bring a championship back to South Florida.
"We brought Michael Morse to be part of the solution and provide offense and run production in our lineup. To this point he just hadn't been able to do that. In his absence, when he was injured, Justin Bour has really stepped up and shown that he is a part of our future moving forward. We wanted to give him the opportunity to play and see what he's capable to do."
Hill cited the age of technology and that "no deal's official until it's official" for the unusual confusion concerning the trade. Both Latos and Morse thought they were gone on Wednesday and had cleared out their lockers. Instead, they sat in the dugout the next two games wearing Marlins uniforms. Hill said he apologized to both players when he informed them it was official, wished them luck, gave them hugs and "told them to go kick butt and win a championship."
Latos, who played catch in the outfield before the game, said "I'm just employee No. 35 for right now and I'm just hanging out. That's all I'm doing. Y'all let me know when you find something out."
"It's been weird," Morse told reporters before hearing official word after the 1-0 loss. "I don't think this is usually what happens in these kind of moments and stuff. Like I said, it's been a weird year for me. It's been a weird year for this team, so, couldn't expect anything less."
As for the return investment, the Marlins will "look for ways to try to continue to upgrade the roster" with both Latos' and Morse's contracts gone. They took a hit by giving up a pick, especially as a organization "built by the draft."
Araujo, who turns 23 this November, is 3-3 with a 5.40 ERA in 32 games for Advanced A Rancho Cucamonga. Over parts of six minor-league seasons, the Dominican is 22-15 with a 4.30 ERA. Hill said he has a "plus-plus fastball."
Brigham, the only arm of the trio considered a prospect in the Dodgers farm system, went 4-5 with a 5.96 ERA in 17 games (14 starts) for Rancho Cucamonga after posting a 2-0 record and 1.29 ERA with Great Lakes. The 23-year-old felt elbow discomfort in 2011 but didn't have Tommy John surgery until a year later. He returned in 2014 and got selected in the fourth round of the draft out of the University of Washington and still has a "big arm." Both he and Araujo will report to Single-A Jupiter.
Guzman, who turns 21 this November, is 5-7 with a 3.90 ERA in 17 games (15 starts) for Single-A Great Lakes. He has steadily worked his way up over three seasons, going 11-16 with a 3.36 ERA. Per JJ Cooper of Baseball America, he has a "92-94 mph fastball with a solid slider and below average changeup." He will be assigned to Class-A Greensboro.
"All three of them are talented young men, and we look forwad to their development and growth in our system," Hill said. "Just an opportunity for us to add quality pieces into our system and hopefully pieces that'll help us in the near future."
Donovan Solano will be reinstated from the paternity list as the bench spot in Morse's place, while Miami continues internal discussions on who will start Saturday. It will likely be an arm on the Triple-A roster who made his big-league debut this season.
Southpaw Adam Conley (2-1, 2.52 ERA) as well as prospects Justin Nicolino (2-3, 5.06 ERA) and Jose Urena (2-1, 4.45 ERA) -- since their returns to the minors -- are all options.
After postseason aspirations in February, the Marlins (42-60) find themselves with the second-worst record in baseball and fourth in the NL East. While there is frustration, there is also optimism because of the "complete belief in our core players." Thursday marked a moving on period.
"I would hope that our fans are educated enough to see what we're doing," Hill said. "As we said when we made a lot of trades and brought in Mat Latos and some of the other players we brought in, our goal is to be one of 10 and play for a championship. That is our goal and that still remains our goal.
"In the process, sometimes you have to make adjustments. You have to do things that you feel are the right things to do for the short term and the long term. In this situation, I don't think anything's changed in our ultimate goal and for the fans of South Florida. I hope they see that we have an ace at the top of our rotation, we have arguably the most talented right fielder, power hitter in the game. The top leadoff hitter in the game. A defense up the middle with (JT) Realmuto and (Adeiny) Hechavarria that is extremely talented. But we need more. That's what we're trying to accomplish is to put enough talent in that clubhouse and on that field and give us an opportunity to win every day."
You can follow Christina De Nicola on Twitter @CDeNicola13 or email her at cdenicola13@gmail.com.
---
---