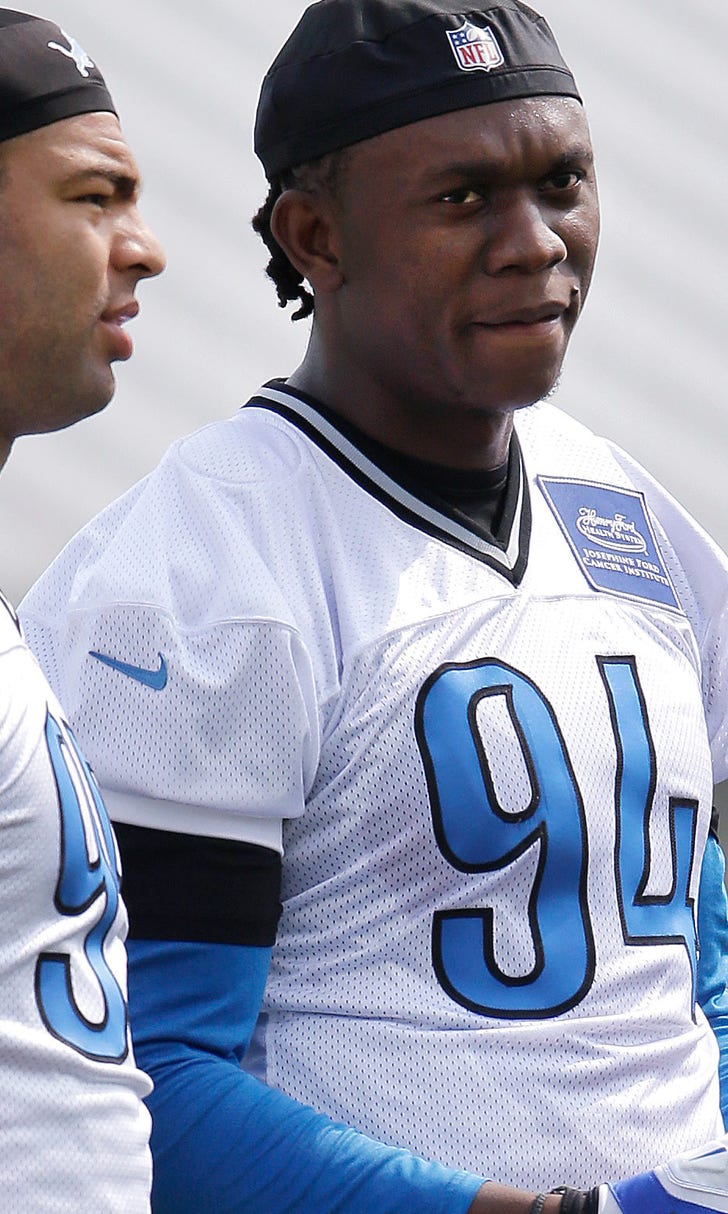 Lions Notes: Kyle Van Noy adjusting to life in NFL
BY foxsports • August 5, 2014
ALLEN PARK, MICH. -- Detroit Lions rookie Kyle Van Noy is like a lot of rookies, trying to adjust to life in the NFL.
"You gotta learn how to play with different guys, you gotta learn a whole new system, learn the communication and verbiage," Van Noy said as he walked off the practice field Tuesday. "And you're playing at the highest level ever so all of that put together, it's a competition and it's not easy. But I can handle it, it's something that just takes practice."
The Lions released an unofficial depth chart in advance of the first preseason game against the Cleveland Browns Saturday night.
Van Noy is listed as the backup to Ashlee Palmer at outside linebacker.
Veteran middle linebacker Stephen Tulloch likes what he sees from the 6-foot-3, 252-pound rookie.
"Kyle, you can tell he has the tools," Tulloch said. "Obviously he's a rookie and he needs some more work but he's a guy that wants to get better. He studies, he asks questions in the meeting room. The sky is bright for this guy. He's a real intelligent guy, he works hard every day. Once he picks up the defense and he can just play, I think he'll be a great player in this league."
Lions coach Jim Caldwell believes that Van Noy has many qualities that can help the Lions this season.
"He's fluid, he's got speed, obviously he's got size and bulk and he's got a good understanding as well," Caldwell said. "He's got a really fine football mentality and a football IQ. I'm looking forward to seeing him in pads and looking forward to seeing him obviously start to progress even in our preseason games, where he gets a few more opportunities for some contact."
One of the qualities that might serve Van Noy the best is the maturity he displays for a rookie.
"I don't really worry about getting distracted about stuff off the field," Van Noy said. "I'm very calm, cool, collected but when I'm on the field I get to be whoever I want to be. That being said, I get to play with fire, play with passion and play with enthusiasm. Being a mature rookie helps out a lot."
Although the amount of information thrown at rookies can be overwhelming, Van Noy doesn't appear to be overmatched.
"I feel like I'm catching on and I feel that I played at a high level in college, even though it's not the same as the NFL," Van Noy said. "Of course it's always going to take an adjustment but for me, I think we had a complex system at Brigham Young and we ran an NFL defense. So coming here, all the things I learned where I'm at is the opposite here.
"All in all, it's just more reps, more repetitions, I'll be fine."
Van Noy is looking forward to getting some of those repetitions at Ford Field for the open practice Wednesday night.
"It'll be awesome," Van Noy said. "I've been in there a couple times and walked around by myself. It'll be fun to put the pads on and feel that experience. Get better and get comfortable with the surroundings. Focus on what's at hand. I'm just ready to go."
Van Noy said he has appreciated the support of the fans who have been at every open practice.
"We have the best fans here in the country," Van Noy said. "There's been some rough times here and they still keep coming back. They're loyal and we're loyal back to them. They want to win and we want to win for them."
TUESDAY'S PRACTICE
Caldwell continues to be pleased with the way training camp is going.
"The weather's been cooperating with us," Caldwell said. "We practiced in the morning (Monday), it rained in the afternoon. It rained this morning and we practiced in the afternoon so it's kind of working in our favor. We got a lot of real good work done."
The focus Tuesday was on the red zone.
"The guys, I thought, functioned well," Caldwell said. "We put them in a couple awkward situations, made it very tough, some second and third-down situations that were difficult for the offense and the defense and they both did a great job of adjusting."
SLAY BACK
When cornerback Darius Slay repeatedly said, "I'm good" Monday despite receiver Golden Tate landing on his neck, he wasn't kidding.
Slay was back out at practice with his teammates Tuesday.
BALDWIN NOT OFFICIAL
The Lions claimed wide receiver Jonathan Baldwin after the San Francisco 49ers released him Sunday but he's not quite a Lion yet.
"We're just in the process of evaluating his medical condition at this point," Caldwell said.
Currently, the wide receiver depth chart has Calvin Johnson and Golden Tate as the starters, with Kevin Ogletree, Kris Durham, Ryan Broyles, Jeremy Ross, Patrick Edwards, Corey Fuller, Andrew Peacock and Quintin Payton as the backups.
VISITORS IN PRACTICE
There were some notable visitors at practice Tuesday.
Lions vice chairman William Clay Ford, Jr. was at the Allen Park practice facility.
Also in attendance was former Lions coach Steve Mariucci, now an analyst with the NFL Network. 
Mariucci conducted an interview with Lions defensive tackle Ndamukong Suh.
---
---