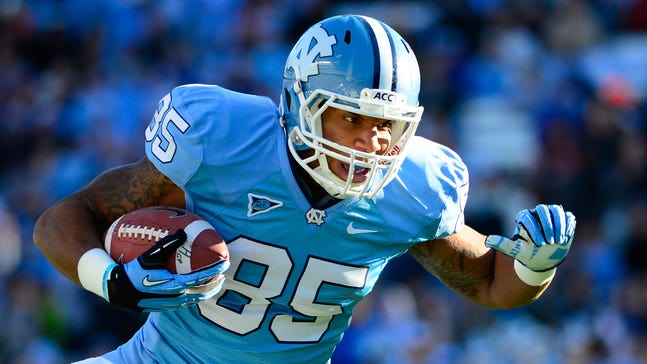 Lions' draft grade will depend on Ebron, secondary
Published
May. 12, 2014 11:00 a.m. ET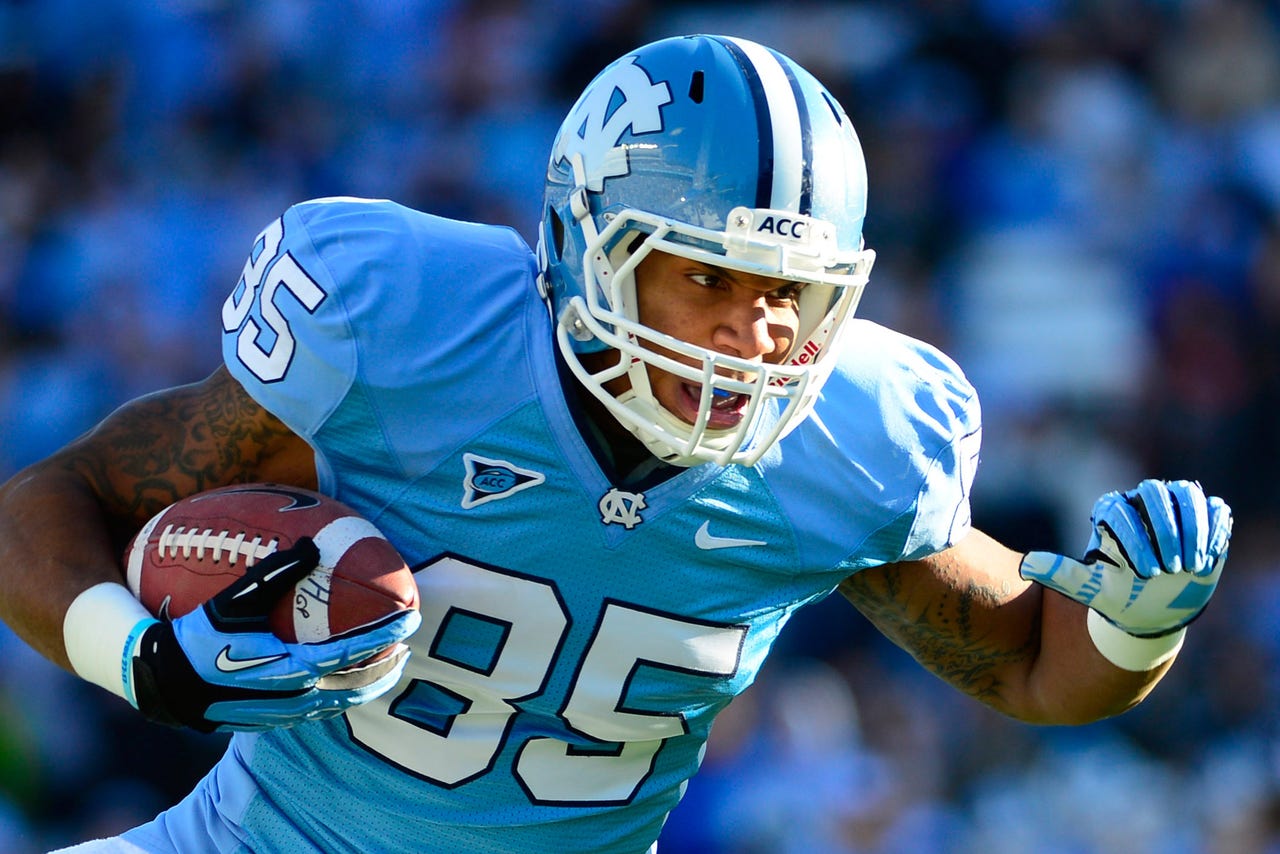 Detroit Lions general manager Martin Mayhew knows defensive backs. Heck, he was a corner in the NFL for nine years.
But if there's one weak link that continues to stick out with the Lions, it's their porous secondary.
That's what makes this latest NFL Draft a little perplexing. They drafted eight players and only one was a defensive back.
The draft opened Thursday night with the Lions choosing to add another playmaker to the offense -- hybrid tight end/receiver Eric Ebron -- over a cornerback such as Michigan State's Darqueze Dennard or Virginia Tech's Kyle Fuller.
They eventually ended up settling in the fourth round for Nevin Lawson, a 5-foot-10 cornerback from Utah State.
Mayhew gave up an earlier pick in that round to move up and take a much-needed outside linebacker, BYU's Kyle Van Noy, the previous night.
That decision became a little more costly when there was a major run on cornerbacks throughout the fourth round -- nine in the first 32 picks, plus three safeties -- as Mayhew admitted some of his targets were dropping off the board.
"That's the process," he said. "That's what it is for everybody.  It's frustrating when you have a guy you want and he's not there."
Lawson isn't likely to compete for a starting job as a rookie, if ever, which means the Lions are basically going to be left with what they have in the defensive backfield.
They could make some more moves before the season starts, but probably nothing of real significance.
Lawson is it, at least from this draft, which seems like a wasted opportunity, although Mayhew does like him.
"He ran 4.50 (in the 40-yard dash) at the Combine," Mayhew said. "But you put the tape on, this kid can run. His play speed is faster than his time speed in the 40 at the Combine.
"He's solid in man-to-man coverage, very scrappy, very competitive kid. He's the kind of corner that I like.
"This guy's not a tall one. I wasn't a tall one. It's hard for me to be mad at him for not being tall.
"He's a good football player."
Maybe Lawson will develop and eventually contribute, but he's certainly not one of the top cornerbacks coming out of college right now.
Far from it.
So the Lions will go with what they've got in the secondary, for better or worse.
Chris Houston needs to recover from a foot injury and bounce back from a poor season. The Lions are also hoping to get another season out of Rashean Mathis, who turns 34 in August.
What's more, they need youngsters such as Darius Slay, Bill Bentley, Chris Greenwood and/or Jonte Green -- all cornerbacks entering their second or third year in the league -- to make big jumps in their development.
If at least a few of those things don't go their way, the Lions will end up regretting the approach they took in this draft by waiting so long to take a corner, not to mention completely ignoring the safety position until agreeing to deals and/or tryouts with three undrafted players.
"Guys like (DeJon) Gomes and Don Carey and Akwasi Owusu-Ansah, those guys have started games before, they play special teams, they're NFL players," Mayhew said of the team's top reserves at safety. "I have a comfort level with those guys as backups for us.
"I'm very comfortable with (James) Ihedigbo and Glover Quin as starters for us. It really would have to be an impactful guy for us to go draft one, I think."
Mayhew seems to be showing a surprising amount of faith in what most consider a very questionable secondary.
The decision to pass over a cornerback in the first round -- seemingly a message that they simply didn't feel there were any elite corners available -- started the ball rolling.
On Day 2, they got the type of linebacker that's needed for their new defensive scheme, followed by the potential heir (Arkansas' Travis Swanson) sometime in the near future for 14-year veteran center Dominic Raiola.
The final day of the draft was devoted to trying to acquire depth for the defense (Lawson, Bloomsburg University end Larry Webster and Princeton tackle Caraun Reid), another receiver (Notre Dame's TJ Jones) and a kicker (Boston College's Nate Freese), who quite likely will be the one who takes over for David Akers.
Ebron was an unpopular pick for many Lions' fans, who desperately wanted to see the team improve on defense, particularly that secondary.
Mayhew will disagree with this assessment, but it's getting to where they're going to need one of the league's top-scoring offenses to have any chance to make up for the defense.
"I felt it was really a 'go-anywhere' draft for us," said Mayhew, who believes strongly that the best strategy is to take the top-rated player over trying to fill specific position needs, at least in most cases.
"Our defense, you know, we're right in the middle of the pack last year in points allowed. We were 15th. Offense was 13th in points scored.
"We were first on third-down defense. I think we were first or second in red-zone defense, so I have confidence in our entire defense.
"There's a perception that there's this huge gap between our offense and our defense. It's not that big of a gap. We've got some good players on defense that can make some plays for us."
As a result, the Lions decided to go with Ebron.
"We felt like this guy was going to help us win football games, so we drafted him," Mayhew said.
Said offensive coordinator Joe Lombardi: "He adds a whole different skill set and that adds a whole new element to your offense with a tight end that can run like that."
Van Noy, meanwhile, has some of the playmaking skills that the Lions are in need of on defense. He had 26 sacks, seven interceptions and scored five touchdowns during his four-year college career.
But after Van Noy was taken in the second round, defensive coordinator Teryl Austin was asked about what he still wanted to add to the defense during the draft.
"In the secondary, we would like to get a guy that has the ability to turn the ball over," Austin said. "Whether that is by interceptions or stripping the ball, but we need something back there that will help us turn the ball over.
"I think if we give the ball back to our offense in good field position a number of times, then it would be really good for our team."
Lawson doesn't appear to be that type of player. He made six interceptions, forced one fumble and recovered one fumble in 49 games over four seasons.
The general objective of every draft is to add three starters and three other players who contribute. Ebron will play an important role in the offense, Van Noy should compete for a starting job, Swanson eventually could be a starter and Freese could be their new kicker.
How much their other picks contribute is impossible to predict at this point. Lawson joins the logjam of young cornerbacks. Webster had the second-fastest 40-yard dash time among defensive ends at the NFL Combine. Reid might be in the mix for a backup job behind Ndamukong Suh and Nick Fairley while Jones was a late-developing receiver in college who still needs to get stronger to play at the NFL level.
For the short term, this draft is probably going to be judged on two factors: How much of an immediate impact is made by Ebron and whether the secondary shows enough improvement that this team can win anything but a shootout.
If the secondary struggles, Mayhew will have again left himself open for criticism with the approach he took in drafting.
---
---