Jonathan Huberdeau
Jonathan Huberdeau
Jaromir Jagr, Panthers hoping this is Florida's breakout year
Published
Oct. 9, 2015 11:00 a.m. ET

SUNRISE, Fla. (AP) -- It was the final morning pregame skate of the Florida Panthers' 2014-15 season, and Jaromir Jagr was in constant motion.
He'd skate from the blue line to the red line, over and over, never stopping. The season was going to be done and summer vacations were going to be starting in a few hours, but Jagr saw no reason to not take advantage of an opportunity to keep working.
"Every time I step on the ice, I love it," Jagr said.
That's why he's still playing, and the 43-year-old is one of the main reasons why the Panthers -- in their time-honored tradition -- believe this year might really be the year to turn things around.
Florida nearly got into the playoffs last season after landing Jagr in a trade and putting him on a line with Aleksander Barkov and Jonathan Huberdeau, a pair of talented forwards who basically are both half his age. A full season of Jagr, a suddenly-deep roster and a promising defense are the main reasons why these Panthers carry plenty of optimism into this season.
"Jagr is one of the greatest athletes of all-time," Panthers general manager Dale Tallon said.
Who could argue?
He's got 722 goals and 1,080 assists in his career. He entered the NHL when there were 21 teams; there's now 30 franchises and talk of two more being added before too long. He has actually appeared in more NHL games than the Panthers franchise has played -- and remember, he even spent a few years playing in Europe instead of on this side of the Atlantic.
But he's still working tirelessly. Midnight skates, workouts on the road before bed, water workouts, weighted sticks, whatever it takes, all part of the work ethic instilled in him years ago growing up in what's now the Czech Republic.
"You needed to have an attitude, especially during the Communist years, just to survive," Jagr said. "Plus I think I always had it in me to be able to adjust, to survive, to learn day-by-day and know that what worked 15 or 20 years ago is not going to work necessarily right now. You have to change it."
The Panthers are thinking he can change their fortunes as well.
------
Here's what to know going into this Panthers' season:
GOOD AS EVER: G Roberto Luongo will turn 37 before this season is over, but his numbers are still as good as ever. He finished last season with a 2.35 goals-against average and .921 save percentage, which were actually improvements over his career numbers in those departments. In games where Luongo allowed three goals or less last season, Florida was 27-10-12. When he allowed four or more, the Panthers were 1-9-0.
GOALS NEEDED: Florida didn't have anyone among the NHL's top 45 goalscorers last season. Nick Bjugstad led the team with 24 scores and Brandon Pirri had 22 in one of the most statistically odd seasons in hockey history. Pirri had two assists all year; the only other player in NHL history, according to STATS, with 22 or more goals and two or fewer assists in a season was Cy Denneny of the 1923-24 Ottawa Senators (22-1-23).
PLAYOFF DROUGHT: To put the epic proportions of Florida's playoff drought into some perspective, consider that the Panthers have played in 16 postseason games since the start of 1997. Tampa Bay, Chicago and the New York Rangers played in more playoff games last season alone. Since Florida last won a playoff series, the Panthers have had 205 different goalscorers, 24 starting goaltenders and 12 coaches.
START FASTER: Look for Florida to perhaps put a bit more pressure on teams early in games this season. The Panthers scored only 41 first-period goals last season, the lowest total in the NHL. Florida was 23-5-5 when scoring first, but just 15-24-10 when giving up the first goal of a game.
JAGR WATCH: Jagr starts the season with 722 NHL goals, putting him nine behind Marcel Dionne for No. 4 on the league all-time list and 19 behind Brett Hull for the No. 3 spot. He's also 48 points behind Gordie Howe for No. 3 on the all-time list in that stat, and is 50 games shy of becoming the 10th skater in league history with 1,600 appearances.
---
---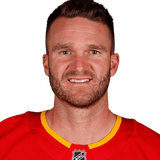 Get more from Jonathan Huberdeau
Follow your favorites to get information about games, news and more
---