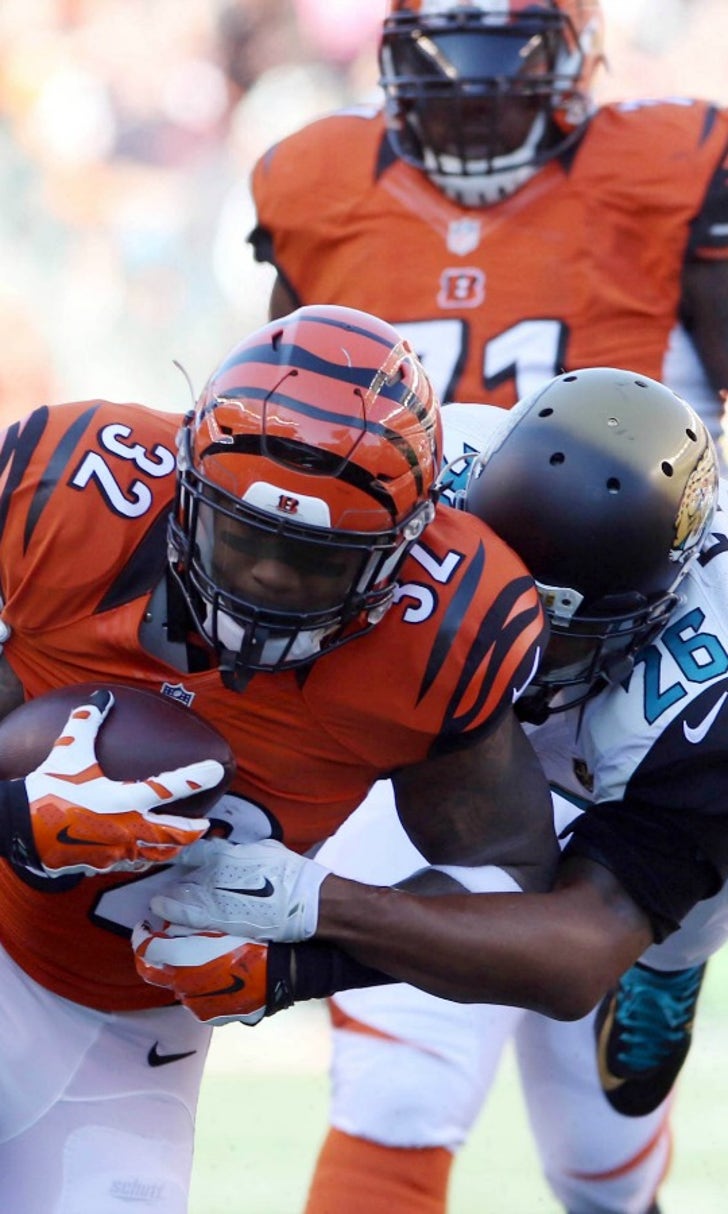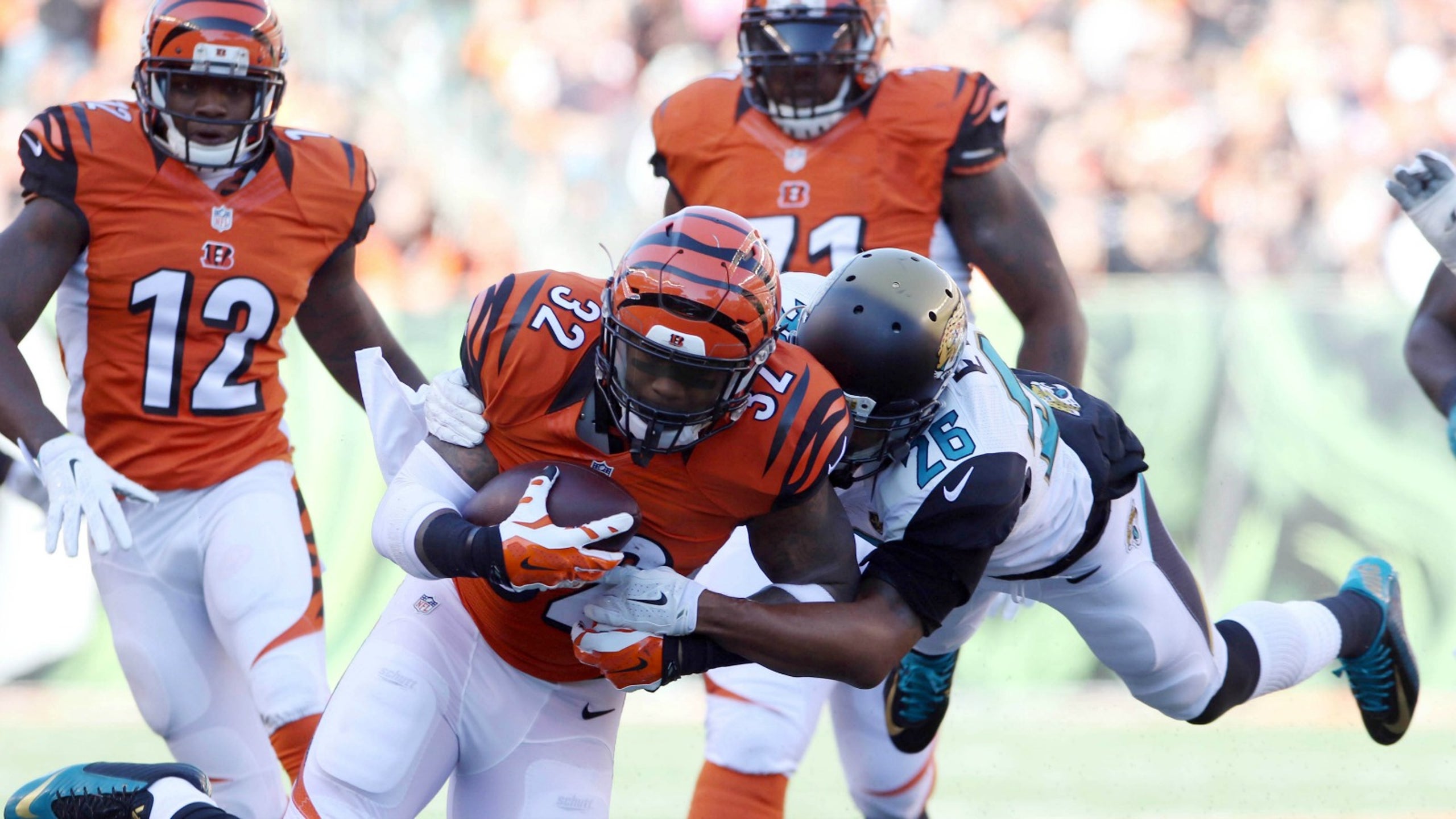 Jaguars observations: Special teams part of problem in loss at Cincinnati
BY foxsports • November 2, 2014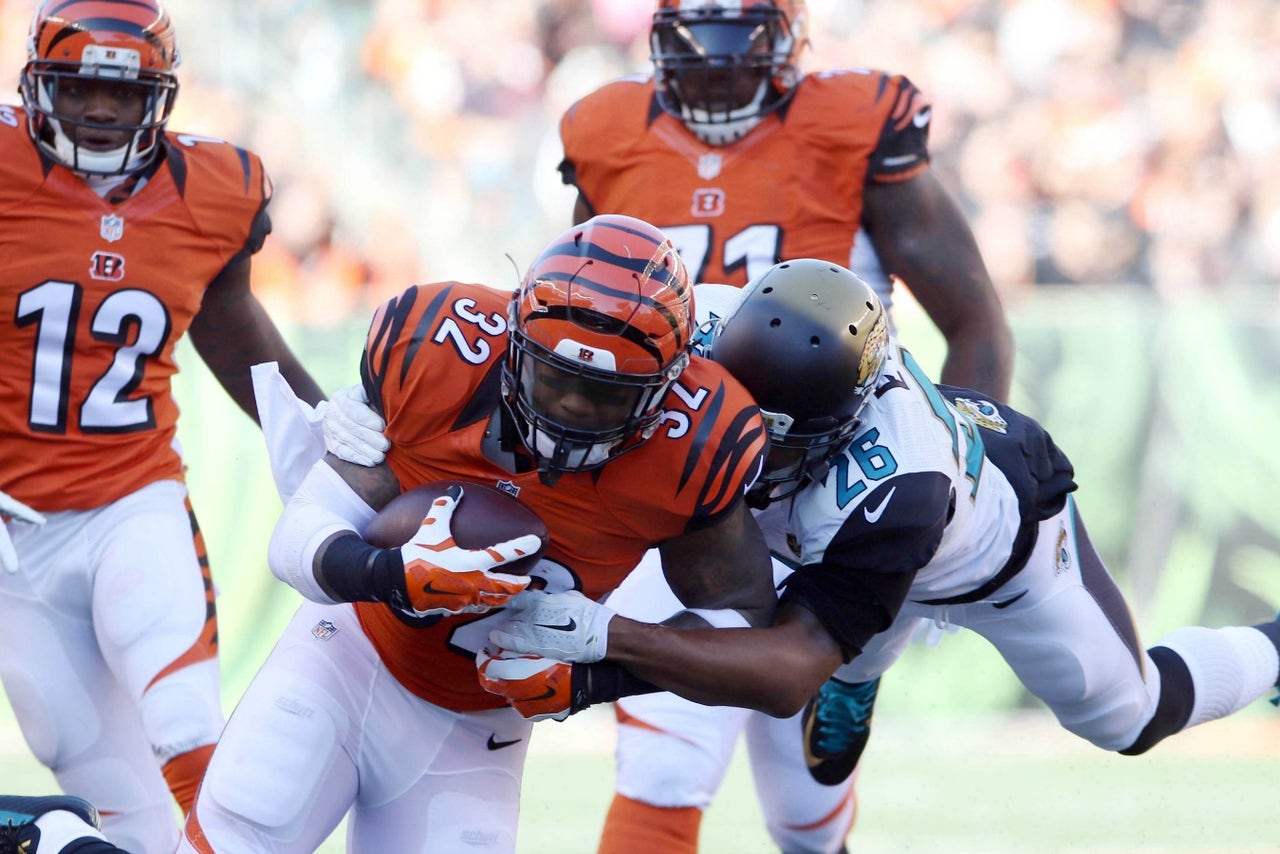 Breakdowns in special teams forced the Jacksonville Jaguars to play from behind for the majority of their game Sunday against the Cincinnati Bengals.
While they showed a knack to come up with big plays with their backs against the wall, the manner in which the Jaguars dug themselves a hole never should have happened.  
Punter Bryan Anger had a kick tipped by Rex Burkhead and another one blocked by Taylor Mays in the second quarter. The second of those resulted in a safety that enabled the Bengals to take a 12-3 halftime lead.
A 31-yard punt return by Adam Jones early in the fourth quarter set up a scoring pass from Andy Dalton to A.J. Green which increased that lead to 26-10. And just when the Jaguars made things interesting with two touchdowns in a span of 1:42, kicker Josh Scobee had a kickoff sail out of bounds to give the Bengals excellent field position.
The Bengals wasted no time capitalizing on that unforced error as rookie running back Jeremy burst through a hole on the right side of the line and rambled 60 yards for the game-clinching TD, bowling over safety Josh Evans near the goal line in the process.
Hill finished with 154 yards on 24 carries in becoming the first player to rush for more than 100 yards against the Jaguars this season.
The NFL's leader in interceptions thrown with 12 was playing with fire for much of the afternoon. Bortles probably should have been picked off by cornerback Terence Newman and linebacker Emmanuel Lamur in a first half where he passed for only 42 yards, with two of his eight completions accounting for negative yardage.
But after the Jaguars fell behind 19-3 and the thought of a comeback seemed utterly absurd, Bortles threw touchdowns passes of 40 and 18 yards to fellow rookie Allen Hurns, who had caught only six passes the previous three weeks.
Unfortunately for Bortles, reality caught up to him with 3:55 remaining when Bengals defensive back George Iloka intercepted him in the end zone. Iloka had delivered a clean but vicious hit earlier in the quarter on Cecil Shorts III, although Shorts returned not long thereafter and was the intended receiver on the unsuccessful two-point conversion attempt following Hurns' second score.
2. Defense takes a pounding in more ways than one.
Yes, it was the first game all season where the Jaguars recorded multiple interceptions. Sherrod Martin, filling in for the injured Will Blackmon at the nickel spot, came up with the secondary's first pickoff since the second quarter of the seaso opener. And linebacker J.T. Thomas had his second in as many weeks on a pass which slipped out of Dalton's hands and caromed off the back of Bengals tackle Andrew Whitworth.
But in addition to allowing Hill to run wild, the line didn't generate the sort of pass rush seen in recent weeks. And Thomas was forced to move back to middle linebacker after Jeremiah George, who was on the Jaguars' practice squad barely two weeks earlier, went out in the first half with an ankle injury.
Martin was also beat on Dalton's 19-yard pass to Mohamed Sanu which put the Bengals ahead to stay.
3. Telvin Smith has a brutal second quarter.
The fifth-round pick out of Florida State played well two weeks ago in a victory over the Cleveland Browns to be named AFC Defensive Player of the Week. But before halftime, he reminded everyone that a rookie can be mistake-prone.
Sanu's touchdown came shortly after Smith failed to bring down Cedric Peerman on a third-and-8 screen pass. Mays got past Smith to block the punt of Anger, whose only previous blocked kick came in 2012 at Green Bay. And Smith ended the quarter by picking up a personal foul penalty which forced Scobee to begin the third quarter by kicking off from the 20.
4. At long last, a touchdown in the third quarter.
The Jaguars had been outscored 51-12 this season in the 15 minutes following halftime until Bortles found Hurns matched up one-on-one against Leon Hall and hit him in the end zone.
The touchdown made it a 19-10 game and finally halted a streak which also included the final three games of the 2013 season. Their last touchdown came on a trick play against the Houston Texans when wide receiver Ace Sanders hit running back Jordan Todman on a 21-yard pass play.
Martin's diving interception gave the Jaguars excellent field position later in the quarter, but they failed to get anything out of it.
5. Denard's streak snapped at two.
Denard Robinson fell just short of his third consecutive 100-yard game. He finished with 94 yards on 17 carries, including a 5-yard touchdown with 8:13 remaining not long after Thomas' interception.
Robinson had 47 yards in the first quarter, with most of those coming on a 38-yard pickup. He also had another significant gain wiped out when right tackle Austin Pasztor was penalized for clipping.
While Luke Joeckel was back at left tackle after suffering a concussion last week against Miami, the Jaguars lost right guard Brandon Linder in the first quarter to a shoulder injury. Jacques McClendon took over his spot.
Next up: Sunday vs. Dallas in London.
You can follow Ken Hornack on Twitter @HornackFSFla or email him at khornack32176@gmail.com.
---
---