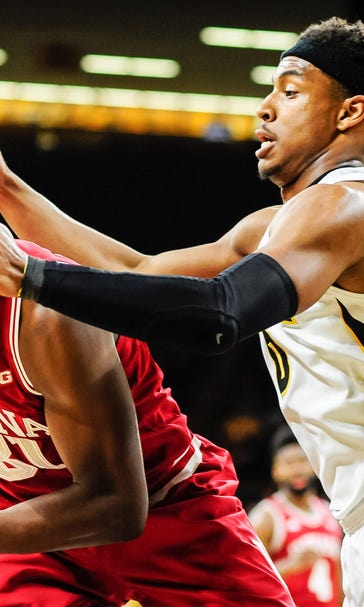 Indiana's struggles continue in 96-90 overtime loss to Iowa
February 22, 2017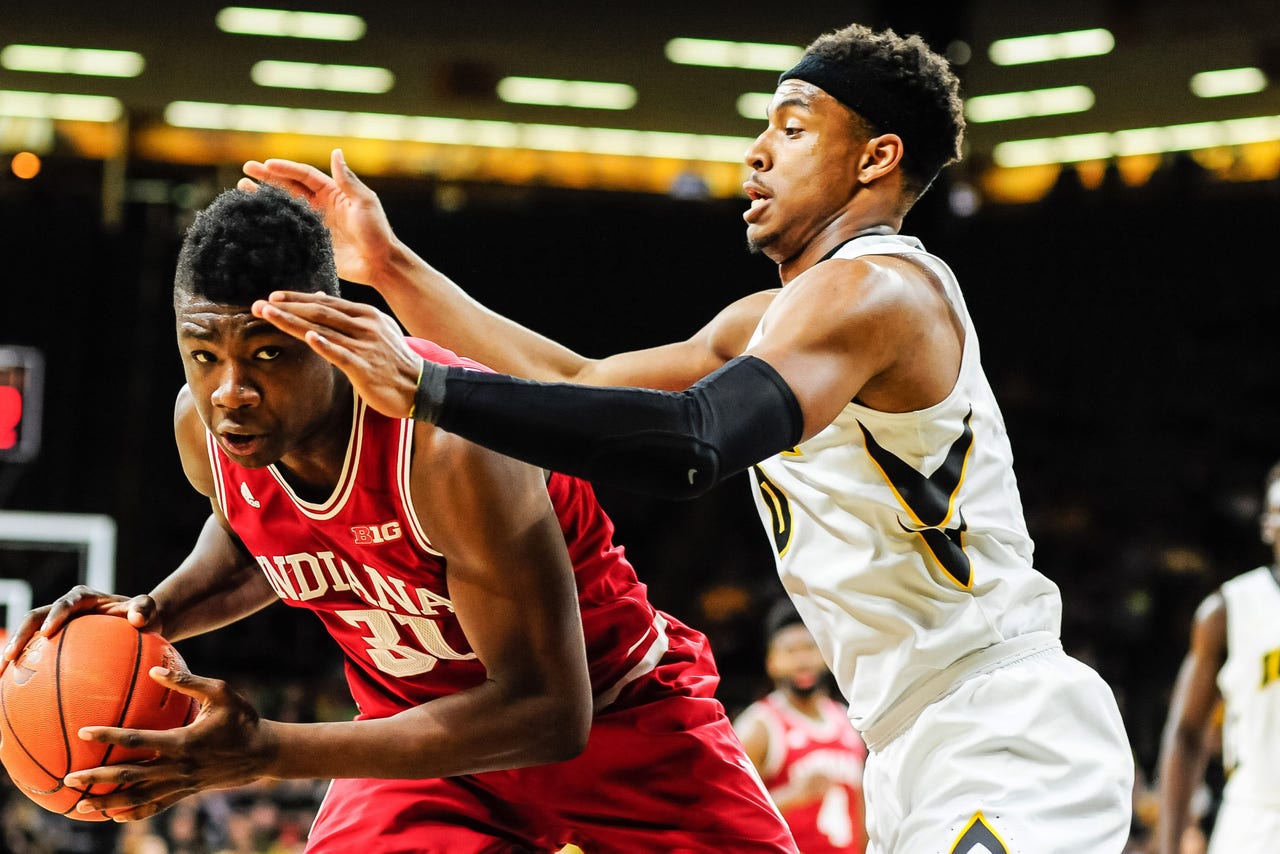 IOWA CITY, Iowa -- In one of Iowa's most hectic games of the year, senior Peter Jok's calmness at the stripe proved to be the difference.

Jok scored 35 points as Iowa rallied from 13 down to beat Indiana 96-90 in overtime Tuesday night, snapping a three-game losing streak.

Jok made a program-record 22 free throws for the Hawkeyes (15-13, 7-8 Big Ten), who made 39 free throws to Indiana's 16.

He hit a pair of free throws and two more off a subsequent steal, putting Iowa ahead 84-81 with 2:14 left in OT. The Hawkeyes then forced another turnover, and Jok made it six straight free throws and an 86-81 Hawkeyes lead.

"He's a guy that obviously wants the ball, and we want to get him the ball," Iowa coach Fran McCaffery said of Jok, who hit just six shots from the field but missed only one free throw. "He was really, really special."

Tyler Cook's dunk with 59 seconds left sealed it for Iowa, which came back from a 17-4 deficit to start play.

Iowa took its first lead, 73-71, on a Cook 3-point play with 2:10 left in regulation, but Josh Newkirk's free throws with 25.6 seconds to go brought the Hoosiers even at 75-all. Cook missed a jumper at the buzzer to push the game into overtime.

Robert Johnson scored 19 points with seven assists and Thomas Bryant finished with 12 points and 11 rebounds for Indiana (15-13, 5-10), which committed 22 turnovers in losing its fifth straight.

"It's disheartening that we play as hard as we play -- we make our mistakes, as do the other teams -- to not have it go our way. I mean, they're working their tail off, preparation-wise, practice-wise. We were fresh. We were energetic," Indiana coach Tom Crean said.



BIG PICTURE

Indiana: The Hoosiers will finish with a losing record in the Big Ten a year after winning the regular-season conference title. The NCAA Tournament could also be in the rearview mirror as well, barring a late-season push that recent results don't suggest is coming.

Iowa: How upset was McCaffery about Iowa's poor start? He used 12 different players in the first four minutes in search of a spark. But the young Hawkeyes, led yet again by their savvy senior, eventually found their way for a victory the program badly needed heading into 2017-18. "The beautiful thing was, it was so many people. There were a number of times when we could have packed it in," McCaffery said. "We really had to fight to win this game."

KEY SEQUENCE

Indiana got 3s from three different players and a Bryant turnaround jumper in four possessions to jump ahead 66-58 with 4:46 left. Iowa answered with six straight points in just 32 seconds -- and Cook's alley-oop with 2:46 left tied it at 70.

THE NUMBERS

James Blackmon Jr. had 18 points for Indiana and Newkirk added 11. But Blackmon, Newkirk, Johnson and Juwan Morgan all fouled out. ... Iowa made just five 3s. ... Cook had 14 points for the Hawkeyes and Nicholas Baer added 10 points with seven rebounds.

HE SAID IT

"Don't waste your time asking me. Because the last thing I'm going to do is put myself in any situation for any fallback or any pushback. Not doing that," Crean said to reporters about the fact that Iowa shot 28 more free throws than Indiana.

UP NEXT

Indiana hosts Northwestern on Saturday.

Iowa travels to face No. 24 Maryland on Saturday.
---
---