NASCAR Cup Series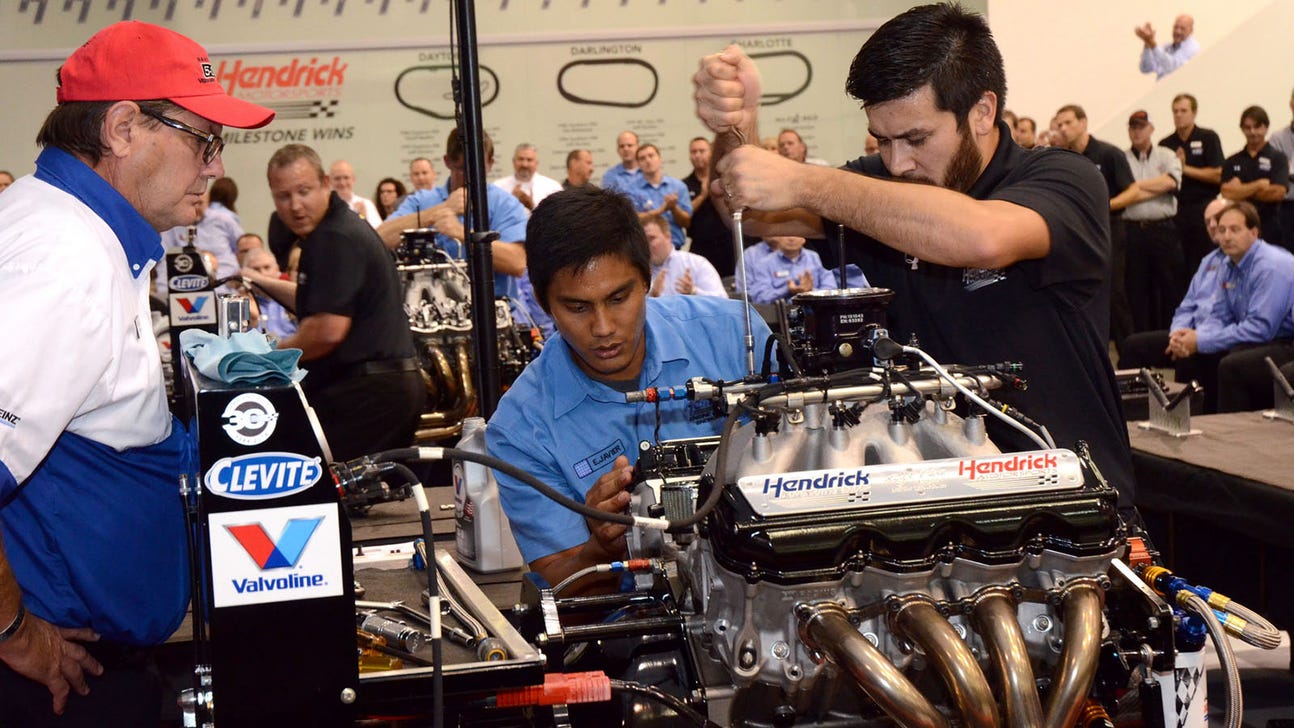 NASCAR Cup Series
Hendrick dealer, motorsports teams compete in Engine Builder Showdown
Published
Oct. 23, 2014 12:30 p.m. ET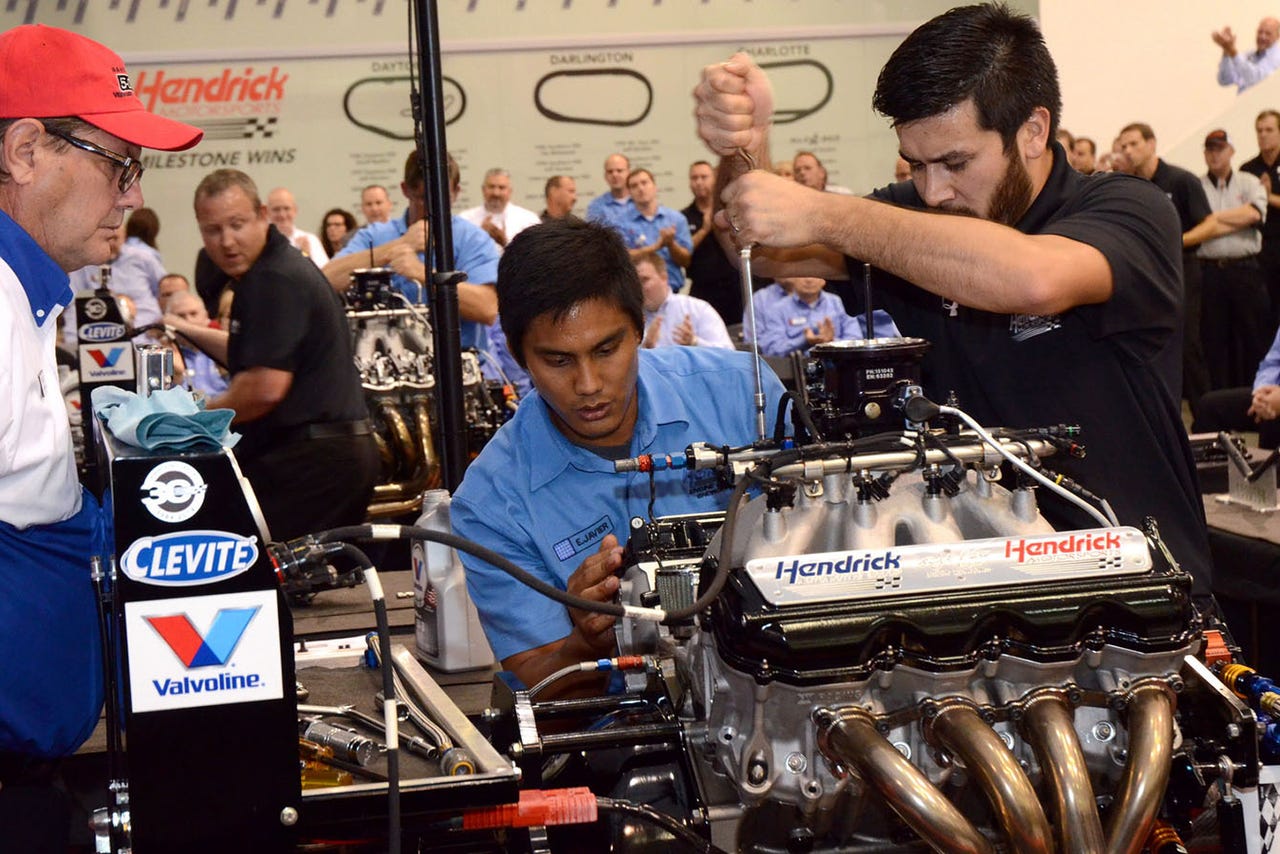 Rick Hendrick likes to hire folks who compete. And not just for his Hendrick Motorsports NASCAR Sprint Cup Series operation, but also for the 94 automobile dealerships he owns as well.
Every fall, the motorsports and dealer groups come together for an event known as the Randy Dorton Hendrick Engine Builder Showdown, named after the team's late head engine builder.
The showdown pairs 12 Hendrick Certified Master Technicians from the Hendrick Automotive Group dealerships with 12 Hendrick Motorsports engine department team members in a two-round competition.
In the qualifying round, each team builds from scratch a fuel-injected, 358-cubic-inch Chevrolet V8 race engine, similar to those run in the Sprint Cup Series. And once the engine is built, it has to run continuously for at least one minute. Winners each round were determined by quickest time with the least number of errors, with the two fastest teams moving to the finals.
It's an intense competition conducted at the Hendrick campus in Concord, N.C., in front of dealership personnel and race team members as well.
"It's exciting and it's exciting from the beginning to the end," said Hendrick, in an exclusive interview with FOXSports.com. "And to see them come down this close, and you hear the energy ... and the other part that's so cool? When you go into the dealership and you walk into the service department and you see that banner over their box, it lists all of their accomplishments as technicians and master techs and so forth. And then it says, 'Engine Building Champion.' That's pretty cool."
This year, teams took the competition to a new level, as weeks before the event, engine techs were actually studying videos and build tips on how to put the engines together as quickly as possible.
"This is a lot of fun to see the competition," said Hendrick. "I didn't know these guys were working so hard behind the scenes, practicing, doing videos to show the techs when they get here. I can read these guys pretty good and we had some assemblers that were upset because they think some of the other guys maybe came up with a couple of tricks that were outside the rules. But you know how it works, if it's not a written rule, you can do it."
This year's winning team paired Elmer Javier, a Hendrick Master Certified Technician from Hendrick Honda of Charleston (S.C.), with Hendrick Motorsports engine assembler Van Nguyen. Javier and Nguyen won the final round in a time of 21 minutes, 48 seconds, just 8 seconds slower than the event record they set in the semifinals.
The duo outlasted Gwinnett Place Honda (Duluth, Georgia) Hendrick Master Certified Technician Dan Ryan and Hendrick Motorsports engine assembler Scott Vester in the final round. Ryan and Vester completed their final build in 22 minutes, 53 seconds, also quicker than last year's winning time of 24 minutes, 38 seconds.
"I'm so honored to be here," said Javier, a first-time event competitor. "Just having the opportunity to meet with Van prior to the first build; understanding what our strategy and shared responsibilities were going in was important. We both really wanted to win, as I've been trying to get into this event since 2008."
Nguyen, who joined Hendrick Motorsports in 2012, was part of last year's runner-up team.
"This is huge. We really wanted to win, and I can't describe what a great feeling it is," Nguyen said. "It's awesome because you're competing against the best engine assemblers at Hendrick Motorsports and the best service technicians at Hendrick Automotive Group. I had spent the last two weeks practicing, learning new strategies. Elmer was a great partner. We were strategizing and planning as soon as we met."
"This is really special," said team owner Hendrick. "We started it because our guys were in the NASCAR competition, but we wanted to do something to recognize our technicians and we wanted them to take the test to be master techs. But what it's really done is - not only do we get to recognize them, it's created a tremendous bond between motorsports and the dealerships. They've always been close.
"You know the coolest thing about this? After we win a race, the guys at the dealerships can pick up the phone and call the engine ship and talk to an engine builder. And they create relationships and it's been a neat deal."
---
---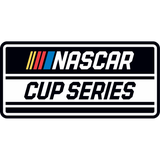 Get more from NASCAR Cup Series
Follow your favorites to get information about games, news and more
---