Goldschmidt, Segura lead offense, Corbin stymies Reds
Published
Mar. 17, 2016 2:04 a.m. ET

SCOTTSDALE, Ariz. -- Paul Goldschmidt had three hits and two RBIs, and Jean Segura extended his torrid spring with three hits that helped the Arizona Diamondbacks beat the Cincinnati Reds 10-6 on Wednesday night.
Segura raised his batting average to .583.
"It comes from good preparation and staying focused every game and I feel the results have been good," Segura said in Spanish, adding that he is having fun again after coming to the Diamondbacks in a trade with Milwaukee. "I feel good and it's a new opportunity for me."
Socrates Brito added two hits and scored twice, and Welington Castillo hit his sixth and seventh doubles of the spring while driving in two.
Castillo and Brito have also been swinging well lately. Castillo is batting .429 and Brito .407. Brito has hits in eight of nine games.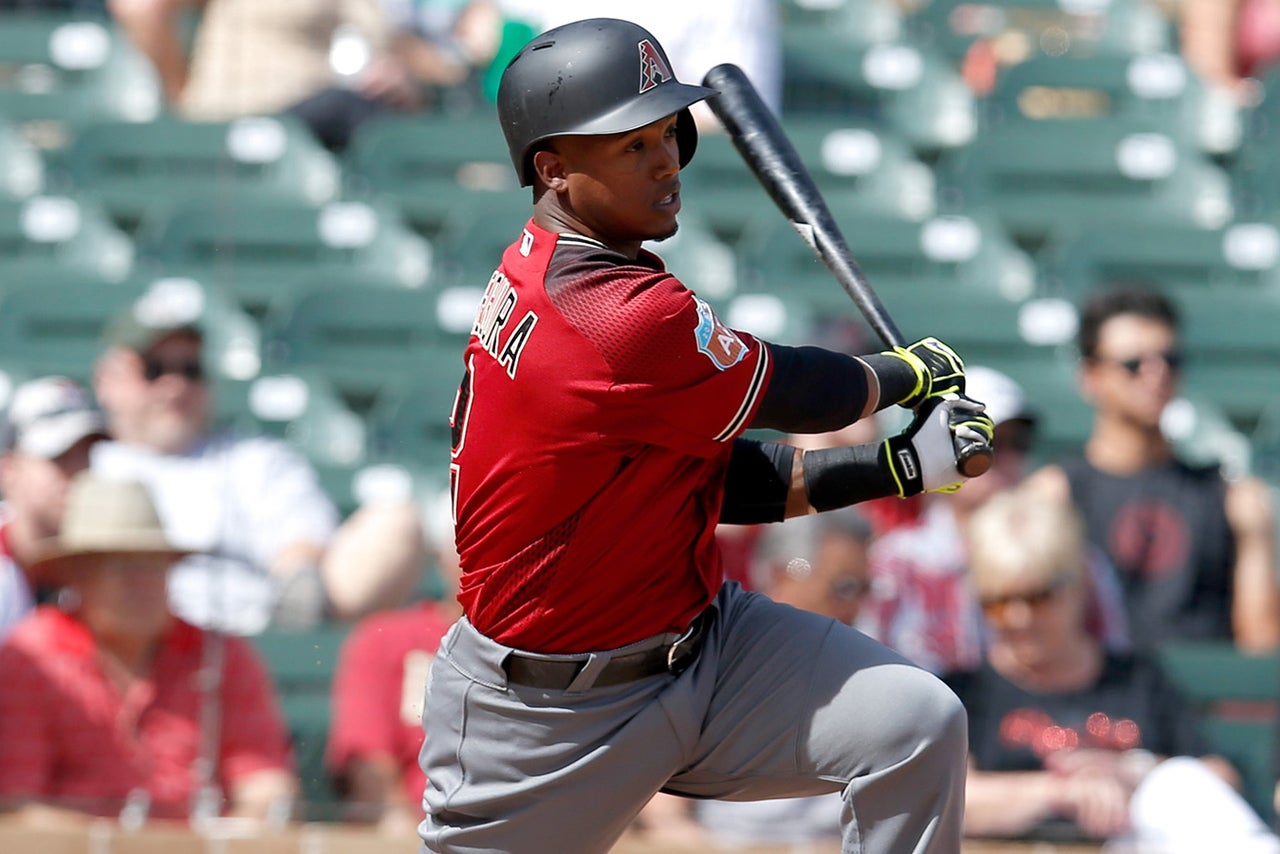 THREE TAKEAWAYS: D-backs 10, Reds 6
* Patrick Corbin's change-up could be a big weapon this season. He threw it almost as often as his fastball on Wednesday and is gaining confidence in the pitch each time out.
"I'm right where I need to be," he said. "The only thing now is just to build up that pitch count until I can get to 90 pitches, 100 pitches."
* All Jean Segura does is hit this spring -- and he's done most of it out of the leadoff spot. Segura had three more hits Wednesday -- including a double in his first at-bat -- is hitting .583 this spring and has hit safely in all seven games he's played.
"He's had a good approach the whole time here," manager Chip Hale said. "We told him when he came, 'See a strike, go get it,' and he's done a good job of swinging at pretty good pitches for the most part."
* With the D-backs facing the Cubs on Thursday and the Dodgers on Friday, two teams they'll face in the first 10 days of the regular season, Rubby De La Rosa and Robbie Ray will pitch in minor league games the next two days at Salt River Fields. Archie Bradley will face the Cubs and Zack Godley will start against the Dodgers.
-- Chris Gabel, FOX Sports Arizona
Diamondbacks left-hander Patrick Corbin struck out six in four innings and allowed his first earned run in three starts this spring. Arizona's 12 spring training wins lead the majors.
"Felt good to get my pitch count right up there to around 65 pitches and get up for the fifth inning," Corbin said. "Everything feels good. Threw a bunch of changeups. That's something that we've been working on."
Brandon Phillips had two hits, and Reds prospect Brandon Dixon hit a three-run homer.
"He swung the bat real well and it's good to see," Cincinnati manager Bryan Price said of Phillips. "I know that he really looks forward to the season getting going, but he knows how much work he's got to put in in the spring and it's good to see him hit the ball on the screws again."
A smoky haze settled over the diamond in the early innings at Salt River Fields at Talking Stick, the spring home of the Diamondbacks. Before it dissipated, Arizona scored seven runs.
"It didn't hurt their hitters, put it that way," Price said. "It didn't make it any more pleasant to play the game."
Reds: RHP Jon Moscot was scratched from his scheduled start with soreness in his left rib cage. ... RHP Michael Lorenzen has a mild elbow strain and tendinitis, and will be further examined by a team doctor Thursday.
Diamondbacks: OF A.J. Pollock continues to be limited by elbow soreness and did not play.
Reds: RHP Robert Stephenson is scheduled to face Cleveland starter Danny Salazar on Thursday. It will be Stephenson's third spring start.
Diamondbacks: RHP Archie Bradley is set to face the Chicago Cubs on Thursday in his second start and fourth appearance this spring. Jason Hammel is listed as the Cubs' starter.
---
---