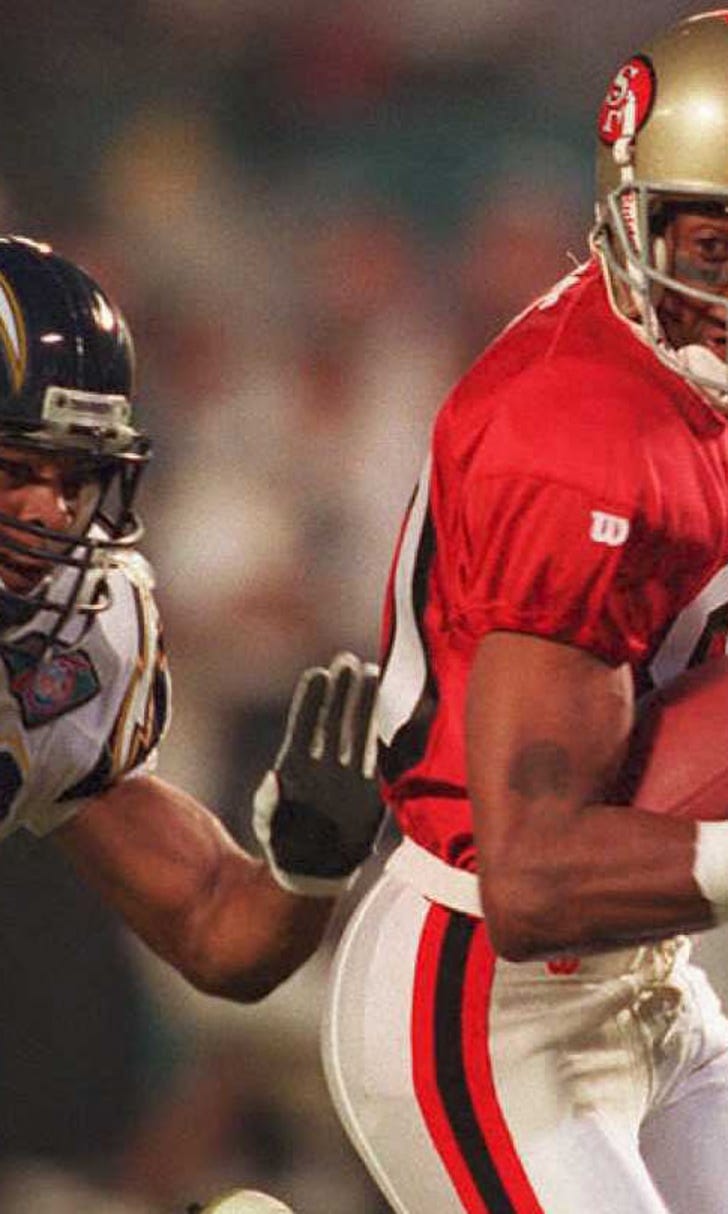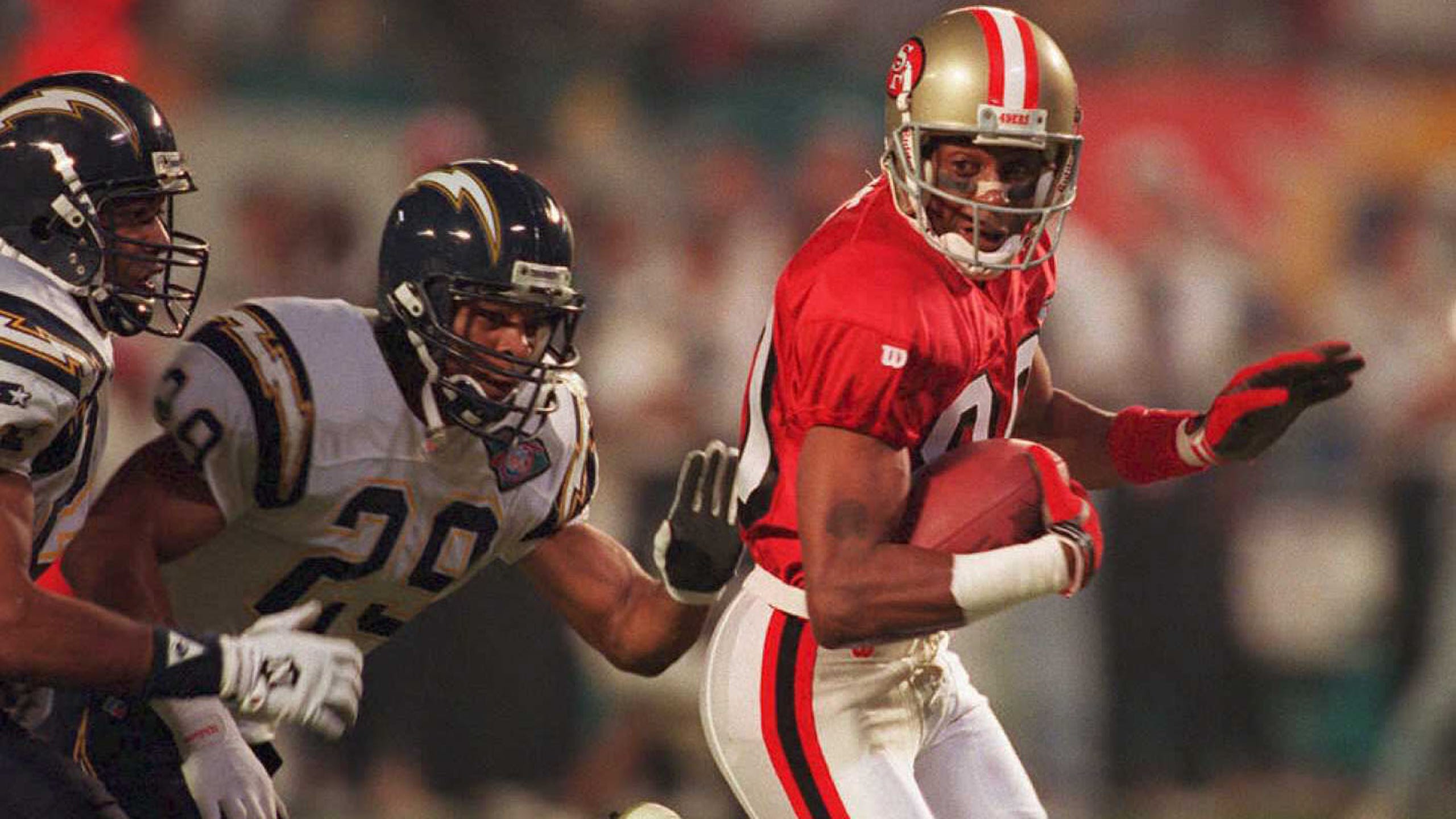 Going Deep: Q&A with Jerry Rice
BY Aaron Torres • November 17, 2014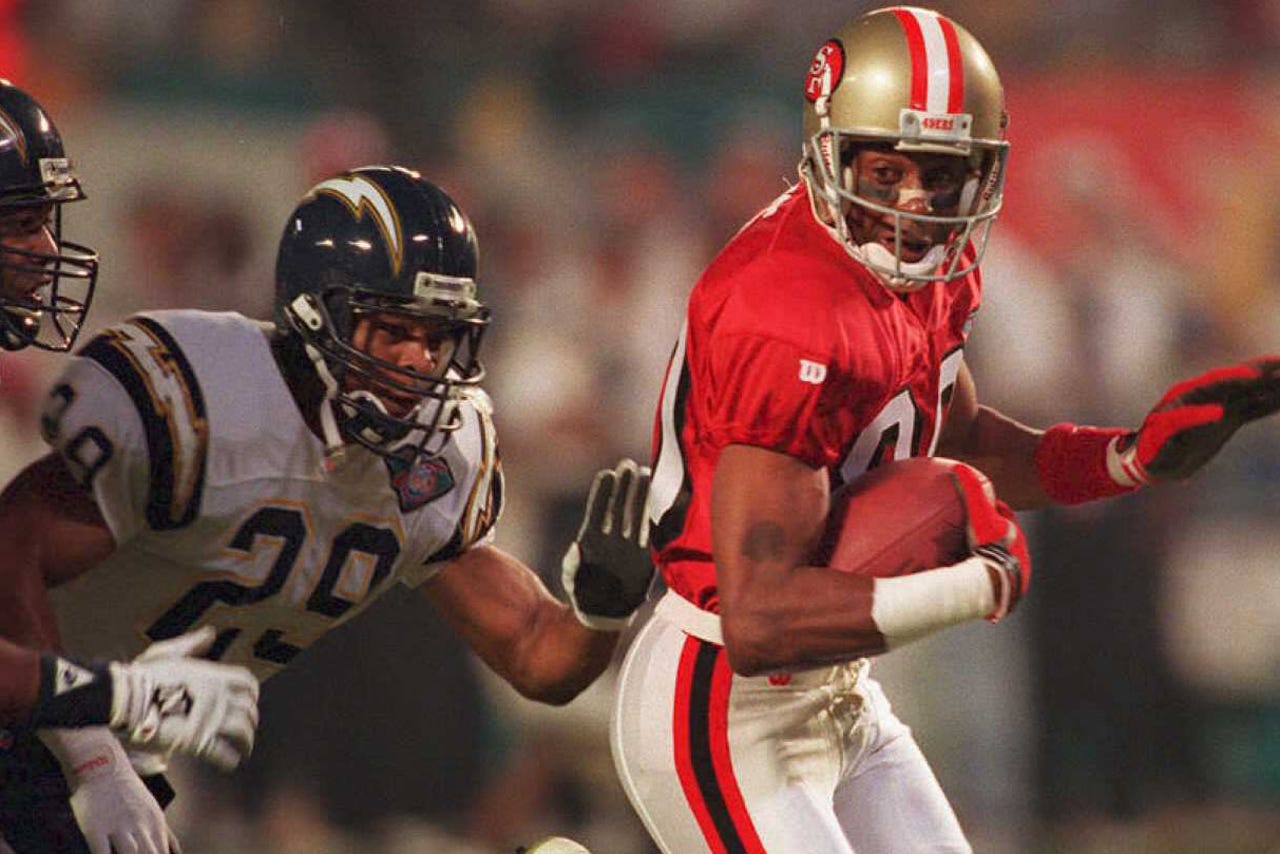 He's an NFL legend, arguably the greatest receiver who has ever played the game. 
We're of course talking about Jerry Rice, a man who, even a decade after his retirement, still holds a number of NFL records including most receptions, most receiving yards, and most receiving touchdowns.
Yeah, Jerry Rice was pretty good at this whole football thing. So who better to ask about the current state of the game than Mr. Rice himself? 
Rice recently sat down with Fox Sports Live, to discuss his take on the state of the NFL, which players he enjoys watching the most in today's game, and just how great Fox Sports Live's own Randy Moss truly was when he suited up in his prime. Oh, and he tells us about a cool campaign he's working with on behalf of MetLife. 
Here's Rice...
You've now been retired for a few years. How much football are you watching? What's your relationship with the NFL?
Oh, I'm still watching a ton of football, I'm tuning in every Sunday. 
But with that said, it's a different style all together, totally different than when I've played. There are so many rules now; I can't believe how many rules there. You can't touch a receiver after five yards. You can't drive a guy into the ground when you're making a tackle. The DB's have to be looking for the ball. There are just so many rules. 
I played at a time when it was a true gladiator sport. One-on-one, may the best man win. I miss that style of play. 
Do you ever think about what it might be like to play under the league's current rules? How many yards you might be able to put up?
Oh, I think about it all the time. But I much prefer old school way of playing. I loved fighting with the defensive backs, out there going to get the ball. With the rules today it's definitely a passer's league; it seems like every week quarterbacks are throwing for 500 yards. 
It's a lot different from when I played. 
Clearly you still have a passion for the sport. Who are the guys you enjoy watching the most?
Oh, there are so many. I love watching Aaron Rodgers, Peyton Manning, Colin Kaepernick, you name it. There are so many great quarterbacks in the league right now. Obviously, I love watching Calvin Johnson. 
I love watching all these guys, really. I still consider myself a student of the game. I'm still learning every week by just tuning in. 
You mentioned Calvin Johnson, any other wide receivers stand out?
The guy I've been really keeping my eye on is Antonio Brown from the Steelers. The guy is explosive, he's fast; every time he touches the ball it seems like he could take it in for a score. 
Also, a few weeks ago when they (the Steelers) played the Colts, I saw him stiff-arm a guy into the ground and go into the end zone for a touchdown. That's a skill that I never had. My teammate John Taylor could do that, but I never could. 
Larry Fitzgerald is another who is just like that. He's big, he can run, he can catch. He can do it all. 
You know, I have the privilege of working with Randy Moss every week on Fox Sports Live. What were your impressions of him as a young receiver?
Oh man, he might be the most gifted athlete to ever play the position. He was 6'4, 6'5, with 4.2 speed; he could outrun you, out-jump you, he could beat you in every way a receiver could. I remember talking to Cris Carter about him when he first came into the league, and we just called him a "freak of nature."
Calvin Johnson, Cris Carter, nobody had the complete skill-set like Randy Moss.
I've become fascinated with coaches through the years, and one guy I don't know much about is Bill Walsh. I know he was known as a legend around the sport, but what was it that made him so special? Is there a guy in the NFL today that's like him?
Honestly, I don't think there's anybody in the league like him today. He was the type of guy that always knew exactly what buttons to push. He could be your best friend one second and your worst enemy the next. But you always wanted to run through a wall for him. 
I'll tell you a funny story. There was one game where I went out there and had a great game; I must've caught about 11 balls, 160 yards, three touchdowns, something like that. 
Well after the game he calls me into his office, and I'm thinking he's going to give me a pat on the back, tell me how well I did. Only I get up to his office and he tells me he's looking for more from me. I couldn't believe it. 
But that's just the way he is. He was well ahead of his time. 
Is there a coach today you'd like to play for? Chip Kelly is the guy that comes to mind when I ask that question. 
Yeah, I guess it would have to be Chip Kelly. You know, when he first got the job a lot of people wondered whether his offense would be able to work, whether it would translate to the NFL. Obviously it has. 
What might be more impressive is that he really seems like a player's coach. The guys I've talked to love playing for him, and he really seems like the kind of guy who you can go to, and talk to him about pretty much anything. 
And finally, you're working with MetLife. Why don't you tell us a bit about the campaign?
Yeah, it's called the "MetLife Premiere Client Group" and what we're basically trying to do is to educate people on a more balanced approach to financial planning. Far too many athletes and lose money when their playing careers are over, and want to make sure that doesn't happen. 
Really, it's the same as playing in the NFL; it's about winning, but it's also about having coaching, and that's our advisors. It's also about having a game-plan; on offense, it's about making smart moves and smart investments. On defense it's about protecting your assets, about making smart moves. 
Aaron Torres is a show writer for FOX Sports Live and a contributor to FOXSports.com. Follow him on Twitter @Aaron_Torres or e-mail at ATorres00@gmail.com.
---
---