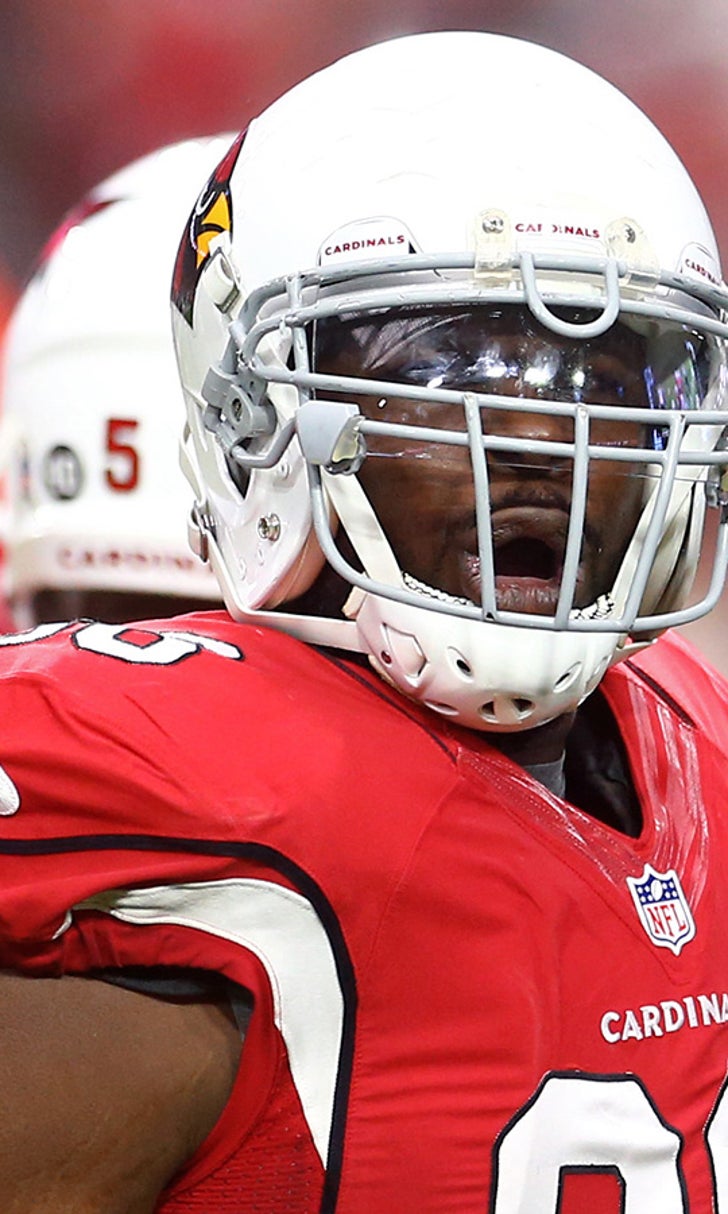 Frostee Rucker steps up with career year on Cardinals' D-line
BY foxsports • December 18, 2014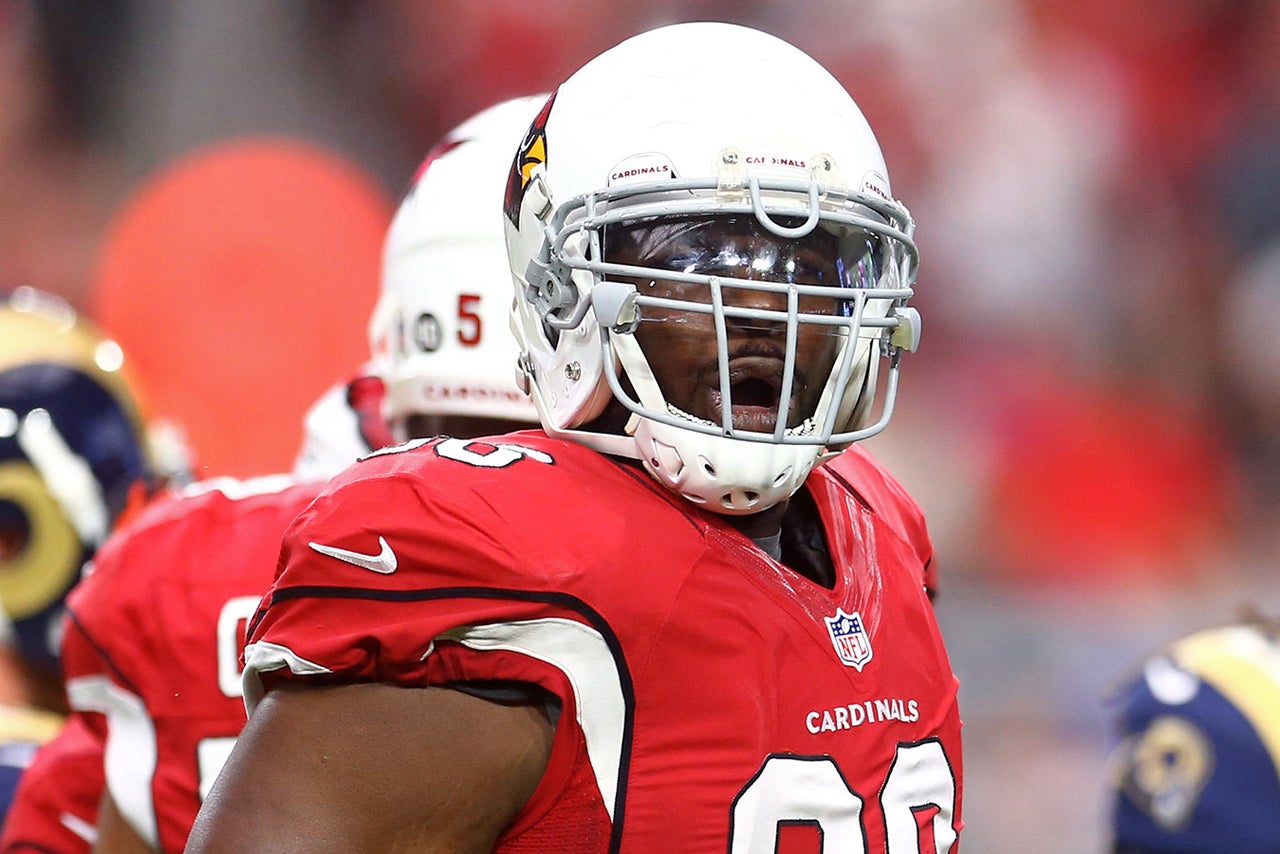 TEMPE, Ariz. -- When Frostee Rucker was a kid, this was the season to be miserable. His given first name brought out the natural jibes. Deck the halls? How about decking the kid with the big mouth.
 "No, I didn't like it," Rucker said of the Christmas season. "Kids were the worst ones with the teasing. They used to get under my skin with the 'Frosty the Snowman' all the time."
 Frostee grew -- he is now 6-foot-3, 280 -- and the taunting became muted. He is known as the Snowman in the Cardinals' locker room, and he embraces the nickname.
 The Cardinals also know him as someone else -- Frostee the Sackman.
 At age 31, Rucker is having what could be considered his best NFL season as an integral part of a defensive line that ranks No. 6 in the league against the run and has more sacks than teams such as Green Bay, San Francisco and Houston.
 One of the Cardinals' original "next men up" this season, Rucker has a career-high five sacks, all in the second half of the season and three in the last two games. A preseason injury to defensive tackle Darnell Dockett helped create more playing time, and while Rucker has started only seven games, only Calais Campbell and Tommy Kelly have taken more snaps than Rucker among Cardinals' defensive linemen.
 "Frostee has always been kind of the 'dirty' player for us," Cardinals defensive coordinator Todd Bowles said. "Calais and Dockett and Dan (Williams) get all the credit, but Frostee does a lot of things in there. He does all the right things. He is not a flashy player, but he's tough. He's gritty. He makes plays."
 The defensive line will face another test Sunday against Seattle, which features power back Marshawn Lynch and play-making quarterback Russell Wilson. The Cardinals (11-3) will clinch the NFC West and home-field advantage throughout the playoffs with a victory. Seattle (10-4) can put itself in position to win the division if it wins by virtue of its 19-3 victory in the first meeting between the two in Seattle on Nov. 23. But that was then . . .
 "What we took from that first game was, we can play pretty much a flawless game minus a few plays and still lose," Rucker said. "We know come this Sunday we have to play 60 minutes if not more of a perfect game. They rarely make mistakes. They play disciplined football. They really test your technique. They are well-coached, and so are we."
 Rucker has started at end and tackle this season while playing through a toe injury that bothered him much of last season and kept him out of the New York Giants game Sept. 14. Pushing forward is part of his makeup.
 "He's always been an energy guy," Dockett said. "He kind of stepped in all over the place. You move some guys around, play some guys in different positions, everybody makes things happen. That's what a good team does. Any good defensive team has to have at least five, six defensive linemen, knowing that in a season you may lose one or two. Frostee has always been a good quality player. If he wasn't, he wouldn't be here."
 Rucker is one of eight Cardinals who have started on the defensive line this season as Bowles mixes and matches, depending on the opponent and the scheme of the week. A 3-4 team, the Cardinals started a 4-3 front against run-heavy San Francisco. All the defensive linemen seem to have benefitted.
 "The way professional football is, it has become a passing league and guys are throwing the ball down the field and you have to rush so much," Rucker said. "It's not just running the ball like it used to be, so it's good to be fresh because you are giving your all out on the pass rush. It's a good thing to have confidence in the next person that can come in and do the job."
 Rucker and Seattle coach Pete Carroll go back to their college days at USC. Rucker was a halfback out of Tustin (Calif.) High before outgrowing the position. He first attended Colorado State but transferred to USC after one year. 
 "When we got him we weren't sure where to play him because he was growing at an alarming rate," Carroll said. "He was such a good athlete and such a good player that we finally found a place for him to play on the D-line. He's a guy that's great-spirited and a really fun mentality. We had a blast when he was with us."
 Rucker, who had four sacks with Cincinnati in 2011 and Cleveland in 2012, deflects the credit for his career-high sack total this season. 
 "Just on being in the right place, the right opportunity," he said.
 "Nothing special."
 Just the opposite of what he has meant to the Cardinals this season.
 Follow Jack Magruder on Twitter
---
---