National Football League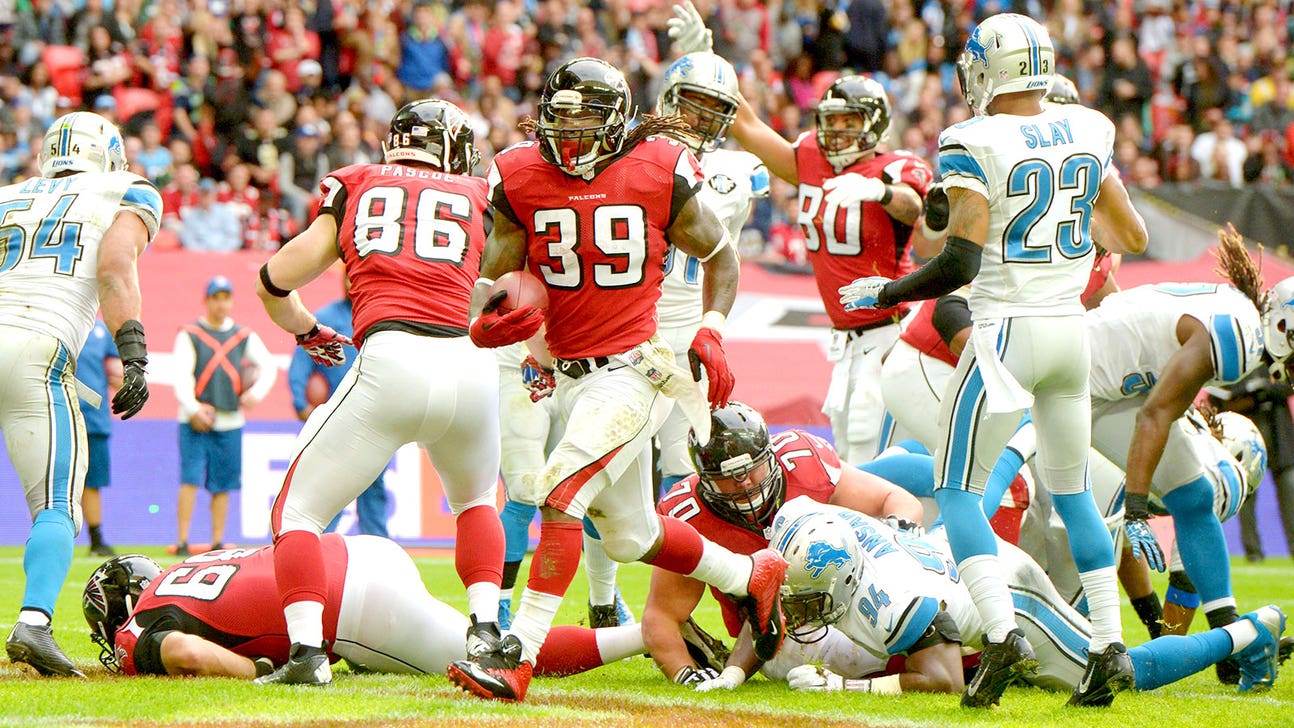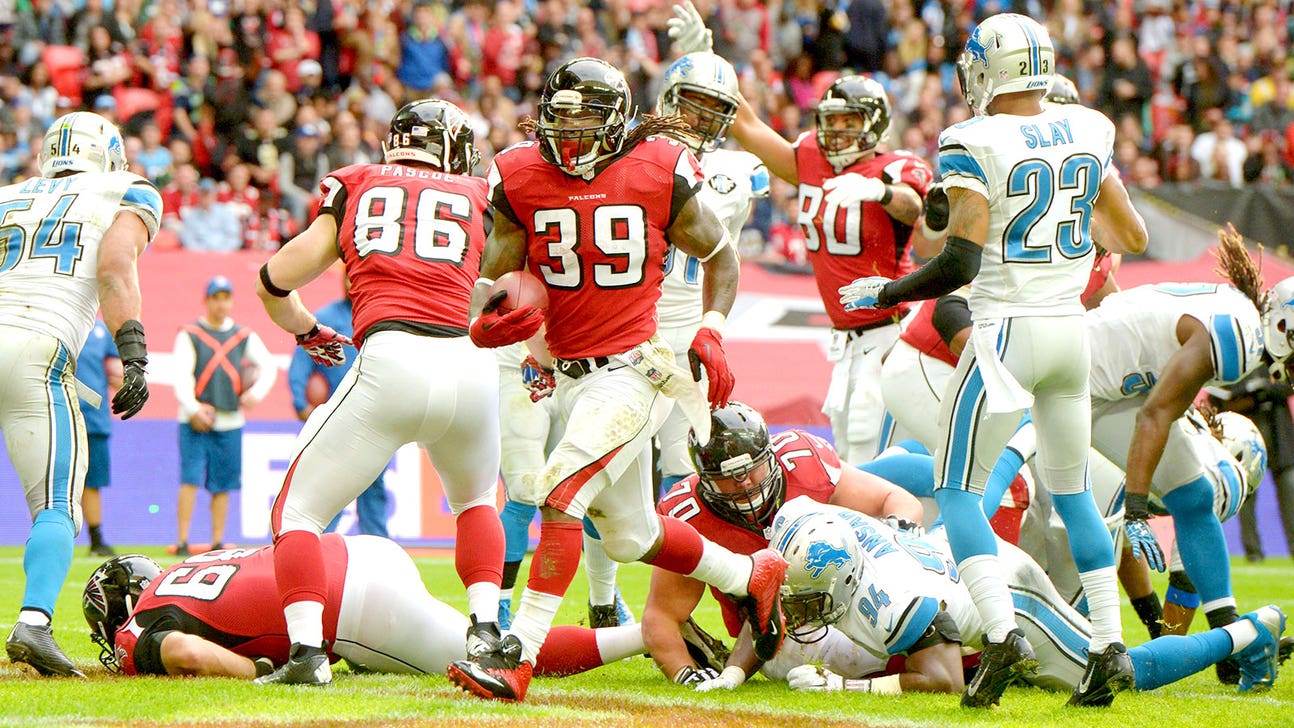 National Football League
Four Downs: Falcons hit rock bottom with meltdown loss to Lions
Published
Oct. 26, 2014 1:54 p.m. ET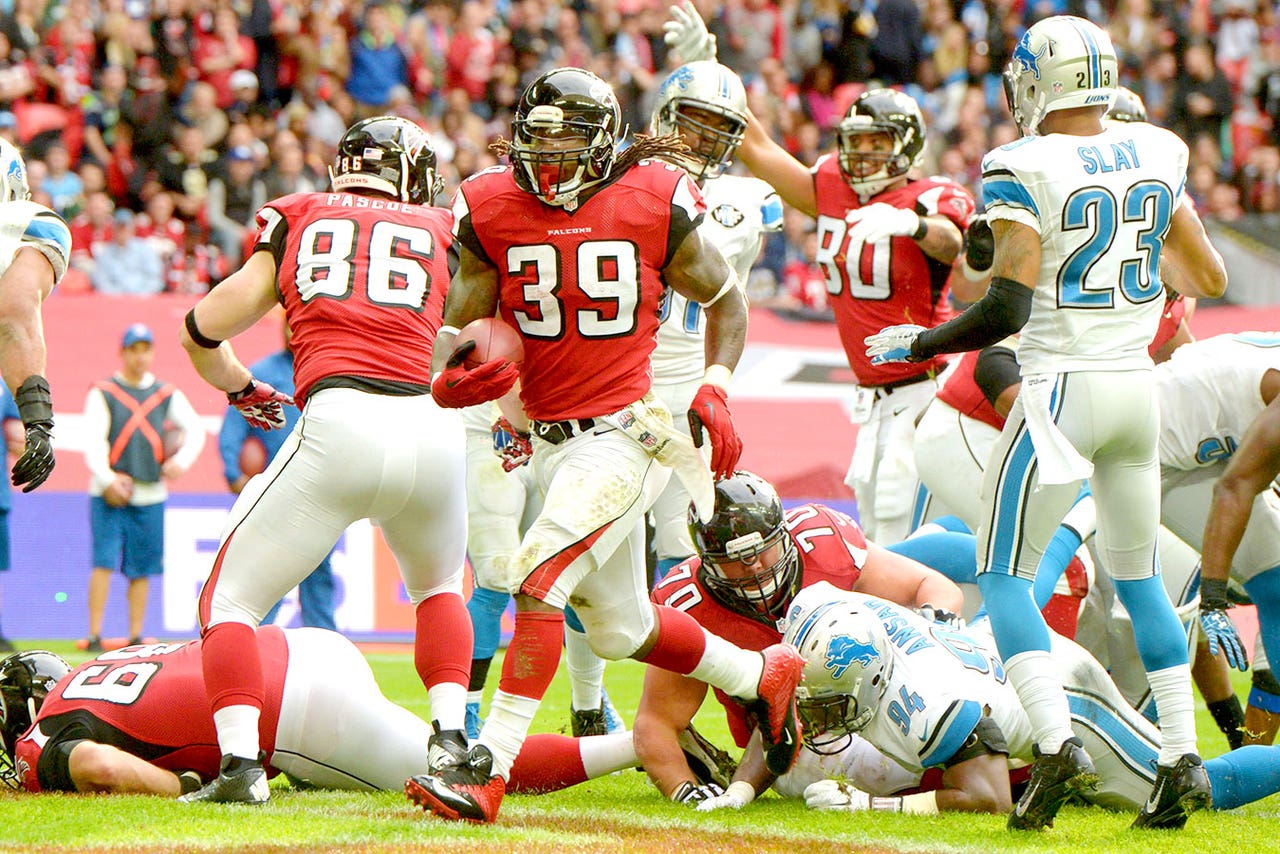 Well, was it worth skipping church? Or waking up a little too early from a Saturday night bender? Or not having enough quality time to set your fantasy lineups before the 1 p.m. kickoffs?
On Sunday, the Detroit Lions and Atlanta Falcons were the principal components to a grand NFL experiment -- moving up the starting time of a London-based regular-season game to 9:30 a.m. EST (or 2:30 p.m. local time).
And as, uh, luck would have it ... both teams treated a nationally televised audience (in America) to one of the craziest, most absurd finishes you'll see all season -- or perhaps in a lifetime.
You couldn't help but feel for the embattled Falcons head coach, in the waning moments of his team's epic collapse (up 21-0 in the third quarter), as the FOX-TV cameras chronicled Smith anxiously pulling out clumps of the Wembley Stadium pitch during the Lions' game-winning drive (Matt Prater field goal).
His frustration likely peaked on the previous possession, when the Falcons -- up 21-19 at the time -- were primed to drain the clock down to zero, without incident.
Especially after Julio Jones corralled a bubble screen and rumbled 22 yards for a Falcons first down, the final play before the 2-minute warning.
With that back-breaking reception (on paper, at least), Detroit could only stop the clock once more -- and did so with 1:55 left.
That's when everything, from a Falcons perspective, went down the tubes.
On second down, a 1-yard rush from Steven Jackson had perilous consequences, as Nate Stupar was flagged for a needless holding penalty. Instead of Atlanta eating up 30-35 seconds after the rush, the clock froze until the next play.
Then, on third down, with the Falcons still in control, QB Matt Ryan (228 yards passing, two TDs) threw another textbook bubble screen to Jones, who momentarily lost sight of the ball and registered perhaps the most damning "drop" of his stellar pro career.
Instead of catching a time-consuming short pass, the Falcons were relegated to punt back to the Lions with 1:38 left -- although Detroit would need at least 55 yards for the game-winning kick.
Fast forward 64 seconds later ...
After steathily getting down to the Atlanta 29 with 34 seconds left, the Detroit offense inexplicably stopped trying to advance downfield, as if they were content to let Matt Prater -- Detroit's third kicker of the young season -- attempt a long field goal on the wet, sloppy Wembley Stadium turf.
But since it was a deal-ball foul, Detroit (6-2, 1st place in the NFC North) would get another opportunity for the game-winning kick, this time from 48 yards.
And sure enough ... Prater nailed the reprieve effort from long distance, clinching one of the Lions' most surreal victories of the last half-century.
(Full disclosure: As a Detroit native and former Lions employee, this easily ranks as the club's most improbable triumph of my lifetime.)
Which brings us to this: With the Falcons at 2-6 and staring at a glum bye week, it's fair to wonder if owner Arthur Blank will make any changes at the top -- regarding coach Smith or general manager Thomas Dimitroff?
From my perspective, that's not Blank's style. On the flip side, this devastating defeat will undoubtedly signal some form of substantial change during the offseason, as Blank has publicly stated that another 4-12 campaign -- or variations of that -- would be unacceptable moving forward.
And can you blame Blank? There's no excuse for blowing a 21-0 lead in the second half ... especially when the opposing team is essentially powerless to stop the leading club in the final two minutes.
Entering Sunday's inter-continental clash, much had been made of the Lions' top-ranked defense.
And while the Falcons tallied only 78 ground yards, the veteran Jackson (60 yards, one TD) was a certifiable weapon for the schizophrenic offense, breaking first- and second-chance tackles and often punishing smaller would-be tacklers in the Detroit secondary.
For one day, Jackson belied his old-man status (in football circles, 31 can be ancient) and bore the look of a highly motivated battering ram. And if he had garnered just one more first down in the fourth quarter ... the Falcons would certainly be 3-5 at the break.
Do you remember the "Bart vs. Australia" episode, when the rambunctious pre-teen placed many calls to that country/continent, as a means of verifying Lisa's claim of how toilet water, post-flush, flows in a reverse order Down Under?
Well, after viewing the quirky movement of Ryan's second strip-sack fumble against Detroit -- with the ball curiously spinning back to rookie tackle Jake Matthews, instead of into the waiting arms of a Lions defender -- I quickly wondered if a fumbled football spins differently in Europe, compared to the United States.
Of course, that's the not case. The reasoning behind toilet water flushing in counter-clockwise fashion can be attributed to Australia's standing below the equator -- unlike the country of England, which obviously sits above the equator.
After a shanked punt from Matt Bosher provided the Lions (down 21-3 at the time) with excellent field position in the third quarter (the Falcons' 44), Reynolds -- the former Atlanta offensive lineman -- announced his presence with back-to-back penalties against Detroit.
His first violation, a questionable holding call, negated a Lions first down off a Stafford completion. Then, on the next play, Reynolds' illegal blind-side block -- with Stafford (325 yards passing, two TDs) furiously avoiding the pass rush -- put Detroit into a deep, untenable hole of 2nd down and 35.
Notice we qualified that 2nd-and-35 scenario as deep and untenable ... but not insurmountable.
On second down, Stafford hit tailback Theo Riddick (79 total yards, one TD) for a modest 10-yard gain.
On third down, Stafford fired a bullet-pass bomb to receiver Golden Tate (seven catches, 151 yards, one TD), who inexplicably got behind the entire Falcons secondary for a head-shaking 59-yard score.
---
---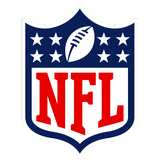 Get more from National Football League
Follow your favorites to get information about games, news and more
---