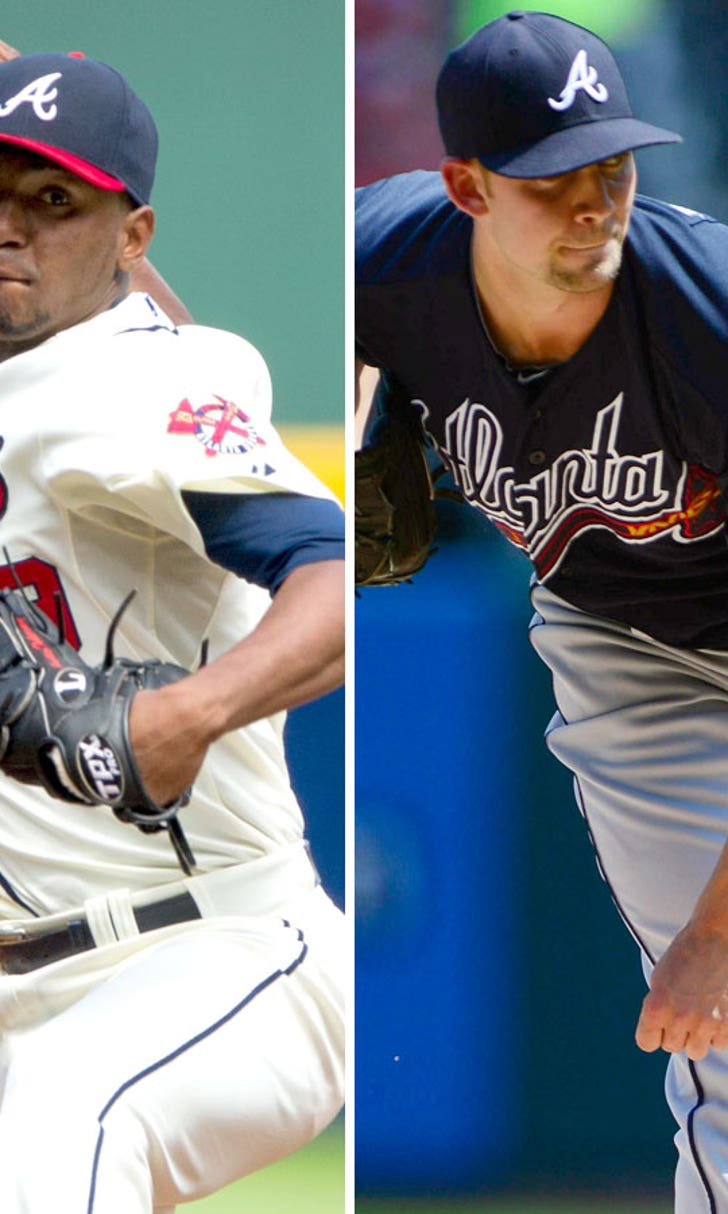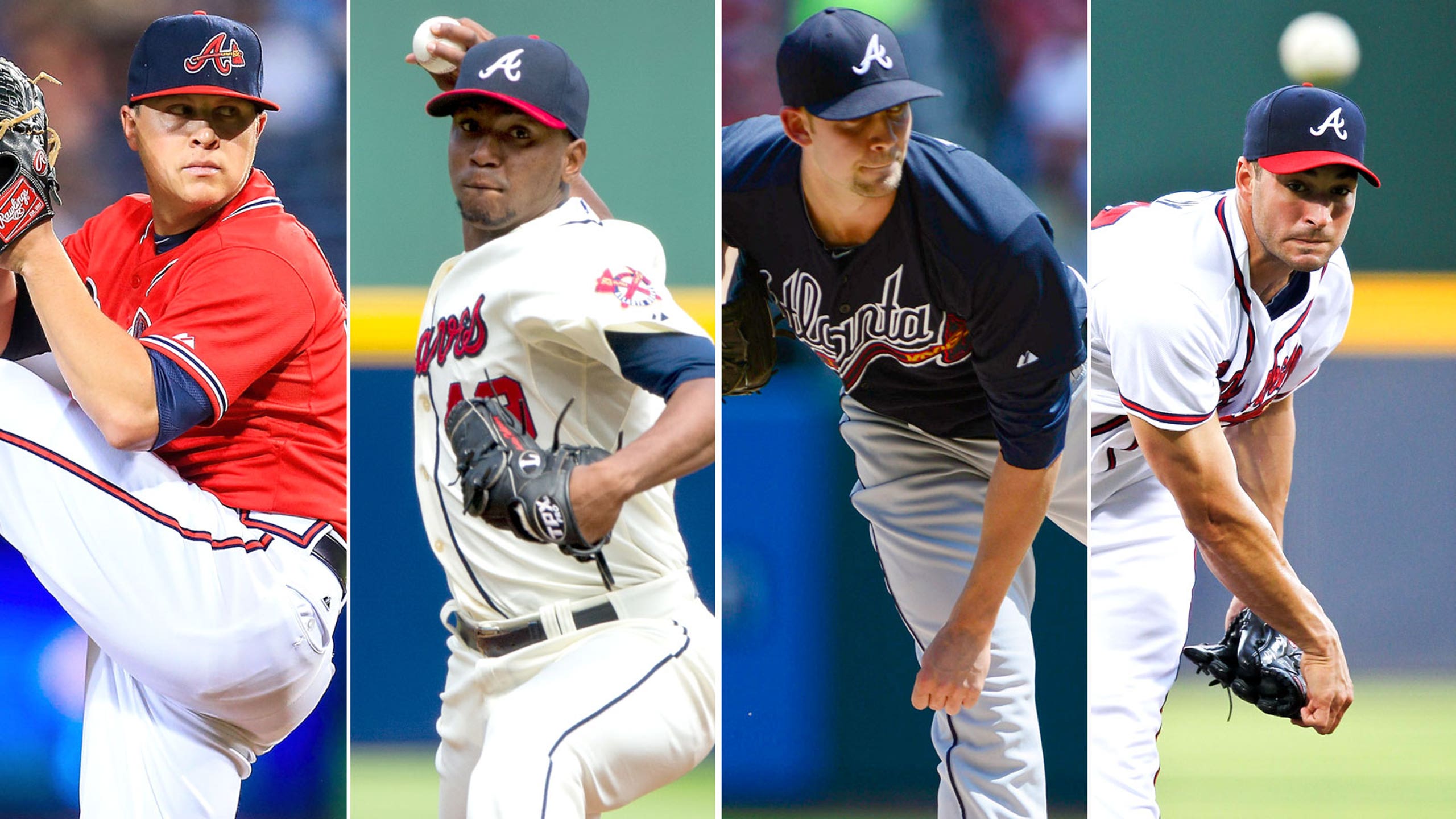 Four burning questions for the Braves' starting rotation
BY foxsports • January 31, 2014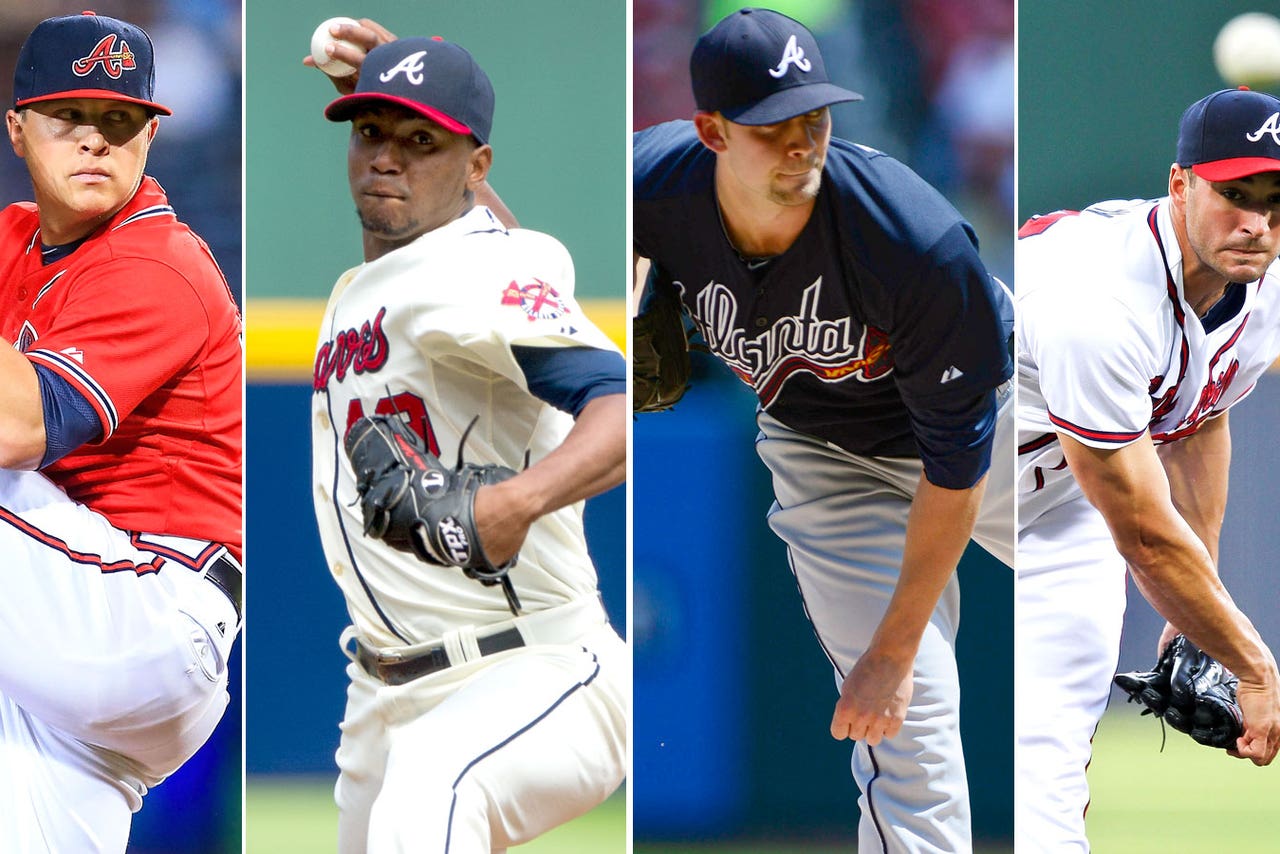 ATLANTA -- With the Braves inching closer to the launch of full-scale workouts at Walt Disney World (Kissimmee, Fla.), FOX Sports South continues its speculative process of positional breakdowns and depth-chart analysis.
Friday's piece covers the starting rotation, featuring a group of sublimely talented arms who supposedly have the legs to sustain throughout the season.
Even before his season-ending injury (broken ankle), Tim Hudson's stats (8-7, 3.97 ERA, 1.18 WHIP) were hardly elite-caliber last year.
In essence, his status as the Braves ace was more symbolic than tangible in 2013 -- since Mike Minor (13-9, 3.21 ERA, 181/46 K-BB), Kris Medlen (15-12, 3.11 ERA, 157/47 K-BB) and Julio Teheran (14-8, 3.20 ERA, 170/45 K-BB) all enjoyed better seasons.
Minor (204 2/3 innings), Medlen (197) and Teheran (185.2) each amassed more than 180 innings and 150-plus strikeouts -- more indicators of long-term progress.
But with Hudson (now with the Giants) officially gone from the clubhouse, it's imperative for either Minor, Medlen or Teheran to assume the mantle as Atlanta's indispensable anchor.
When comparing the rotation with the NL East-rival Nationals, Washington seemingly has more stability in spots 1-4 (Stephen Strasburg, Gio Gonzalez, Jordan Zimmermann, Doug Fister); and when projecting results for April and May ... it's fair to say the Nats won't replicate last year's sluggish start of 28-27 after two months.
Subtract Beachy's rocky debut last year -- surrendering seven runs and eight hits in his first MLB appearance in 13 months -- and his ERA for 2013 (26 1/3 innings) is 2.73.
Throw in the obligatory caveat that most pitchers require two seasons to fully recover from major elbow surgery, and it's entirely plausible Beachy (age 27) can recapture the greatness of 2012 -- when he led the National League in ERA (2.00) at the time of his injury.
Not bad for a No. 4 pitcher?
When fully healthy and operating at peak form, Beachy has the capacity to leapfrog Minor, Medlen and Teheran as the ace of the staff.
Bottom line: These are the calling-card numbers of a high-round pick in fantasy baseball (12-team leagues).
From March 31-May 15, the Braves have six off days on the docket, and that doesn't include the chance of a rainout or two.
On paper (read: the MLB.com depth chart), Alex Wood is penciled as Atlanta's No. 5 starter; and based on the 2013 rookie numbers (3.13 ERA, 77/27 K-BB in 77 2/3 innings), it's the proper move.
However, if the Braves plan to keep Wood on a strict diet of 160 innings, it's fair to revisit the lessons learned from Stephen Strasburg's 2012 ordeal with the Nationals:
Instead of burning through Wood's innings from April to August (Strasburg's ultimate downfall, relative to his team's October chances), knowing that Operation Shutdown kicks in around the 160 mark ... why not delay Wood's regular arrival to the starting rotation until mid-to-late May?
Under that scenario, Wood would be a viable candidate for crucial September starts, in addition to possible outings in the playoffs.
On the flip side, with Gavin Floyd's injury-related absence for April and May, Wood likely represents the top early-season asset for the fifth spot -- ahead of Freddy Garcia (spring training invitee) and 26-year-old rookie David Hale (0.82 in two September starts last year).
If Wood were preserved until May ... would the Braves be at a significant disadvantage -- at the No. 5 slot -- when paired up against the Nationals?
Washington's purported fifth starter, Tanner Roark, enjoyed a stellar 14-game audition in the bigs last season, racking up a 7-1 record, 1.51 ERA, 0.91 WHIP and 40/11 K-BB rate.
It's hard to project what kind of impact Floyd (five consecutive years of a 4-plus ERA) will have with the Braves, heading into his age-31 season and coming off Tommy John surgery (slated for May return).
For 2011, spanning 31 appearances, Floyd (12-13, 4.37 ERA, 1.16 WHIP) stealthily walked three or fewer batters in 29 of 30 starts. In that time frame, he registered seven-plus strikeouts seven times.
The following year, Floyd haggardly walked four or more batters six times and recorded 15 or less outs in nine different outings -- or 34 percent of his starts.
Yet, Floyd still matched or eclipsed that 2011 output in victories (12), ERA (4.29), K/9 rate (7.7) and homers allowed (22). For good measure, Floyd also crossed 140-plus strikeouts for the fifth consecutive season (2008-12).
---
---