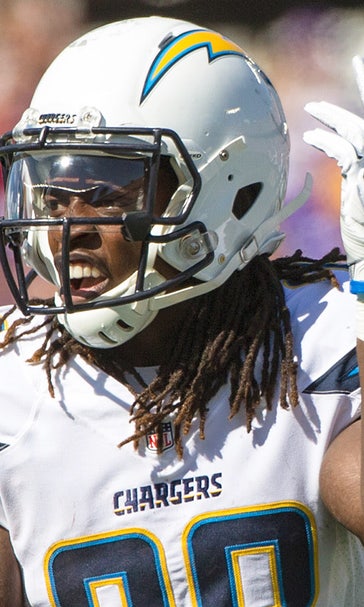 Fantasy Football Week 9 Running Back Advice: Baby steps for Melvin Gordon
November 3, 2015

Each week during the 2015 season, we're going to take a look at five running-back-by committee (RBBC) situations that you should keep a close eye on. Some will have big questions, while others might be noted due to their circumstances becoming clearer. We'll usually focus more on the week immediately ahead than look down the road.
And now, in alphabetical order ...
Byes: Cardinals, Ravens, Lions, Texans, Chiefs, Seahawks
Cincinnati Bengals
Week 8 snap count: Jeremy Hill 35, Gio Bernard 32
An even split? Not exactly. Hill ran 15 times for 60 yards and caught a pass against the Steelers, while Bernard carried once for 12 yards and caught two passes for 22 yards. This situation should remain somewhat unpredictable, but with a Thursday matchup against the Browns' terrible run defense, this should be another spot to lean Hill over Bernard. Bernard should be busier, though he did get just nine touches in Week 6.
Green Bay Packers
Week 8 snap count: Eddie Lacy 25, James Starks 22
Lacy was much more in the mix than in Week 6, but he still got just 12 touches. Maybe he would have had more if Sunday night's game was closer, so let's slot him in as a mid-to-low RB2 for Sunday's game at Carolina. Starks is hard to trust right now; stay away in Week 9.
New York Giants
Week 8 snap count: Rashad Jennings 26, Shane Vereen 26, Andre Williams 12, Orleans Darkwa 10, O.J. Anderson 8, Brandon Jacobs 7, Ron Dayne 5, Tiki Barber 3
It's possible that some of the names above are no longer with the Giants, but I'll let you figure out which ones. You can't start ANY of these guys due to the fantasy mess this backfield has become.
Jennings had 10 carries for 54 yards against the Saints, but he ran five times versus the Cowboys the week before. Vereen caught eight passes in New Orleans, just like he did against the 49ers in Week 5. In between those, he had a pair of one-reception games. The floor is too low to seriously consider the Giants' backs unless you're in bye-week hell.
San Diego Chargers
Week 8 snap count: Melvin Gordon 35, Danny Woodhead 26, Branden Oliver 9
Welcome back, Melvin Gordon! We're on board with any back who gets 23 touches, even if those touches accounted for just 61 yards from scrimmage and led a local paper to say Gordon "looked stiff." We still haven't gotten what we wanted when we drafted Gordon in Round 3 or 4 in August, but giving him the ball again is a promising sign.
(Note: This is less a knee-jerk reaction than an acknowledgement that Gordon seems to be out of Mike McCoy's doghouse. I promise.)
With Oliver battling turf toe, Gordon and Woodhead both look to be in RB2 territory for Monday's matchup with the Bears. Woodhead is averaging five receptions and 80 yards from scrimmage per game.
Washington Redskins
Week 7 snap count: Matt Jones 45, Alfred Morris 10, Darrel Young 10
Receiving back Chris Thompson missed Week 7 due to a back injury, and his status for Sunday is uncertain. So is the usage of Jones and Morris, as head coach Jay Gruden said Monday that "You're going to see them both play a lot ... they're both going to get their touches." Unless the bye has decimated your roster, you'll want to avoid both these guys at New England.
Others of note:
Chicago Bears: No committee here. Matt Forte (knee) is out, so rookie Jeremy Langford is up on Monday at San Diego. He can squeeze into RB2 territory.
Cleveland Browns: Head coach Mike Pettine on Monday: "Duke is a guy who has showed he can do some damage with the football ... I think that is on us as a staff to find more creative ways to get him the football, whether that is in the run game or whether that's in the pass game." Don't say it, coach. Do it.
Denver Broncos: Ronnie Hillman is RB1 to C.J. Anderson's 1A, but Anderson gained 101 yards against the Packers, including 59 after contact per Pro Football Focus. We've got ourselves a timeshare here, meaning that CJA isn't dead yet.
Houston Texans: Alfred Blue outsnapped Chris Polk 31-15, and out-touched him 19-9. Blue had 72 yards from scrimmage, and while that's not great, if he catches five passes on a semi-regular basis he'll be useful.
New England Patriots: More touches for LeGarrette Blount, more snaps and production for Dion Lewis. Both should produce against a subpar Redskins' run defense in Week 9.
San Francisco 49ers: The Niners signed Pierre Thomas on Tuesday, and he might start this week because they have nobody else left. We'll need to follow this all week for more info, but you'll need to be desperate to start a 49er back.
Tennessee Titans: Antonio Andrews ran 16 times for 64 yards in Week 8, and caught three passes as well. Interim head coach Mike Mularkey said Tuesday that he wants the Titans to be a "tough, physical football team." They all say that, and rookie David Cobb looms as a threat, but Andrews is close to RB2 territory against the Saints this week. I'll like him more if I KNOW Cobb won't play.
(Snap counts courtesy of NFL.com's Game Books.)
---
---