New York Knicks
New York Knicks
FanDuel suspending daily fantasy sports for NY players
Published
Nov. 17, 2015 4:32 p.m. ET

ALBANY, N.Y. (AP) Daily fantasy sports operator FanDuel said Tuesday it's temporarily suspending entry in paid contests for New York players, while the state attorney general sued to halt what he considers illegal gambling by both FanDuel and DraftKings.
The New York-based company said that move follows its failed attempt to convince a judge late Monday to immediately block the state attorney general's efforts to shut it down.
Attorney General Eric Schneiderman's sent FanDuel and Bostson-based DraftKings letters last week calling on them to halt what he considers illegal games of chance under New York law. Both companies say that their popular daily games are based on skill and legal, and they've made that argument to an increasing number of states that are weighing whether to regulate the industry.
''We will press on and fight to ensure that your right to play fantasy sports is protected, not just in New York, but across the nation,'' FanDuel said Tuesday.
FanDuel was forced to stop taking deposits from New Yorkers late last week, saying its bank and processors were deterred by Schneiderman's efforts. The company said Tuesday that contests will run for New Yorkers who entered before 2:30 p.m. Tuesday, but they can't enter after that.
FanDuel and DraftKings each say they have hundreds of thousands of customers in New York.
DraftKings said it would continue to allow New Yorkers to play unless a New York court decides otherwise.
On Tuesday, a top New York lawmaker said his staff is now reviewing possible legislation that would impose state rules on daily fantasy sports. Assembly Speaker Carl Heastie, D-Bronx, said he's also been briefed by Schneiderman.
''If it's going to be here it should be a regulated system,'' Heastie said. ''We're in an informational gathering stage.''
Both companies have requested court orders to protect their New York business, while Schneiderman on Tuesday requested an injunction to stop it. They are scheduled to appear before state Supreme Court Justice Manuel Mendez on Nov. 25.
''The two dominant DFS operators, FanDuel and DraftKings, offer rapid-fire contests in which players can bet on the performance of a `lineup' of real athletes on a given day, weekend, or week,'' Schneiderman's lawyers wrote. ''The contests are streamlined for instant gratification, letting bettors risk up to $10,600 per wager and enter contests for a chance to win jackpots upwards of $1 million. The DFS operators themselves profit from every bet, taking a `rake' or a `vig' from all wagering on their sites.''
The attorney general argued that, like any sports wager, these depend on a future event outside the control of any bettor, meaning the actual performance of individual athletes in real games. ''As New York law has long recognized, gambling often mixes elements of chance and skill. The key question is whether the outcome depends in any `material degree' on an element of chance, `notwithstanding that skill of the contestants may also be a factor.'''
DraftKings, which claims 375,000 New Yorkers among some 2.5 million players, said Tuesday that it remains committed to ensuring they can keep playing. ''We believe the attorney general's view of this issue is based on an incomplete understanding of the facts about how our business operates and a fundamental misinterpretation and misapplication of the law,'' a spokesman said.
FanDuel said Monday it has been operating transparently for six years in New York.
---
Associated Press writer David Klepper in Albany contributed to this report.
---
---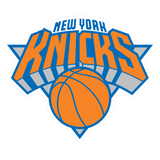 Get more from New York Knicks
Follow your favorites to get information about games, news and more
---