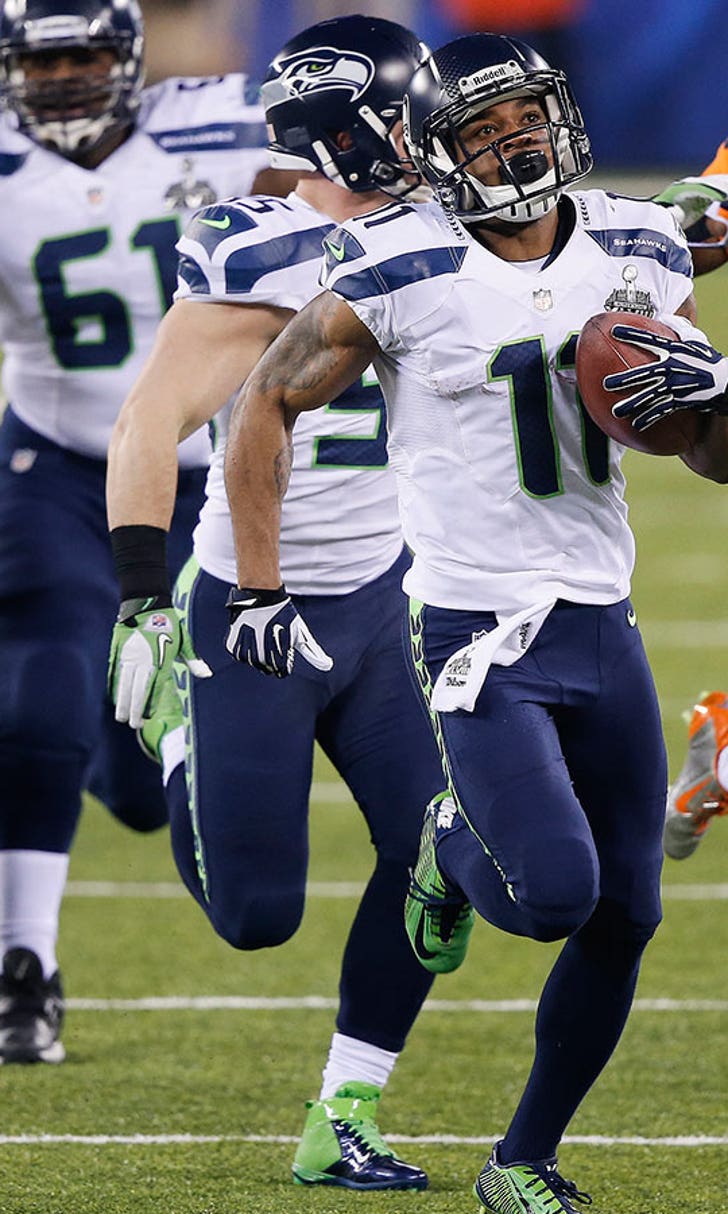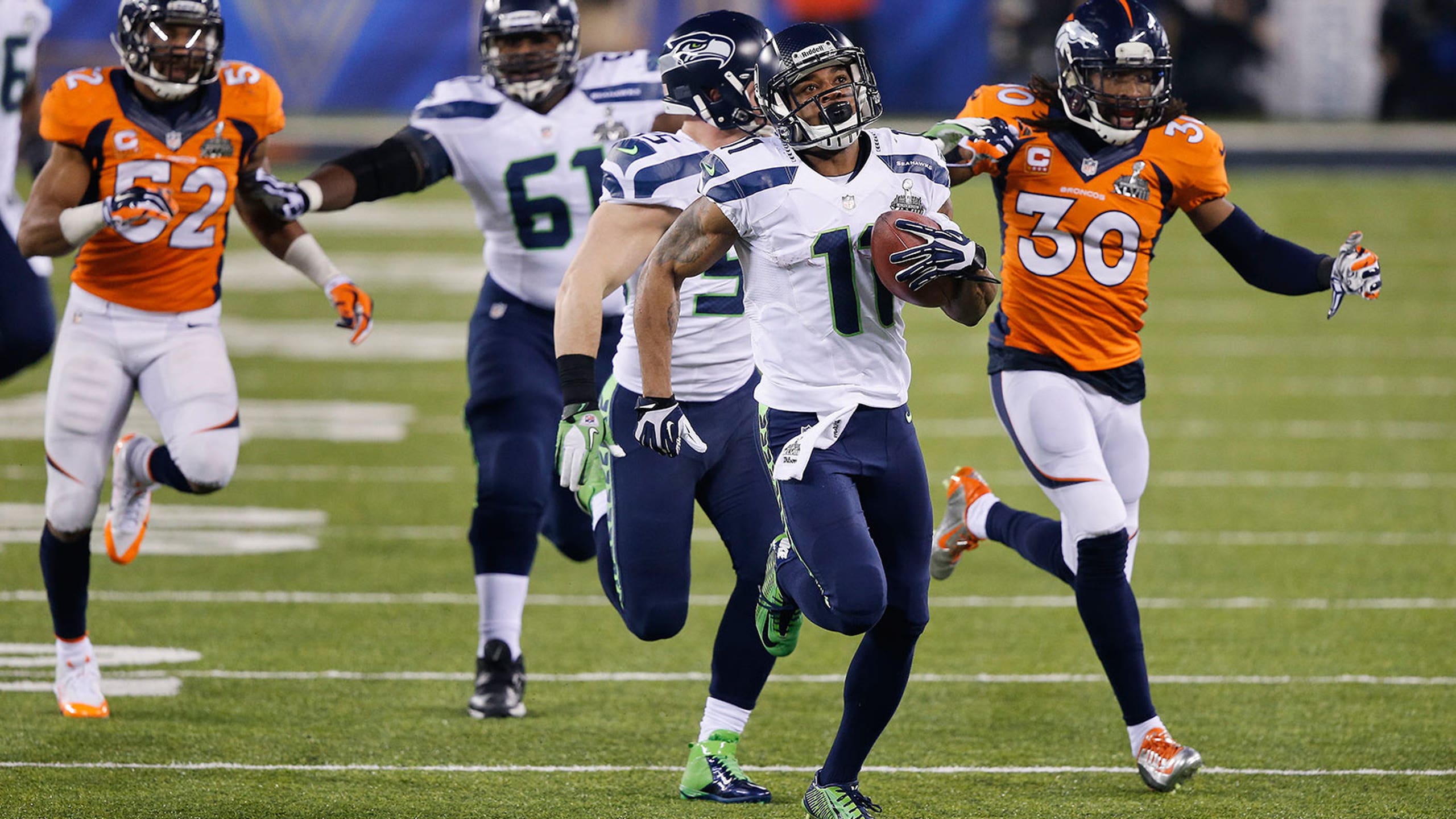 Creating the perfect fantasy football lineup
BY foxsports • August 6, 2014
One of the biggest mistakes new DraftKings users make is creating a lineup independently of the type of league in which it will be used. That is, they'll pair players together without much direction and then stick the lineup into a few different leagues.
There's no rule that says you can't win like that—plenty of people do—but you can increase your chances of winning by tailoring your lineup to the type of league in which you plan to enter. When you compete in a head-to-head matchup, for example, your strategy should be drastically different than when you compete in a big tournament. The end goal is totally different, so you need to structure your lineup in a way that maximizes your chances of winning in each particular league.
Many players refer to head-to-head and 50/50 contests as 'cash games' (and three-man leagues are also often thrown in that mix). Basically, cash games are leagues in which a fairly high percentage of entrants get paid (typically at least one-in-three).
Since there aren't many users in cash games and you generally don't need an elite score to win, most experienced DraftKings users like to play it safe. That means creating a "high-floor" lineup—one that might not score at an elite rate, but is very unlikely to tank as well. The focus is simply on attaining a solid score each time out.
Thus, one of your goals in cash games should be risk-minimization. Don't target high-variance players who are all-or-nothing options; slow and steady wins the race in cash games. Your focus should be on pure value—how a player compares to his salary—and not necessarily his upside.
There are different ways to decrease risk, of course. One is to target high-floor players—those who can give you sustainable production night in and night out. Depending on the sport, you might or might not be able to look at a player's past stats to determine how risky of a play he is.
It can be difficult to decipher individual volatility, so it makes sense to look for the right types of players. In daily fantasy football, for example, pass-catching running backs are safer than those who don't catch many passes because the former backs aren't reliant on a particular game script; they can contribute even when their team is losing, which gives them a higher floor than running backs who don't catch passes.
Finally, you can increase the safety of your team by pairing players in an optimal way. Certain pairings can increase risk; when you use multiple hitters from the same team in baseball or a quarterback and receiver on the same team in football, for example, you have players whose production is correlated, which can make your lineup more boom-or-bust.
Read over everything I just wrote in the last section? Got it? Okay, now we're going to do the opposite to win tournaments or larger leagues.
Winning big GPPs (guaranteed prize pools) is about embracing volatility; we want to create lineups that are really risky with lots of upside. There's no difference between finishing in the 30th percentile and finishing dead last in a tournament—you won't get paid either way—so the idea is to shoot for the moon.
That of course entails targeting high-ceiling players—those who might give you nothing, but could also give you something special. Again, identifying these individual players can be challenging at times, so stick with getting exposure to the types of players who offer big upside. An NFL receiver who can score multiple times—someone like Vincent Jackson—is often a better tournament play than someone like Kendall Wright, who might be consistent but probably doesn't possess elite upside.
Another tactic you can utilize is "paying" for certain positions, i.e. utilizing a high percentage of your salary cap space on positions that offer the most upside. In DraftKings' PPR format, for example, wide receivers are typically among the biggest scorers. That means that you can and should not only pay up for elite receivers in tourneys, but you should also try to get those players into your flex spots in GPPs.
One of the keys to understanding tournament strategy is realizing that value isn't quite as important as it is in cash games. You never want to use a bunch of players who are overpriced, but your main concern is upside. Whereas you might think of value in a cash game as a median projected score relative to a player's salary, the main concern in a tournament is finding the most upside for the lowest cost.
As in cash games, the right types of player pairings can also make all the difference. Unlike in cash games, though, you want to pair players so that your lineup becomes volatile—boom-or-bust. That means definitely pairing a quarterback with at least one of his wide receivers.
The reason that "stacking" teammates works is because their production is dependent on one another (or at least correlated). When a quarterback has an elite performance with 350 yards and four touchdowns, for example, it's highly unlikely that his No. 1 wide receiver doesn't also have an awesome day.
By pairing those two players together, you're basically increasing the range of possible outcomes for your team. They could have an off day and your lineup might really struggle, but they could also propel it into the top tier of fantasy scores, which is what you need for a major tournament cash.
Finally, consider a "contrarian" approach in tournaments. A contrarian strategy is one that seeks to purposely go against the grain, utilizing players who aren't in many other lineups. The value in a contrarian lineup is that, if it hits, you can really shoot up the leaderboards because you won't have much competition from others.
You can't always know exactly how popular a player will be on DraftKings, but you can make an informed decision. You pretty much know that Peyton Manning will be more popular than Carson Palmer, for example, regardless of the salaries. The goal is to balance upside with creating a unique lineup such that you can have the best of both worlds.
The overarching idea here is that there's a whole lot that goes into creating a winning lineup. If you want to win as much money as possible on DraftKings, you need to make sure you tailor your lineups to each league.
$5 MILLION is up for grabs in the DraftKings Daily Fantasy Football Kickoff Bash! Claim your FREE contest entry here >>
---
---