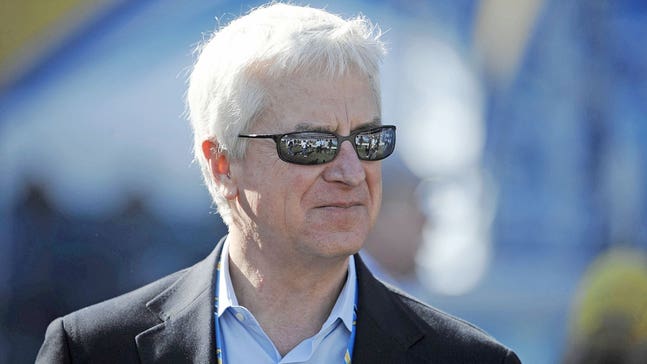 Consultant: Chargers stadium point man has misled city
Published
Oct. 29, 2015 3:17 p.m. ET

SAN DIEGO (AP) -- The top political consultant for Mayor Kevin Faulconer said Thursday that if the Chargers resume negotiations for a new stadium, they need to come without lawyer Mark Fabiani because he has no credibility with elected officials.
Jason Cabel Roe also said Fabiani, who works for Chargers chairman Dean Spanos, has misrepresented the city's efforts while addressing NFL owners.
"I think Mark Fabiani has been poisonous to a solution for the Chargers remaining in San Diego," Roe said. "From the very beginning of this process he has done nothing but mislead the mayor's office, the fans and civic leaders on what the team's intentions are."
Fabiani didn't respond to a request for comment.
Fabani walked away from negotiations in mid-June and has focused on the team's efforts to move to an industrial suburb of Los Angeles. The Chargers and their biggest rivals, the Oakland Raiders, announced plans in February for a joint $1.7 billion stadium in Carson if they can't get new stadiums in their home markets. The Raiders and Chargers were responding to St. Louis Rams owner Stan Kroenke's plans to build a new stadium in Inglewood.
Many people feel the Carson plan is at attempt to give the teams leverage in their home cities.
The long-running stadium issue has become so contentious that Fabiani was booed and heckled at an NFL public hearing on Wednesday night. Eric Grubman, the NFL's point man on Los Angeles, had to step in and calm the crowd.
Fabiani said last week that the Chargers will apply for relocation because they feel the Raiders and Rams will, too. The NFL could decide in January whether it will place a team in L.A. For 2016.
Roe said he thinks the Chargers are misrepresenting San Diego's efforts to fellow owners. He said the city has made an "extraordinary effort to have a location and financing ready to go."
Faulconer has responded to Fabiani's moves by taking his case straight to NFL Commissioner Roger Goodell and members of the Committee on Los Angeles Opportunities. Faulconer has met with four of the six committee members and Roe said he is working on setting up meetings with the other two members, as well as with influential Dallas Cowboys owner Jerry Jones.
"I think the owners were surprised to learn how much progress has been made to finding a stadium solution in San Diego," Roe said. "We took that as an interpretation of the misinformation they're getting from Fabiani. `'
The city has proposed a new stadium at the site of aging Qualcomm Stadium in Mission Valley, with public contributions capped at 32 percent and the Chargers responsible for overruns. Fabiani has said the team expects a public contribution of at least 60 percent. In recent years, the team has wanted to build a stadium downtown as part of a non-contiguous expansion of the bayside convention center.
Roe disagreed with some people's contentions that Wednesday night's public hearing was a dog-and-pony show. A similar hearing was held in St. Louis on Tuesday night and another was scheduled for Oakland on Thursday night.
"It was important to show NFL executives that the fans recognize that Fabiani has been a corrosive element to finding a solution," Roe said.
Moments after Fabiani was booed off the stage, City Councilman Scott Sherman -- whose district includes Qualcomm Stadium -- was cheered at the end of an impassioned speech. Sherman said Fabiani's claims that the city hasn't been able to accomplish anything "is the furthest thing from the truth."
Sherman -- wearing a tie with the Chargers' lightning bolt logo -- said that while city leaders have come and gone since the Chargers stadium push began in 2002, "the one constant is Mr. Fabiani's employment of the San Diego Chargers. He has been nothing but negative the whole time."
Despite Fabiani's constant criticism of the city, Grubman said there has been progress in San Diego.
"I measure these things very simple. It's not complicated," Grubman said. "There was nothing on the table for anyone to discuss a year ago. There is something on the table that political leadership in the city and the county are discussing. They're trying to prove out their case; their case being that you can build a stadium at Mission Valley, you can get it financed, it can be attractive and any environmental challenges can be dealt with. They're working on that, and that is forward progress as compared to a year ago."
---
---