Colts, Bengals can commiserate again after similarly rough starts
October 26, 2017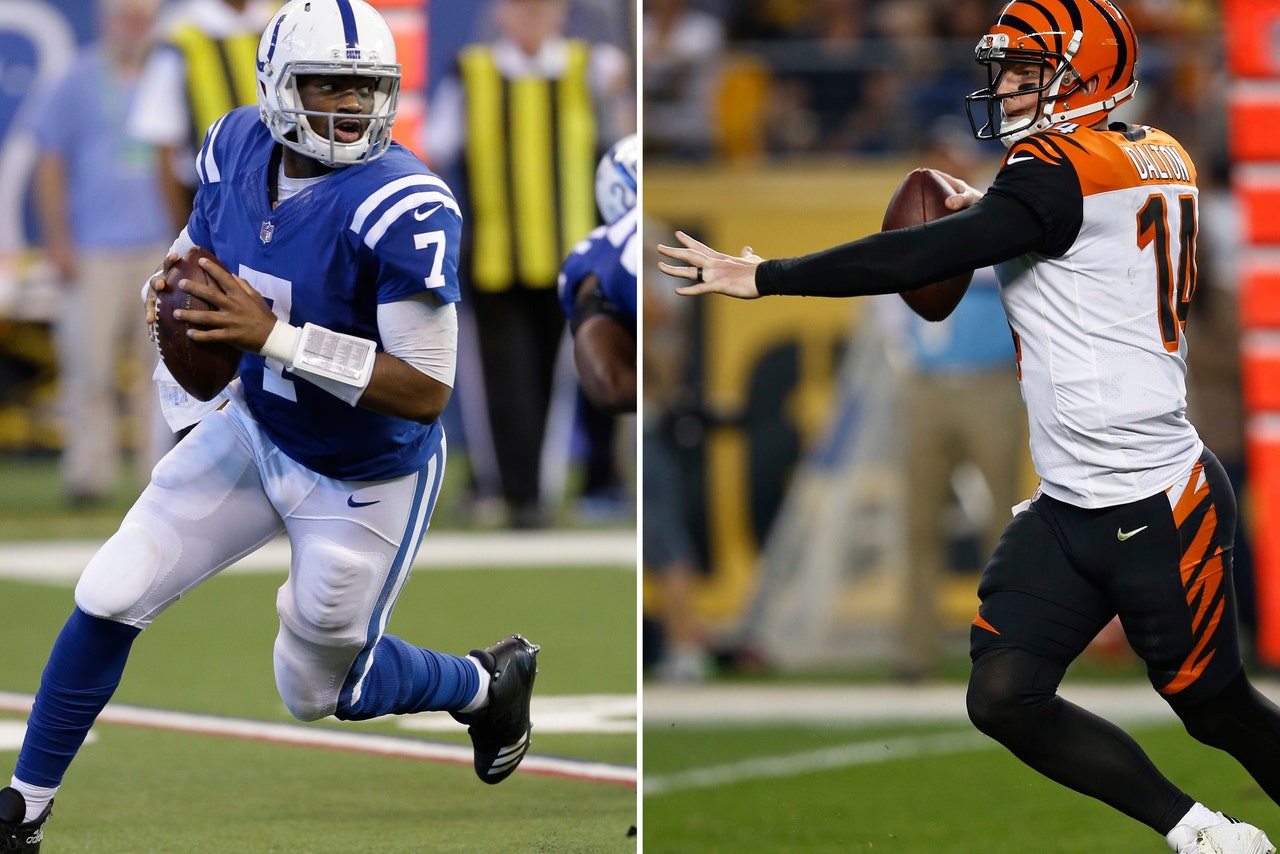 CINCINNATI -- Bengals coach Marvin Lewis commiserated with Colts coach Chuck Pagano on the field at Lucas Oil Stadium before their preseason game in Indianapolis last August.

They can do it again on Sunday at Paul Brown Stadium.

From the get-go, things have only gotten worse for two teams just down the interstate from one another.

The Colts (2-5) still have no idea when Andrew Luck might be back from shoulder surgery -- he had to stop throwing last week in his rehab program. They've faded fast and hit a new low when they got shut out at home by the Jaguars last Sunday.

"They've had some things they've really had to overcome," Lewis said, recalling their on-field chat.

After getting blanked in a game for the first time in 15 years, the Colts make the short trip to Cincinnati with an injury-depleted roster and no idea when their most valuable player might be able to throw again. Another loss and things might totally unravel.

"There's nothing like being in that environment and the circumstances we're in to galvanize you as a group," Pagano said.

They've got close company in midseason misery. The Bengals (2-4) are struggling with their offense as well, even though Andy Dalton is generally healthy. They managed only 19 yards and one first down during the second half while losing in Pittsburgh on Sunday.

Both teams are running out of time to salvage their seasons. The winner Sunday can at least keep hope for one more week.

"You try to get hot," Bengals running back Jeremy Hill said. "A lot of people in this locker room know what it's like to get hot and go on a streak. It's still early. There's still so many crazy things that can happen in this league. I've seen it."

Some things to watch at Paul Brown Stadium:



DALTON RECOVERS: Dalton has played the past two games on an aching left ankle. His two turnovers in Pittsburgh -- an off-target throw to A.J. Green and a ball forced into coverage -- helped the Steelers take control. The Bengals need him to shake off the bad half and have a crisp game against the 31st-ranked pass defense in the league.

RUNNING ON EMPTY: The Bengals have struggled to get anything out of their running game with a varied approach using Hill, rookie Joe Mixon and Giovani Bernard.

They abandoned it in the second half in Pittsburgh -- five runs for 17 yards, including two scrambles by Dalton -- and need to get that part of the offense fixed. Mixon, who didn't get to run the ball in the second half, complained afterward about the lack of carries.

"I feel like that's been one thing that we've been lacking, with the chunk yards in the run game," Dalton said. "We had a couple plays where they made big runs. That's what we expect. That's what we're trying to accomplish."

TURNOVERS: The Bengals have yet to recover a fumble this season and have only four interceptions. By contrast, Dalton has thrown eight interceptions -- tied for third-most -- and Cincinnati has lost five fumbles, tied for fifth-most. The lack of turnover creation has been one of its biggest shortcomings. The Bengals are tied for second-worst in the NFL in turnover ratio, ahead of the winless Browns.

QUICK RELEASE: Indianapolis' continually changing offensive line can't afford a repeat of last week. After allowing 10 sacks and 20 quarterback hits in a 27-0 loss to Jacksonville, the Colts have given up a league-high 29 sacks this season. Quarterback Jacoby Brissett has avoided forcing throws, but sometimes holds onto the ball too long, setting himself up for a lot of hits.

"It's football. You're expected to get hit," he said. "Running backs do it. But I've got to do a better job of not taking those hits, too. It's not the line's fault."

THREE FOR THE SHOW: In Pagano's first two seasons, the Colts never lost back-to-back games. Now, they're trying to avoid dropping three straight. After losing to Tennessee and getting shut out for the first time in 376 regular-season games, they hit the road, where they've lost three straight and five of their past six.

"It's another game," left tackle Anthony Castonzo said. "Whether it's on the road or at home, we want to win."
---
---