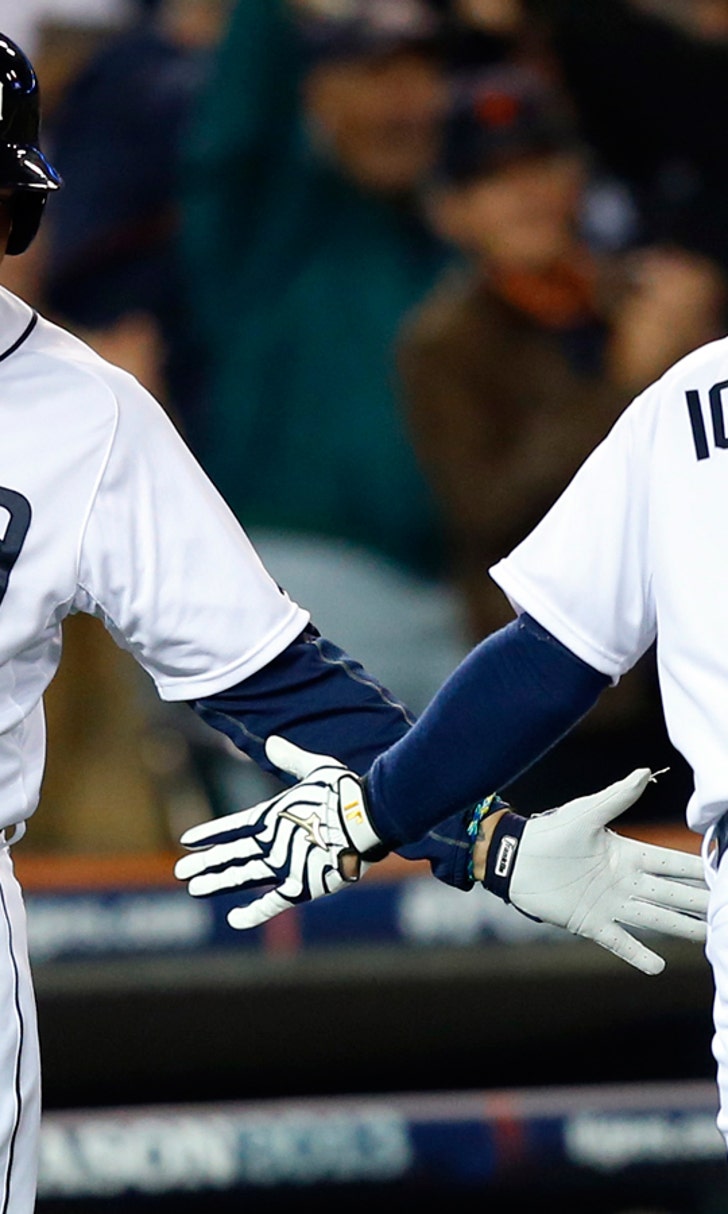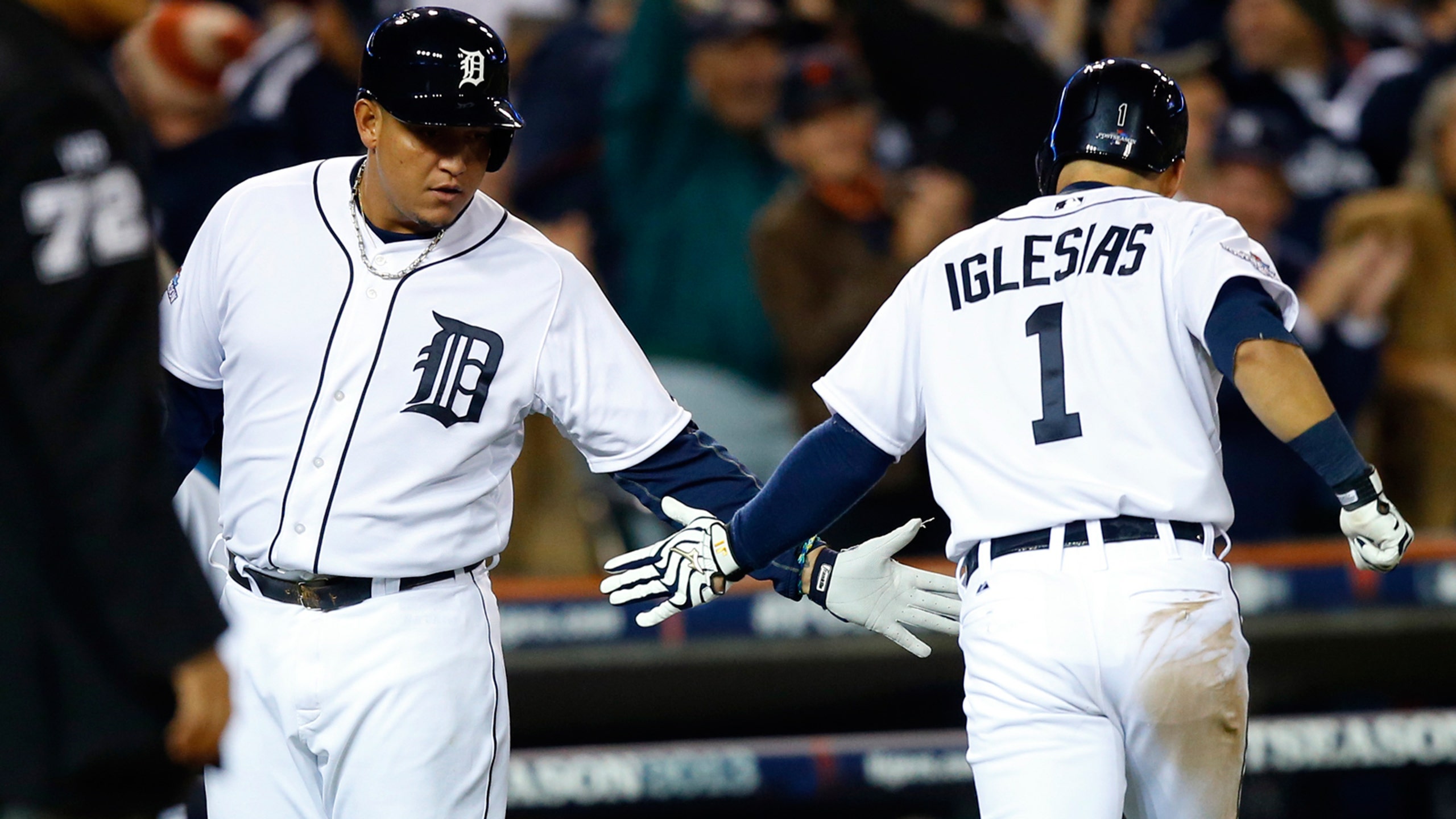 Cabrera, Iglesias question marks for Tigers ahead of spring training
BY foxsports • January 9, 2015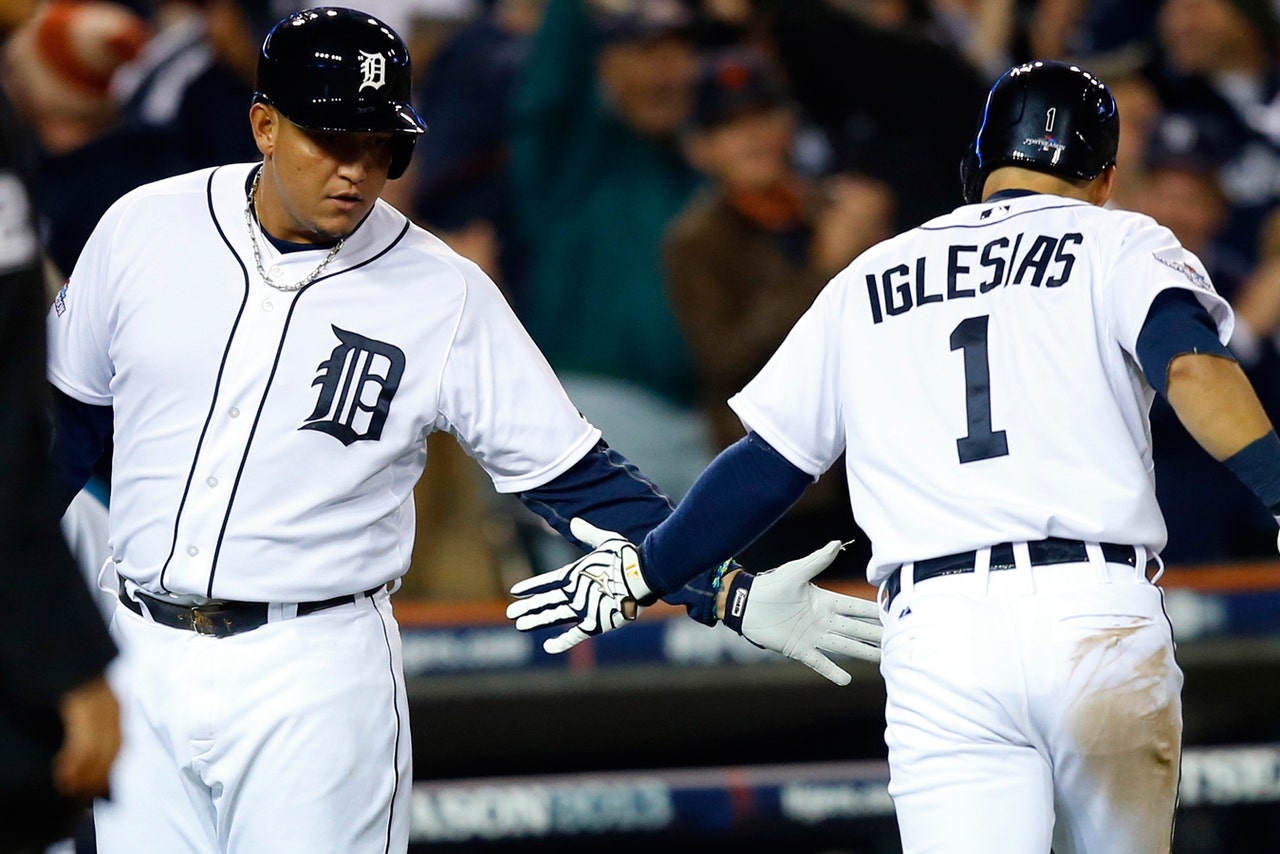 The Tigers don't know what slugger Miguel Cabrera will be able to provide this upcoming season.
What they do know is that Cabrera has a very high pain tolerance.
Cabrera, 31, underwent surgery Oct. 24 to remove bone spurs in his right ankle and to repair a stress fracture in the navicular bone.
The Tigers knew about the bone spurs, but not about the stress fracture.
"At no point did we see a fracture of any kind," Tigers head athletic trainer Kevin Rand said. "I presume it happened at the end. He probably felt it was the same pain. He's a tough kid. The specialist said that's what happens. Sometimes you don't realize that it's fractured because it's a similar pain to what he's experienced. It just shows what type of kid he is."
In September, Cabrera was named AL Player of the Month after hitting .379 with eight home runs and 18 RBI in 26 games.
But following the surgery, Cabrera has not been allowed to do much.
"He's not been cleared," Rand said. "He's been able to do some partial weight-bearing work. He's wearing a walking boot, which he will continue to do until early February. He'll be re-evaluated in the early part of February. If he's cleared, then he'll be able to start full weight-bearing work. Obviously he has to show he's ready for that type of work."
Cabrera has been able to do some upper-body work that does not require full weight bearing.
One thing Cabrera has on his side is that spring training starts a week later this year, with the first full-squad workout on Feb. 24.
"Hopefully he'll put everything behind him and move forward again," Rand said. "At this point, it's too early to speculate. Until he's able to do full weight-bearing work, it's too early to tell what we're going to have."
The Tigers are a little more sure about what they'll get from Justin Verlander this season.
Verlander had core muscle surgery last January, which cut short his offseason workouts.
Although Verlander made 32 starts and pitched 206 innings in 2014, he was just 15-12 with a 4.54 ERA, far off his best career numbers.
"He didn't have a normal offseason," Rand said. "He wasn't really himself, especially at the beginning of the year. He should be a whole lot better this year."
Much of Verlander's power comes from a strong lower body, which he's been able to train as normal this offseason.
"Obviously he's had an offseason devoted to PT (physical therapy) work, with respect to his core, his posture, everything involved with the throwing motion," Rand said. "He feels he's moved in a real positive direction.
"He should be ready to pitch the way he always has."
Rand couldn't guarantee that Verlander would return to his old 100 mile-an-hour ways, but said he'd be more like his old self.
Anibal Sanchez, who missed more than a month with a right pectoralis strain but returned to pitch out of the bullpen in the playoffs, is expected to be fine.
"He's been able to have a normal offseason," Rand said. "He should come into camp ready to go."
Reliever Joakim Soria missed a lot of time down the stretch with a left oblique strain but he is also expected to be ready.
Drew VerHagen, who is in the running for a possible major-league role out of the bullpen, missed the last couple of months with a low back stress fracture.
"He's rehabbed it and should be fine going forward," Rand said. "It's just a question of understanding the maintenance program and doing it every day. As long as he understands and performs it, it will keep quiet."
Rand said lots of players have dealt with similar maintenance programs and have had good success with them.
The Tigers are once again hopeful that Bruce Rondon can contribute out of the bullpen this season.
Those hopes were dashed last spring when Rondon underwent ulnar collateral ligament (UCL) reconstruction in his right elbow, Tommy John surgery.
"He was throwing very well when he went home in October, 60 feet, not off the mound," Rand said. "He had a month of rest and then started strength and conditioning. He rejoined us this past week. He's going to build up with long tossing, a throwing progression and then a mound progression."
Rand expects Rondon to be able to throw off the mound sometime in January. 
Rondon should also benefit from a later spring training start.
Joel Hanrahan, whom the Tigers hoped could recover from his May 2013 Tommy John surgery, is more of a question mark.
"He worked hard to get himself back," Rand said. "Obviously it didn't work. It remains to be seen. He had a fairly extensive surgery, not just the Tommy John but also flexor repair. That's tough for a guy. He worked hard last year. It wasn't there for him."
Hanrahan, who is not on the 40-man roster, has been able to have a normal offseason of strength and conditioning and will be invited to spring training.
Outfielder Rajai Davis, who had a pubic symphysis strain that bothered him in the postseason, is expected to be back to normal.
"I spoke to Rajai last week and he's doing fine," Rand said. "He's sprinting at 75-80 percent and has no issues with explosion. That's what he had trouble with. He has been able to explode, and since we're a good six weeks away from spring training, we're very well pleased with where he's at. He was checked out early in the offseason. Everything came back clean and looked good."
Also getting a clean bill of health was catcher Alex Avila, who has dealt with concussions in his career.
"The thing is (tests) have shown there haven't been cumulative effects," Rand said. "He's cleared for all activities. He's had no issues this offseason at all."
That doesn't mean that the Tigers aren't concerned about the hits Avila takes behind the plate, whether from foulballs or backswings from hitters.
Rand said Avila, who has experimented with heavier masks, would likely change masks again.
"We're looking at whatever is out there to help him," Rand said. "He's been looking at different masks. We'll see what they can bring back and what he feels comfortable with. We're looking at everything, both preventative and after the fact. We used the Cryo Helmet last year and research shows that makes a difference. We'll continue working with that."
The Cryo Helmet is targeted cold therapy designed to help sports-related head trauma.
Besides Cabrera, the biggest question mark is shortstop Jose Iglesias.
Iglesias missed all of last season with bilateral tibial stress fractures.
"He's been undergoing baseball activities, taking groundballs, hitting, running 75-80 percent," Rand said. "He's had no issues. He'll be reexamined by Dr. (Thomas) Clanton in Colorado at the end of next week. If the CT scan is clear, he'll be given the blessing to go full bore. He's going to undergo our physical and then he'll have another month to prepare for spring training."
But it's not really the preparation that caused problems for Iglesias.
"The one thing we don't know is how he'll be when he's going every day, doing baseball activity, the grind of going every day," Rand said. "Nobody knows how that will play out."
---
---