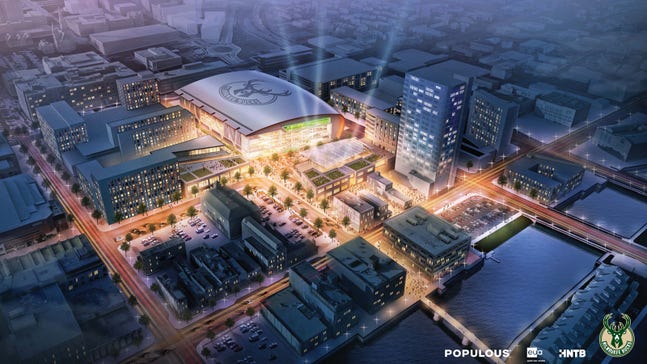 Bucks release new arena renderings ahead of submission to city
Updated
Mar. 4, 2020 2:12 p.m. ET

A curved roof is among the most prominent features in the new Milwaukee Bucks Arena, according to renderings released Thursday by the team.
The 714,000-squre-foot arena  will be designed by Populus. The arena will be the focal point of a 30-acre district that will include a plaza, entertainment block, the Bucks Training Facility and other potential commercial and residential uses.
"We're just months away from seeing the new home of the Milwaukee Bucks and our collective efforts to revitalize Milwaukee begin to move from vision to reality," Bucks president Peter Feigin said in a statement. "These plans reflect the commitment of our ownership, generosity of Senator Kohl and historic collaboration with public officials to build a world-class sports and entertainment destination in the heart of downtown Milwaukee. We look forward to working closely with public officials and the entire community over the next several months to finalize the design and construction plans so that we can begin to create long-lasting jobs and economic opportunity in Milwaukee."
The arena site, located between N. Fourth Street and N. Sixth Street from W. Highland Ave. to W. Juneau Ave., will link with active development on all sides, including Old World Third Street, Schlitz Park, The Brewery, the Milwaukee riverfront, Water Street and the Wisconsin Center.
"The hand-crafted zinc and glass exterior wraps the energy of a multi-purpose arena full of social gathering spaces and a new public plaza extends the development as a year-round catalyst for the transformation of downtown Milwaukee," Brad Clark, senior principal at Populous, said. "Inspired by the natural beauty of Wisconsin's rivers, lakes and forests, this new Wisconsin landmark will stand out as an iconic addition to the cityscape and seamlessly connect with surrounding neighborhoods."
---
---