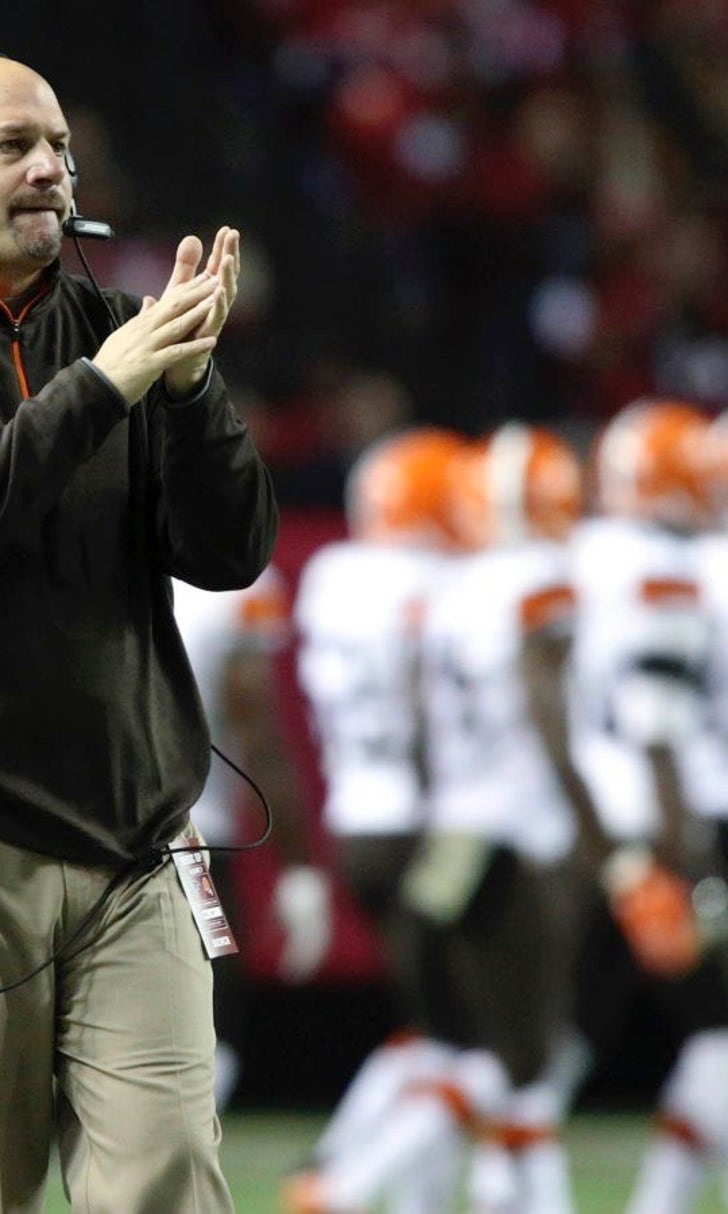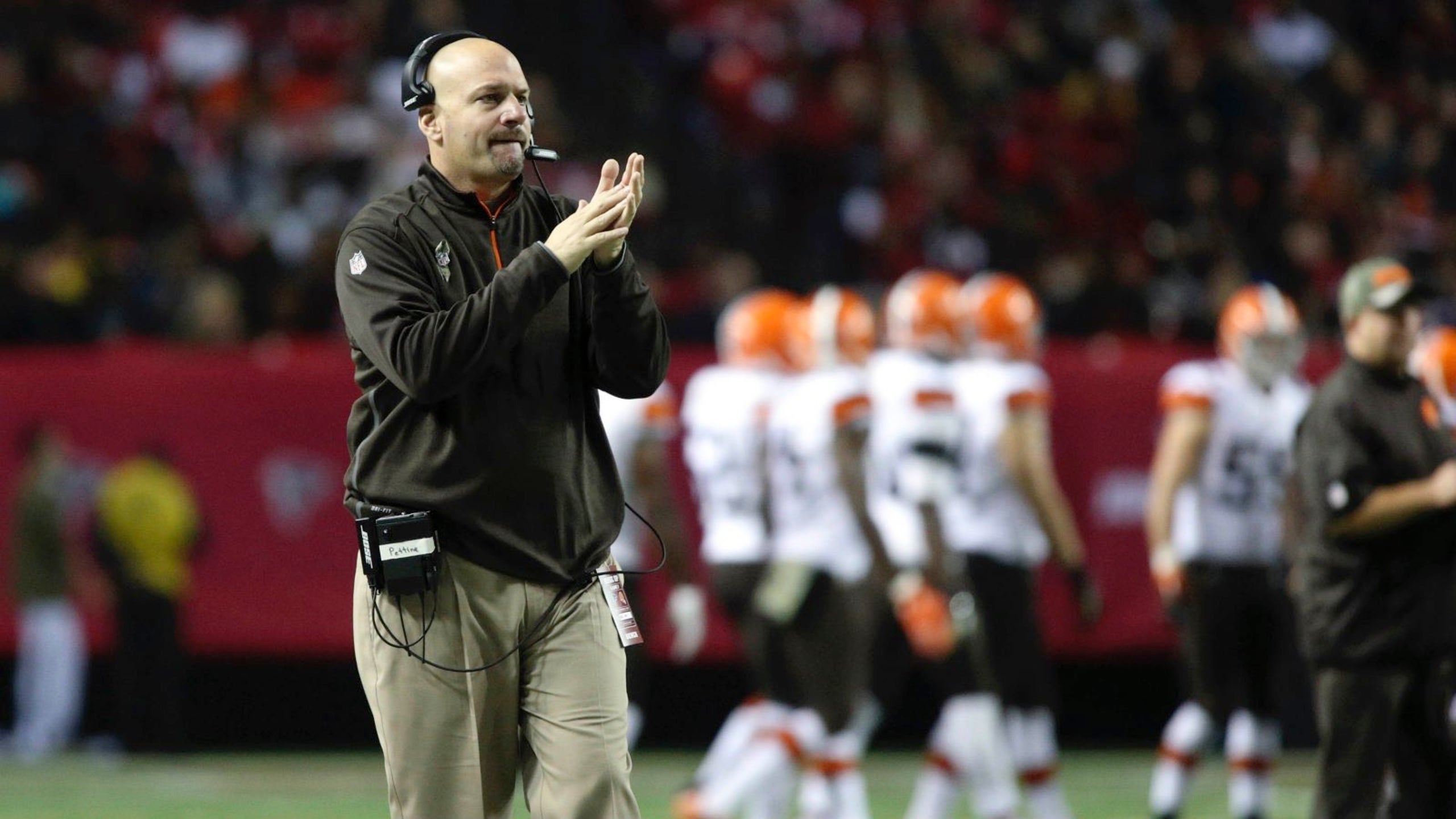 Browns rally to win. Somehow.
BY foxsports • November 23, 2014
ATLANTA - The Cleveland Browns won a game they tried to give away Sunday. They won it on a 37-yard Billy Cundiff field goal at the buzzer that came after a drive almost nobody saw coming, one that covered 61 yards in 44 seconds because Brian Hoyer turned into Superman at about the time every Browns fan on Twitter was trying to get him fired.
As it turns out, the game might really have been won on the last play of the first half, on a 61-yard field goal try Cundiff left well short. Devin Hester caught the ball in the back of the end zone and too off, and Hester ran for 75 yards and thought he was clear to run 106 before hustling rookie offensive lineman Joel Bitonio chased him down.
Bizarre from buzzer to buzzer, this one.
The Browns trailed by one at the time of Bitonio's heroics, which followed some really poor clock management by Browns coach Mike Pettine on an impressive one-minute drive. The Browns trailed by one before Cundiff made the game-winning kick, too. The Atlanta Falcons had kicked a field goal of their own -- a 53-yarder, in fact -- but only after botching a promising drive with a deep shot on third and short and an inexplicable timeout with 55 seconds left when the Browns should have been the team calling time out.
The Browns spent the fourth quarter passing when they should have been running, and twice Hoyer threw it to the Falcons. Poor play calling, poor decision making and just poor football took over before Falcons coach Mike Smith tried to overthink the overthinking Pettine had done and before Hoyer went from stinking to dominating on four passes, including a 24-yarder to the new guy, Josh Gordon, and a 15-yarder over the middle to Gary Barnidge, who doesn't catch many passes but has caught some big ones.
We learned Sunday that the Browns are just fine with two rookie running backs but aren't good enough to get cute offensively in trying to put games away. We were reminded of just how gifted Gordon is, but that there's a price to pay for trying too hard to feed him the ball. We saw Hoyer throw way too many passes, again, but save his best throws for one of the craziest endings you'll see.
"Hoyer is just clutch," Joe Haden said after the game, and that's pretty hard to argue.
Gifts come in different packages. Gordon debuted after serving a 10-game suspension that had been previously cut from all 16 games, minimum. There are lots of guys in various positions around the NFL who change games. Gordon is among the few who change everything when he's on the field.
The schedule makers have been very kind to the Browns, too; the way the Falcons botched the fourth quarter sums up the way the season has gone for the NFC South Division.
The Falcons are 0-7 outside the NFC South. Their defense would give up points in the MAC West.
The Browns are 3-0 against the NFC South, and though potential tiebreakers involve AFC record you can't talk about tiebreakers or selling playoff tickets without wins. The Browns are 7-4 and have to talk about selling playoff tickets. They need to talk about running more and throwing less and scoring touchdowns off of turnovers, but the Browns have now won back to back road games for the first time since 2008 and are guaranteed to lose fewer games than they have in any season since then.
That's progress. Lots of it. Being in the right place in the right time means you've at least done something right.
"I probably played my worst game of the year," Hoyer said, and again only a few would argue.
He finished it with a fourth-quarter comeback victory for the fourth time this season. Hoyer has the league's worst completion percentage and a pretty darn good winning percentage.
Pettine didn't have his best coaching day Sunday. He's now, however, in almost any discussion about the NFL's Coach of the Year.
Smith was coaching in the NFC Championship Game two Januarys ago and next January will be probably be getting paid to leave. He'll probably mess up clock management on his way to his appointment at the bank.
A fine line separates winning and losing, giddy and miserable. It's a brutal, unforgiving, ever-changing league.
You take good fortune as it comes. You try to stack wins, hope like hell that things like Tashaun Gipson suffering a potentially serious knee injury in the fourth quarter don't happen, and when these crazy games end you get about 16 hours to process them, for better or worse, before moving on to the next one.
The Browns have five games left. They don't even know where their next one will be played thanks to the snow in Buffalo, but they know it's a really, really, really big game.
Crazy fits this team. Karlos Dansby is trying to get healthy. Paul Kruger keeps getting sacks. Haden keeps getting interceptions. Cundiff had no shot at the deep one before the half -- he kicked it twice, in fact, because Smith felt the need to ice a kicker before a 61-yard field goal -- but Hoyer and Gordon and Barnidge and Miles Austin got him in comfortable range for the winner.
Thin line.
"In this league, when there's time left on the clock you never know what's going to happen," Falcons quarterbac Matt Ryan said. "Credit the Browns. They made great plays down the stretch."
Pettine said the usual, that you don't apologize for wins or turn down good fortune. He credited his players for continuing to believe and battle, and the battle goes on with the Browns still in the mix, just a half-game out of first place and still alive in hundreds of different scenarios.
Somehow, the Browns ended up winning Sunday.
"I'm disappointed in the way I played, but we are 7-4," Hoyer said.
Smith and the Falcons gave the Browns a gift.
Now, it's on Hoyer to make sure Gordon's return is a gift that keeps on giving in a revitalized run at the postseason.
---
---