Aaron Rodgers
Aaron Rodgers
Breaking down the NFL's 4 remaining quarterbacks
Published
Jan. 20, 2017 11:17 a.m. ET
There are some overlooked truths about the four superb quarterbacks left chasing a Super Bowl title:

-- Tom Brady's career AFC championship game stats hardly should scare an opposing defense, nor should his deep-throw efficiency in the playoffs.

-- Ben Roethlisberger becomes rather ordinary when being blitzed.

-- Aaron Rodgers is hardly the king of the fourth-quarterback comeback , no matter his recent Hail Mary completions and a certain final-seconds, throw-on-the-run play.

-- Matt Ryan produces interceptions nearly as often as TDs when trailing late.

There's a lot of talk heading into Sunday's conference title games about the accomplishments, talents and legacies of the four starting QBs, which makes sense. New England's Brady, Pittsburgh's Roethlisberger, Green Bay's Rodgers and Atlanta's Ryan are as good as it gets today at the NFL's most important position.

"Watching these quarterbacks play has been extraordinary," said Hall of Fame defensive back Ronnie Lott, a teammate of Joe Montana's on four Super Bowl champions from 1982-90 with the San Francisco 49ers. "They're very good at identifying: `OK, I see an opening. I recognize it. Now I'm going to deliver it.' They've shown their ball skills. They've shown their foot skills. They've given us a little bit of everything. ... That's, for me, where this game has evolved. You've got quarterbacks that can be a combination of Joe Montana, Steve Young and Brett Favre."

They share attributes, such as reading a defense, arm strength, leadership skills and more. And each member of this quartet has unique abilities, too. That's why they're the four QBs with the most wins since 2008, and by next month, why they'll own a combined 12 Super Bowl appearances, eight titles and quite possibly five league MVP awards.

This season, Ryan led the NFL in passer rating at 117.1, the fifth-best ever, followed by Brady at No. 2 and Rodgers at No. 4, with Roethlisberger No. 11. Rodgers led in TD passes with 40, two more than Ryan. Brady set a record for best TD-to-interception ratio with 28 scores and two picks. Among QBs with at least 250 passing attempts, Brady ranked No. 1, Roethlisberger No. 3 in fewest sacks, while Ryan was No. 3, Brady No. 5 in completion percentage.

These guys are not perfect, though.

They make mistakes. And chances are, one or more will do so again this weekend.

"Joe Montana would say, `I don't have to make every throw; I have to deliver the mail. I have to make the right decisions. Just try to get the mail to the right person at the right time and not beat myself trying to do more than I should,'" Lott said. "Which one of these quarterbacks is going to put themselves in a situation where in their weakest moment -- because all of them have moments when they're going to be weak -- do you try to do something more than you need to do?"

What stands out about these QBs:

TOM BRADY

Positives: Diagnoses a blitz and shifts the play; 126.8 passer rating against blitzes led the league, according to Sportradar. Turns seemingly anyone into an effective receiver , putting the football where teammates can make big plays; sixth in the NFL this season in percentage of total yards after the catch (49.1), according to Sportradar.

Negatives: In 10 conference title games, owns 76.3 passer rating with 12 TDs, 12 INTs. On postseason deep throws (more than 20 yards in the air) since 2007: 50.6 rating; 26 completion percentage, 4 TDs, 6 INTs.

They said it: "He does such a good job of relating to you ... the way that he likes things to be run, his route details and that type of stuff." -- WR Chris Hogan.

------

BEN ROETHLISBERGER

Positives: Long known for extending plays, now quickly understands what's available and gets the ball to playmakers . Trailing in the fourth quarter of one-possession games this season, compiled near-perfect 156.1 passer rating, 27 for 31 for 371 yards, 4 TDs, no INTs.

Negatives: Can be troubled by blitzes: 78.6 passer rating this season, 24th in the league. Brady, in contrast, led the NFL at 126.8, according to Sportradar; Ryan No. 2 at 122.5.

They said it: "He is just making really good pre-snap decisions and post-snap decisions. ... He is doing a better job of not trying to make a `Ben-like' play all the time." -- offensive coordinator Todd Haley.

------

AARON RODGERS

Positives: Terrific out of the pocket, often via designed rollouts . This postseason, according to Sportradar, he's 16 for 20 for 234 yards, 2 TDs, 0 INTs, 148.8 rating on such plays; every other playoff QB has thrown for 182 yards combined and a 56.2 rating.

Negatives: Only 17-36 with a game-winning drive or comeback opportunity, a .321 winning percentage that's by far the worst of this bunch, according to Scott Kacsmar of Football Outsiders.

They said it: "Look at the flexibility, the ability to turn his hips, the flexibility he has in his shoulder and elbow." -- coach Mike McCarthy on Rodgers' ability to throw while moving to his left.

------

MATT RYAN

Positives: Spreads the ball around , setting an NFL record with TD passes to 13 receivers this season. His 135.4 passer rating on deep throws led NFL, according to Sportradar, and his 9.3 yards per attempt were surpassed only by three QBs since the AFL-NFL merger. Durable, making 120 consecutive starts.

Negatives: Only had seven INTs this season, but four came in losses -- three in the final four minutes; another was a pick-6 late in the first half. Trailing by one possession in the fourth quarter, career passer rating is 81.9, with 16 TDs, 14 INTS. Just 2-4 in playoff games, with 7 INTs.

They said it: "We've got a lot of different moving parts and different guys that can make plays." -- Ryan.

------

AP Sports Writers Genaro Armas, Josh Dubow, Will Graves, Kyle Hightower and Charles Odum contributed to this report.
---
---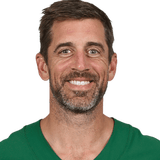 Get more from Aaron Rodgers
Follow your favorites to get information about games, news and more
---