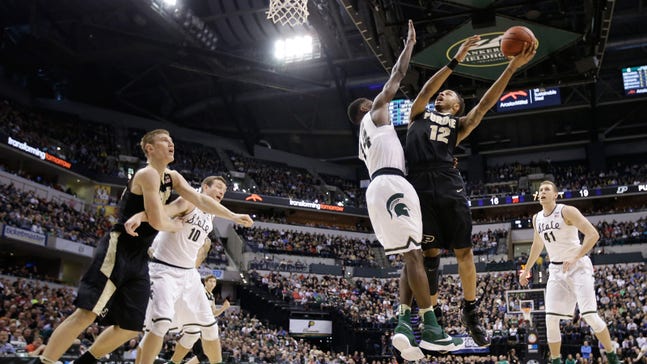 Boilermakers fall just short in Big Ten final, 66-62 to Spartans
Published
Mar. 13, 2016 5:27 p.m. ET

INDIANAPOLIS -- Purdue relied on its big men to win games all season.
On Sunday, they came up short.
Big Ten player of the year Denzel Valentine kept finding ways to stymie the Boilermakers' second-half charges and led No. 2 Michigan State past No. 13 Purdue 66-62 for the Big Ten Tournament title. With their NCAA Tournament opener set for Thursday in Denver, the Boilermakers can't afford to let this loss linger.
"It stings, but we have to get rid of it and get ready for the tournament," Vince Edwards said after scoring 19 points. "If we can take them down to the wire, we know we can play with anybody in the country. We didn't get our results, but we still have momentum."
Purdue (26-8) earned the No. 5 seed in the Midwest Region and will face 12th-seeded Little Rock (29-4).
Had they completely overcome a 13-point second-half deficit, they might have moved up another line in the bracket.
Together, Vince Edwards, A.J. Hammons and Caleb Swanigan made a valiant effort to get the Boilermakers back in the game. But Valentine and his teammates refused to give up the lead over the final 25 minutes.
Edwards finished with 19 points, while Hammons and Swanigan each had 11. Now it's time to focus on the bigger picture.
"We're going to have to put a lot of work in this week and get ready for a good team," Rapheal Davis said. "Just go out there and play as hard as we can, try to make a statement."
The biggest problem Sunday was Valentine, who took out his frustration at finishing second in the Big Ten standings by flirting with a triple-double for the third straight day. He finished with 15 points, 10 rebounds and nine assists and made all the big plays late before learning the Spartans (29-5) would be a No. 2 seed.
The Spartans open the tournament in St. Louis on Friday against Middle Tennessee State.
He was an easy choice as the tourney's Most Outstanding Player, and if Valentine keeps playing this well, there's no telling how far he could carry the Spartans.
But Valentine did much more than score.
He thwarted one of Purdue's runs by stripping the ball from Johnny Hill, driving the length of the court and drawing a foul. Then, after losing his balance on a drive, Valentine somehow flipped an alley-oop pass to Deyonta Davis almost from his knees for a dunk to make it 48-41.
After Hammons' dunk got the Boilermakers within 52-51 with 7:48 to go, Valentine grabbed a rebound off of his own miss and quickly found Bryn Forbes open for a 3-pointer.
And twice in the final minute, when Purdue had a chance to take the lead and tie the score, Valentine came up with the defensive rebounds to seal it.
The Boilermakers got as close as 62-61 when Davis made two free throws with 2:50 to play before Valentine made a seemingly impossible 16-foot double-clutch jumper, but they couldn't tie the score or take the lead.
"We had a good fight to us today," coach Matt Painter said. "We had some plays there at the end where were attacking the rim, doing some good things and it just didn't go our way."
CITY OF CHAMPIONS
Indianapolis is becoming Michigan State's second home. Izzo won the national title here in 2000 and reached the last two Final Fours in town, too. Now, after the football team won the Big Ten title here in December and the women's basketball team reached last weekend's tournament title game, Izzo got his third straight Big Ten title when the tourney was played in Indy.
THREE FOR THREE
For the third consecutive day, the Boilermakers faced an opponent that was playing its third game in three days. After blowing out Illinois 89-58 in Friday's quarterfinals and pulling away from Michigan for a 76-59 win in the semifinals, their run came up short on their third game in three days.
BALANCING ACT
Valentine was the only Michigan State player to reach double figures Sunday. But the Spartans had plenty of balance. Ten other players scored, led by Forbes, who had nine points, and Matt Costello, who had eight.
TIP-INS
Purdue: Trailed for a combined total of 70 seconds in the tournament before Sunday. ... Half of Purdue's eight losses came in its own state, Indiana. The Boilermakers lost at home to Iowa, at Indiana and twice in Indy. ... Purdue was outrebounded for only the second time this season. Michigan State, which led the nation in rebounding margin, had a 41-31 edge.
Michigan State: Is 5-1 in Big Ten championship games and tied Ohio State for the most tourney titles. But the Buckeyes vacated their 2002 crown. ... The Spartans made eight 3-pointers to break the school's season record. The Spartans have 310, six more than the 2013-14 team. ... Costello blocked four shots to become the school's career leader with 145. He broke a tie for second with Adreian Payne (141) before passing Branden Dawson (142).
UP NEXT
Purdue: NCAA Tournament.
---
---