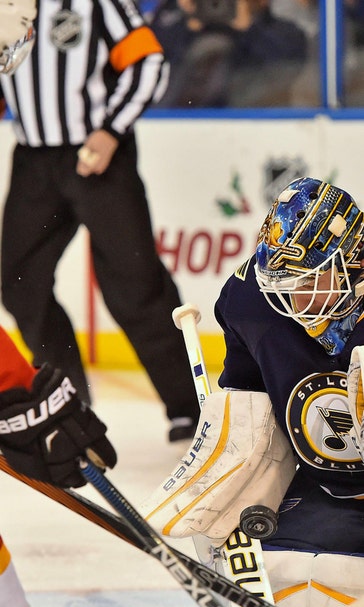 Blues beat Flames 3-2 to pick up third straight win
December 19, 2015

ST. LOUIS -- Vladimir Tarasenko extended his goal-scoring streak, helping the St. Louis Blues continue their winning ways.
Tarasenko scored a goal for the fifth straight game, taking the NHL lead, and added two assists to lift the Blues over the Flames 3-2 on Saturday for their .
"It's a pretty good feeling," Tarasenko said. "I think it's pushing you to move forward. I think this shows you you can play with these guys and you can score these goals. It's a team game. My teammates make it for me. I just need to score more because I have really a lot of goal chances."
Watch the Blues Live pregame and postgame shows before and after every St. Louis Blues game on FOX Sports Midwest.
Colton Parayko and Jori Lehtera also scored, Alexander Steen added two assists and Brian Elliott made a season-high 36 saves for the Blues (20-10-4). St. Louis beat the Flames for a sixth consecutive game, last losing at home to Calgary on April 1, 2011.
Mark Giordano had a goal and assisted on a goal by Sean Monahan for Calgary, while Karri Ramo made 19 saves.
The loss snapped a seven-game win streak for the Flames (15-15-2), who were 7-0 in December after going 3-8-1 in October and 5-6-1 in November. Calgary, which fell to 5-10-2 on the road, finishes off a four-game road trip on Sunday in Detroit.
"The positive is we've won seven in a row before tonight and lost one game," Giordano said. "Now we have an opportunity tomorrow to finish three-and-one on this road trip which is a big road trip for us. We've got to come out tomorrow ready to play, better off the hop. It starts with me."
Tarasenko's scoring streak is a career high. He's tallied in seven of the Blues' last eight games.
He opened the scoring with his 21st of the season, assisted by Carl Gunnarsson and Alexander Steen, just 1:23 into the first period. A shot from Gunnarsson deflected off the stick of Calgary defenseman T.J. Brodie and right to Tarasenko.
"Looking at Tarasenko, this guy right now I think he's the most complete hockey player in this league," Calgary coach Bob Hartley said. "I like the way that he scores, that he goes on offense, the way that he's committed to team defense, the way that he takes the body on forecheck, and it looks like he's pretty impressive."
The Blues scored again 2:24 later when Parayko took a pass from Tarasenko, slid the puck around Brodie in the slot and beat Ramo with a backhand shot.
"I went to the net, tried to find some open space, and Vlad, the great player he is, he found me," Parayko said. "I just had to beat one guy and I just kind of poked the puck and I was lucky enough to get it by. I looked back and saw the mesh, so I just fired one."
The goal was the sixth of the season for the rookie defenseman and the first in 18 games.
"It looked like a skilled forward, maybe (Alex) Ovechkin-type move, coming across, going into the corner, backhand shelf," Elliott said.
It looked as if the Blues may have scored a third time in the first period, but a Steen goal with 3:29 remaining was waved off because of a high stick. The play was reviewed but ruled to be inconclusive.
Instead, the Blues went ahead 3-0 when Lehtera scored his fourth of the season with 5:07 remaining in the second period after taking a cross-ice pass from Steen.
The Flames outshot the Blues 23-13 in the first two periods and had three power plays in the second period but weren't able to score.
Calgary scored 4:00 into the third period on a tip-in goal by Monahan that was initially waved off but changed after a discussion between the officials. A review was inconclusive. Giordano and Josh Jooris earned the assists.
Giordano scored his seventh of the season, making it 3-2, with 3:53 remaining on a shot that deflected off defenseman Kevin Shattenkirk's stick and beat Elliott high to the blocker side.
The Flames pulled Ramo late in the third period but couldn't score again.
NOTES: Calgary F Michael Frolik missed his second straight game with an upper-body injury and is expected to miss significant time. ... Blues C Kyle Brodziak missed his first game of the season after being cut by a skate in Thursday's game. He was replaced in the lineup by Scott Gomez, who had been a healthy scratch for the previous six games. ... Blues F Ryan Reaves played in his 300th game. He had his first fight of the season against Deryk Engelland in the first period. ... Elliott has won seven straight against Calgary.
---
---