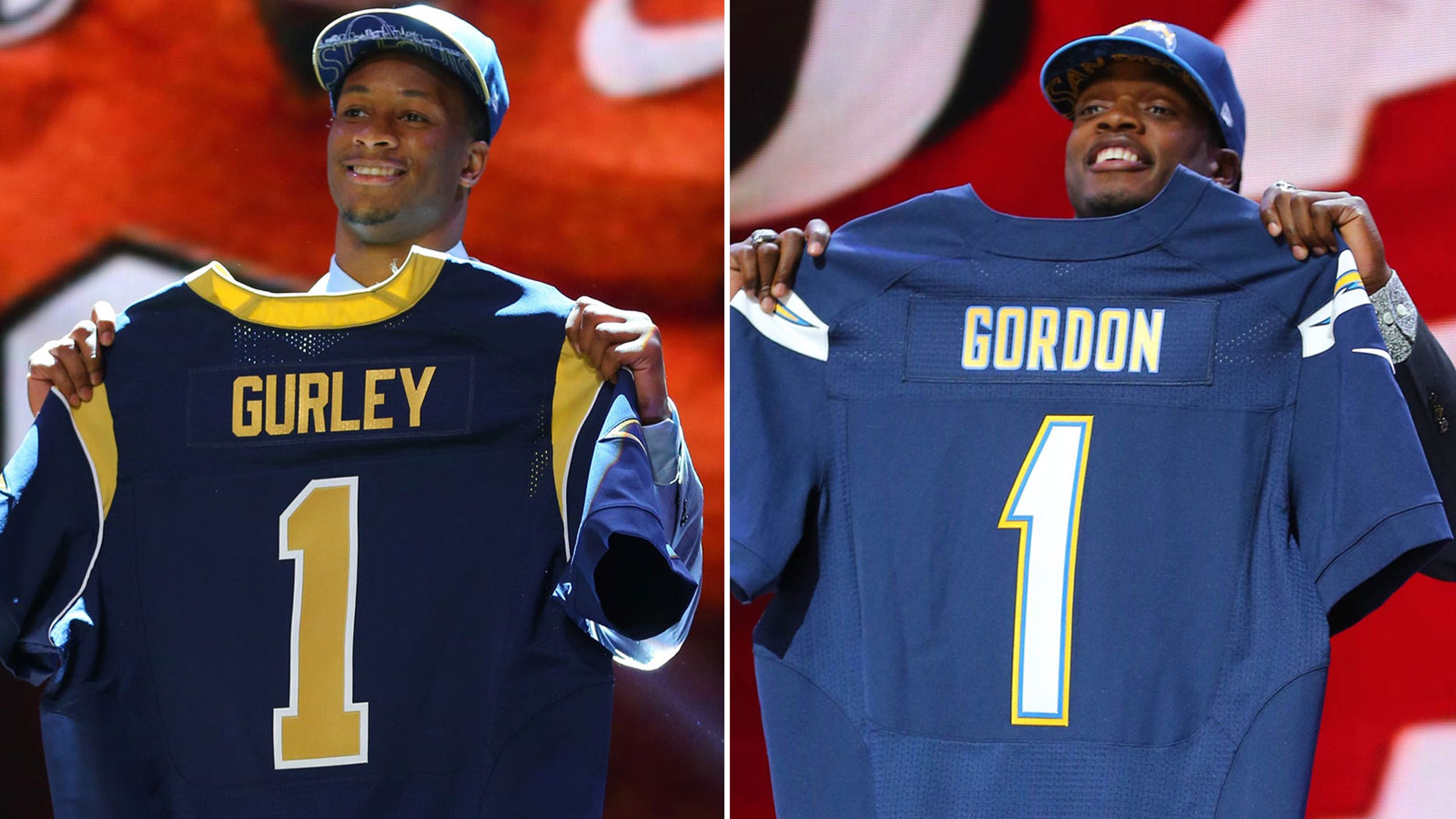 2015 Fantasy Football Keeper League Advice and Strategies
BY Fox Sports • August 13, 2015
Click Here to Play FOX Fantasy Football
Well, that's it, I win.
No, I'm not referring to a game, championship, or that obnoxiously cute kid from Big Daddy. My "win" is about a goal.
All the time people ask, "How did you get this job?" In order for you to understand that "win" you have to understand the journey to get here (cue the wavy flashback lines)...
When I was in middle school, I first noticed my step-dad Troy competing in a fantasy football league. I had no idea what it was or what it entailed, but I knew it had to do with watching football and competing. That's all that I needed to know.
Every week, we would set the lineup of his "Chicago Fire" (he had the name before the soccer team and TV show) in his touchdown-only league. I would sit in front of the TV with a legal pad and chart the points scored for us and our opponent. No, there wasn't a site to check how the teams were doing, but every Wednesday there would be a newsletter in the mail from the commissioner with the results and standings.
For years, I would be the "assistant GM/coach/talent scout/etc." We had great teams and not so good teams, but we always had fun.
Last season, after 21 years, was my final season as an assistant. We made it all the way to the Super Bowl, but lost in the final game (thanks a lot, Andrew Luck).
But, it was not the final season for sad reasons, but because there was finally an opening in the league. I'm now a full-time owner of the "Ohio Glory." I actually wouldn't mind remaining a co-owner, but I saw how happy it made Troy knowing that I was an official owner of a team in the "National Fantasy Football League." The family pride too mushy? Hold that handkerchief because we just doubled our chances to win and keep the trophy in the family. Tears of joy.
Now, about that "I win." What's that about? Well, because I went from a middle school sports geek to working in the fantasy football business, I know that the chance of becoming an owner in this league was a big motivation through it all. I wanted to keep my skills sharp.
Now, enough of the backstory. Let's get to the keeper league advice...
1. Who do you keep?
It seems as though everybody is transitioning their fantasy football league into a keeper format. And, while it takes a lot of commitment from the fellow owners, it also changes the drafting drastically. There are some leagues where you can keep a player based on the round he was drafted (Ex. If Odell Beckham Jr. was drafted in the 13th round in 2014, then it would cost you your 13th round pick to keep him. That way, the better drafters are rewarded). There are also leagues where you just keep two or three players with no stipulations at all. If you league is the latter, I would consult our 2015 Fantasy Football Rankings page and do the math based on how many keepers you get and how many teams are in your league.
For instance, if you are in a 12-team, three-player keeper league, I would only hang on to the people listed in the top 36 (12 x 3 = 36).
2. Todd Gurley or Melvin Gordon?
One of the best things about keeper leagues is that every rookie is up for grabs on draft day.
In that TD-only league I mentioned before, I have the first pick and I'm torn on who to select (my three keepers would likely be Cam Newton, Kelvin Benjamin, and Lamar Miller).
Do you take the explosive running back who rushed for over 3,200 yards (6.4 yards per attempt) and scored just as many TDs rushing as he did receiving (36), but has ACL issues and will likely miss the start of the 2015 season? Or, do sign the rookie RB who tallied just over 4,900 rushing yards (7.8 yards per carry) and notched 32 total TDs in his senior season?
Gurley has drawn comparisons to Adrian Peterson and could be one of the most dominant running backs in the NFL. However, you can't escape the fact that eyes will constantly be on his legs and guys will hold their breath with every cut and tackle.
Gordon is a solid running back in his own regard. He has been compared to players all across the spectrum. From Jamaal Charles to Andre Ellington to Chris Johnson, it seems as though no one really has the perfect match for Gordon. He will likely start immediately for San Diego, especially now that Ryan Mathews is no longer in the picture.
So, the question I present to you is, "How much do you like to gamble?" The safe move is taking Gordon. Gurley has the bigger upside, but comes with a heavy risk. I like to roll the dice.
3. Play for the future
As you draft, while one idiot will spend a 10th round pick on Stephen Gostkowski, make the smart decision and pull the trigger on rookies or backup running backs. We all know the players like Amari Cooper and T.J. Yeldon will get selected earlier than expected in a keeper environment, but don't be afraid to look farther down the list at guys like David Cobb, Javorius ("Buck") Allen, and Tyler Lockett.
4. Should you keep a quarterback?
Short answer: Only Aaron Rodgers and Andrew Luck.
Long answer: In a 10-team league, the need to snag an elite quarterback is higher than larger leagues. So, three or four more QBs might be added to the list (Peyton Manning, Drew Brees, Ben Roethlisberger, and maybe Russell Wilson). Eleven quarterbacks threw for over 4,000 yards last season. The NFL is a passing league and, while the quarterbacks will likely score the most points, they can also be drafted later.
5. Is Rob Gronkowski the only tight end worth keeping?
In 10 or 12-team leagues, yes. Anything deeper than 12 and I would highly consider hanging on to Jimmy Graham. Though he is with Seattle, Graham is still a headache to defend. We all saw what Russell Wilson could do when he rolled to the outside and had the option to give the ball to Marshawn Lynch or keep it. Imagine how dangerous Wilson will be when he has the ability to pass the ball to Graham in the flat.
SPEED ROUND
"Would you rather keep..."
1. Lamar Miller or Latavius Murray?
Miller. He rushed for over 1,000 yards and averaged only 13.5 carries per game last season. If the Dolphins finally decide to give the ball to Miller 20 times per game, he could be a top 10 running back in 2015.
2. Alshon Jeffery or Sammy Watkins?
Jeffery. He was targeted 145 times last season (6th-most at WR). Now, Brandon Marshall is gone and rookie Kevin White could miss the entire 2015 season due to injury. So, Jeffery will earn even more opportunities from Jay Cutler this year.
3. Cam Newton or Tom Brady?
Newton. Yes, the four-game suspension does factor a bit. But, I'm looking at the fantasy football playoffs. Brady's Patriots will travel to the Texans, host the Titans, and then fly to the Jets. Look at Carolina's games in Weeks 14-16: vs. Falcons, @ Giants, and @ Falcons.
Do you have a question about your keeper league? Post it in the comments section below or send it directly to Adam on Twitter, @FOXSportsMeyer.
---
---