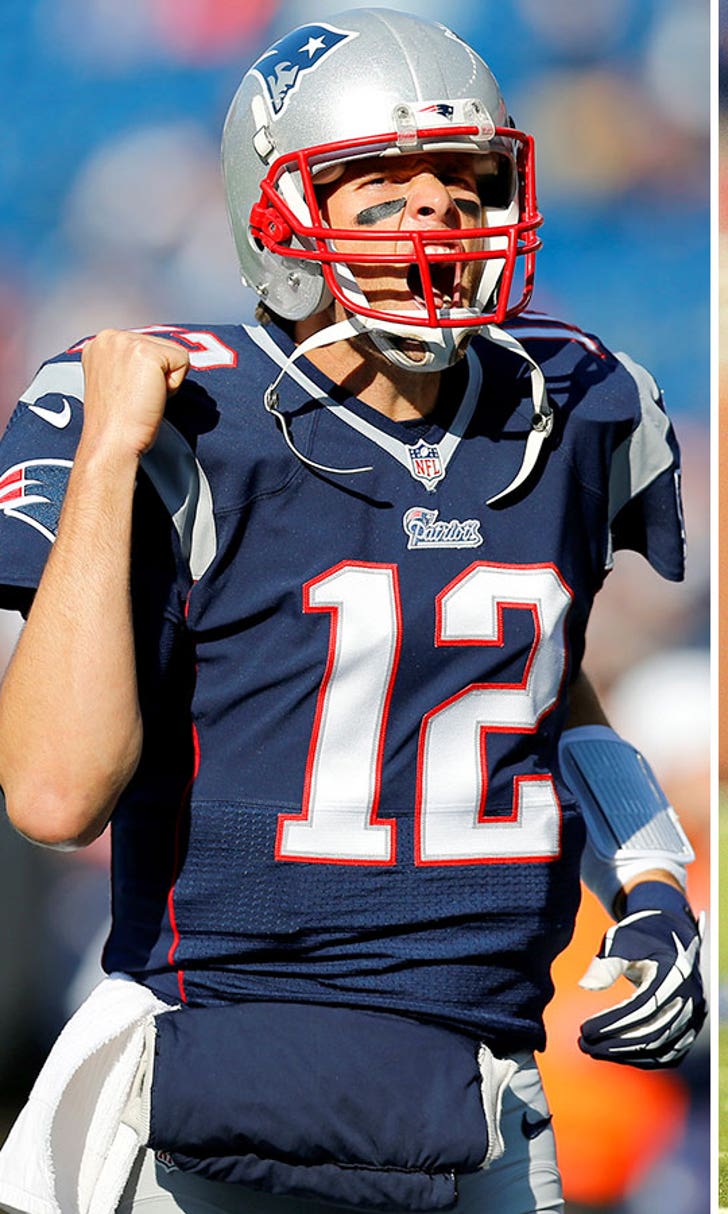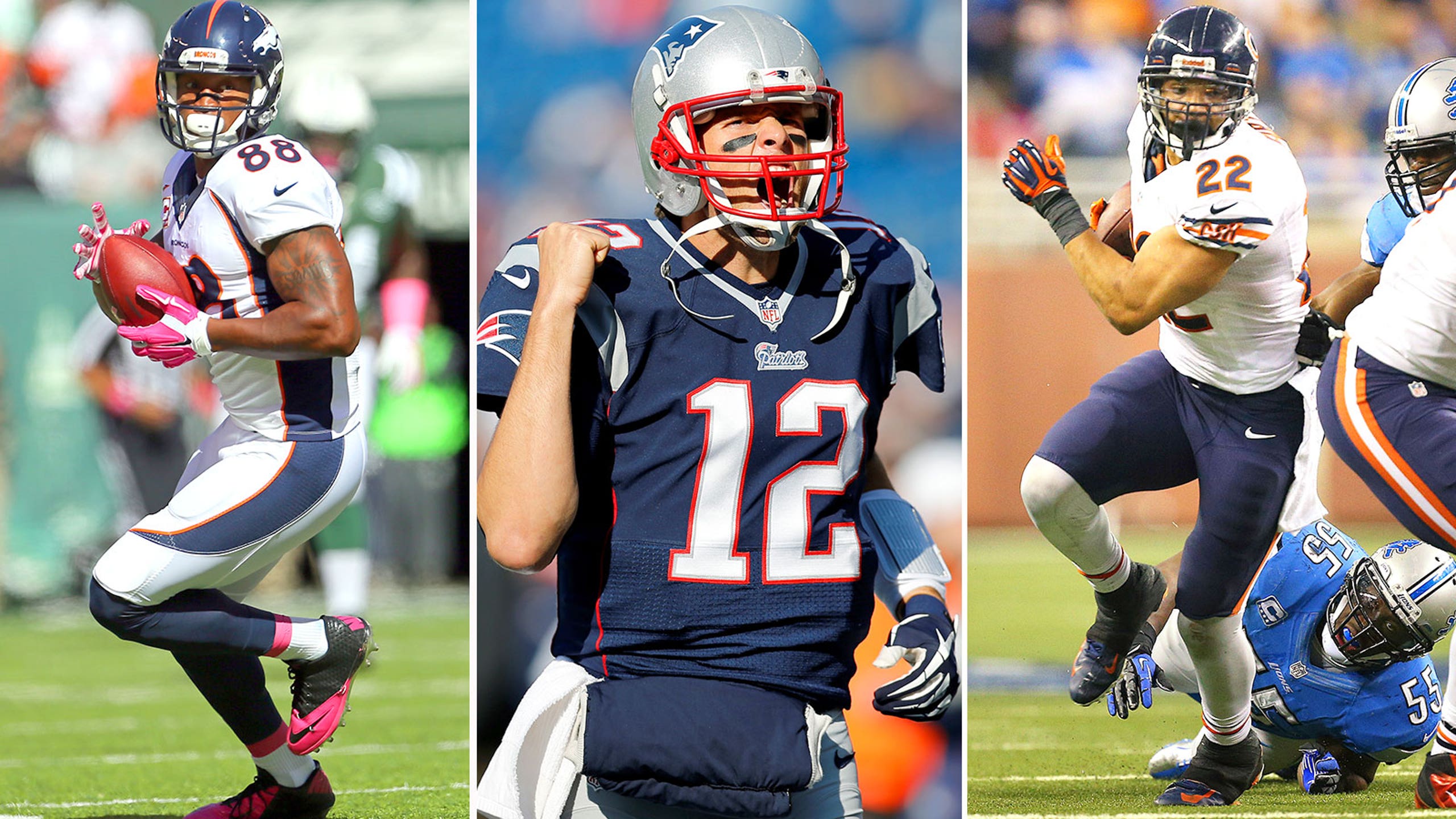 '15 Star-Driven Fun Facts' to ponder for NFL Week 13
BY foxsports • November 25, 2014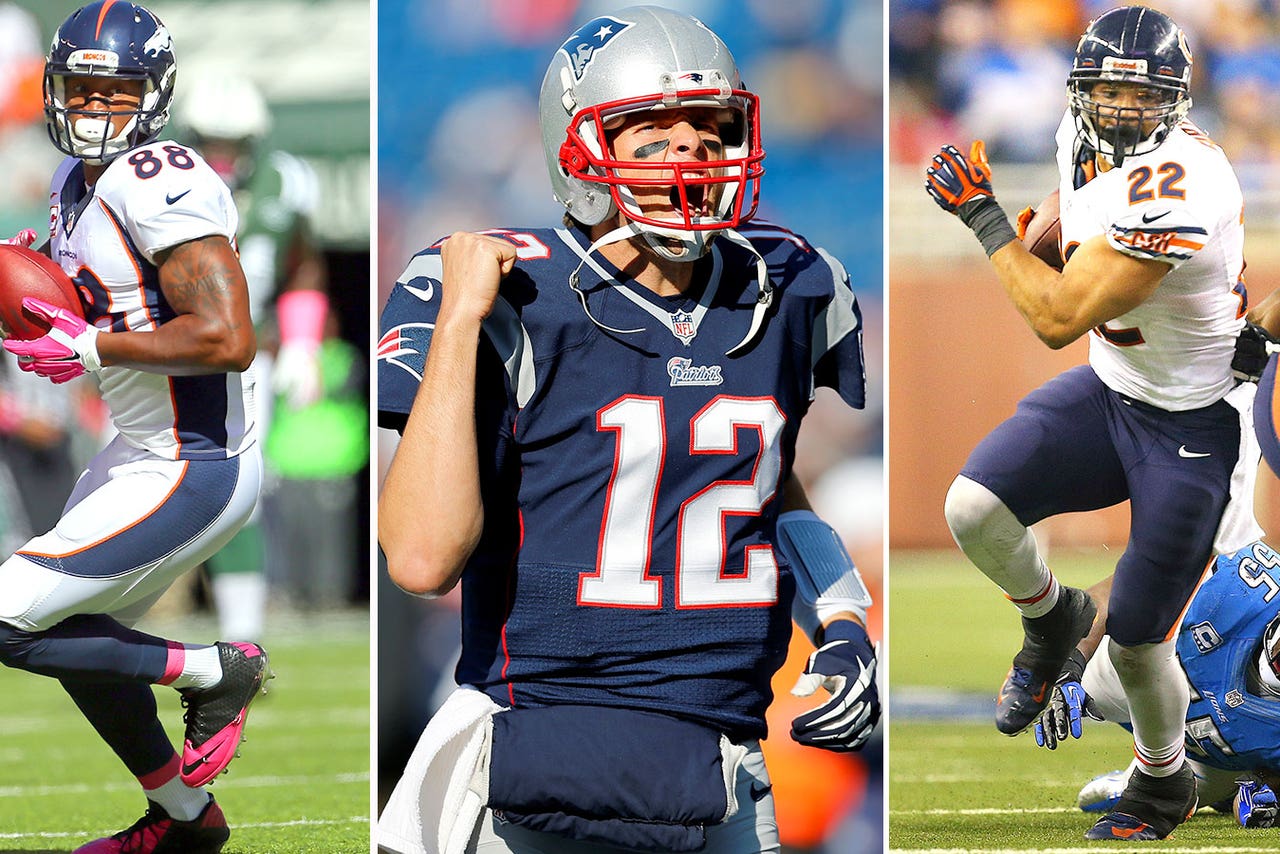 FOX Sports South takes a whimsical and diverse look at 15 star-driven factoids for NFL Week 13 -- a piece that might help shape fantasy-league decisions and/or inspire more real-world and barstool debates, among friends and kind strangers:
1. Of his last nine outings against AFC foes, Packers QB Aaron Rodgers (2,957 yards passing, 31 total TDs) has tallied 300 yards passing and/or three touchdowns seven times.
In that span, Rodgers holds stellar averages of 281 yards passing and 2.8 TDs against non-conference foes.
For what it's worth, Rodgers and Tom Brady have never faced one another -- as starting quarterbacks. Rodgers was Brett Favre's backup in 2006 ... and then famously missed the high-profile clash against the Patriots in 2010 to concussion symptoms.
(Rodgers would return the following week and subsequently guide Green Bay to a Lombardi Trophy.)
2. In case you're scoring at home ... Broncos wideout Demaryius Thomas (82 catches, 1,192 yards, nine TDs) has notched eight consecutive outings of 100 yards receiving and/or multiple touchdowns -- which simply blows the mind.
In fact, does anyone even care that Thomas's streak of seven straight 100-yard games ended Sunday against the Dolphins? He rolled for three TDs -- the second time of his prodigious career -- and collected nine-plus targets for the ninth consecutive week.
3. There are three absolute certainties in life: Death, taxes and Matt Forte enjoying big-time fantasy numbers against NFC North foes.
Of his last 12 games against divisional competition (Vikings, Packers, Lions -- this week's foe), the Bears tailback has notched 100 total yards 10 times.
Of that 12-game span, Forte (on pace for his first-ever campaign of 2,000 total yards) boasts stellar averages of 135 total yards and 0.5 TDs.
4. Don't look now, but Bengals wideout A.J. Green -- who seems fully recovered from an early-season toe injury -- has been on a mini-tear, amassing 18 catches, 24 targets, 248 yards and one TD in his last two outings.
The fun continues with the following: Of his last 10 road games, Green has notched 100 yards and/or one TD nine times; and in that span, he has claimed stellar averages of 7.4 catches, 117 yards and 0.7 scores.
5. Assuming he plays on Sunday, Vikings tailback Matt Asiata (concussion symptoms) is a lock for monster fantasy numbers -- but for this week only.
Don't believe me? In his three-year career, Asiata has scored all nine of his rushing TDs in a three-game home span against non-divisional, in-conference foes -- the Eagles (66 total yards, three TDs in November 2013), Falcons (100 total yards, three TDs in September 2014) and Redskins (26 total yards, three TDs in Week 9).
For his other 34 career outings, Asiata has microscopic averages of 14.3 total yards and zero rushing TDs.
Asiata's last non-divisional conference home game comes this weekend ... when the Vikings host the Panthers at TCF Bank Stadium.
And he's a must-start ... assuming Asiata gets the green light from the Vikings' doctors.
6. Cardinals tailback Andre Ellington (1,043 total yards, five TDs) has accounted for only 171 total yards and one TD in his last three games.
But here comes the calvary ... in the form of his Week 13 matchup against the Falcons, who rank 23rd against the run (127 yards per game) and 32nd against the pass (284 YPG).
For starters, Ellington ranks 3rd in targets, receptions and receiving yards and 10th in receiving TDs. Plus, he has tallied 18-plus touches nine times this season.
7. Ben Roethlisberger's home/away splits for the season are beyond absurd: At Pittsburgh's Heinz Field, Big Ben boasts crazy-good averages of 361 yards passing and 3.6 touchdowns.
On the road, the Steelers QB holds pedestrian averages of 244 yards passing and one TD. That's almost a reason to bench him during Week 14 -- when Pittsburgh travels to Cincinnati.
Almost.
But who cares about next week? For Week 13, Roethlisberger has a chance to become the first QB in NFL history to pass for six touchdowns in back-to-back-to-back home games.
8. We should all struggle like Philly's LeSean McCoy in our everyday jobs. The Eagles tailback, who's on pace for only 1,411 total yards, has racked up 97 total yards and/or one TD in his last six games.
One more thing: Of his last five complete efforts against the Cowboys (this week's opposition), McCoy holds excellent averages of 134 total yards and 0.6 TDs.
9. Let's be honest: The first-ever clash between Indy's Andrew Luck (3,641 yards passing, 31 total TDs) and Washington's Robert Griffin III (869 yards passing, two TDs in five starts) has lost its luster over the last 26 months -- primarily due to the oft-injured, always-embattled Griffin's erratic play at quarterback.
For example, Griffin hasn't tallied multiple touchdowns in eight games (dating back to last season); and he hasn't scored a rushing TD in two years.
On the flip side, for his career, Luck -- who's on pace for nearly 5,300 yards passing -- has averaged 272 yards passing and 2.1 TDs against NFC foes.
10. Here's some great news for Arian Foster owners: Of his last five games against the rival Titans -- including the 234-yard, three-TD explosion from October -- the Texans star holds supreme averages of 128 total yards and 1.9 TDs.
Here's some great news for Alfred Blue owners -- if Foster (groin injury) doesn't suit up Sunday: The Titans have the NFL's worst defense, surrendering 145 ground yards per game.
11. There are some legitimate offensive worries with the Chargers, who are averaging only 16.2 points in their last five games (three losses).
The chief concerns involve QB Philip Rivers (five-game average: 216 yards passing/1.4 TDs) and tight end Antonio Gates, who has just eight receptions, 74 yards and zero TDs since Week 9.
Here's another deflating Rivers nugget: Of his last five games on the East Coast -- including that Week 9 clunker at Miami (37-0 loss) -- the San Diego QB has middling averages of 264 yards passing and 1.2 TDs. Meh.
12. We've been dreading this matchup for some time -- the Rams-Raiders clash for Week 13. Frankly, there are no automatic starters involving the St. Louis/Oakland cast of quarterbacks, tailbacks, receivers or tight ends.
Which brings us to this: The Raiders and Rams have already combined for 14 or fewer points 10 times this season.
Putting that into greater context ... since 1999, spanning 258 NFL starts (including the postseason), Peyton Manning's teams (Colts/Broncos) posted 14 or less points only 26 times.
13. In fantasy circles, we typically don't worry -- or even care -- about interceptions with quarterbacks ... since most leagues subtract just one point per INT.
But here's something regarding Matt Ryan: In his four career outings against the Cardinals (including the playoffs), the Falcons QB claims ugly averages of 256 yards passing, 1.4 TDs and 2.8 INTs.
On the plus side, the 2014 Cardinals rank 25th in defensive interceptions -- with just six through 11 games.
14. The Eagles haven't lost on Thanksgiving Day since the advent of World War II, meaning that you'd have to be a minimum of 82 years old to remember the last Philly faltered on Turkey Day.
15. Granted, it's a short sample size, but congratulations are in order to the Jaguars ... who have never lost to the Giants at home (2-0 all time).
Conversely, Jacksonville has never tripped Big Blue in New York (0-3) ... but that's irrelevant for another four years, since the Jags host the Giants on Sunday.
Speaking of which, I will donate $15 to the Red Cross this week, on behalf of the FIRST trivia winner who gets the following question without cheating:
Who was Jacksonville's starting QB the first time the Jags knocked off the Giants?
(Tweet me the correct answer, please.)
Jay Clemons, the 2008 Fantasy Football Writer of the Year (Fantasy Sports Writers Association), can be reached via Twitter, day or night, at @ATL_JayClemons.
---
---