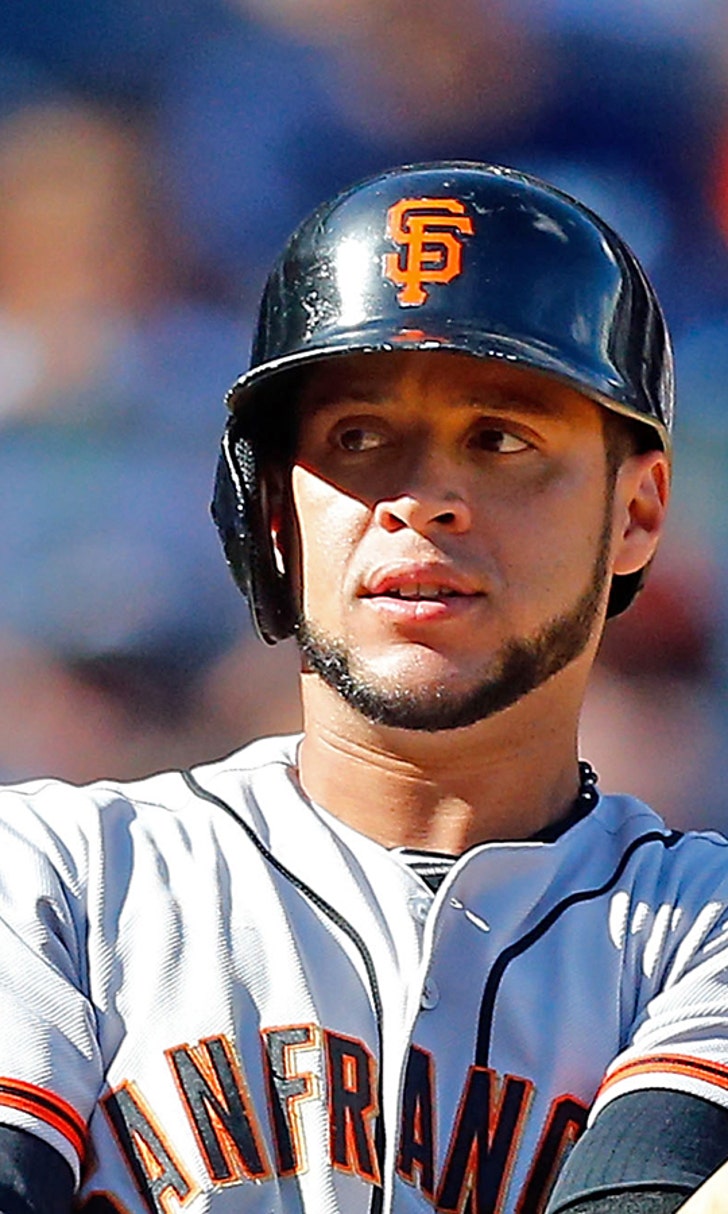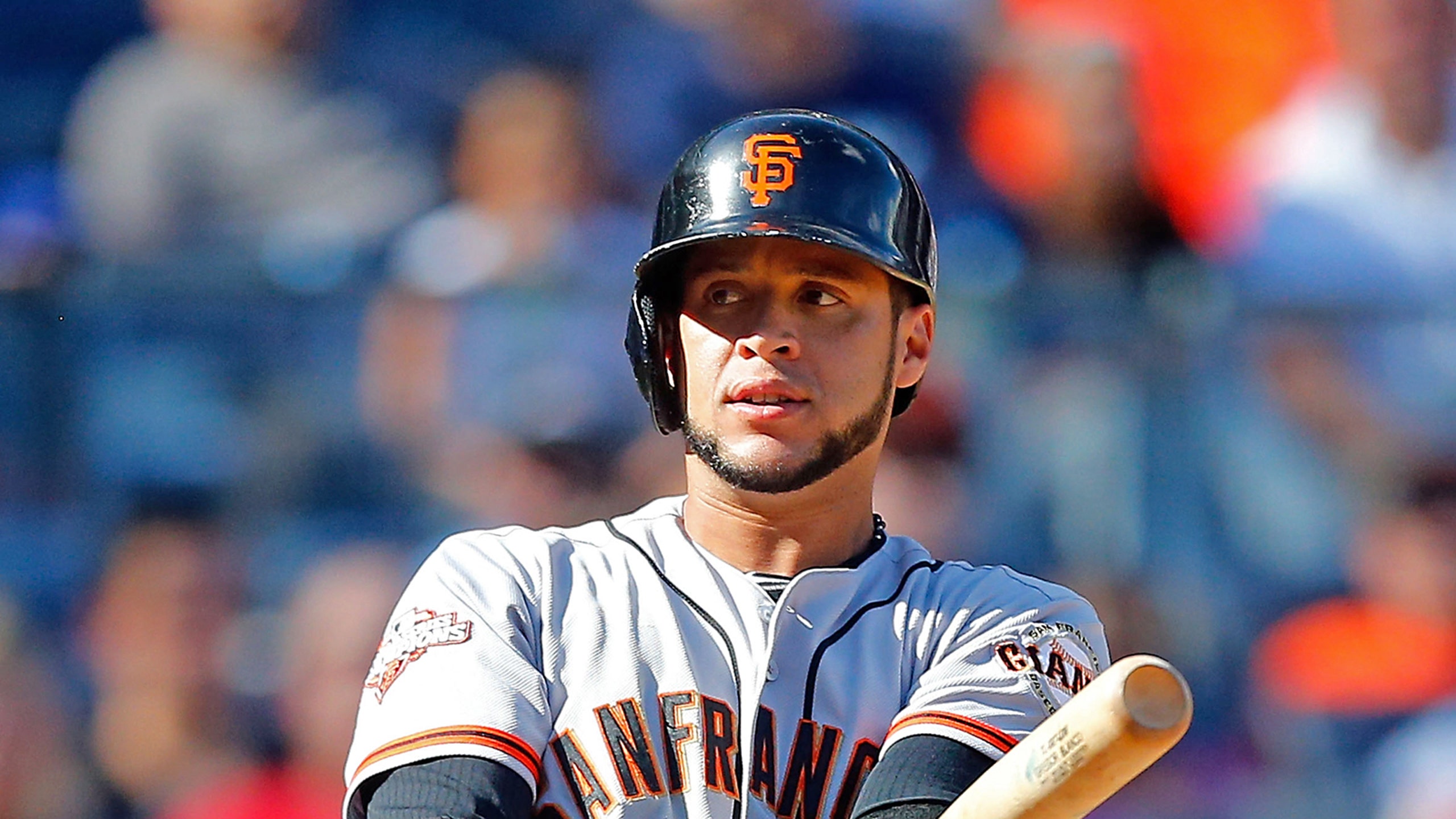 Crisis in Venezuela hits home for many major leaguers
BY foxsports • February 22, 2014
SCOTTSDALE, Ariz. —€" Friday morning, outfielder Gregor Blanco stood in one of baseball's best rooms, at one of baseball's best times: the San Francisco Giants clubhouse at Scottsdale Stadium, buzzing with activity a few minutes before the start of a spring workout. The franchise with two world titles in the past four years happens to train within walking distance of more bars, restaurants and shops than a bon vivant could conquer in a full season of extra-inning games.
It's baseball paradise ... but not when your country is going through hell.
"Telling you the truth," Blanco said, the usual good cheer gone from his voice, "I feel angry about being here."
Blanco was born in Caracas, Venezuela. At this time last year, he reported to camp in the afterglow of a World Series championship won alongside countrymen Pablo Sandoval, Hector Sanchez and Jose Mijares. Now Blanco and his Venezuelan teammates are consumed by a topic that makes baseball seem trivial: Protests critical of President Nicolas Maduro have erupted throughout Venezuela. The population's concern over a soaring crime rate and lack of food has, tragically, led to even more violence in the streets. Genesis Carmona, a 22-year-old local beauty queen and student, was killed at a demonstration in Valencia this week.
"I see Venezuelans dying," Blanco said. "I see on the news, the videos, all those people fighting for the country. I have all my family down there. It's been really hard for me —€" for us. We've got like 12 (Venezuelan players) in camp. We're trying to make a comment. We will make a video to support our guys fighting for freedom. That's really important.
"It's not about politics right now. It's not about sides. It's about how you see everything is getting worse. People are dying without food. They're killing people without reason. All that should stop. Find peace. It's not about taking out the government. It's about having a better country."
It's inaccurate to say the violence is hitting close to home for many Venezuelan players. The effects reached inside the home of at least one: Marlins right-hander Henderson Alvarez, who no-hit the Tigers on the final day of last season, told Miami-based Diario las Americas that his 2-month-old daughter became intoxicated and suffered swelling in her face after tear gas from a street riot entered the family's Caracas apartment.
Blanco said he'd heard the news about Alvarez's daughter but wasn't sure about his Venezuelan teammates. "I don't think they all know," he said. "I'm going to mention it to them."
Venezuela accounts for the third-largest share of major-league players, after the United States and Dominican Republic. Superstars Miguel Cabrera, Felix Hernandez and Carlos Gonzalez hail from Venezuela. With no sign of the chaos abating, the country's domestic turmoil is likely to linger as a grave concern throughout Major League Baseball clubhouses for the foreseeable future.
"Everybody's nervous," Gonzalez, the Colorado Rockies' two-time All-Star outfielder, said in an interview Friday. "It's hard for our family to leave. Not every baseball player has their entire family here (in the US), because our parents are old and want to be in their country. If something happens down there ...
"Miguel Cabrera has his family in Venezuela. Felix Hernandez. We all talk. We all say, '€˜What are we going to do if something happens? Are we going to have to send a plane there and bring all our family, because it's going to be that way?' We've been keeping an eye on it. Everybody (in my family) is there, except my wife and my kid."
Violence has plagued Venezuela for years, and the greater sense of instability has only increased since the death of former president Hugo Chavez last March. Blanco said he noticed "a lot" of differences while visiting Venezuela during the offseason.
"I went down there for 20 days, and, man, it was really poor ... really bad," he said. "If you dream on something, all your dreams are going to disappear. There's not any food. There's nothing. There's nothing to build. That's what has been really hard.
"I went to the supermarket to buy food for my family. It was empty."
Many Venezuelan major leaguers are in the precarious position of wanting to call for an end to the violence without taking a political stance. This is particularly true for superstars, who are as popular there as LeBron James is here ... if LeBron also won an Oscar and Grammy. Cabrera accepted a "silver bat" award from Maduro in January for his distinguished representation of Venezuela nationally and internationally; Cabrera also held one corner of a Venezuelan flag on which "SOS" had been written, in a group photo of Venezuelan Tigers players tweeted by Omar Vizquel, now a coach with the team.
"It's a tough situation for us, because our country is split," Gonzalez said. "If you say something, they're going to define you as, '€˜You're on the government side,' or, '€˜You're on the other side.' You don't want to go either way, because, for us, we try to represent our country the best way. We have the opportunity to play in the big leagues. Anything we do (well) here, everybody feels happy. You don't want to make people unhappy by saying something.
"I never got involved with the political stuff. When Chavez was alive, I never met him. When I won the batting title (in 2010), I had a couple opportunities to see him. He invited me. But I never took the chance. I didn't want people to say something or feel like I'm going there because I'm on his side. I'm not on either side."
While the volatility has evoked powerful emotion among Venezuelan players, it creates a different set of logistical concerns for others in the industry. MLB clubs have grown increasingly wary of sending personnel to Venezuela, with the number of team-run academies declining by roughly 50 percent in the past decade. (Only five remain, operated by the Phillies, Tigers, Rays, Cubs and Mariners.)
The Commissioner's Office has kept in communication with teams about security-related issues in Venezuela. The Tigers have a particularly high profile in the country, with Cabrera, Victor Martinez and Anibal Sanchez on their roster, among others.
"Our organization is concerned, as surely most people who are watching this situation are concerned," Tigers president/general manager Dave Dombrowski said Friday.
For many teams and player agents, the most immediate concern is ensuring players arrive at spring training. In some cases, that isn't going to happen. The country's bureaucratic malaise is affecting the US embassy in Caracas, to the point that visa applications can't be processed fast enough. Thus, the ability of some players to earn a living has been affected —€" while GMs are frustrated that they can't see some of the players they've signed. (Brewers reliever Francisco Rodriguez has yet to report to camp for this reason.)
Consider what veteran agent Peter Greenberg, who represents about 80 Venezuelan players, told FOX Sports baseball insider Ken Rosenthal on Friday. 
"It's hurting the chances of guys who signed late," Greenberg said. "The visa issue ... they can't get to the embassy. The embassy won't take new appointments. We signed a minor-league guy with the Red Sox who was supposed to report Feb. 28: Wilfredo Boscan, a pretty good pitcher, a young guy, pitched well in the Caribbean Series. He was supposed to compete for a Double-A/Triple-A job. Now they're saying the embassy won't take appointments until after April 1.
"I've got clients asking me, '€˜Do you guys have any contacts here?' We've got a guy who works for us in Caracas who used to work at the American Embassy. We hired him specifically because of his contacts at the embassy, to help our players move up appointments, things like that. He said that he can't even get anything done. They're just like in lockdown.
"I was talking with (longtime infielder) Cesar Izturis last night. It's going to end careers of players. The Red Sox are telling us, '€˜We'll wait for Boscan.' But the reality is he has to come in and compete for a job at Double-A/Triple-A with a new team. If he doesn't get here until after April 1, they're saying they'll bring him to extended (camp) and see where he's at. But guys are going to lose opportunities."
Meanwhile, the Rockies called off plans for their Venezuelan minor leaguers to return home following this week's minicamp in the Dominican Republic.
"Our young Venezuelan players usually go home for a week to 10 days, to see family, kiss and hug babies, tell their wives goodbye," said Jeff Bridich, the team's senior director of player development. "We just made the decision two days ago, basically, that we're not taking the chance of sending any Venezuela players back to Venezuela.
"They have their visas. They're ready to travel. But unfortunately they can't go home and see their families. They can't say goodbye one last time. They're coming right to the US from the D.R."
And so those players, some of them teenagers, have seen the last of their homeland for the foreseeable future. Months, probably. They are off to chase dreams in America, and no one can tell them whether Venezuela will wake up from the nightmare before they return.
---
---